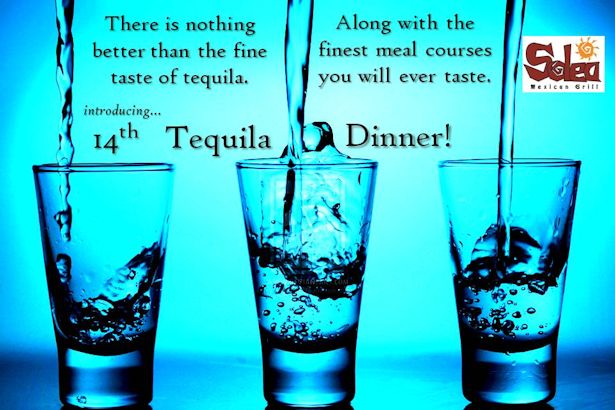 It all started out innocently enough… A couple of years ago Teacher and I were enjoying a nice Date Night meal at one of our favorite restaurants – Solea Mexican Grill. (Click with caution – their site has loud music!)
The waiter obviously recognized us from past visits and while we were chatting he asked if we were attending the upcoming "Tequila Dinner." My ears perked up… "A Tequlia Dinner? Tell us more!"
Solea has hosted a Tequila Tasting Dinner once or twice a year for several years. The Dinner features a special Five Course meal planned and prepared by their chef, with a different tequila cocktail specifically created to go with each course.
Yum!!
Teacher and I like to try new types of tequila and Margarita recipes the way other people like trying new wines. We also enjoy good food and trying new foods, so we knew we had to attend the Tequila Dinner.
Someday I may actually find time to edit and post photos from previous Dinners, but for now I've got photos of the one we enjoyed this past summer. Princess and Cowboy's mom came with us – neither Cowboy nor his dad are fond of tequila so those two party poopers stayed home.
We had a great time without them!
Disclaimer: The blurriness of some photos is due to poor iPhone photography skills; the number of Margaritas enjoyed had nothing to do with it. Seriously – it took three tries to get a clear photo of the first drink. And that was before I tasted it! That's my story and I'm sticking to it.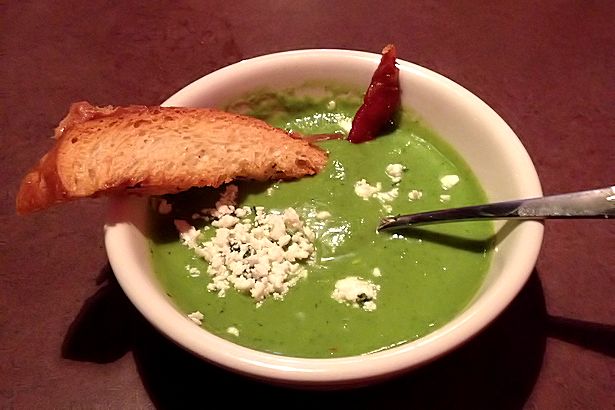 The first course was "Gazpacho de Aquacate" – Avocado Gazpacho. It was simply incredible! Silky and rich with a hint of cilantro. The salty bacon, queso fresco and crostini were the perfect garnishes. What a great way to start the meal. I really want to find a recipe for this!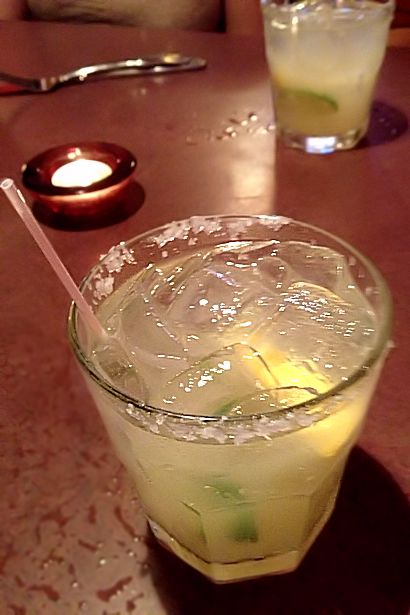 The first drink of the evening was "Paloma" – Cenenario Reposada tequila, fresh orange and lime juices, and grapefruit soda. I'm not a big Squirt fan but I liked this drink, even though it tasted kind of like Squirt.
Tequila comes in 3 forms: Silver, Reposada and Anejo. Reposada has been aged in oak barrels and picks up some of the flavor from the oak. I think Reposada tequila generally has a smoother, "deeper" flavor than Silver tequila.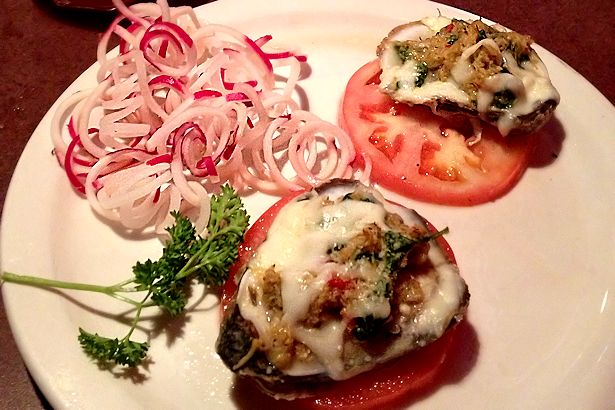 Next up was "Ostiones Gratinados" – Baked gulf oysters topped with Dungeness crab and spinach, and a garlic cream sauce with reposed tequila in it. The pink and white curly stuff is radish sprinkled with a little lime juice. The crunchy, tart, spiciness was perfect with the richness of the oysters. This chef is a genius – a genius I tell you.
To be honest, I was a little apprehensive about the oysters. Ever since someone described eating raw oysters as "swallowing a gob of snot" they just haven't appealed to me. But these were cooked so I gave them a shot, and they weren't half bad. I don't know that I'd order them ever, but I enjoyed the two I had.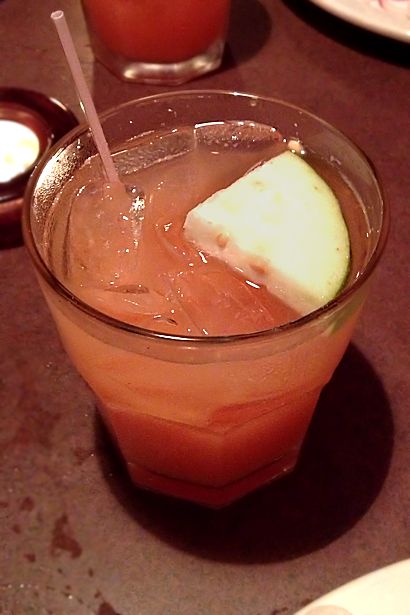 Along with the "Ostiones Gratinados" was Guava Margaritas – Guava puree, Milagro Silver tequila one of my absolute faves, lime juice, and a little sweet and sour mix.
Silver tequilas are aged in stainless steel so they don't have the depth that Reposada tequilas have. To me a Silver tequila has a fresher, lighter taste than a Reposada. But I'm no expert
I'm not really fond of guava so this wasn't my favorite drink of the night, but it wasn't as bad as I thought it would be. How's that for a sad recommendation?! Based on my feelings about oysters and guava I really wasn't looking forward to the second course, but I enjoyed it much more than I thought I would.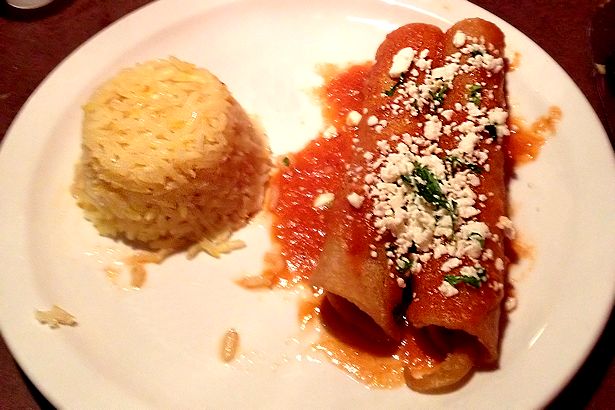 The third course was "Enchiladas de Langosta y Callos" – Cold and warm water lobster and scallops in a corn tortilla with red sauce and queso fresco. They were accompanied with saffron rice.
Yum… just… Yum!! I haven't met an enchilada I didn't like, but these are the kind of enchiladas other enchiladas envy. I could've eaten a dozen of them. Not that I should, but I so could. Of course the saffron rice was fantastic too. Flavorful but not so much that it detracted from the enchiladas. Have I mentioned that the chef is a genius?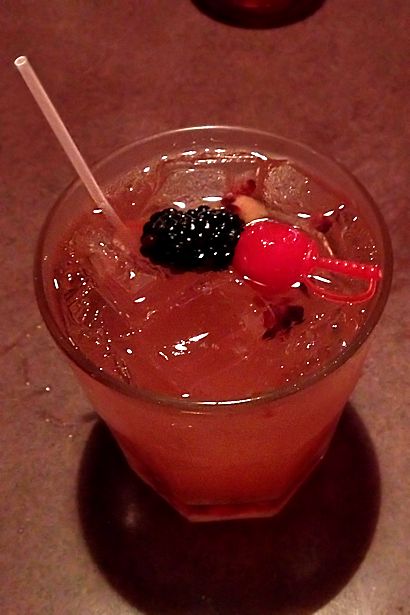 A Blackberry Margarita was paired with the "Enchiladas de Langosta y Callos." It sounded fairly simple: blackberry juice, 1800 Reposada tequila another of my favorites, and sweet & sour mix. This was my favorite Margarita of the whole night… Or maybe tied for my favorite with the next one…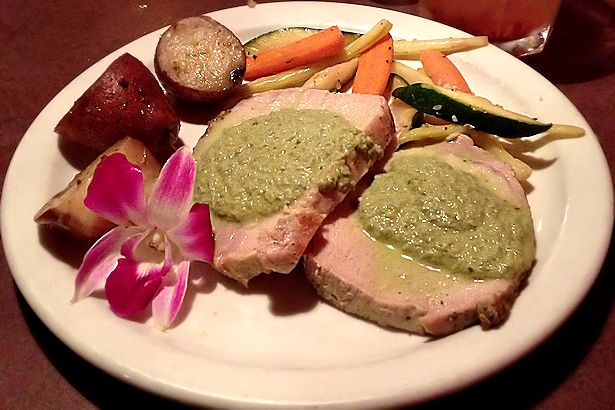 "Lomo de Puerco en Pipian Verde" – Slow roasted pork tenderloin with a classic pipian mole sauce, served with grilled veggies and roasted red potatoes. This was Teacher's favorite dish, hands down. He's a huge fan of Pipian pumpkin seed sauces, and this one was exquisite. The whole dish was utter perfection; I can't think of anything that could have improved it. Yes, I tried the orchid. I can't wrap my mind around eating flowers so I just nibbled a bit off the edge. It was good but way too pretty to eat.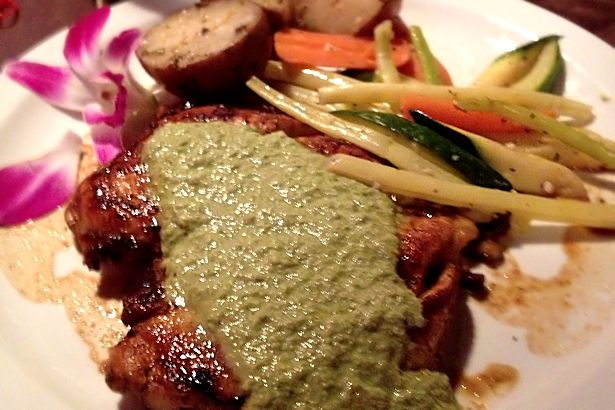 One of the coolest things of the night happened shortly after we were seated – a server came to our table and asked if any of us had food allergies. Princess told him that she doesn't eat pork and had planned to just eat the potatoes and veggies from this course, but the server told her that he'd have the chef substitute chicken for the pork. We all thought was very nice and not at all necessary since the menu had been published weeks before the dinner and Princess knew they were serving pork. The chicken turned out to be just as delicious as the pork; nicely seasoned and tender, with as much thought and care put into it as if it wasn't a substitution.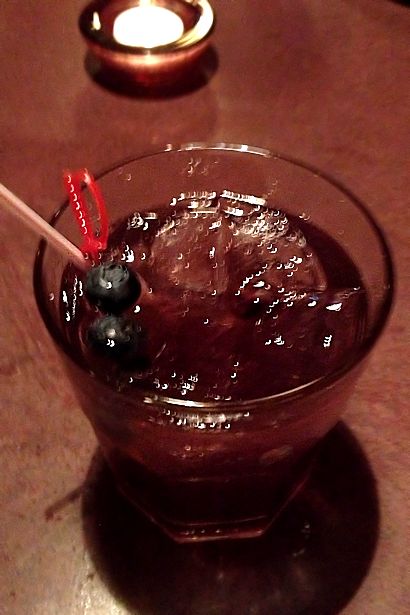 I have a confession to make: I loathe the flavor "Blue Raspberry." There is no such thing. There are red raspberries and black raspberries, but no such thing as blue raspberries. Except in technicolored over-sugared chemical-laden food junk marketed to children.
That said, I loved the "Blue Raspberry Margarita"! It's made from blueberry and raspberry puree real fruits, not chemical flavoring, Casa Noble Blanco tequila, and fresh lime juice. Delish!
Apologies for the blurry photo. I was having too much fun with the food, drink, and company that I just snapped it and totally forgot to make sure it was clear.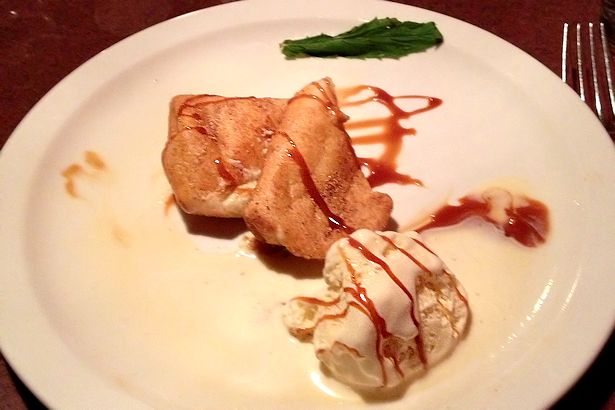 Finally my favorite course – dessert! "Cheesecake Chimichanga con Cajata" – Cheesecake deep fried inside a flour tortilla, sprinkled with cinnamon sugar and drizzled with caramel-y cajeta, with velvety vanilla ice cream on the side. You have't lived until you've bit into a crunchy chimichanga filled with warm, rich, melty cheesecake. Oh-Em-Gee – heaven!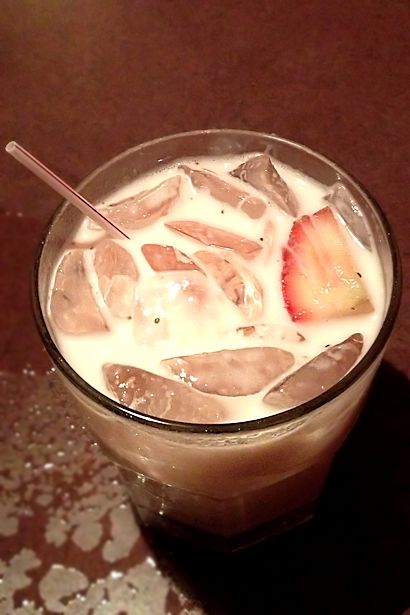 The final drink of the night was "Torito de Fresca" – Cream, pureed strawberries, and El Jimador Reposado tequila. I'd like to say that I loved this one, but I can't. To me it tasted like a tequila-spiked melted strawberry shake – not my cup of tea. Personally I think it would've been better if it had tasted like a tequila-spiked melted chocolate shake… Or a tequila-spiked melted mocha shake… Hmm… That's worth trying next time we have chocolate ice cream…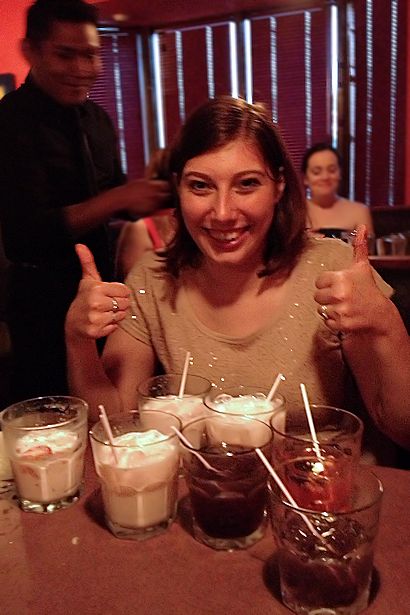 The servers allowed plenty of time between courses so the entire meal took over two hours, and the glasses were half ice so none of us was falling out of the booth by the end of the night. But we were pretty happy and silly by the time we reached the dessert course. Jo hadn't liked the strawberry margarita so she gave it to Princess, adding it to her collection of half-finished glasses. She looked so funny surrounded by all the glasses that Teacher and I pushed ours in front of her had her pose for a photo to send to Cowboy.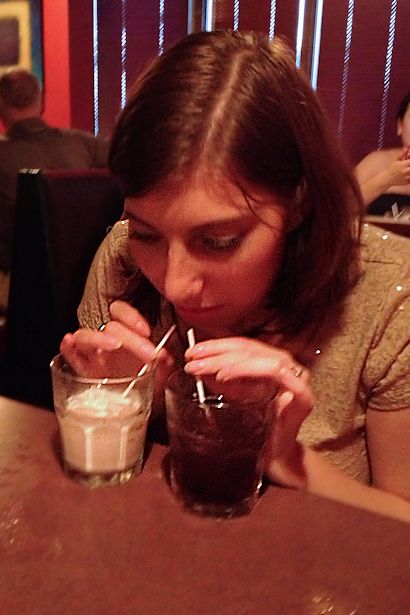 She hadn't liked the blue raspberry one but thought if she combined it with the strawberry one she might like it better.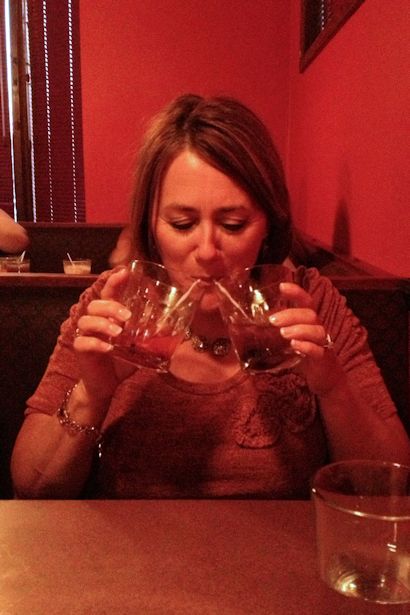 Jo thought that was a good idea and tried combining two of her drinks too. Of course I had to snap a photo to send to Cowboy.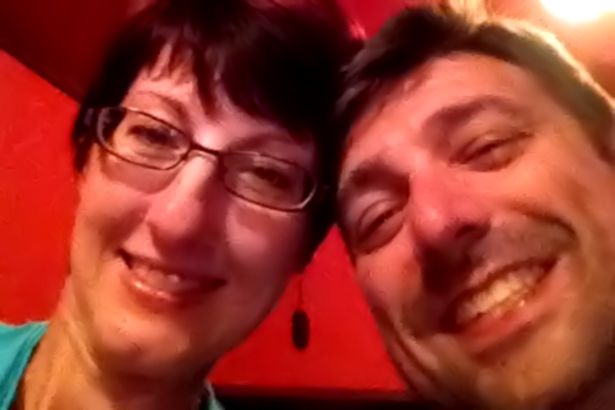 Finally I tried to take a photo of Teacher and I together, but the lighting was so dim and the phone too close to our faces that it didn't work out well.
Or maybe my iPhone was a bit tipsy from taking photos of all those Margaritas. It doesn't get out much.
In any case, a good time was had by all, and we're watching our Inboxes for the next Tequila Tasting Dinner!