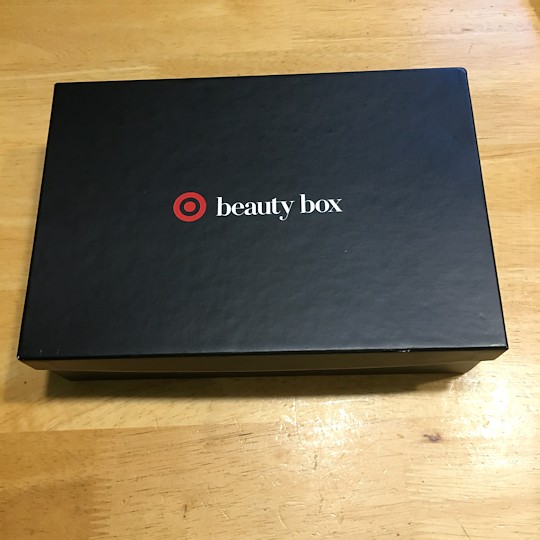 Guess what…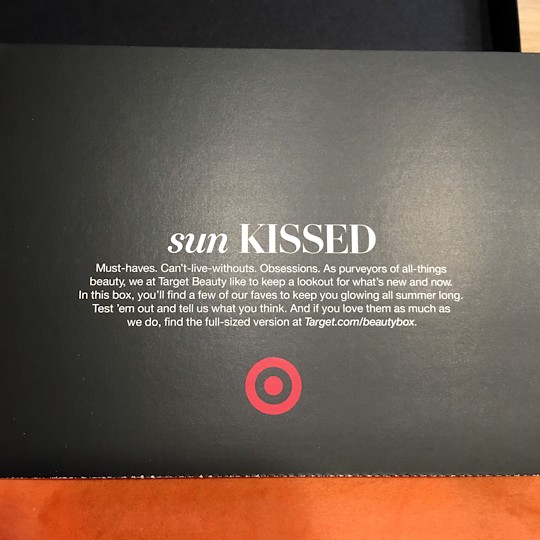 Princess scored us June Beauty Boxes from Target!
They look really great this monty – I can't wait to dive in!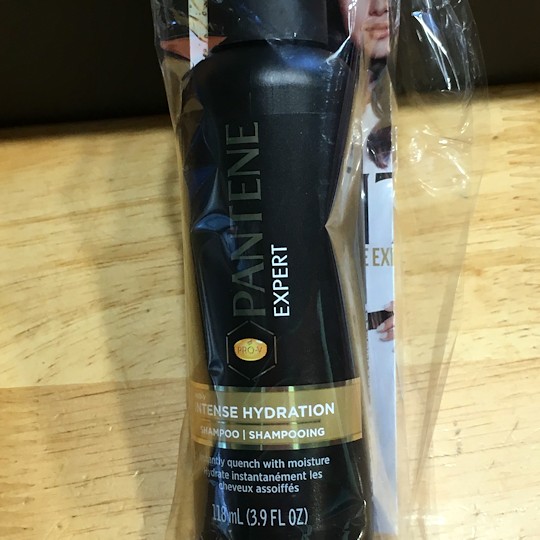 Pantene Expert Intense Hydration Shampoo "Concentrated hydrating formula gently cleanses and nourishes to instantly quench dry hair."
This smells amazing and makes my hair feel really soft. I wish we'd gotten the conditioner to try with it, but maybe we will in a future Beauty Box.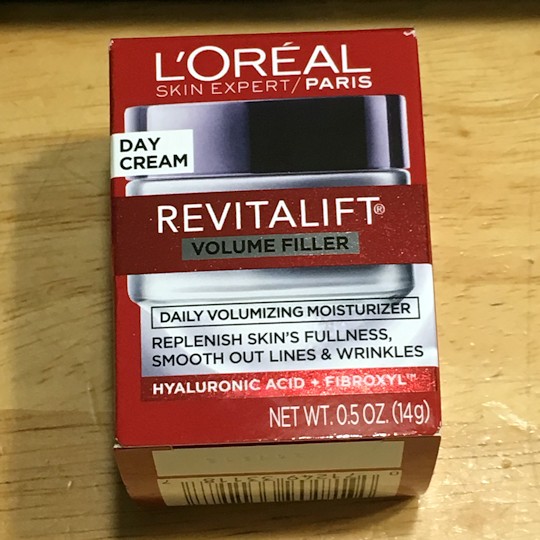 L'Oreal Revitalift Volume Filler Cream "Intensely hydrating formula helps replenish volume to reduce lines & wrinkles for younger-looking skin."
Since I recently had a major eczema flareup on my face I'm avoiding products with any kind of acid in them. So this is getting traded – hopefully for some glitter eyeliner. Because "too much glitter" doesn't exist in my universe.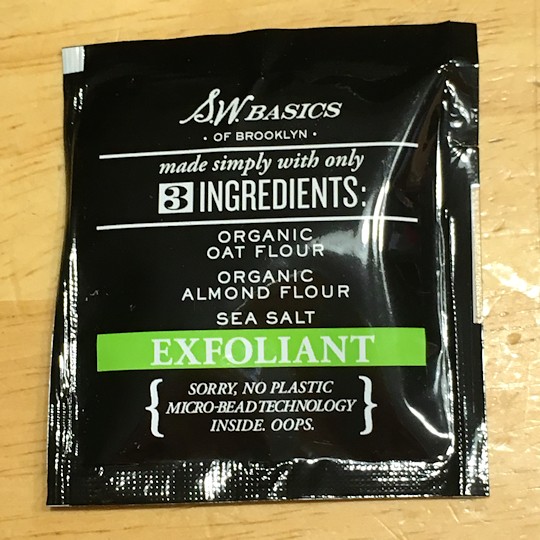 S. W. Basics Exfoliant "Exfoliates for soft, glowing skin with three organic ingredients: oat flour, almond flour & sea salt."
I love that this is so simple and organic, and the "Sorry, no micro-bead technology" comment cracks me up. Can't wait to try it!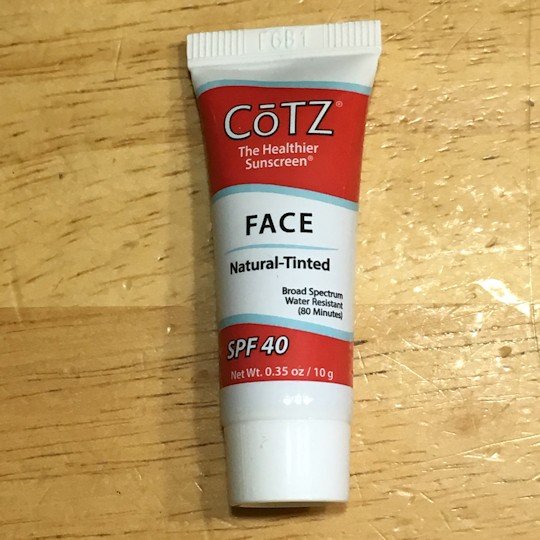 CoTZ Face SPF 40 "Hypoallergenic sun protection with natural mineral complex for non-greasy coverage and soft skin."
One of my favorite Paula's Choice products is a tinted moisturizer with sunscreen. The CoTZ seems to be a darker shade and more opaque than what I'm used to, but I tend to get a little darker over the summer so I think the tint will work well.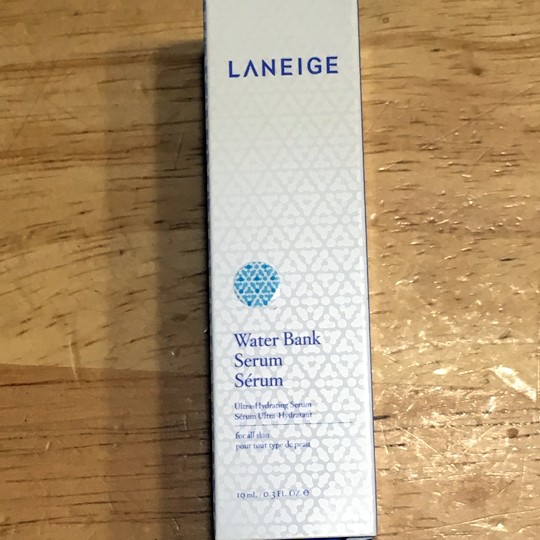 Laneige Water Bank Serum – "Hydro-ionized mineral water & biogen technology moisturize deep down for supple, silkier skin."
I really wished I liked the Water Bank collection but it's just too strongly scented for me. Another to trade – maybe for some black mascara. You can't have too many black mascaras.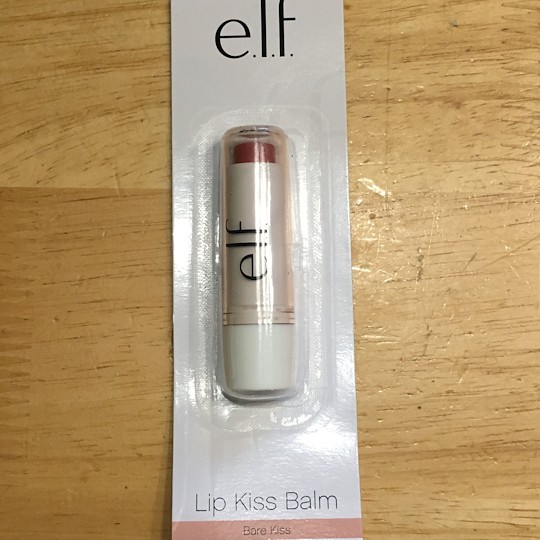 e.l.f Lip Kiss Balm – "Tinted balm with vitamins A & E, grape seed oil and Jojoba oil for kissably soft lips."
I was so excited to see this lip balm in the box and couldn't wait to try it. I liked everything about it – it goes on smoothly and feels good on my lips – but the color is awful on me. Boo hoo! Princess and Angel Face both got the same shade in their boxes so I'm going to buy Berry or Pink to try. Actually I'll have Angel Face pick them up for me since she works near Target. How convenient is that?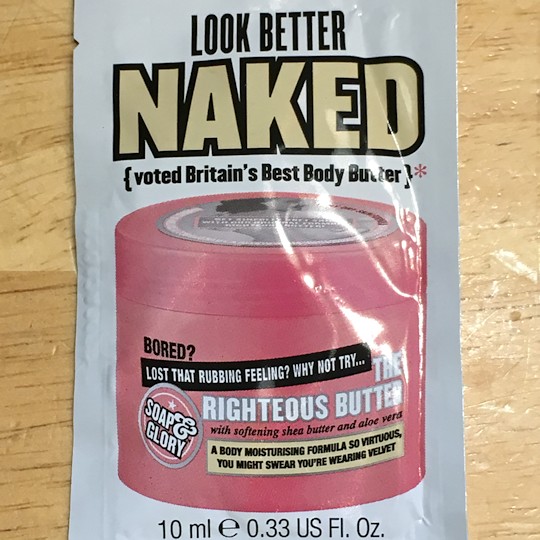 Soap & Glory Righteous Butter Body Butter – "Rich, softening shea butter and aloe vera hold hydration in longer to moisturize dry, delicate skin."
I loved this body butter! Not only did it crack me up – "Look better naked" "Lost that rubbing feeling?" LOL – it worked great! It was definitely rich and hydrating, and moisturized my skin all day. I liked the scent, but Princess wasn't fond of it. I'm thinking I may need to have Angel Face pick some of this up too. Good thing there's always a coupon in the Beauty Boxes!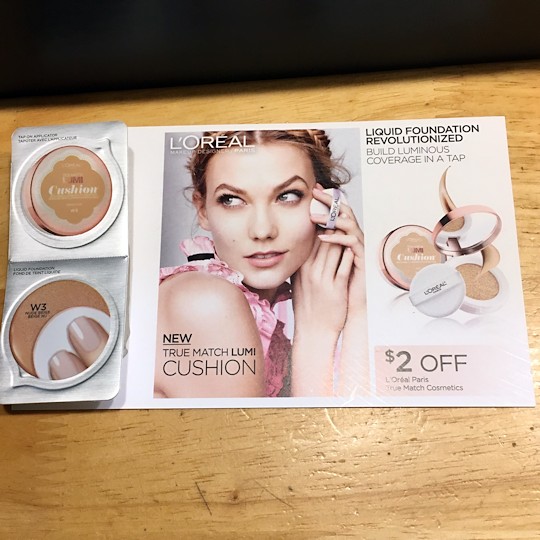 L'Oreal Paris True Match Cushion – "Liquid Foundation comes with a cushion for build able coverage and mess-free application."
I've tried the L'Oreal Cushion before and it was OK. I ended up putting too much on last time I tried it because I'm used to applying a tinted moisturizer with my fingers. This shade looks too dark for me so it's going to Angel Face, who has Teacher's darker skin tone and usually wears a more opaque foundation than I do.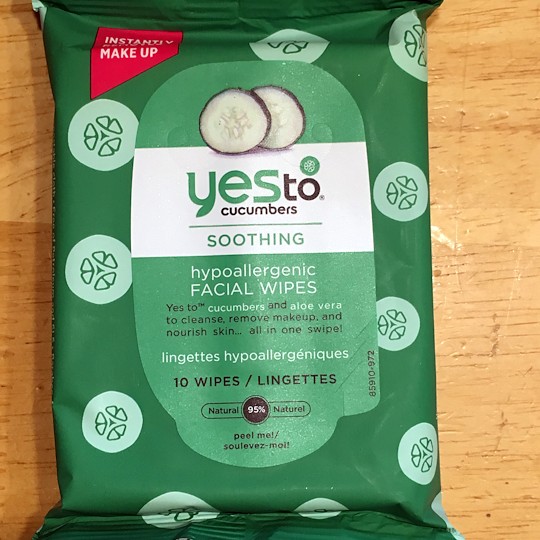 Yes to Cucumbers 10-Count Facial Wipes – "Hypoallergenic facial towelettes are made with natural ingredients to cleanse & nourish skin.
I'm not a wipes person probably because I'm using them all day for diaper changes but Angel Face loves wipes, so these are going to her too.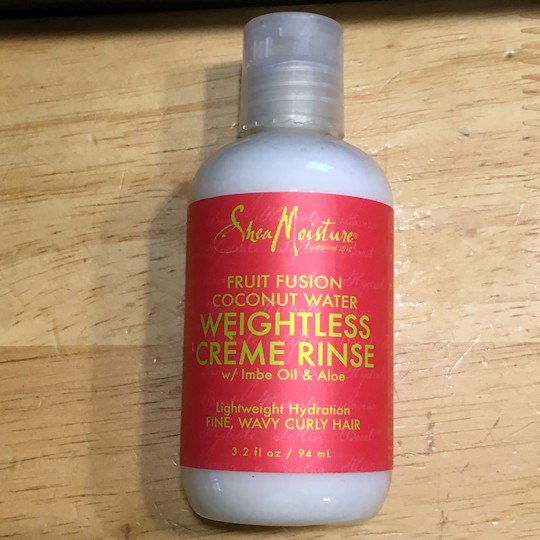 SheaMoisture Fruit Fusion Creme Rinse – "Lightweight conditioning rinse features a unique blend of fruit extracts to soften and energize hair."
This smells AMAZING and works great, even on my kind-of-but-not-really-wavy-hair. Angel Face was thrilled to have a product for curly hair in the Beauty Box – I'm glad she has her own so I can use mine without feeling guilty.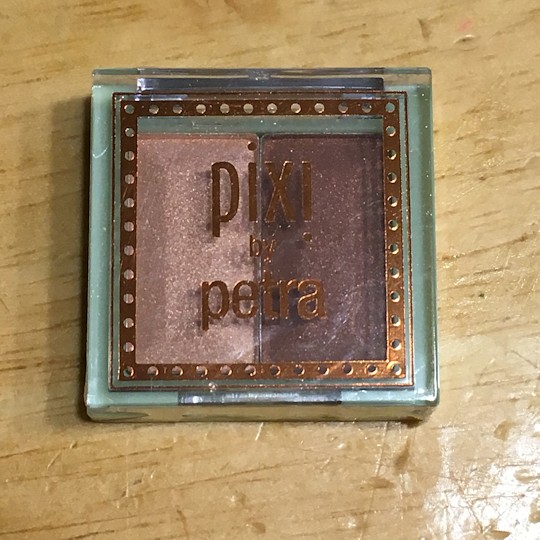 Pixi Mesmerizing Mineral Duo – "Complementary eye shadow shades go on fast and fuss-free with a double-ended sponge applicator."
Aren't they pretty?! I need more eyeshadow like I need a hole in my head but I'm seriously considering buying the full palette because it's just so pretty.
I wonder what they'll have next month!