Mother's Day is fast approaching, and if you're looking for unique Mother's Day gift ideas that won't break the bank, you've got to check out the Mother's Day gift ideas at UncommonGoods.
First we need to take a little trip back in time.
Since I don't have a DeLorean we'll just have to imagine harp music and wiggly lines like you see on TV shows…
It all started several years ago, when Uncle Jay gave our mom a "Whatever" clock like this one for her sewing room.
Since I have a "whatever" sense of time as in "Come over around 6:00, or whenever" I fell in love with it and wanted one for our kitchen. Teacher found one at UncommonGoods and ordered it as a surprise for me, but unfortunately the surprise was on both of us when it arrived damaged. Boo-hoo!
Teacher contacted customer service and they sent us a new one right away. Hooray! The new one arrived in perfect condition, and we were both impressed by the quality of the clock and the great customer service.
Fast forward to the present with more harps and wiggly lines…
With Mother's Day coming up I was offered the opportunity to review some Mother's Day gifts from UncommonGoods. Since my previous experience with the company was so positive I jumped at the chance.
I've said it before and I'll say it again: "Anything I rave about is because I want to share something amazing with you – not because I was paid to say it." That's my promise to you.
And while I'm being ethical and honest I have to admit that I did not purchase the Mother's Day gift items I tested; I was invited to choose from a selection of Mother's Day gifts, up to a certain amount. However, I stand by my promise – I'll never promote something I don't believe in or wouldn't use myself.
My first challenge was deciding which of the Mother's Day gift ideas to choose. There were so many lovely things that it was one of the hardest decisions I've ever had to make! I decided to look for something useful, preferably for the whole family, and something special just for me.
The something useful for the family was easy – when I saw the three-tiered bowl I knew that was the one. With the size of our family, a gathering of just my parents, my brothers and their families, our children and their families plus us is easily 25 people. Find enough counter space for all the food is always a challenge so a tiered bowl that expands up instead of out will be perfect!
When I took the box out of the package I was shocked at how small it was. Even though I knew it folded down I never imagined it would be so compact; at under 4″ deep and less than 12″ square it'll be really easy to store.
Of course I couldn't wait to check it out. Even though we had a great experience with UncommonGoods before, I was still a little skeptical about how great the tiered bowl would be "in real life" because I know how easy it is to make something look great in photos – even when it's really not so great.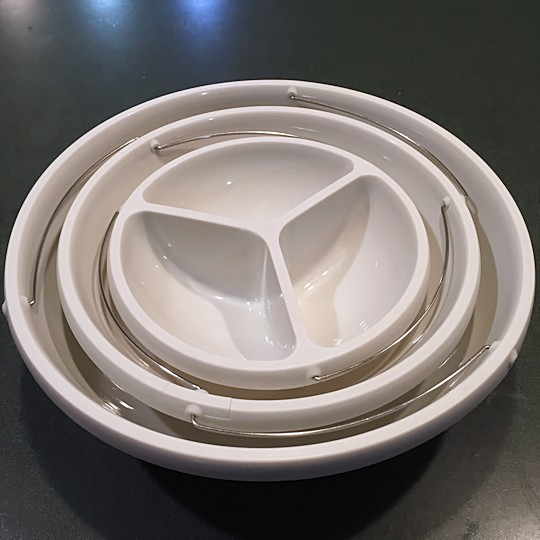 I discovered that I had no reason to be skeptical – it's one of the coolest things I've ever seen!
When it's folded down it's only about 3″ tall, but it pops up to about 15″. To open it you simply hold it in the center and twist gently counter-clockwise; it springs open like magic! To collapse it again you just twist clockwise.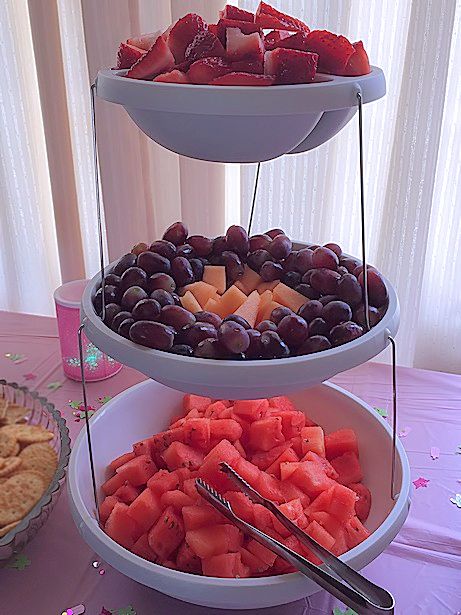 I was able to try the tiered bowl out at Princess's baby shower and discovered that it holds a lot more than you'd think. I put an entire small watermelon in the bottom bowl, half a cantaloupe and whole bag of grapes in the middle bowl, and a quart of strawberries minus the ones Peanut ate when she thought I wasn't looking in the top bowl.
Last but not least, in addition to all the coolness I've already mentioned, the three-tiered bowl is BPA free, and dishwasher safe; I put it in collapsed, and it came out squeaky-clean. What more could you ask for?
I can't wait to use it at our next party – I'm thinking it'll be perfect for two kinds of tortilla chips with salsas and guacamole on the top, or veggies down below with pickles, black and green olives on top, or desserts on all three levels – all chocolate, of course.
The item I chose "just for me" is a gorgeous handmade Healing Stone mug. Everyone who knows me knows how much I like love need my morning coffee. Most days I use a travel mug because I'm klutzy and have knocked over my latte more times than I can count, plus it keeps my coffee warmer longer. But when I have a chance to sit down and relax with a hot drink and good book I like to use a pretty mug – it feels more indulgent that way.
I chose a blue mug, but they come in four colors, each with a different crystal in the handle. The card that came with my mug says "Clear Quartz: This popular healing crystal is considered the master healer aiding many areas of the body. It stimulates the immune system, soothe burns and harmonizes all the body chakras. Quartz also channels universal energy and clears negative energy."
I'm not sure that crystals can really heal, but at the same time I'm not sure that they can't. I figure it can't hurt to have the healing energy in it, and at the very least it's a gorgeous mug.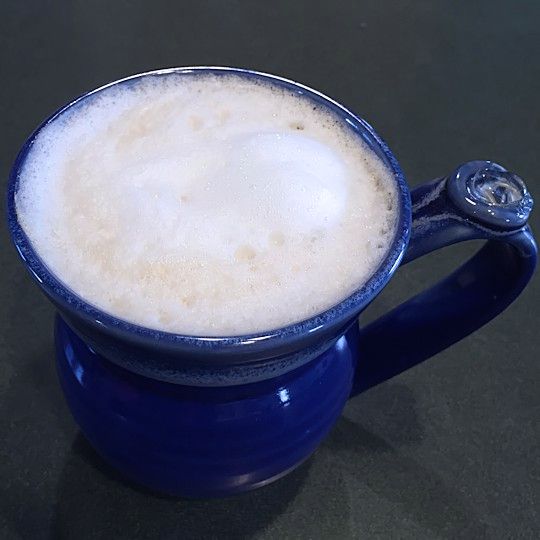 Again, I was a little skeptical about whether the "real-life" mug would hold up to the description and photos, but again I had no reason to doubt – the mug is fantastic! It's hefty enough that you don't worry about banging it against something and chipping or cracking it, but light enough that it's easy to lift even when filled to the brim. The shape is perfect for holding between your two hands on cold days or when you're feeling down and need a little comforting. The handle is sturdy and generously sized and the gem on top is perfect for resting your thumb on. It's dishwasher safe I've run mine through multiple times already and holds 16oz, which I think is the perfect size for a latte or hot chocolate.
I've been too busy lately to indulge in a latte-and-book session, but love the mug so much I've been using it for water. I'm not a huge fan of water, but somehow a pretty mug can make even plain water enjoyable.
If all of this hasn't convinced you to check out the Mother's Day gift ideas at UncommonGoods, maybe these facts about the company will sway you:
UncommonGoods strives to offer unique and handcrafted gifts created in harmony with the environment and without harming animals or people.
The lowest-paid seasonal worker at UncommonGoods starts at 50% above the minimum wage.
UncommonGoods supports and provides a platform for artists and designers; in fact, half of what they sell is made by hand.
Most of the products UncommonGoods carries are created in the USA; about one-third of the collection incorporates recycled and/or upcycled materials.
Last but not least, speaking as a mom and grandma, I'll bet your mom or grandma would LOVE a Mother's Day gift from UncommonGoods – I know I would! Hint-hint, kids!
If you could pick any Mother's Day gift from UncommonGoods, what would it be and why?