After much searching and tasting we've discovered that Simple Simon Bakery is the bakery we want to create Princess and Cowboy's wedding cake.
I don't know why I didn't think of it sooner; when I was a kid my mom bought baked goods from Simple Simon regularly. In fact, when I was ten or eleven there was a Simple Simon outlet a block and a half away from my house. When we ran out of bread my mom would send me there for a loaf or two. I always felt very grown-up biking there by myself and returning with fresh bread in the white plastic basket between my handlebars.
But I digress…
On Saturday morning Princess and Teacher went to meet with Jenny from Simple Simon Bakery. I'd planned to go too but had caught a stomach bug and ended up spending most of the day in bed.
It was a sucky way to spend a Saturday, and that's all I'm going to say about it.
Teacher and Princess had a great time talking with Jenny and came home raving.
"They use butter in their frosting mommy! Did you know some bakeries use lard? Jenny told us that. Oh no – do you think the other frostings were lard?"
Princess, who doesn't eat beef or pork, was horrified by the idea that she might have accidentally eaten lard.
"No, it was probably shortening." I reassured her.
"She was very impressive and positive. She spoke very highly of Fox Banquets. I actually worked with her husband for a while." Teacher was more impressed with Simple Simon than either of the other bakeries.
Fox Banquets is where we're having the reception, but I'll save that story for another time.
"We can bring flowers to her and she'll arrange them on the cake for us! And there's no extra charge for flavors and fillings! Plus delivery and equipment rental is cheaper than anywhere else." This was sounding better and better.
"Did you get some samples?"
"Just a couple…" Teacher said, tongue in cheek.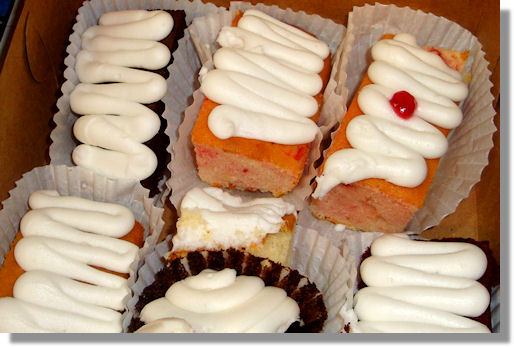 Not only did they bring back vanilla and chocolate cupcakes, Jenny also gave them a box filled with flavored cakes. Apparently whenever she makes a cake the extra batter is baked in a loaf pan then frozen to have on hand for wedding cake sampling. Our box contained mocha, strawberry, cherry, lemon, almond, and red velvet samples.
Teacher and Princess waited politely all day, hoping I'd feel up to cake sampling by nighttime, but there was no way so they went ahead without me.
"Mmmmmm, mommy, this is so good!" Princess licked her fingers.
"Is it moist?" I'm usually too busy diving into a cake to notice if it's dry or not but Teacher notices details like that.
"It's very nice – has a good texture and is moist." Sounds like he approves.
Finally Sunday night I was ready to eat some cake.
It was sooooo good! The frosting was sweet but not hurt-your-teeth-sweet, and it didn't leave that greasy feeling in on the roof of your mouth. The flavors were subtle and natural-tasting – sometimes flavored cakes have an artificially-flavored taste or overwhelming flavor, but these didn't at all. Each was a little dry around the cut edges, but it'd been sitting for over a day and a half waiting for me; the middles were nice and moisd
We've found our cake place!
The new problem is that the flavors were so good that Princess is rethinking their original white/chocolate/marble idea.
"We could have each cake be a different flavor with different fillings. Or have two different flavored layers in each cake with different fillings. Or we could have…"
Yes, you can have all that and more, but hurry up and decide, it's four weeks and counting until W-Day!