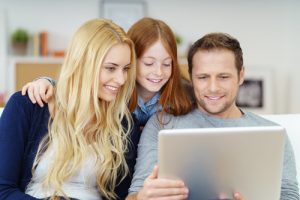 It's tough to communicate with tech-zombie children who are constantly plastered to a screen. In fact, one study reports that children are so engrossed in technology that, 50% of the time, they completely ignore their parents when they come home from work, according to Psychology Today. The good news? Technology can also make communicating with your children easier, safer and more convenient than ever. Ride the technology wave by choosing some family-friendly apps to chat with and keep track of your children. These apps have great parental controls and help you train your child to chat safely.
1. Kids in Touch
Keep in touch with your children via text throughout the day with Kids in Touch. The Kids in Touch app is like training wheels for texting. As the parent, you have the ultimate control. You can invite other families who also have the app to communicate with your child and you can choose who in that family can text your child; no one else can text them. The app also allows you to review your child's messages and teach them how to stay safe online.
2. Marimba
Use the Marimba messaging app to approve your child's friend connections, monitor your child's messages in real time, review old messages and limit chat hours. This app is ideal for children ages 7-12. Marimba is also certified by the kidSAFE Seal Program and compliant with the Children's Online Privacy Protection Act.
3. Roo Kids
With the Roo Kids app, you control your child's contact list, in-app purchases and curfew hours. When it's time for bed, texting time comes to an end. Concerned about photo sharing? You can also restrict this app's access to your child's iPad camera.
4. PLAYMessenger
With the PLAYMessenger app, children can send and receive text, audio and photo messages. The app also verifies adult users (thanks to a partnership with PRIVO) so you know adults are who they say they are. You can also monitor your child's contacts and messages and ensure that he or she isn't developing a potty mouth by using PLAYMessenger's advanced language filter.
5. Apple Messages
Children can chat on iMessage with their own Apple ID. For added parental monitoring and control for children under the age of 13, you can participate in Apple's Family Sharing and add your child's ID to your family group.
6. Skype
Another great alternative is Skype. You can create a Skype account for your child. Once you log in with your child's username and password on your own device, you can set notifications so that you are alerted when your child's account receives messages.
7. Choose Your Phone Wisely
Naturally, the best apps for families are only as good as the corresponding mobile devices. Start with a smartphone with intuitive design, large screen and a long lasting battery. For example, the LG G5 features over 21 hours of talk time and allows family members to schedule text messages to be sent later, mark messages as spam and call from the message screen with a single tap.
8. Other Great Safety Apps
If your child doesn't respond to your messages, you won't need to call 911 immediately if you at least know your child's location. Check out Find My Kids and Family Tracker for added peace of mind. If your child is at school or at a friend's house, you can rest easy.