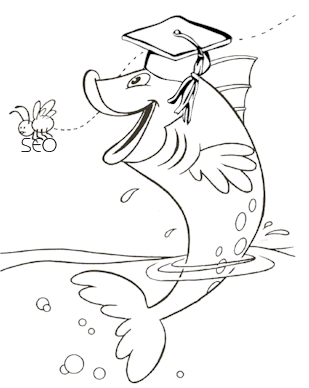 You're probably wondering what "Blackhat Fish" means, right? What about SEO, do you know what that is? If you have a blog or a website, especially a business website, you need to know about SEO!
SEO stands for Search Engine Optimization, and it's the strategies that help your site come up at the top of the SERPS. That means Search Engine Result Pages. Don't worry I didn't know it at first either. Of course you know why you want your site/blog to come up at the top of the SERPS – so visitors come to you instead of competitors!
Want proof that SEO works? Google search "wipe solution recipes"… Go ahead, I'll wait for you! Yup, that's my page in the #1 spot. Now try "seo training"… the #1 spot there is GNC Web Creations, owned by Cricket who taught me everything I know about SEO.
So how do you take your site or blog to the top of the SERPS? It's easy, just follow the steps below! I promise to explain about Blackhat Fish too, but if you can't wait you can learn about blackhat fish now.
First pick ONE page of your site and make sure it's about only ONE topic. For instance, if my site sells fish: blackhat fish, orangeboot fish, redvest fish, etc, I want each type of fish on a separate page. Why? Because the blackhat fish page will attract the targeted traffic that is looking specifically to buy blackhat fish!
Next choose a keyphrase like "blackhat fish" that tells what the page is about. You need one that is specific, yet something that people actually search for. This keyword tool can help.
Now the fun starts! Start making changes on your page to optimize for your keyphrase:
If this is a brand new file you'll want to name it using the keyphrase, but if it's an existing file don't rename it if it's already been indexed. My filename would be "blackhat-fish" so the URL would be "http://www.myfishsite.com/blackhat-fish.htm."
Title your page with the keyphrase. My title is "Blackhat Fish".
Put in a description meta tag that includes your keyphrase, like "We offer hard-to-find Blackhat fish plus everything you need to care for your Blackhat fish pets!"
Add the keywords meta tag: "blackhat fish". Many sites stuff this tag with every keyword imaginable, but that just dilutes the strength of your chosen keyphrase. Kinda like too much ice dilutes your lemonade.
So far my code looks like this:



Now we start working on the content of our page!
Use your keyphrase in the heading tags in your content. Think of your page as an outline like you learned in gradeschool. H1 is the main topic, H2 are subtopics of H1, H3 are subtopics of H2, etc. Try to use blackhat fish – or your own keyphrase – in each heading, but in a natural manner.
Use your keyphrase within the content of your site. A good balance will include your keyphrase often while keeping the text readable for your visitors. Check this keyword density tool to see how you're doing – try for 3-7%.
While you're writing content, try for around 1000 words on your page. I know, I know, that's a lot of words to come up with! But that's what Cricket recommends and she's never steered me wrong.
Add alt tags to your image code, using your keyphrase. Alt tags are part of image code that tell visually impaired visitors what the image is. They also display in place of your image if the code is broken. On a photo of a blackhat fish I'd put "Blackhat Fish Swimming".
Speaking of images, be sure to name your image files using your keyphrase. Like "blackhat-fish-swims.jpg"
Next add title tags to your link code, using your keyphrase. Title tags help visitors know where a link is going. BUT the tricky thing about title tags is that they benefit the page the link GOES TO. So I'm not going to put "blackhat fish" on the blackhat fish page, I'll put it on the pages that LINK TO the blackhat fish page. Got it?
This is what my content code looks like:


The final content will look something like this: But the headings won't be wonky. These are set to the blog so they're kinda weird… just pretend they're not. 😉
Blackhat Fish

< – Image alt tag. I don't have a photo of a blackhat fish so it's displaying the alt tag. Cool, huh?

Blackhat fish make fantastic pets! Your child will love having one of our
blackhat fish as a pet.

Blackhat Fish are Easy to Care for

Your child will learn a sense of responsibility caring for her blackhat fish.
Clean their tank once a week and feed them daily, that's it!

Blackhat Fish are Entertaining

Watch your blackhat fish for hours! Feed them Blackhat Fish Food for healthy growth. < – This link really works, but it leads back to this post. You can still click it if you want.

Finally, to improve your site's position in the SERPS you need incoming links. That's where my promise to tell you about Blackhat Fish comes in. There's a month-long SEO contest going on to see who can rank a blog post highest using the keyphrase "blackhat fish". Most people are writing something silly about blackhat fish, but I wanted to write something helpful for you as well as enter the contest. That's why I wrote this huge post using "blackhat fish" in my examples. It's not just the contest, I really do want you to improve your SERP rankings. But to be honest, I also hope that you'll link to this blackhat fish post from your blog or links page as a thank-you… and to help me with the contest!
I truly hope you learned something from me, but for the complete who, what, where, when, how and why join Cricket's classes – they're fantastic and FREE!
And please, please link to this Blackhat Fish post so I don't look like a total fool among all the professional SEO-ers in the contest! Use this URL: http://myhappycrazylife.com/blackhat-fish/
Thank you soooo much!