Would you like a healthy Chicken Lo Mein recipe? How about a chance to win a $100 Amazon gift card? Today I've got both for you…read on for the Chicken Lo Mein recipe and to see how to enter the giveaway!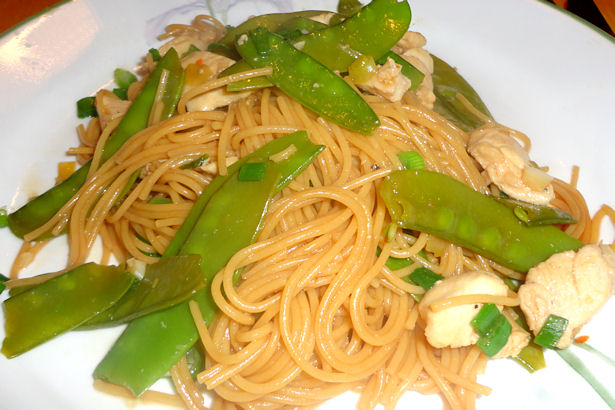 When I was pregnant with Z-man I craved Lo Mein like nobody's business. I could eat Lo Mein every day and still not get enough. Not much has changed since then; even though he's seven years old I still crave Lo Mein on a regular basis.
Recently I came across a Chicken Lo Mein recipe that looked really good and asked Teacher to make it one night for dinner. The recipe was pretty healthy to begin with, but Teacher made it even healthier by using Barilla® Whole Grain spaghetti instead of the lo mein noodles the recipe called for.
Why Barilla® Whole Grain? Well to be honest, we've tried 100% whole grain pasta but the kids won't eat it, which means they're getting less nutrition than if we served regular pasta. Barilla® Whole Grain is made with 51% whole wheat, so it tastes more like regular pasta. Plus it's all-natural and is an excellent source of fiber, providing three times the fiber of regular pasta, which makes it a great way to get whole grains into your family's diet. Even if your family is as pasta picky as mine!
And if that's not enough, there's a taste guarantee – if you don't love it, you get a box of Barilla® blue box pasta for free. You can't beat that!
Healthy Chicken Lo Mein Recipe – in Pictures
The original recipe serves 4 so we doubled the recipe to make enough for our family. Obviously, if you're making a single recipe you'll be working with less food than I have pictured here. 😉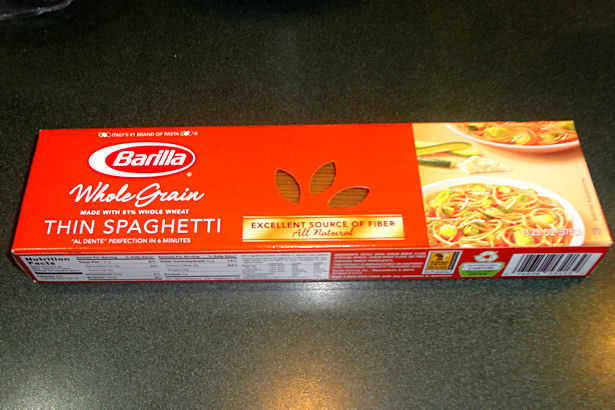 Cook your Barilla® Whole Grain pasta according to the directions on the box. Meanwhile, prep and cook the chicken and veggies for your Chicken Lo Mein.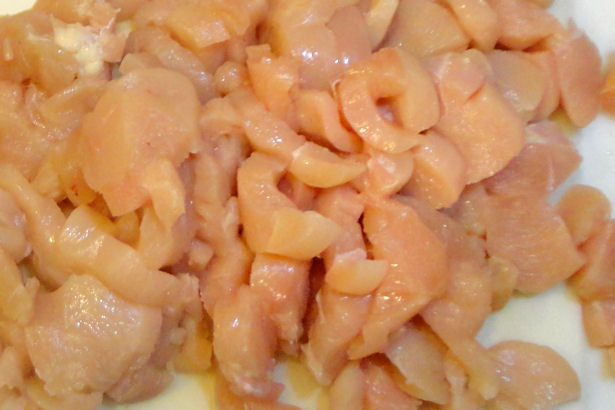 Cut about two pounds of chicken breast into bite-size pieces.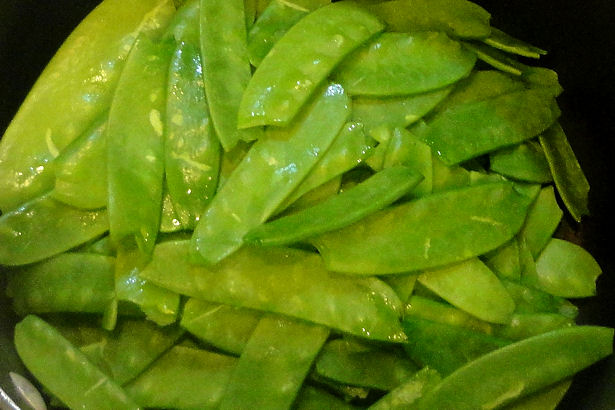 Clean one pound of snow peas by pinching off both ends and stripping off the string along the top of the pod.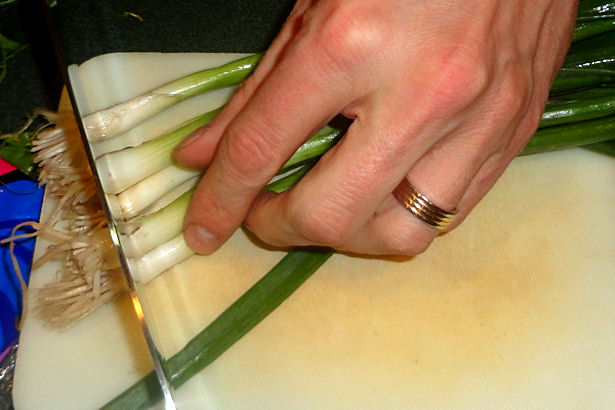 Slice six to eight green onions aka scallions and separate the white parts from the green parts. While you're wielding the knife, chop up three to four cloves of garlic, too.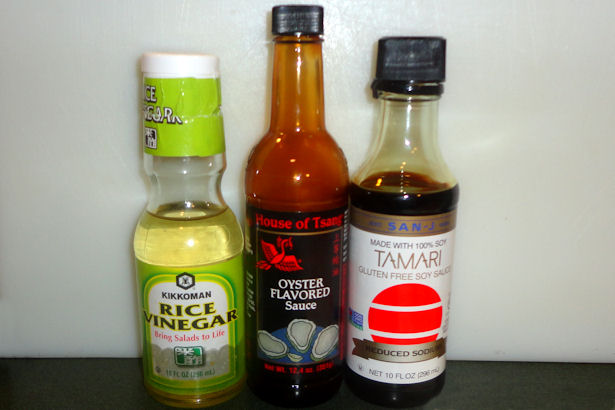 Measure about 1/2 cup Oyster Sauce into a bowl and add 4 tablespoons of rice wine vinegar and 2 tablespoons soy sauce. The original recipe calls for water, but our chicken was so juicy we omitted the water.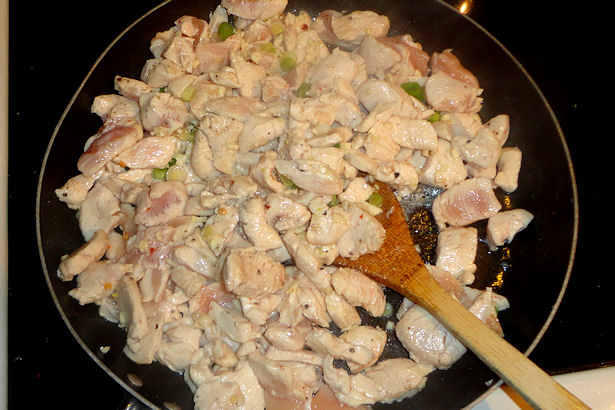 Heat a large frying pan aka skillet or stir fry pan over high heat. Drizzle in a tablespoon of oil or so. Add the chicken and cook, stirring until it's almost done. Teacher added 10-12 red pepper flakes to the oil so the pepper flavor would permeate the entire lo mein dish. It was the perfect amount to add taste without heat.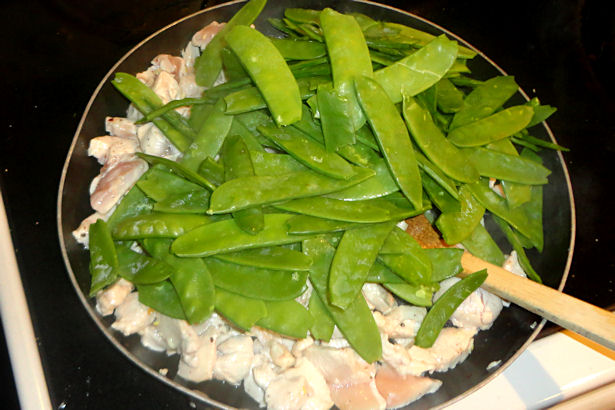 Add the snow peas, the white parts of the green onions, and the garlic. Cook, stirring until the snow peas are tender-crisp and the chicken is cooked through.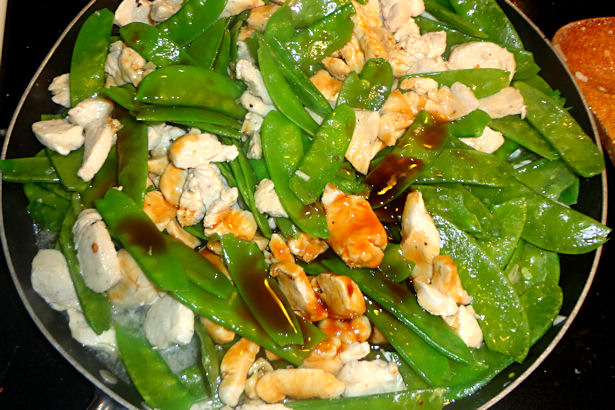 Stir in the sauce mixture. Add 1/4 to 1/2 cup water if needed.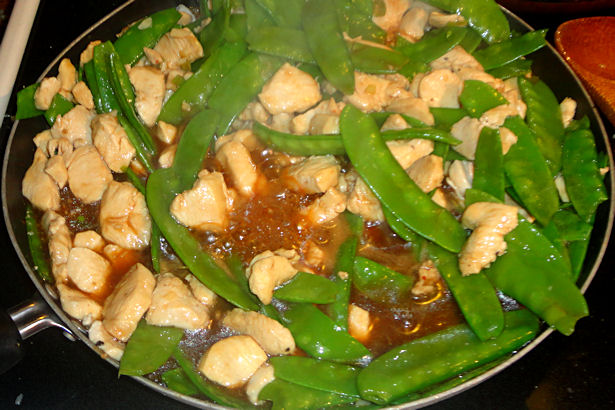 Cook until the sauce has thickened.
Place drained Barilla® Whole Wheat pasta in the bottom of a large bowl and top with the chicken and vegetable mixture. Stir to combine, if desired. At our house, if we serve without stirring everything naturally mixes together, but if we stir it before serving the chicken and veggies end up at the bottom of the bowl.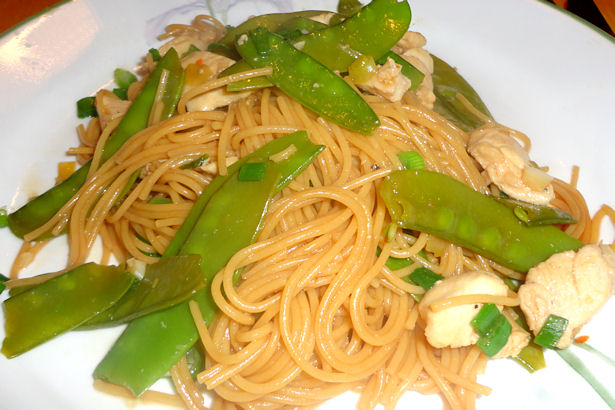 Garnish with green onion tops and extra red pepper flakes, if desired, and enjoy! Nomnomnomnom…
Now – Go enter that giveaway! Don't worry, you won't miss the Official Chicken Lo Mein recipe; it's at the end of the post.
$100 Amazon Card Giveaway
To enter for a chance to win the gift card, courtesy of BlogHer and Barilla®, simply answer this question by leaving a comment below: What do you love about Barilla® Whole Grain?
And don't forget to read the rules!
SWEEPSTAKES/GIVEAWAY RULES
No duplicate comments.
You may receive (2) total entries by selecting from the following entry methods:
a) Leave a comment in response to the sweepstakes prompt on this post.
b) Tweet about this promotion @BarillaUS with the following unique term in your message, #BarillaWG, and link to your Tweet in a comment on this post.
c) Blog about this promotion and leave the URL to your post in a comment on this post.
d) For those with no Twitter or blog, read the official rules to learn about an alternate form of entry.
This giveaway is open to US Residents age 18 or older.
The sweepstakes runs from 2/21/12 – 3/30/12.
Winners will be selected via random draw, and will be notified by e-mail.
You have 72 hours to get back to me, otherwise a new winner will be selected.
The Official Rules are available here.
Be sure to visit the Barilla® Whole Grain round-up page on BlogHer.com where you can read other bloggers' reviews and find more chances to win!
Healthy Chicken Lo Mein Recipe
For 4 good-sized servings of chicken lo mein you'll need:
8 oz Barilla® Whole Grain Spaghetti
2 Tbsp canola oil
1 pound chicken breast, cut into bite-sized pieces
1/2 pound snow peas, trimmed
4 scallions, thinly sliced; green and white parts separated
2 cloves garlic, chopped
Kosher salt
1/4 cup oyster sauce (in the Asian section of your grocery store – you may find some in the organic section too)
2 tablespoons rice vinegar
1 tablespoon soy sauce
Crushed red pepper, optional
Directions
Cook the Barilla® Whole Grain pasta according to package directions. Drain.
While it's cooking, heat a large skillet or stir fry pan over high heat. Add the chicken and cook until almost done. Add the snow peas, scallion whites, garlic, and 1/2 teaspoon salt. Cook, tossing occasionally, for 2-3 minutes.
Add the oyster sauce, vinegar, soy sauce, and 1/4 cup water; cook, tossing, until thickened, 1-2 minutes. Add the drained pasta and toss to combine. Sprinkle with scallion greens and crushed red pepper if desired.
Enjoy!
For other healthy dinner ideas, visit www.TryBarillaWholeGrain.com and check out the Dinner Kit for recipes and other tools that make it easy to put healthy and extraordinary meals on your table. Good luck with the sweepstakes, and happy healthy cooking!