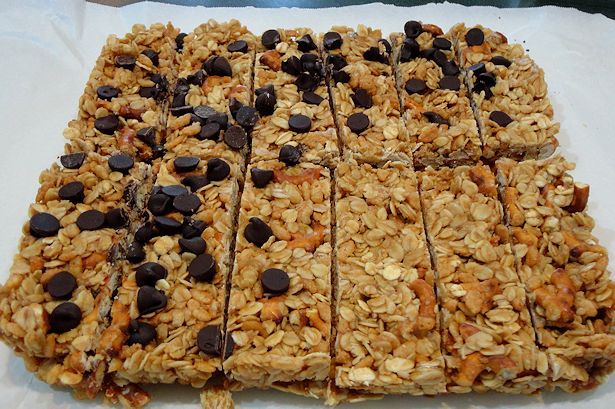 Our family is fueled by granola bars. In the morning the kids grab a granola bar to munch on in the car on the way to school. After school they grab a granola bar to munch on as a snack.
Since granola bars are fairly healthy I don't mind too much, but we only buy organic granola bars so all that grabbing and munching adds up.
To save money I tried making homemade granola bars.
They tasted like cardboard.
No-one ate them so eventually I threw them out. So much for saving money.
Then my friend Nicole let me taste-test one of her homemade granola bars. One bite had me hooked! I knew Teacher and the kids would love them too so I whipped up a batch the very next night.
There are so many things I love about these homemade granola bars:
They taste fantastic – what other reason would you need?
You know exactly what's in them – and what's not. No high fructose or hydrogenated junk in MY granola bars!
You can make a gazillion different varieties of granola bars – the only limitation is your imagination.
They're almost as quick to throw together as Rice Krispie Treats.
Are you ready to make some homemade granola bars?
All right, let's get started!
Homemade Granola Bars – in Pictures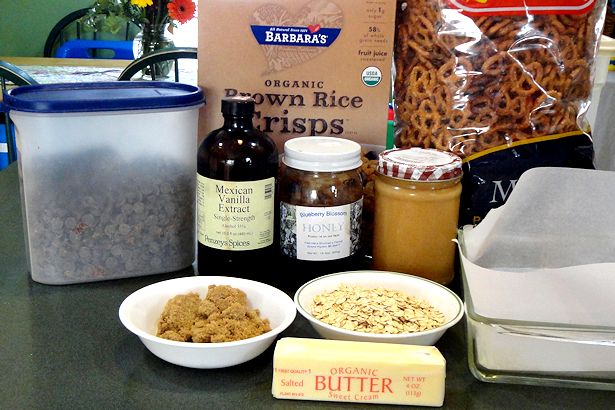 First, gather your ingredients. I recommend homemade peanut butter because it tastes the best and you know what's in it.
Cut a piece of parchment paper to fit an 8 x 8 pan, and place the paper inside the pan.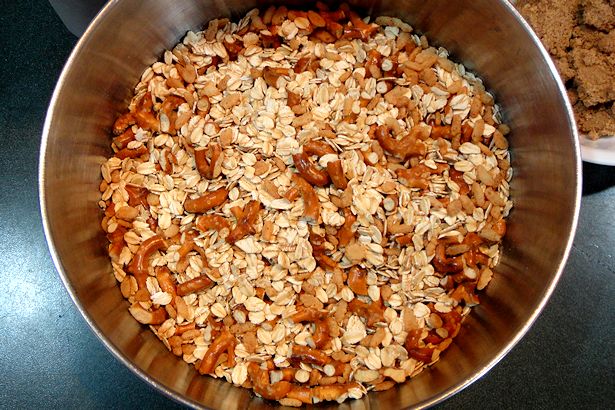 Mix oatmeal, broken pretzels and crisp rice cereal in a large bowl.
We buy brown rice cereal and it works great in the granola bars. I would have preferred whole wheat pretzels, but this is what we had so this is what I used. Pretzel sticks might have been easier to break, but it wasn't a big deal. I was worried that our thick cut oatmeal would be too crunchy for the granola bars, but it was fine; I don't think I would like the cheaper kind that's more crumbs than anything.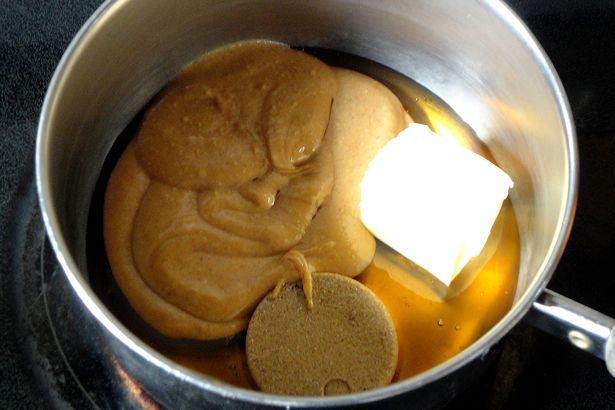 In a saucepan, combine honey, peanut butter, brown sugar, and butter. Sorry about the freaky brightness of the butter; it was in the sunshine and got overexposed more than my basic PhotoShop abilities can fix.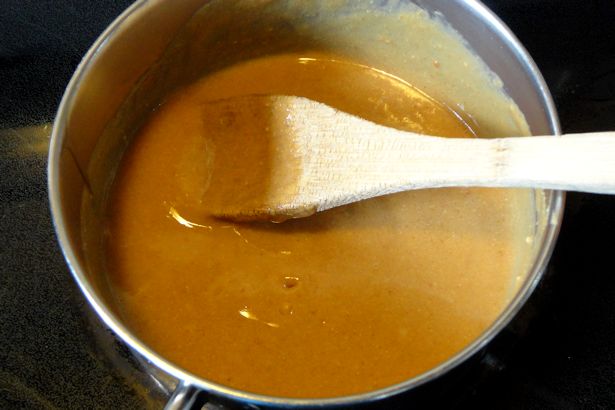 Cook and stir until the butter, peanut butter, and brown sugar have melted and everything is combined. Continue to cook, stirring constantly, for two minutes.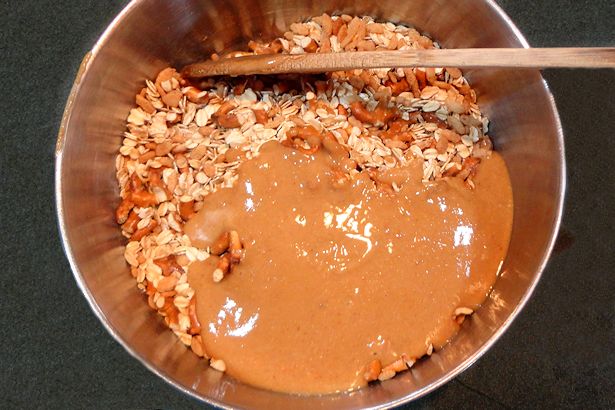 Pour the cooked mixture over the oatmeal mixture and stir well to coat. Be careful – the cooked mixture is sticky and HOT, and will burn if it gets on you.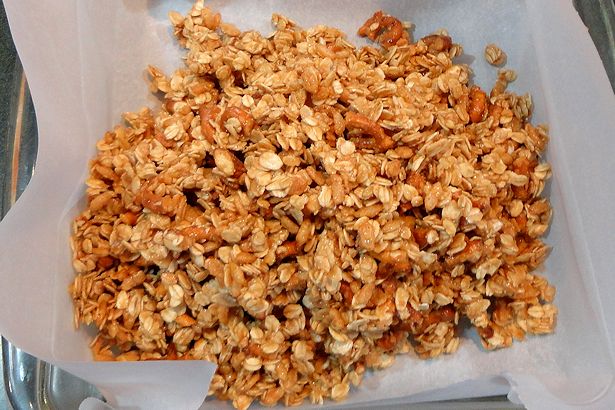 Dump the combined mixture into the prepared 8 x 8 pan.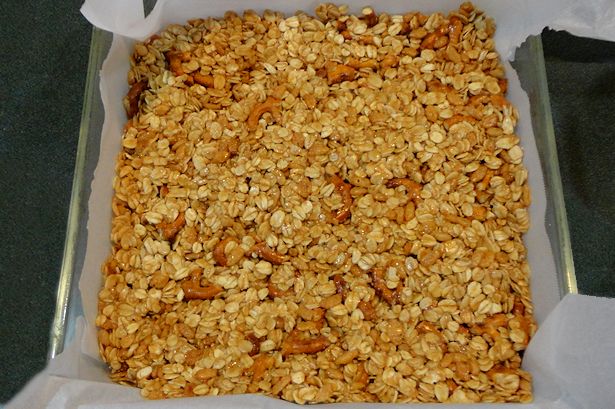 Using another piece of parchment paper, lightly press the mixture towards the edges and corners, leveling it as you go.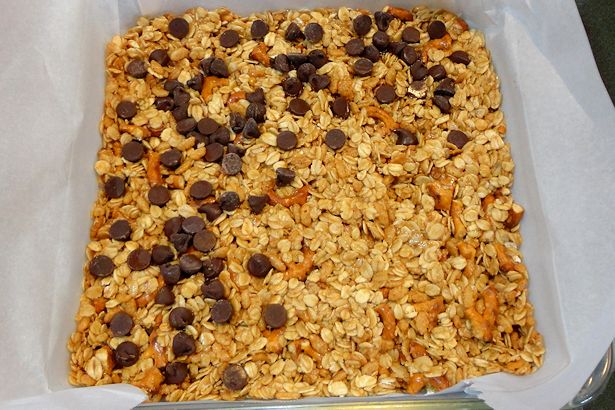 Sprinkle chocolate chips on top, then press the entire mixture firmly into the pan. Angel Face doesn't like chocolate chips so I left one section "naked" for her. I'm nice like that.
I've learned that if you don't press the mixture firmly enough the bars will fall apart after they've been cut. But you have to press quickly or the chocolate chips will melt and make a huge mess. It's a tricky challenge…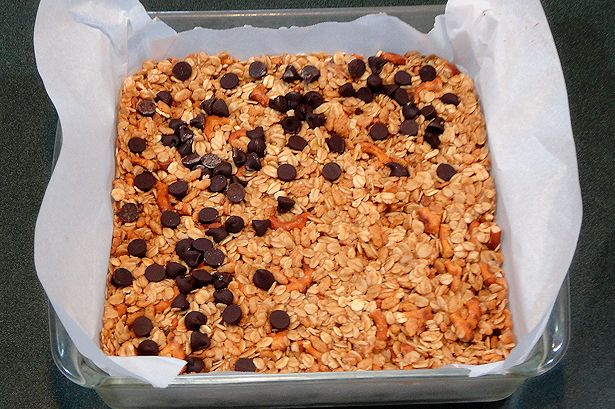 Place in the refrigerator to chill for about an hour.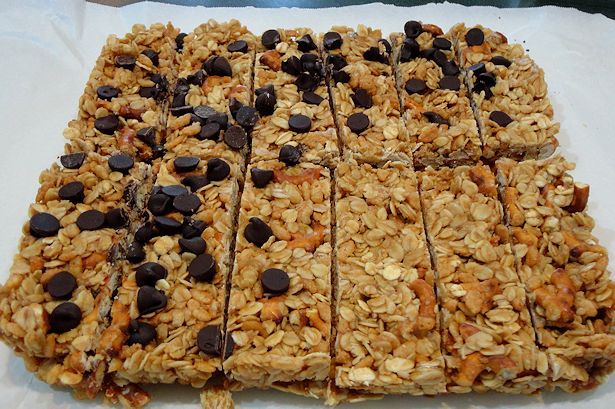 Cut into bars of somewhat equal size. It's easier to take them out of the pan and use a butcher knife to cut them, rather than try to cut them while they're in the pan.
I think that cutting them into 12 bars creates the perfect sized bar, but the original recipe said to cut into 10 bars.
Homemade Granola Bars – Official Recipe
These homemade granola bars are so quick, easy, and yummy that you may just give up store-bought granola bars for good!
Homemade Granola Bars – Ingredients
1/4 cup unsalted butter
1/4 cup brown sugar
1/4 cup honey
1/4 cup creamy peanut butter
1 teaspoon vanilla extract
2 cups old fashioned rolled oats
1/2 cup crispy rice cereal
3/4 cup chopped pretzels
1/4 cup chocolate chips
Homemade Granola Bar – Directions
Place a piece of parchment paper in an 8 x 8 baking dish.
In a large bowl combine oatmeal, cereal, and pretzels.
In sauce pan combine the butter, brown sugar, honey, and peanut butter. Cook over medium heat until melted and bubbling, then continue to cook 2 more minutes – stirring constantly.
Remove from heat and stir in vanilla.
Pour cooked mixture over dry mixture in the bowl. Stir to combine.
Turn combined mixture out into the baking dish. Using an additional piece of parchment paper, press mixture down, flattening and evening it out as you to. Sprinkle chocolate chips over the top and press in gently with your fingers.
Cover with plastic wrap and refrigerate until cooled and set – about an hour.
Cut into 10-12 bars.
Keep in an airtight container for up to a week
Homemade Granola Bar – Variations
Now comes the fun part – variations! Once you've mastered the basic recipe you can make whatever variation you want!
My first batch of homemade granola bars was yummy, but a bit too sweet in my opinion. I wanted to make a batch with less fat and sugar, so for the second batch I tried using half the amount of honey and butter 1/8 cup each. They tasted great, but didn't stay together at all. Back to the drawing board!
For my next batch of homemade granola bars I followed the basic recipe but filled the 1/4 cup measuring cup about 3/4 full In other words, a scant 1/4 cup with the brown sugar and butter. These stayed together better and had a more pronounced honey flavor, which Teacher really loved. Next time I make the basic ones I'm going to try cutting down on all of the cooked ingredients: honey, butter, brown sugar, and peanut butter. I'll let you know how they turn out!
Then I decided to try switching out some of the ingredients, and came up with…
My favorite granola bar is Kashi Dark Almond Mocha so I wanted to make a similar homemade granola bar. I didn't take photos along the way, but I'm sure you can figure it out without pictures. You're smart like that.
For homemade Dark Almond Mocha granola bars I added about 1/2 cup roasted almonds to the oatmeal mixture in the bowl, used a white chocolate mocha almond butter instead of peanut butter, and tossed about 1/8 cup dark chocolate chips into the saucepan. At the end I sprinkled the bars with dark chocolate chips.
How'd they turn out?
Very yummy, but not as mocha-y as I was hoping.
Next time I'm going to put more chocolate chips into the brown sugar mixture, and something to make it more coffee-y – maybe instant espresso powder.
Then I want to try cranberry/white chocolate chip bars.
And chocolate chip/almond/coconut.
And peanut butter chip. If I ever find peanut butter chips without hydrogenated oil…
And…
What kind of homemade granola bars would YOU like to make?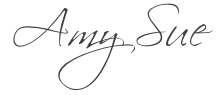 Adapted from The Best Blog Recipes.