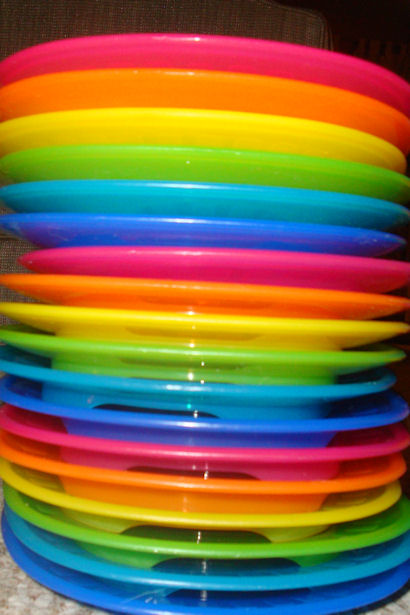 This stack of gorgeousness is all Nicole's fault.
Really and truly!
OK, to be honest, she did have some help from Dorothy and Ikea.
But it's mostly her fault.
Here's what happened…
I'd heard about Ikea before, but since we don't have an Ikea store near us I didn't think about it much until I needed to get a new high chair for Peanut.
That wasn't Nicole's fault – her part comes later.
I knew exactly what I wanted, and an extensive search led me to Ikea. I ordered the high chair, it arrived and I love it, but I didn't think about Ikea again, until the dishes thing.
We're getting to the part where it's Nicole's fault.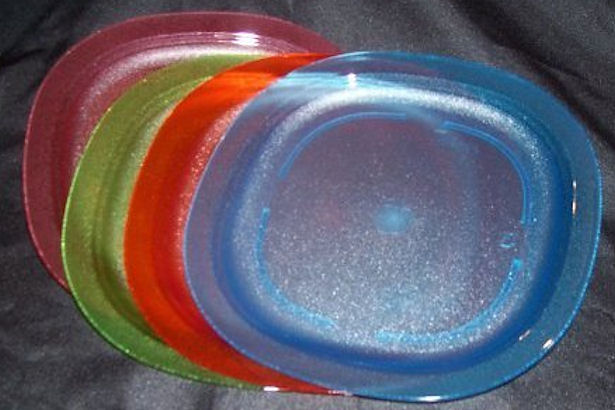 Several years ago I'd bought three sets of smaller Tupperware plates I think they were salad or dessert plates and I loved them, but they only came pink, orange, green and blue. I like to have each child always use the same color of plate, cup, and bowl so there's no fussing about who gets what color at mealtimes, but the plate colors didn't match the colors of the Tupperware cups I already had.
I know, I know – it's a small thing, but it really bugged me!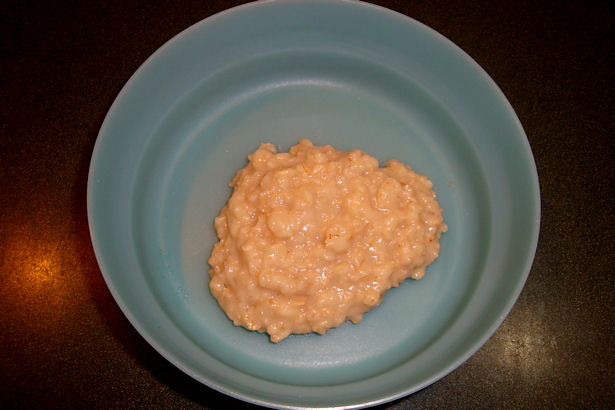 Another problem was that the Tupperware bowls were waaaaay too big for children's portion sizes. I've been attending workshops on the prevention of childhood obesity and portion size is important, so I've started keeping a closer eye on the children's portion sizes.
The kids didn't seem to appreciate my concern for their health. I'd dish out their 1/4 cup of oatmeal – the minimum portion for a two year old – and they'd look at their bowl, then at me. I could hear them thinking "Seriously – that's all I get?" Of course they were offered seconds and sometimes thirds, but the bowls were just so big it made their servings look miniscule.
I decided to get new dishes, but didn't know where to look.
This is where it's Nicole's fault.
Nicole took a weekend trip to the Chicago area to visit friends and go to Ikea. She came back raving about all the cool stuff Ikea had; especially the children's dishes. She knew I was looking for smaller bowls, different colors, and cheap; Ikea had smaller bowls, in sets of six different colors, for just $1.99 per set.
What a deal!
Teacher and I love Chicago and would love to take the kids there for a weekend, but when? With all the activities our family has going on we wouldn't recognize a free weekend if it came up and bit us on the nose.
With my usual impatience I wanted the dishes NOW, but consoled myself with the thought that maybe over the summer we could take a day trip to Chicago. In the meantime I filed "Ikea Dishes" away under "Things to Do Someday When There's Time" – cross-referenced with "Keep an Eye Out for Anyone Going to Ikea."
It's still Nicole's fault…
Our friend Dorothy decided to take a road trip to Ikea to look at some shelves, and when Nicole found out about the trip she told me right away. We both asked Dorothy to pick up some things for us: cups for Nicole and obviously dishes for me.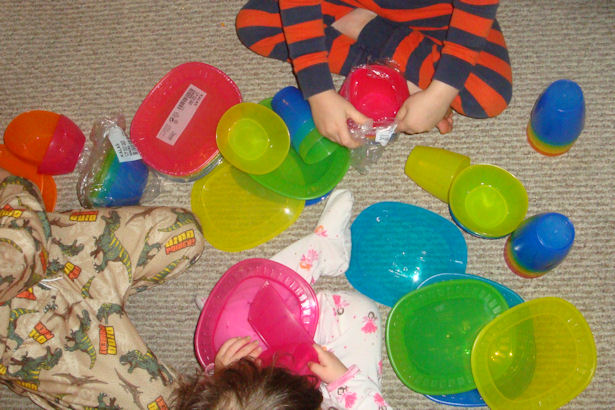 As excited as I was, Z-Man, Little Guy and Peanut were even more excited when I brought them home. They dug right in and started ripping open the plastic packaging. There were plates, bowls and cups flying everywhere!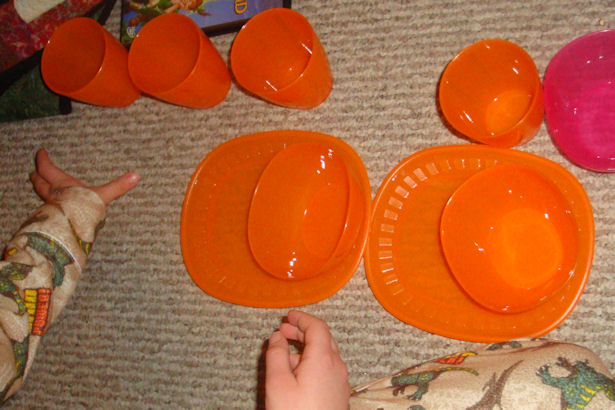 Before all the packages were opened Z-Man started sorting by color; setting aside all the dishes in his favorite color: orange.
Little Guy did the same, except he grabbed the green ones.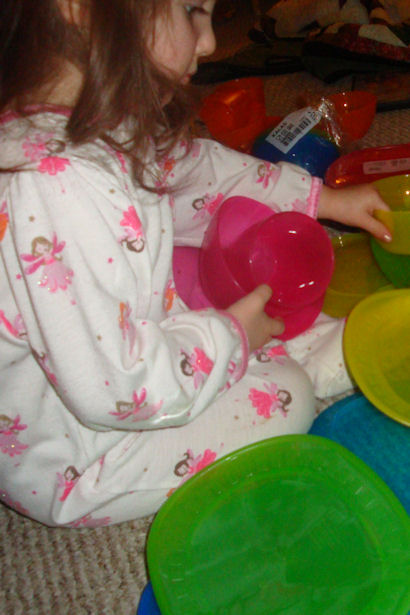 Even little Peanut got into the act, looking for all the pink ones.
I guess I know what colors are taken.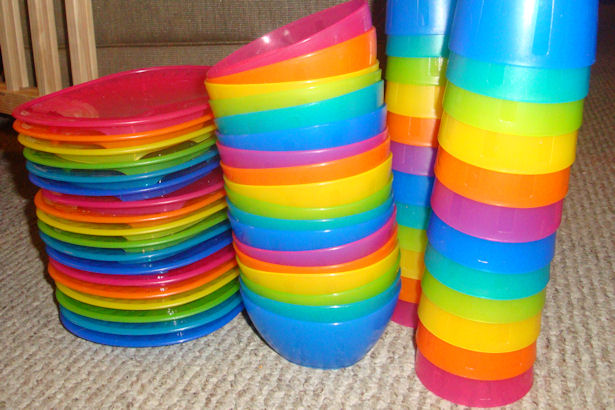 Aren't they pretty? I love the bright colors, and the size is perfect for children. I only wish I'd gotten the matching plastic forks, spoons and knives. They would have been just adorable!
Guess we'll need to take a summer day trip to Chicago anyway.
And it was all Nicole's fault.
Thanks Nicole!