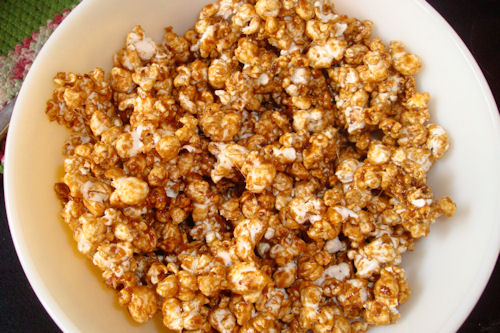 It's crunch time; do you have all your holiday shopping done?
If you need a last-minute Christmas gift, look no further – microwave caramel corn will save the day! A pretty holiday tin filled with microwave caramel corn is the perfect token of appreciation for your kids' Sunday School teachers, your hair dresser, the neighbors with too much time on their hands who always bring over a plate of Christmas cookies, the boss, co-workers, and pretty much anyone who you forgot about until now!
This microwave caramel corn recipe is so quick and easy you can even whip up a batch for the office party, the kids' classroom parties, or the last-minute party you were just invited to.
Speaking of last-minute, I'm getting my hair done soon; I'd better make some for Cassie!
Microwave Caramel Corn Recipe – in Pictures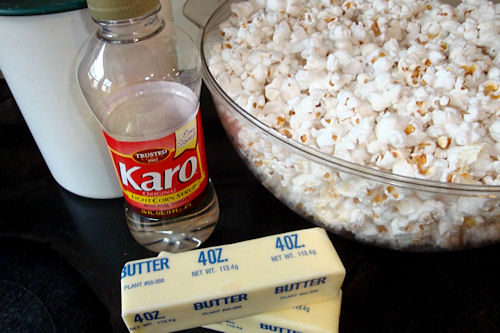 This microwave caramel corn recipe doesn't require many ingredients; you probably already have them all on hand. That's brown sugar in the white container.
You'll also need two 4-quart and one 2 1/2-quart microwavable glass bowls.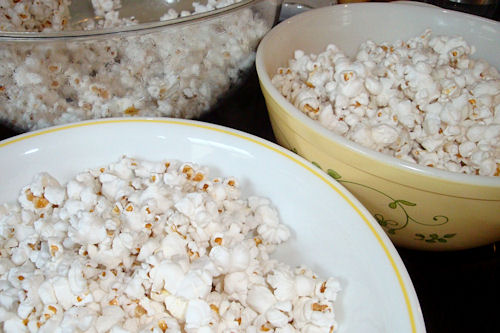 Divide 16 cups of popcorn between the two 4-quart bowls. Be sure to use glass – plastic could melt, ruin your caramel corn, and make your house reek like nobody's business.
I didn't have 4-quart bowls so I used 2 1/2-quart bowls. It worked but was really, really hard to stir because the popcorn kept jumping out of the bowl.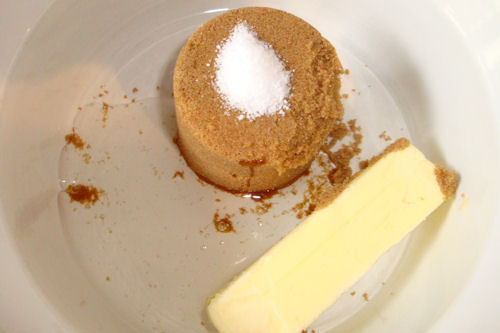 Put the rest of the ingredients – except the baking soda – into the 2 1/2-quart container.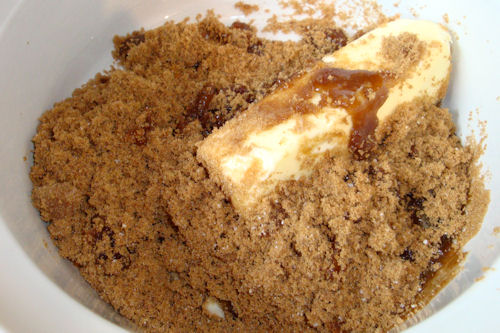 Give it a quick stir so the ingredients can start to mix together.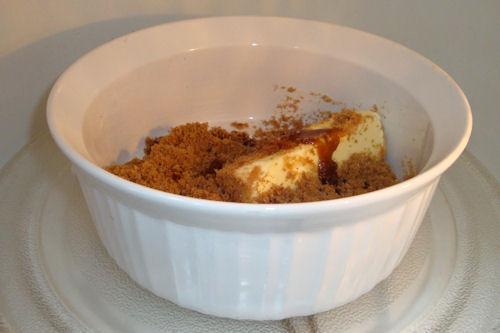 Place the bowl into your handy-dandy microwave and cook on High until the butter is melted: about 2 – 2 1/2 minutes.
The times listed in my original recipe worked great in my 1987-wedding-gift-from-grandma-and-grandpa microwave, but were too long for our newer 1200-watt microwave. You may need to experiment a bit to see what cooking times your microwave requires.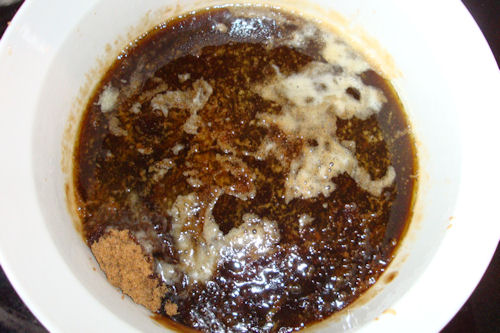 Mmmmm – few things smell better than melted butter and brown sugar!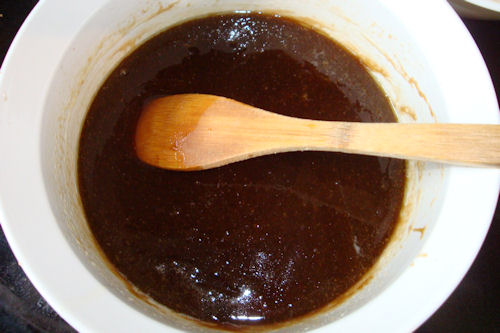 Stir with a wooden spoon until the butter is incorporated into the brown sugar.
Don't use a rubber spatula; I learned the hard way that hot caramel will melt a rubber spatula. I also learned that melted rubber spatula stinks like you wouldn't believe.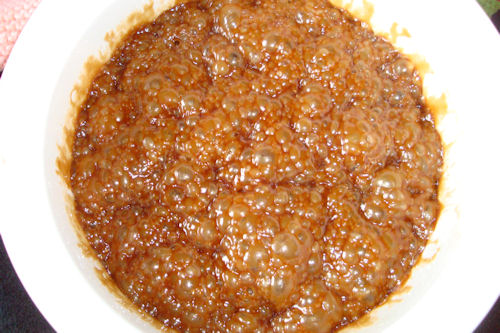 Return the bowl to the microwave and cook for about 30 seconds to bring to a boil. Boil without stirring for 2 1/2 – 3 minutes.
If you've had children helping you, this is the time for them to stand back and just watch. The caramel is incredibly hot, very sticky, and will leave a nasty burn if it comes into contact with skin. Better safe than sorry!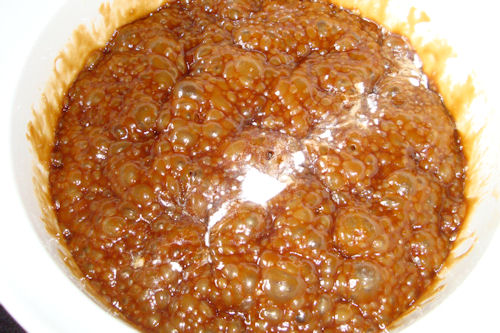 Using oven mitts, carefully remove the caramel from the microwave and stir in the baking soda.
Looks like the same photo as before, doesn't it? The caramel is so incredibly hot it keeps bubbling even after you take it out of the microwave. Be very, very careful.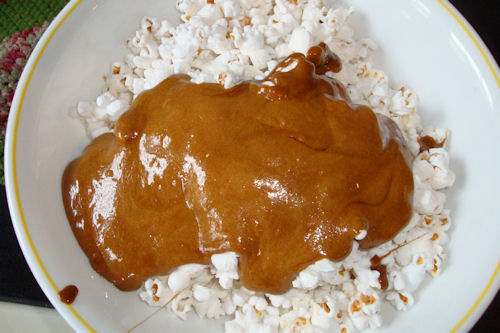 Continuing to be very careful, pour about half of the caramel over each bowl of popcorn. Just eyeball it; the caramel cools fairly quickly then becomes difficult to work with.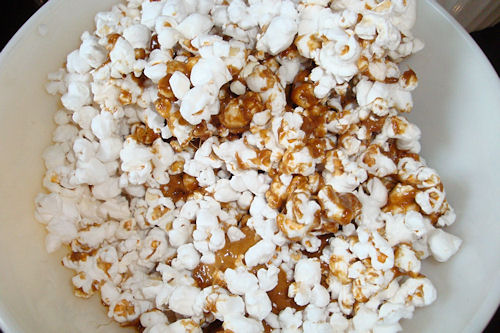 Working quickly and carefully with one bowl at a time, stir the caramel into the popcorn. Try not spread it out so you don't have big pools of caramel in the popcorn cuz they could burn or against the sides of the bowl cuz they'll be harder to stir in later.
When you have the first bowl stirred, place it back into the microwave and cook for about 30 seconds while you stir the second bowl.
Switch bowls and cook the second bowl for about 30 seconds while you stir the first bowl again.
This is the step where my first batch burned – originally the recipe said to cook for 60 sec but obviously that was too long for this microwave. My friend Nicole tried cooking her caramel corn for 60 seconds and it burned too, but we both had success cooking for just 30 seconds at a time.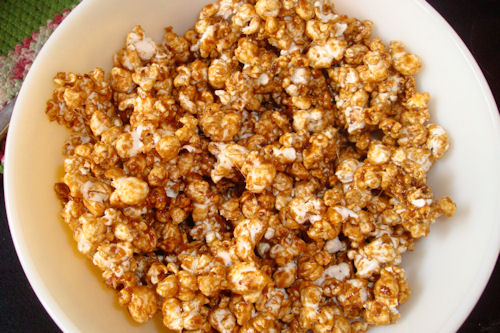 Continue to alternate cooking and stirring until each bowl has cooked a total of 2 – 3 minutes and the popcorn is pretty much covered with caramel.
Be very careful while you're stirring because the caramel is VERY HOT! The bowls I used were 2-quart instead of 4-quart so the popcorn kept falling out of the bowl. I used my left hand to keep the popcorn in the bowl and ended up burning my fingers – twice. Owie!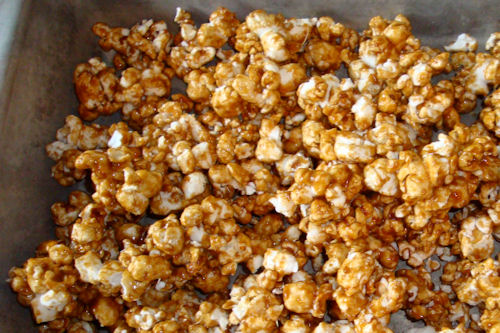 Cool the microwave caramel corn, stirring frequently. The recipe doesn't say to spread it out but I decided to put it in a pan so it would cool more quickly. As the caramel corn cooled I broke the chunks up with my hands instead of stirring with a spoon – it seemed to break apart less that way.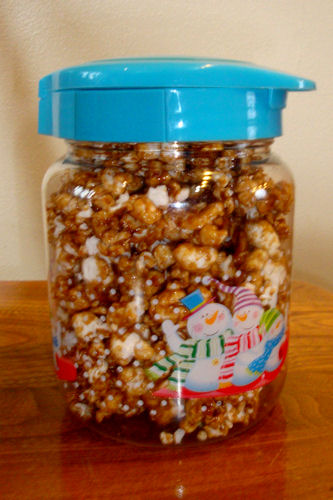 After the caramel corn has cooled completely, place it into a pretty container for gift-giving.
Or pour it into a big bowl, put on a movie, and pig out. Be sure to share some with the rest of your family – it's the nice thing to do.
Official Microwave Caramel Corn Recipe
16 cups popped popcorn
1 cup brown sugar
1/2 cup butter
1/4 cup light corn syrup
1/2 teaspoon salt
1/2 teaspoon baking soda
– Divide the popped corn between two 4-quart microwavable glass containers.
– In a separate 2 1/2-quart microwavable glass container mix the brown sugar, butter, corn syrup and salt. Microwave 2 to 2 1/2 minutes. Stir. Microwave 30 seconds to bring to a boil. Boil 2 1/2 to 3 minutes. Remove from microwave and stir in baking soda.
– Divide between two bowls of popped corn and stir. Cook one bowl in the microwave 30-60 seconds while you stir the other. Alternate bowls until they've each cooked an additional 2-3 minutes and the popcorn is coated with caramel.
– Cool, stirring frequently. Store in an air-tight container.
Enjoy!