For years Walgreens has been our go-to store for greeting cards, seasonal and holiday items, medicines and other "drug store" type products, photo developing, cosmetics… pretty much everything except groceries and clothing, so I was really excited to be offered an opportunity to purchase some Walgreens Brand products for review.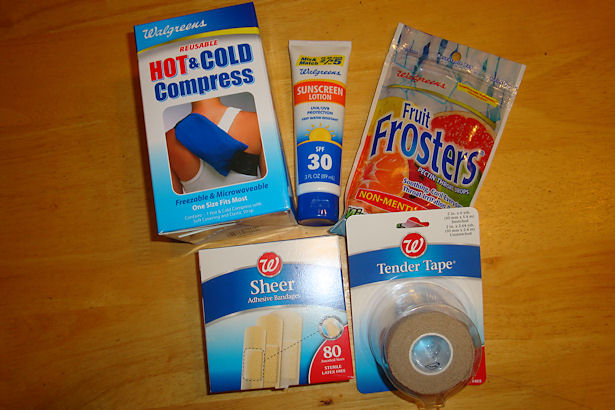 I decided to start stocking up on summer essentials and came home with a nice assortment of Walgreens brand products to get our summer rolling:
Sunscreen – hopefully this year I won't burn at all. Cross your fingers!
Fruit Frosters – for when my allergies get going. I haven't tried them before so I'm curious to see how I'll like them.
Sheer bandages – standard issue summer gear when you've got kids.
Tender Tape – so we can stop borrowing it from my Dad for the kids' soccer injuries.
Reusable Hot/Cold Compress – for Angel Face's sore knee… twisted ankle… stiff back… If soccer doesn't maim her, marching band surely will!
OK I'm ready, Mother Nature, bring on Summer!
Pretty please?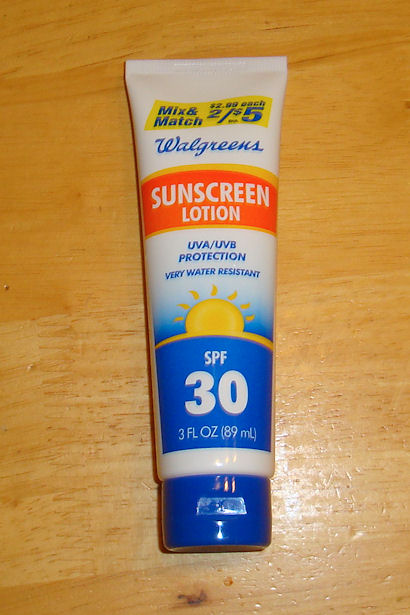 Mother Nature kindly granted my request and sent a sunny and gorgeous Sunday. I slathered on my new Walgreens sunscreen and spent the afternoon working in the garden.
Sunscreen is so important, but it can be expensive. I love Walgreens brand sunscreen because it's just as nice as pricey brands but won't break the bank! It has a nice silky texture and is just is the perfect thickness to go on smoothly without running. Once applied it absorbs quickly and doesn't leave a greasy or sticky feeling afterward like some sunscreens do.
I also like the light fragrance that wasn't overpowering or "chemicaly." I know that's not a word, but it fits what I'm trying to say. The scent doesn't linger so you can wear Walgreens sunscreen every day, like your supposed to, without smelling like you just came back from the beach.
Best of all, it worked! Unlike other springs when the first day my just-spent-the-past-six-months-indoors skin was in the sun resulted in a nasty sunburn, this year I didn't burn a bit!
Score: One for me Walgreens; Zero for skin cancer.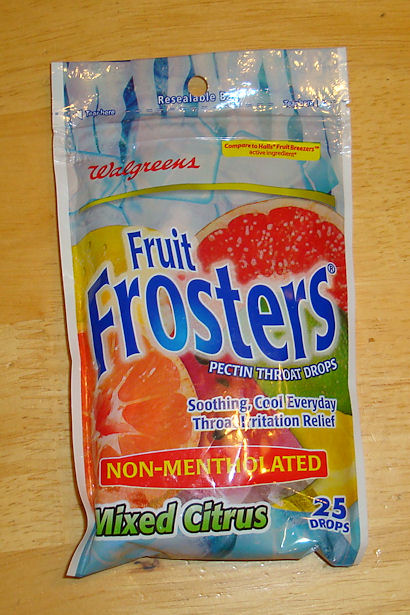 Unfortunately I wasn't digging in the dirt long before my allergies got going in a big way. For me this means a dry throat and lots of coughing fits that make me sound like I've got something horrible and contagious.
Sometimes a drink of warm water will soothe the savage allergy beast, but not always.
Walgreens Fruit Frosters to the rescue!
I hadn't tried Fruit Fosters before and wasn't sure if they'd work or if I'd like the fruit flavor. I usually keep menthol-based cough drops on hand, but they upset my stomach if I eat too many of them so I was ready for something new.
Coughing so hard my eyes watered, I ripped open the package and unwrapped my first Fruit Froster. At first I was disappointed; the Froster was yellow, which usually means lemon-flavored – ewwww! Don't tell anyone, but I always pick out all the non-lemon-flavored drops from a variety pack and leave the lemon ones there. Shhhh!
When I popped the Fruit Froster in my mouth I was pleasantly surprised; instead of the straight lemon flavor I expected, the Fruit Froster had a sweet citrus-y flavor that made my mouth water. Oh, THAT'S what "Mixed Citrus" means: not a variety of different citrus flavors, but all the citrus flavors mixed together! OK, now I feel stupid. Yum! The Fruit Froster didn't have the harshness or medicinal aftertaste my menthol-based drops had either.
The pectin soothed my throat almost immediately, and even when it was gone my throat didn't feel dry like it sometimes does with menthol-based drops. I put a couple extra in my pocket as I headed back out to the garden, but had a feeling I wouldn't need them.
I was right!
Score: Two for Walgreens; Zero for the allergy monster!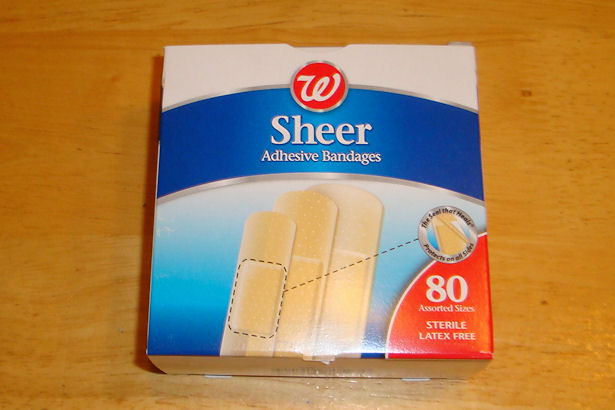 Back in the garden I caught my finger on a raspberry thorn and ended up with a nasty scratch. My usual rule is that bandages are only "to keep the blood in" but since I wasn't done in the garden I decided to use one to keep the scratch clean.
I'm not picky as far as bandaids go, but I was really impressed by Walgreens Sheer bandages. At less than $3.00 for 80 bandages they're really economical, and they come in three different sizes, perfect for anything the kids or a raspberry bush can dish out. The Sheer bandages are also latex-free, which is important because Z-Man and Little Guy have inherited the slight latex sensitivity from me that I inherited from my mom.
As I worked the soil I expected the combination of movement, gardening gloves, and sweaty hands to cause the bandage to let loose, but at the end of the day it was stuck to my finger just as tightly as when I'd first put it on. When I was ready to take it off, it came off fairly easily without too much effort or discomfort.
Score: Three for Walgreens; Zero for bacteria.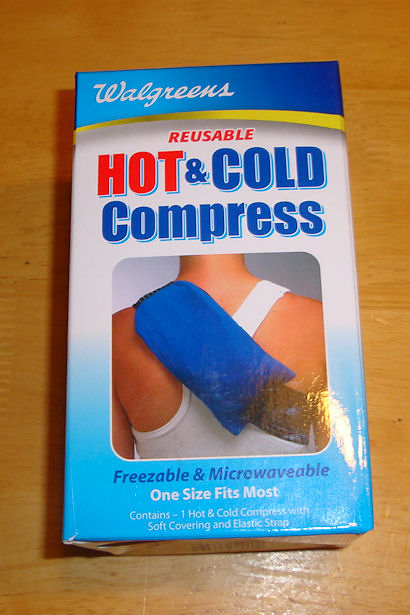 When I purchased the Walgreens Brand products for review I never expected to need so many of them all in one day, but I ended up needing another of them before the day was through.
Who'd have thought gardening was such a dangerous hobby?
After planting a seedling I stood up and felt a terrible pain in my back. It was so bad I doubled up and had to catch myself on the edge of the garden. Darn it, why wasn't I more careful?! I slowly and carefully stood up straight, searching for the least-painful position
The earlier sunshine had been swallowed up by ominous clouds and I could hear thunder in the distance. I was about two-thirds of the way done with my planting and determined to finish before it rained, so I grabbed my gardening bench and perched carefully on it to finish planting.
By the time I was done planting my back had loosened up and I thought I'd dodged the sore-back bullet.
I was wrong.
I woke up in the middle of the night to use the bathroom and literally couldn't get out of bed. When Teacher got me to my feet the pain had me clutching him around the neck, riding it out like I'd ridden out so many contractions. The contractions were nothing compared to the pain in my back!
The next morning I struggled out of bed and into the shower, hoping the hot water would help loosen my back muscles. It did, but I was still in pain. I took an Ibuprofen another Walgreens brand we keep on hand and wished I could get back into the shower.
Suddenly I remembered the Hot & Cold Compress I'd bought for Angel Face!
I followed the instructions for hot use – place the pack inside the belt, microwave, and strap on. Ahhhhh! Between the heat radiating through my sore back muscles and the ibuprofen it wasn't long before I started feeling human again. As long as I remembered to move carefully I could get through my normal day without any pain.
Score: Five for Walgreens and Zero for me cuz I was stupid and threw my back out to begin with.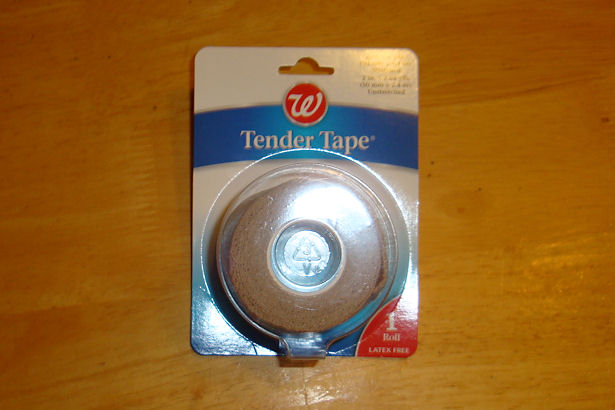 I haven't had to break into the Tender Tape yet, and hope I don't have to for a good long time!
Crossing fingers!
Since we've used Walgreens brand products for years I knew that Walgreens brand products are high quality at a great price, but I didn't know until recently that by choosing Walgreens Brand Health & Wellness products I'm helping others!
I recently learned that the purchase of every Walgreens Brand Health & Wellness Product supports bringing preventive wellness services to local communities through the Walgreens Way to Well Fund™.
· a. Walgreens will contribute up to $3 million annually to the Walgreens Way to Well Fund™.
· b. The Way to Well Fund™ will provide free preventive health tests as well as other health and wellness services and education to local communities. Some of those services will include preventive health tests through the National Urban League Health & Wellness Tour and vouchers redeemable in select stores.
Try Walgreens Brand Health & Wellness products. Visit the site for more information.
Now let's have some giveaway fun – how about a $100 Walgreens gift card from BlogHer?
The giveaway dates are dates are June 6th – June 30th, and it's easy to enter! Simply tell me which Walgreens Brand Health & Wellness product is your favorite, or which one you'd like to try!
No duplicate comments.
You may receive (2) total entries by selecting from the following entry methods:
a) Leave a comment in response to the sweepstakes prompt on this post
b) Tweet about this promotion and leave the URL to that tweet in a comment on this post
c) Blog about this promotion and leave the URL to that post in a comment on this post
d) For those with no Twitter or blog, read the official rules to learn about an alternate form of entry.
This giveaway is open to US Residents age 18 or older.
Winners will be selected via random draw, and will be notified by e-mail.
You have 72 hours to get back to me, otherwise a new winner will be selected.
Visit the Official Rules and the BlogHer Round Up Page!
Good luck – I'm rooting for you!