When I was a kid I loved fresh Rice Krispie treats, all warm and marshmallow gooey. Now that I'm a grown-up at least on the outside I still love them, and love to make them with my kids.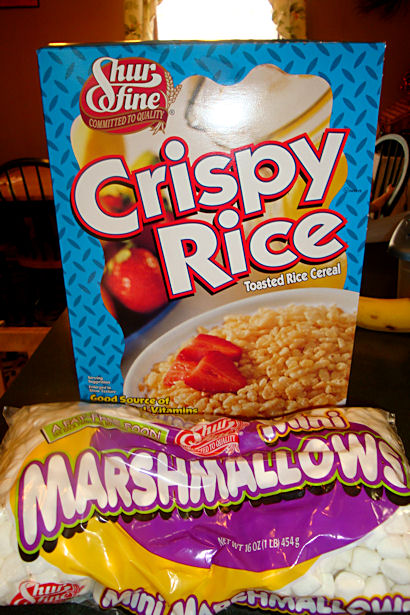 Rice Krispie treats are really quick, really easy, and don't use a lot of ingredients. If you keep butter, marshmallows and the cereal on hand you can whip them up at a moment's notice.
You've probably noticed that today I'm using Crispy Rice cereal instead of bona fide Rice Krispies. That's what we had here, but I really prefer Kellogg's Rice Krispies. The off-brands never seem as "puffy" and crispy as Kellogg's. I haven't noticed any difference as far as marshmallows go, as long as they're fresh. I wouldn't advise using fruit-flavored ones though. Ewww!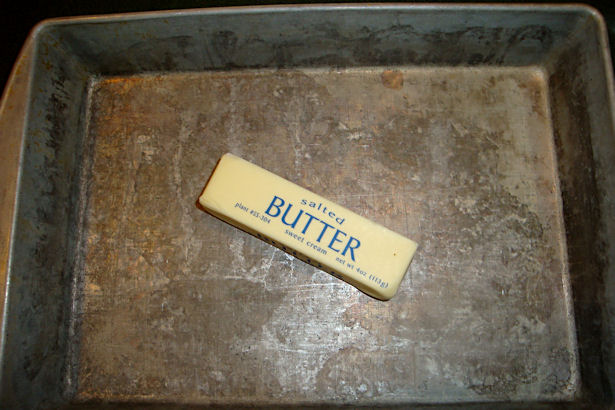 First, butter a 9×13″ pan.
This is a great job for little helpers; they don't mind getting their hands all buttery!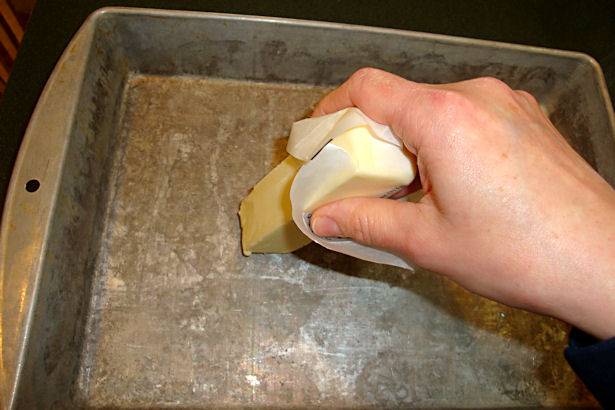 If you're making the Rice Krispie Treats yourself and don't want buttery hands, just unwrap the stick of butter halfway and hold on to the paper.
Just one of the neat cooking tricks my mom taught me.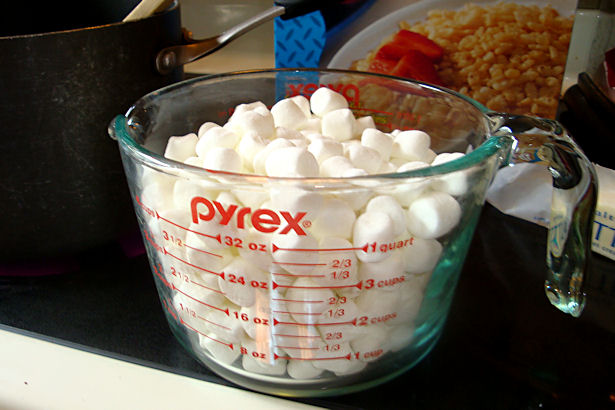 After buttering the pan I always measure out 4 cups of mini marshmallows or 40 large marshmallows and 6 cups of Rice Krispies before I start melting the marshmallows.
I learned this tip the hard way when I was younger. Once I waited until the butter was melted to measure the marshmallows and ended up scorching the butter, then waited until the marshmallows were all melted before measuring the cereal and ended up burning the marshmallows. That batch of Rice Krispie Treats ended up in the garbage.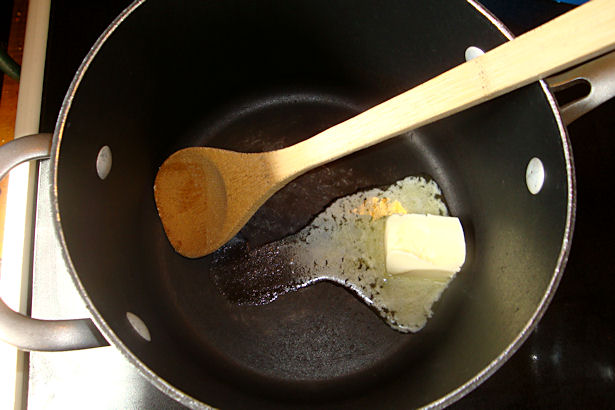 Melt 3 tablespoons of butter in a heavy pot, stirring so it doesn't brown.
Little helpers can measure and cut the butter, then put it into the cold pot.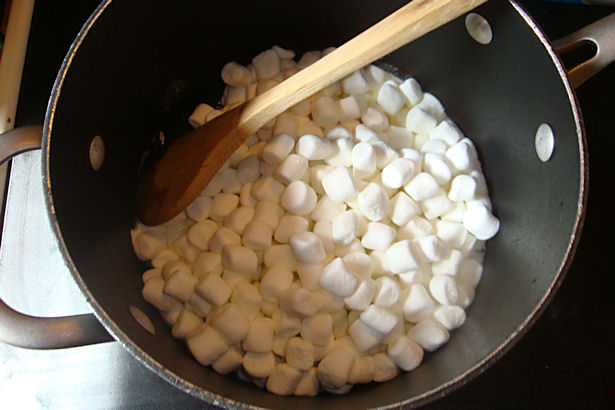 When the butter is almost all the way melted, add 4 cups of fresh marshmallows save the stale ones for hot cocoa and stir, stir, stir!
Little helpers can pour in the marshmallows, but be VERY careful so they don't touch the hot pot!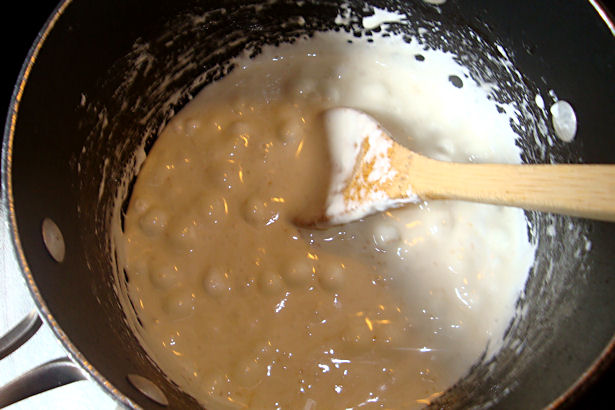 When the marshmallows are almost all the way melted turn off the heat but don't take the pot off the hot burner.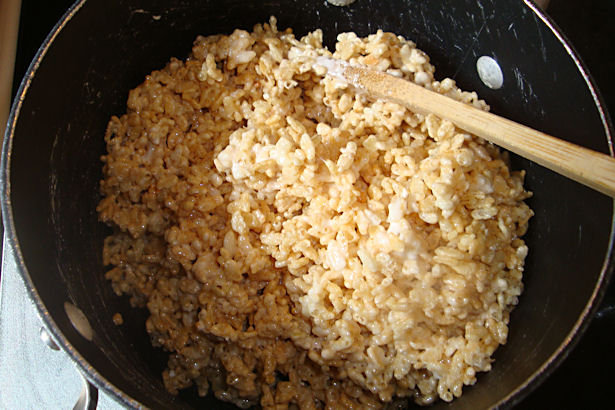 Add the 6 cups of Rice Krispies – another step little helpers can do – with CAUTION – and fold into the marshmallow. I've found that folding in the cereal gives me better coverage than stirring in circles.
I don't let my little helpers stir until they're older because it's too easy to touch the hot pot while moving the spoon around. I've done it myself more times than I want to admit.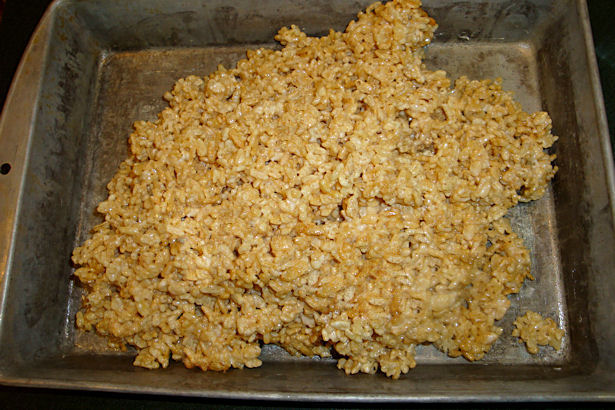 While the marshmallow/cereal mixture is still warm, turn it out into your buttered pan. Now you'll have to work fairly quickly, before it cools too much.
Because the mixture in the pan is so hot I distract my little helpers with the spoon, which usually cools quickly, and the pot when it's cooled. Today I was cooking alone so I got them both all to myself – score!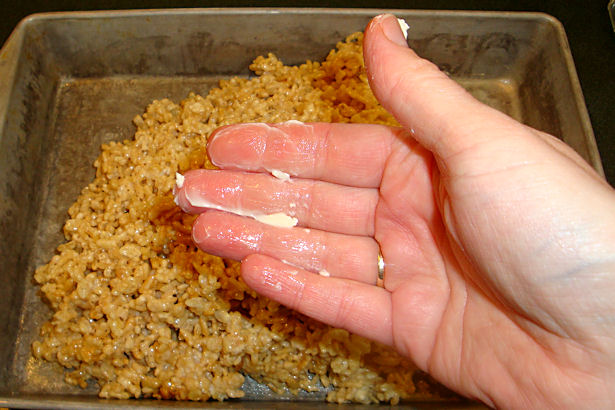 Rub your hands across the butter to coat your fingers and keep the marshmallow from sticking to them. You DID wash your hands before beginning to cook, right?!
The marshmallow will still be hot, so carefully press down on the cereal mixture until it fills the pan and is fairly even. Re-butter your fingers as necessary along the way.
Another trick from my mom; she says the butter adds extra flavor to the Rice Krispie treats in addition to keeping them off your hands.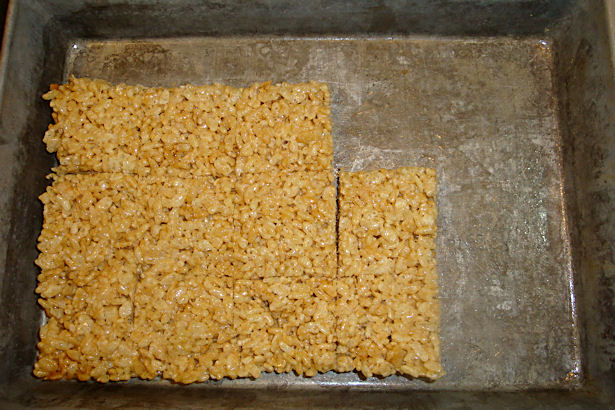 Cut into pieces and you're done!
Hey, where'd they all go??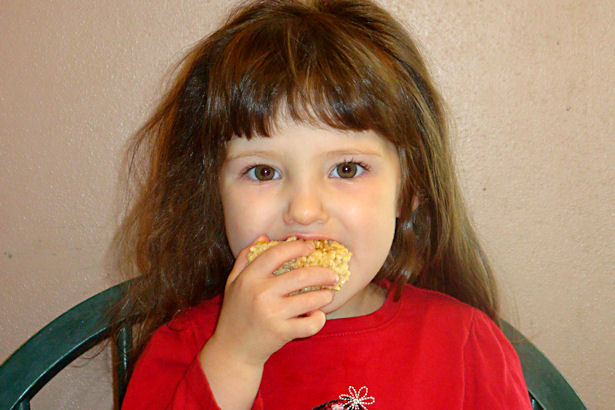 Ah-ha! NOW I know where they all went; Peanut LOVES Rice Krispie Treats.
When was the last time YOU made Rice Krispie Treats?