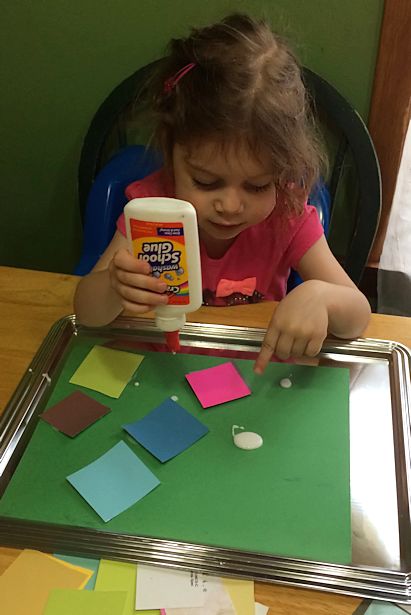 Most parents proudly save their children's first scribbles, posting them on the refrigerator or framing them to hang on the wall. But it doesn't take long for parents to realize that keeping every piece of art their child lovingly creates would quickly turn their home into a messy art gallery.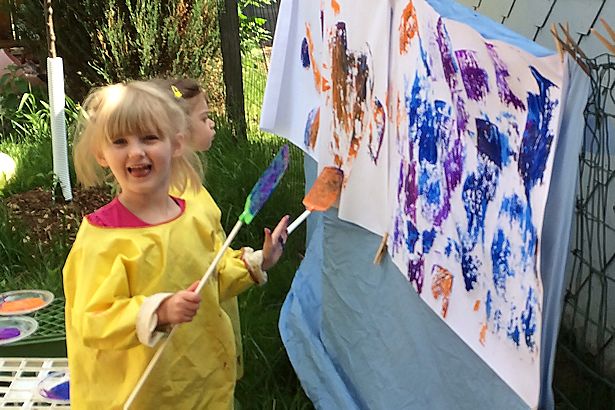 Don't find yourself knee-deep in leaf rubbings by Thanksgiving! Here are some helpful hints for organizing and managing the onslaught of children's artwork that threatens to take over your home. Remember to ask your child's permission before doing anything with her her art. Some children will be excited to see their artwork living a second life, but others may be upset to see their creations "destroyed."
15 Uses for Your Child's Art
Gift wrap and tags. Use a complete drawing to wrap gifts or to create a gift bag. Use smaller pieces of art, or cut a large piece into smaller pieces to use as gift tags.
Note cards. Cut card stock into standard 4 x 6 card size and glue a smaller drawing or part of a larger work to the front. Purchase card-sized envelopes, bundle in sets of six or twelve, and wrap with a pretty ribbon for a great gift.
Ornaments. Glue foil or wrapping paper to the back of your child's art, then cut into holiday shapes. Laminate at your local office supply store or with clear contact paper. Punch a hole in the top and thread a ribbon for hanging. For a great grandparent gift, glue a current photo of your child and write the year to the back of the artwork before laminating.
Scrapbooking. If you're a scrapbooker, consider using your child's artwork on your scrapbook pages. Artwork created during a vacation can be included on pages recording that vacation, or artwork can be used as borders, separators, and other decorations.
Home decor. Frame select pieces o
Photo albums. Purchase photo albums, fill them with your child's artwork, and save them to give to your gown child as a gift. To save room, have your child choose several favorite works to be included in the album, then take photos of the other works, print, and place in the album.
Drawer liners and shelf paper. Instead of buying contact paper to line drawers and shelves, use large pieces of artwork. Cut the artwork 1/2″ bigger than the drawer on all sides, top with clear contact paper, then trim to fit. For very large areas, cut plain paper to fit and glue artwork on top before covering with contact paper.
Note pads. Cut several pieces of artwork into a standard 4×6″ note pad size. Stack the pieces with the back facing up and staple at the top, or punch 2 holes at the top and thread ribbon through.
Place cards. Cut card stock into 4-6″ squares and fold in half. Write a guest's name on the card, then decorate with the artwork. Perfect for a family get-together or your child's birthday party!
Bookmarks. Cut artwork into a tall, thin rectangle – 2×8″ is a good size. Laminate at your local office supply store or with clear contact paper. Punch a hole in the top and add a ribbon. For extra glitz, glue some glitter or confetti on the back of the artwork before laminating.
Puzzles. Glue artwork to card stock or thin cardboard (cereal boxes work great), then cut into pieces. You can cover with clear contact paper for more durability.
Placemats. Glue a large piece of art (or make a collage of smaller pieces) on a 12×18″ piece of construction paper. Laminate or cover with clear contact paper. Embellish with glitter, sequins or confetti if desired before laminating.
Fancy paper plates. Glue artwork to the center of a paper plate and cover with clear contact paper. These plates should be used for dry foods only.
Jar inserts. Cut a piece of artwork to fit the height and circumference of a jar. Insert into the jar, then fill with candy, potpourri, small soaps, etc. Cut another piece of artwork and a piece of contact paper to fit the cover. Glue the artwork on and cover with the contact paper. Finish with a pretty ribbon and give to family or friends.
Home decor. Frame select pieces of your child's art and display in his room or in other rooms of the house. Laminated pieces can also be used to decorate an outdoor playhouse.
What are some creative ways you've used your child's art? Leave your ideas in the comments below!