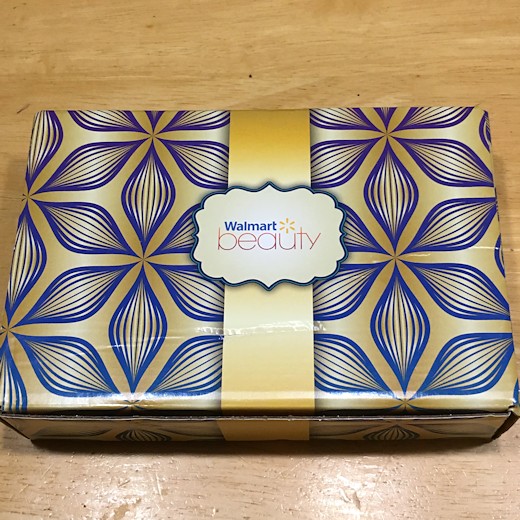 Two things I like about the Walmart Beauty Box are: 1. They're always only $5 and they only come out four times a year, so it's economical, and 2. It's a subscription so I never know exactly when it's coming. Surprise packages are the BEST!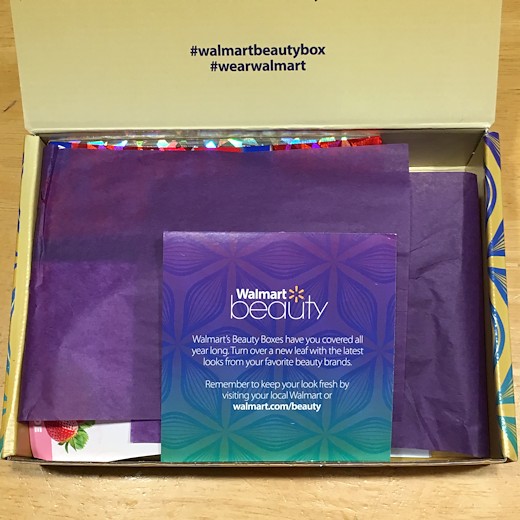 I thought this box was very pretty on the outside, and loved seeing my favorite color combination – purple and green – on the inside.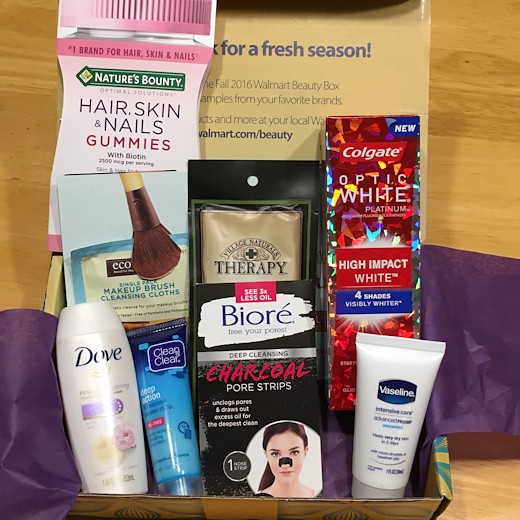 Ready to dive in? OK, let's go!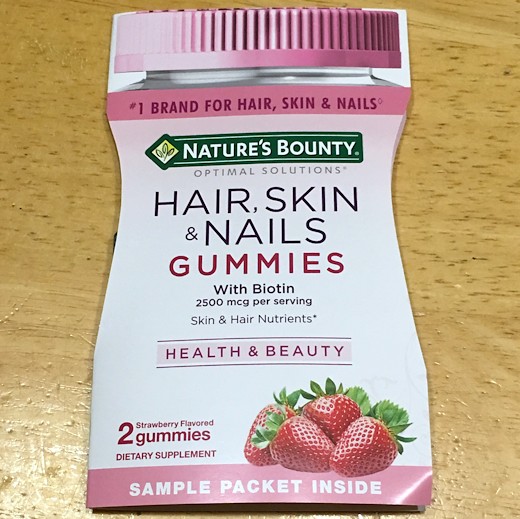 Nature's Bounty Hair, Skin, Nails Gummies, $7.32 for 90 gummies.
This was my least favorite sample. The only gummies I eat are Gummy Bears, and then only select flavors. Plus I don't think 2 gummies are enough to tell if they make any difference. Oh well, not liking only one out of seven is pretty good.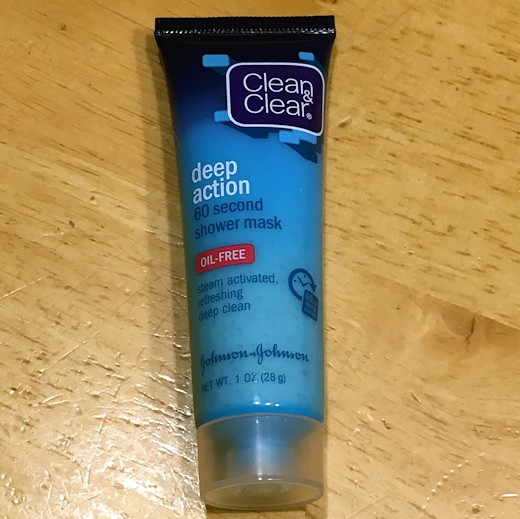 Clean & Clear Deep Action Shower Mask, $4.99 for 5 oz.
When it comes to advertising hype I'm pretty cynical so I didn't expect anything special from this mask, but I was happily surprised when I tried it. It had some exfoliating somethings in it – enough that I could feel them but not enough to irritate my skin . After using it my face definitely felt softer and smoother.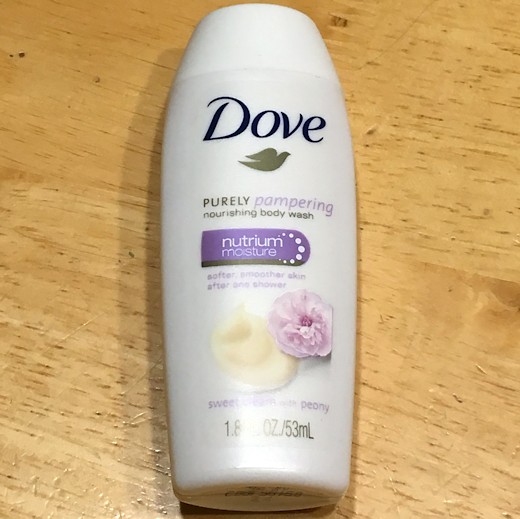 Dove Purely Pampering Sweet Cream and Peony Body Wash, $5.47 for 22 oz.
This body wash definitely made my skin softer after the first use, and it really did stay soft all day. I'm not a floral scent person so I'd like the scent better without the hint of peony, but it also comes in Coconut and Shea Butter, both of which I want to try.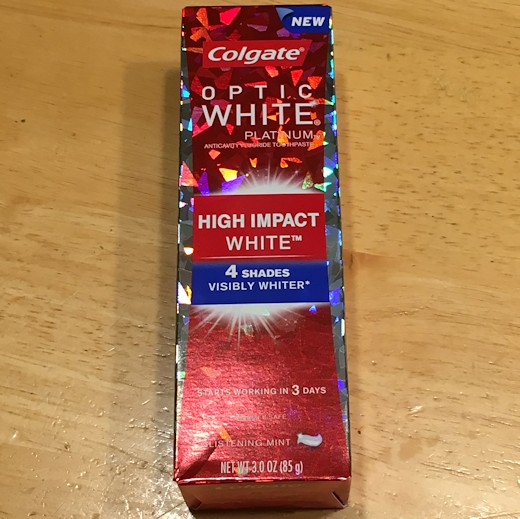 Colgate Optic White Platinum High Impact White Toothpaste, $3.96 for 3 oz.
My love for caramel macchiatos has left my teeth not so much white, so I was excited to try this toothpaste. It says it starts working in three days and there's definitely enough for three days so I expect to see some improvement – IF I can get past the taste. It's called "Glistening Mint" but isn't very minty and tastes kind of floral/medicinal to me. So far both times I've used it I had to brush again with another toothpaste to get rid of the taste. I hope there's enough whitening to be worth it!
Vaseline Intensive Care Advanced Repair Lotion, $7.79 for 32 oz.
Somewhere I obtained a sample of this lotion exactly like this one, and I like it a lot. I usually stick to organic hand lotion because otherwise I have awful eczema flare-ups on my hands, but so far I haven't had a problem using this lotion occasionally. It's the perfect size to toss into my purse too – small enough to fit but big enough that I won't run out after just a couple of uses.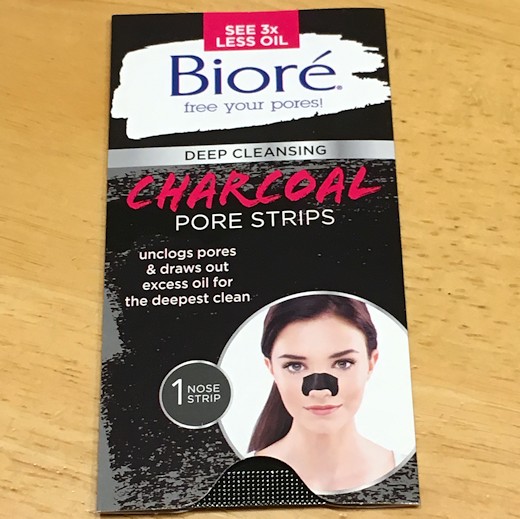 Biore Deep Cleansing Charcoal Pore Strips, $5.46 for 6 strips.
I love the regular Biore strips and use them fairly regularly, so I was wondering how the Charcoal strips would measure up. I was pleasantly surprised! It didn't take as long to dry as the directions said it would, and it seemed to remove as much "gunk" as the regular ones. It did leave a little black residue around the sides of my nose, but that rinsed off quickly.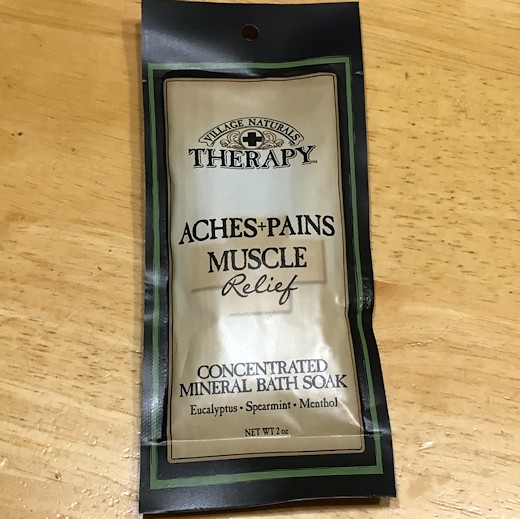 Village Naturals Therapy Aches & Pains Muscle Relief Mineral Bath Soak, $4.97 for 20 oz.
I haven't found time to try this yet, but I can't wait to! I haven't decided if I'll use it next time I give myself a pedicure, or save it for a whole body soak. Decisions, decisions…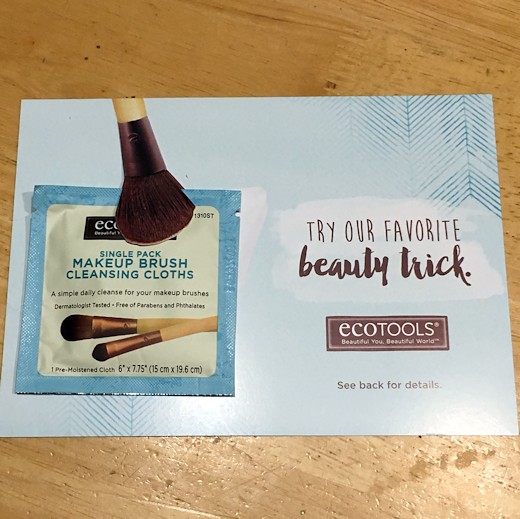 EcoTools Makeup Brush Cleansing Cloths, $6.98 for 25 cloths.
Like I've said before, I'm not a big wipe/toilette user because I prefer reusable materials, but these wipes could come in handy to clean brushes when switching colors or to toss in the makeup bag when you're traveling. I don't think they get the brushes as deep-down clean as EcoTools' Makeup Brush Shampoo, but I don't think they're intended to.
That's it for the Fall 2016 Walmart Beauty Box – I think it was totally worth $5! I'm definitely planning to buy some Coconut Dove body wash, and still have high hopes for whiter teeth.