Even before Princess and Cowboy set a wedding date Princess had been dreaming about her wedding dress and veil.
"I want to look like a princess…" she sighed with stars in her eyes.
Since I'd made her prom dress a couple of years ago she asked me to make her wedding dress.
I was honored.
And scared.
A prom dress is a big deal, but a wedding dress is a humongous deal.
I hoped I wouldn't mess it up.
Princess spent hours, and hours, and hours of looking at wedding dresses online. Then more hours gathering opinions from friends and family. And even more hours online looking at wedding dress patterns.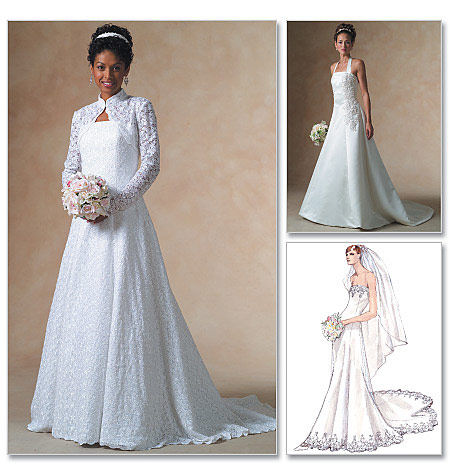 Finally she found a pattern for the Perfect Dress: the one on the upper right.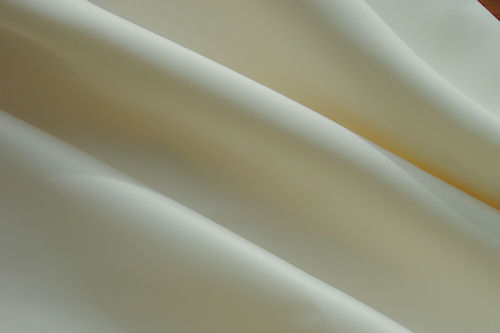 My mom loves fabric shopping and jumped at the chance to look for wedding dress fabric. She found a gorgeous ivory peau de soi with a rich buttery sheen and the perfect weight for an elegant drape.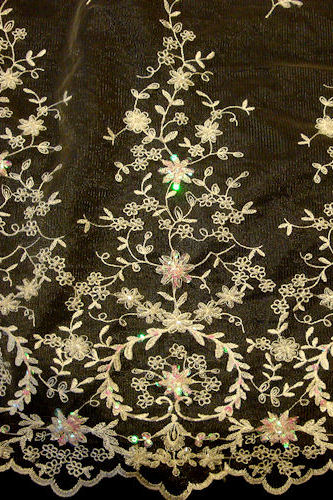 We searched high and low online and in local fabric stores but couldn't find any lace medallions we liked so instead we bought some lace fabric to cut apart.
"It'll be easy!" my mom promised.
I'm holding you to that, Mom.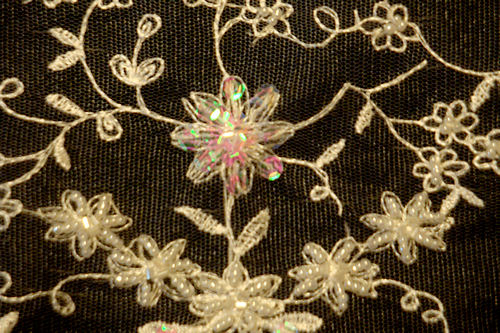 Not only is this lace absolutely gorgeous, it came with sequins and pearls so we didn't have to add them ourselves.
Of course, being a procrastinator I didn't start the dress until two weeks before the wedding.
It's not because I was scared of messing it up.
Really.
When I couldn't put it off any longer the first step was cutting out the pieces. In the words of home improvement weekend warriors everywhere: "Measure twice. Cut once."
Words of wisdom my friends, words of wisdom.
The first time I laid out the pattern pieces they didn't fit right-side-up like the instructions showed.
Did I panic?
Not a bit. I refolded the fabric and tried again.
And again.
And again.
Then I panicked.
My heart raced, my stomach dropped and my mouth went dry.
I did what any grown-up mother of six and grandma of two would do: I called my mommy!
I talked to other seamstresses.
I looked at the fabric right-side-up. I looked at the fabric upside-down.
I looked at the fabric folded so some was right-side-up and some was upside-down.
I worried, I stressed, I smiled so no-one would know that inside I was a mass of jelly.
Finally I told myself "Get a grip! You're no dummy; put on your big girl panties and figure it out."
I had to get the dress made, so I decided to cut the front pieces one way and the back pieces the other way. Since each piece is roughly triangular shaped, putting half right-side-up and the other half upside-down fit all the pieces on the fabric – barely. The only problem would be if the right-side-up and upside-down pieces reflected the light differently, which is why I cut all of the front and all of the back pieces the same way. I figured the side seams would be the least noticeable place if there was a difference; who'd be looking under Princess's arms?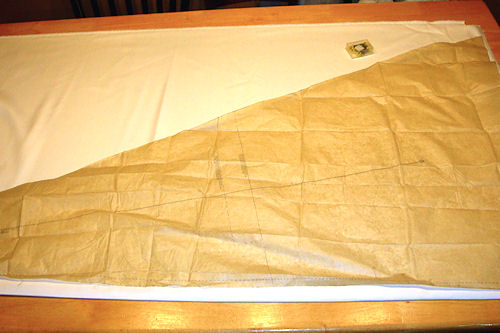 Once you start cutting you can't go back. I held my breath… and cut.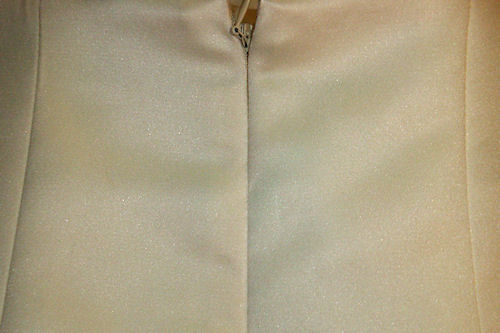 I was too busy sewing to take photos, but I couldn't resist taking one of the invisible zipper. I'm so proud that it really is invisible – and it only took two tries to get it that way!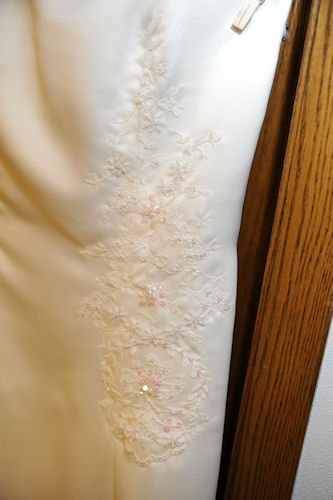 The lace medallions were very time-consuming to cut, glue, and stitch on, but the time was well worth it. They're gorgeous! This photo was taken by our photographer, Jen of Jennifer Tabbert Photography. Princess had been the Tabbert family's regular babysitter for several years, so having Jen do her wedding photos meant a lot to Princess. Jen gave us permission to use the photos however we want so I'll be posting more when I can.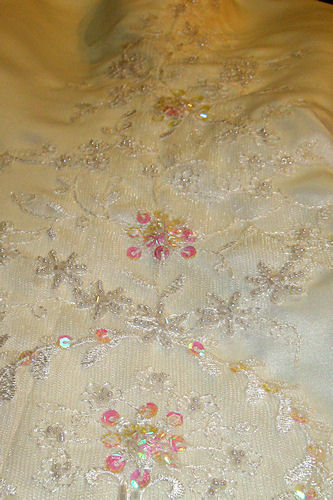 I knew you wanted a close-up. Isn't it cool that I knew what you wanted before you did? Or maybe it's just freaky.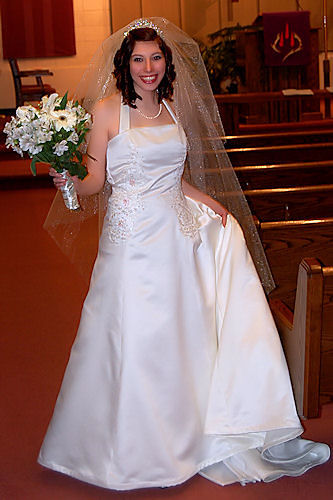 It turned out beautifully – almost as pretty as the bride.
More to come…