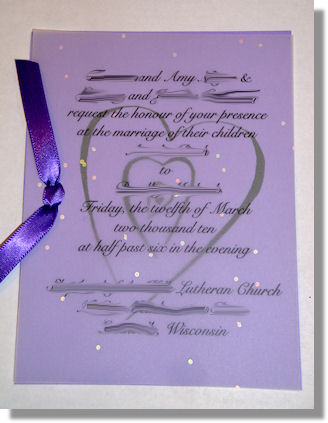 If you're going to throw a party you have to invite people. Formal parties – like weddings – require honest-to-goodness paper invitations, not last-minute phone calls which are my usual MOA.
When Teacher and I were married you had to get printed invitations; making your own just wasn't done. I am so glad the times have changed. Not only was it cheaper to make Cowboy and Princess's wedding invitations, it was lots of fun, we got exactly what we wanted, and it was EASY!
First Teacher drew a set of hearts and scanned them to my computer. I cleaned up the edges, inserted them into a Word document – four per page – then printed out a template.
Then Teacher typed up all the wording in several fonts for Princess to choose from. She chose Snell Roundhand Script. Since I didn't have it on my computer I searched and found a free download for it. I just LOVE finding free font downloads! I'm Amy Sue, and I'm a font addict…
Once Teacher had the text just right I arranged the invitations four per page and reception cards eight to a page and printed out templates of each. Now all we needed was vellum and cardstock.
For the invitation and reception cards Princess and I scoured several area stamping/scrapbooking and crafting stores. We found glittery vellum and sparkly cardstock, but couldn't find anything in the right shade of purple. Finally I thought to ask my sister-in-law, Auntie Elle, if she had any. She's a Stampin' Up demonstrator so I felt stupid not thinking of her sooner.
Next was a trip to Kinkos where a very helpful team member helped us print out our various pieces and parts, then cut them for us. The cutting cost more than the copying!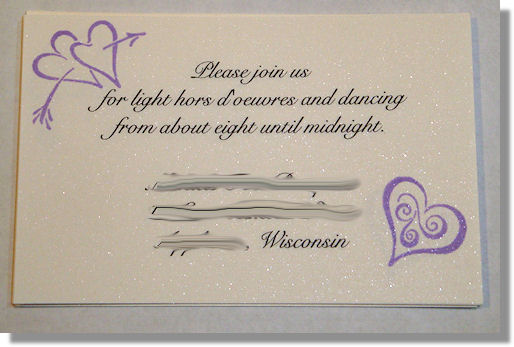 Not only did Auntie Elle have the right shade of purple cardstock, she had inks to match, coordinate, and contrast with our purple. She also brought a large collection of heart/wedding stamps and punches for the ribbon. We used ink and stamps to fancy-up the sparkly reception cards.
Princess read in one of her evil bridal magazines to save money by using postcards in place of traditional reply cards. We bought pre-stamped postcards from the Post Office which was very economical because all we paid for was postage – the cards were included!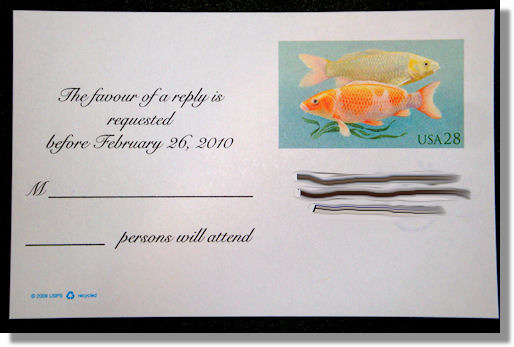 After stamping the front of the postcards we printed the back at home because the Kinkos' lady was afraid they'd get lost inside the machine because they were smaller. Once we had the text lined up around the stamp it was a breeze to print them off.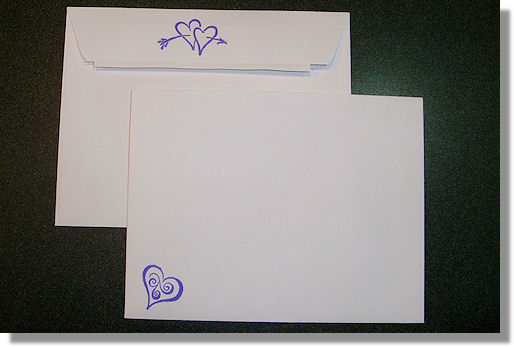 Finally we stamped hearts on the front and back of the envelopes. Cowboy addressed them and put on wedding-ring postage stamps, Princess stuffed them, and we were done!
Beautiful, inexpensive, easy and fun – what more could you want?