The other day I posted a photo of a soccer appliqued pillowcase one of my readers had made using my How to Applique tutorial. At the end of the post I invited everyone else to submit applique photos for me to show off, and Beth took me up on the offer.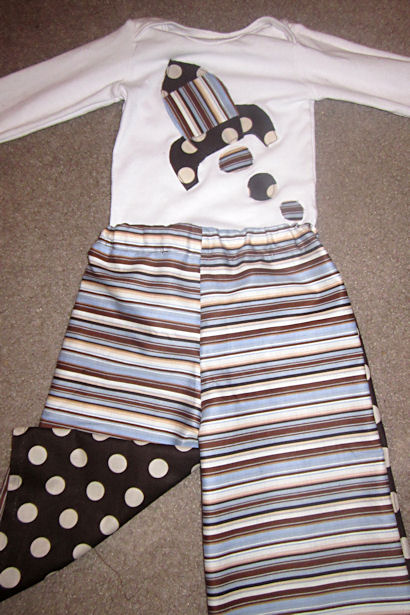 This is Beth's first applique ever – isn't it fantastic?! I love the entire set, especially how she used both the stripes and dots in the pants it doesn't hurt that I love brown and blue together; I'll bet it was just adorable on her little guy.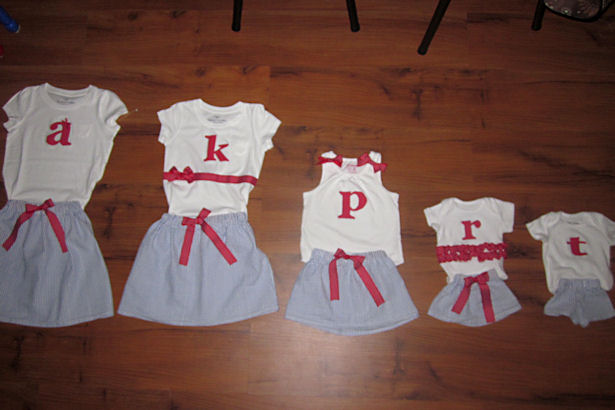 Beth made these outfits for a friend's five children. I like how she personalized each shirt – I'm assuming each reflects the child's personality somehow.
I think it's a great idea and wish I'd thought of it when our kids were younger, but I doubt I could get College Boy to wear an appliqued shirt at age 23 – especially one that matches with his siblings. Oh well, there's always the grandchildren!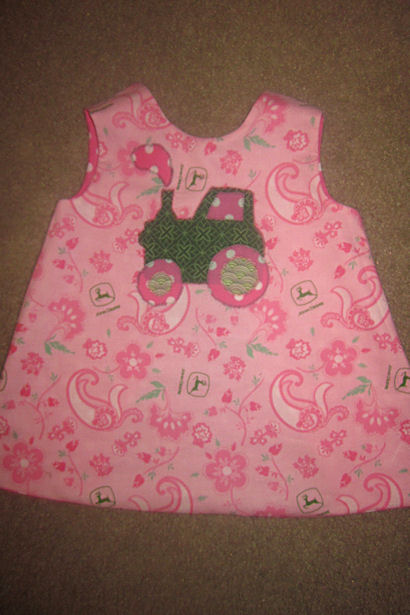 The dress Beth made for her niece is so "Wisconsin" that I had to ask Beth if she lived in my home state too. She doesn't, but her father-in-law restores old John Deere tractors – hence the John Deere fabric and tractor applique.
Thanks so much for sharing your appliques, Beth! You're not only a creative applique-er, but an outstanding seamstress too.
Anyone else care to share their applique photos, now that Beth has broken the ice? We'd love to see them so don't be shy!