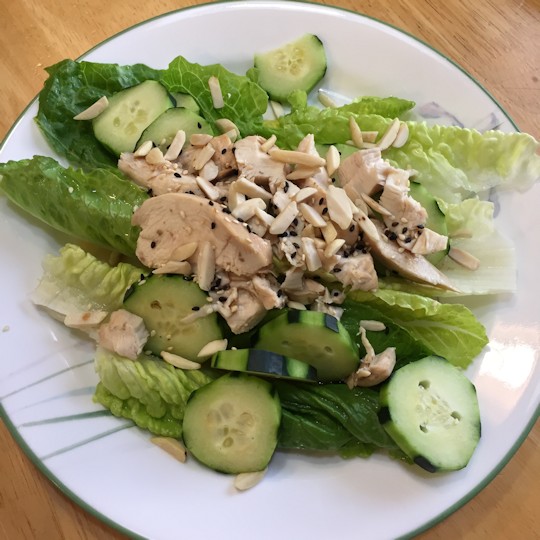 Not only is this chicken salad recipe healthy, it's super-quick to make too. Teacher whipped it up in less than half an hour so we had time to eat before we had to run out the door for soccer – now THAT'S quick!
Healthy Chicken Salad with Almonds – in Pictures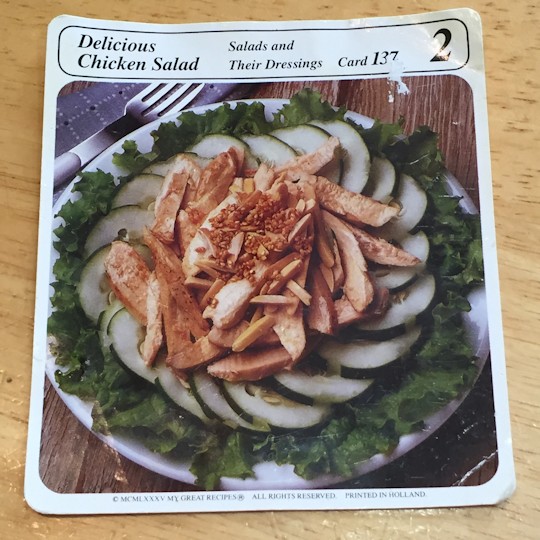 When Teacher and I were newlyweds my dad's mom, Grandma H, signed us up for a My Great Recipes subscription. We got a big plastic storage box with divider cards and one packet of recipe cards to begin with, then more recipe cards were mailed to us regularly until we had the whole set. It was one of those gifts that you don't think you're going to use, but when you start using it you realize you couldn't live with out it.
This healthy chicken salad recipe is just one of our family favorites from "The Cards" – I hope your family likes it as much as mine does!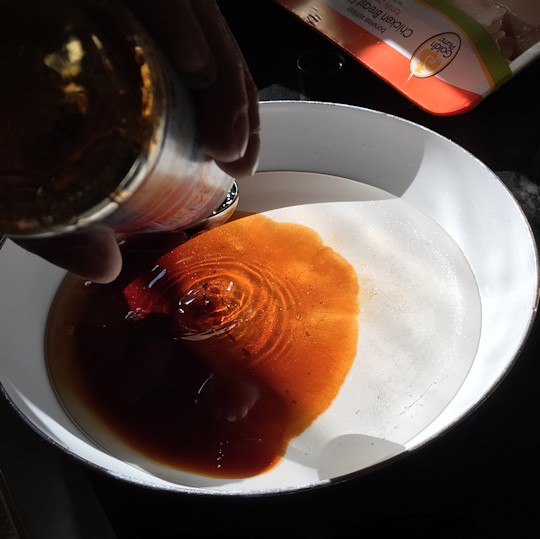 In a large frying pan, heat some water, soy sauce and sherry or sake we used rice cooking wine to simmering.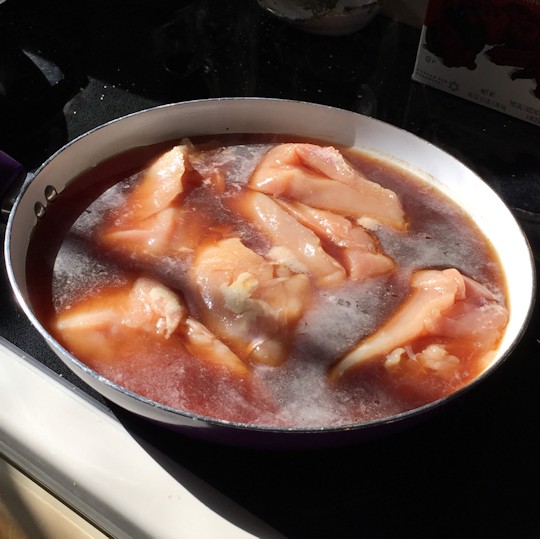 Sprinkle chicken breasts with salt on both sides, then slip into the soy sauce bath. Cover and simmer for 5-6 minutes.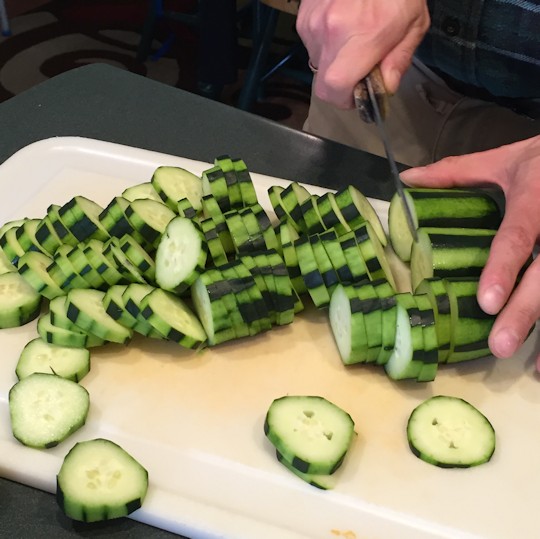 While the chicken is poaching, slice some cucumbers. We like to remove some of the peel to give them a stripes appearance but you can leave the peel on or remove it all if you like.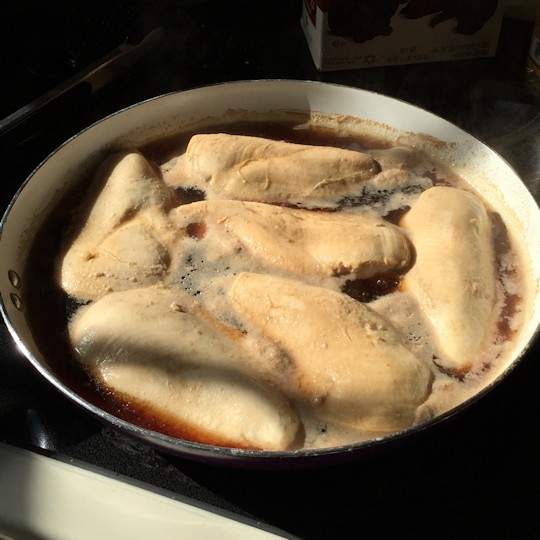 Carefully flip the chicken over and simmer another 5-6 minutes, until cooked through.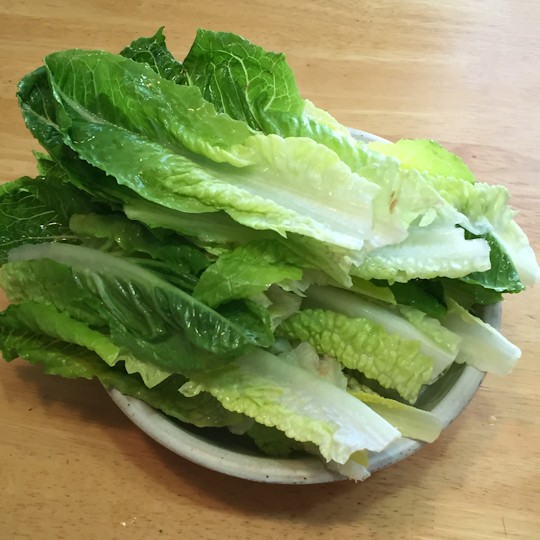 Meanwhile, prepare the lettuce. We prefer romaine because it's more nutritious than iceberg; you can use whatever salad greens you like.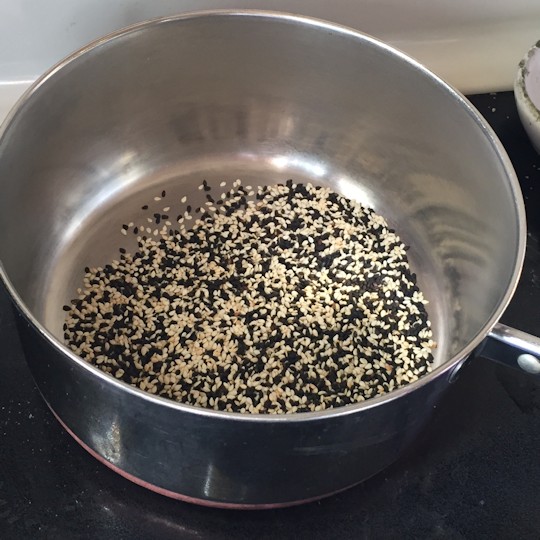 Toast sesame seeds in a dry pan over medium heat, shaking occasionally, until they're darker and smell fantastic. No, we didn't burn our sesame seeds; we started with both black and white seeds.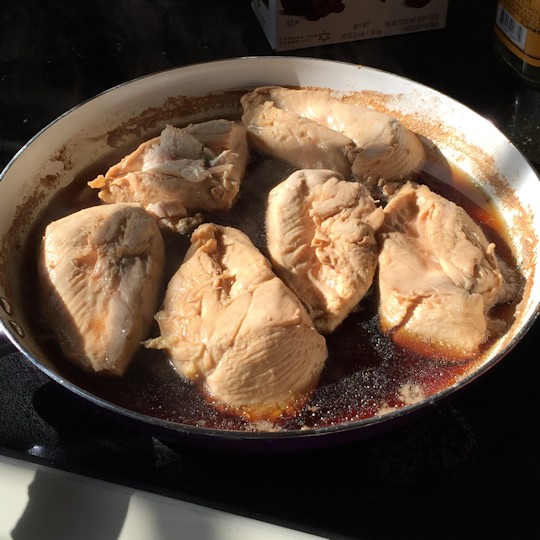 When the chicken is done, remove it to a cutting board and let it cool a until you can handle it. If the sauce hasn't reduced enough you can let it continue to simmer until it's reduced to the consistency you like.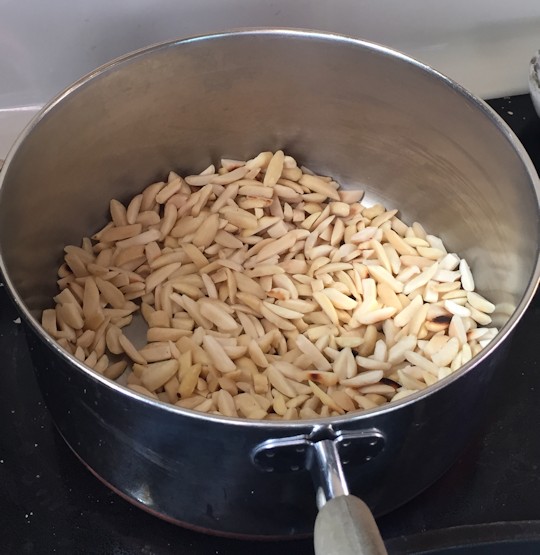 Toast the almonds the same way as you did the sesame seeds.
Almonds are one of my favorite foods, and they're so good for you too – full of protein, fiber, and healthy fat. You can find more health benefits of almonds and almond recipes at the bottom of this page.
Little Guy liked the toasted almonds so much that he ate all the leftovers the next day, then tried to toast more in the microwave!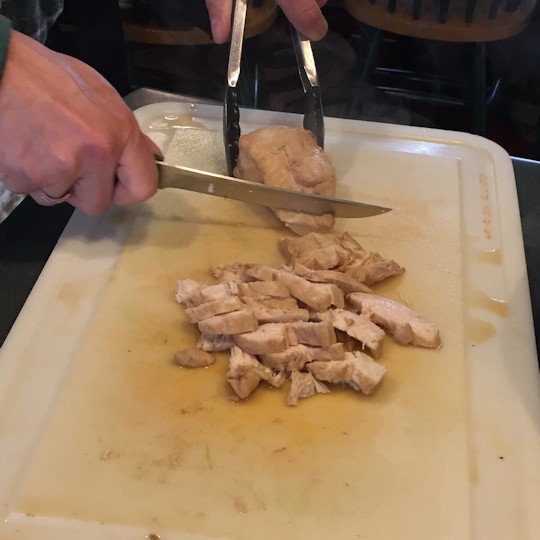 When the chicken is cool enough to handle, slice it into 1/2″ pieces.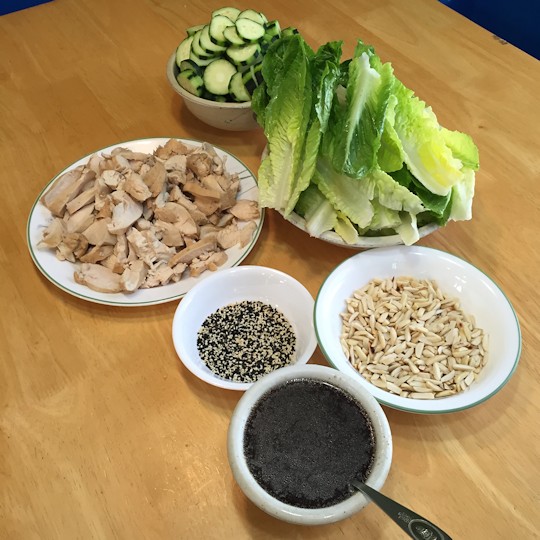 The recipe says to layer lettuce, cucumber and chicken, drizzle the sauce over, then sprinkle with sesame seeds and almonds, but it works better for our family to keep the components separate and let everyone put them together however they want.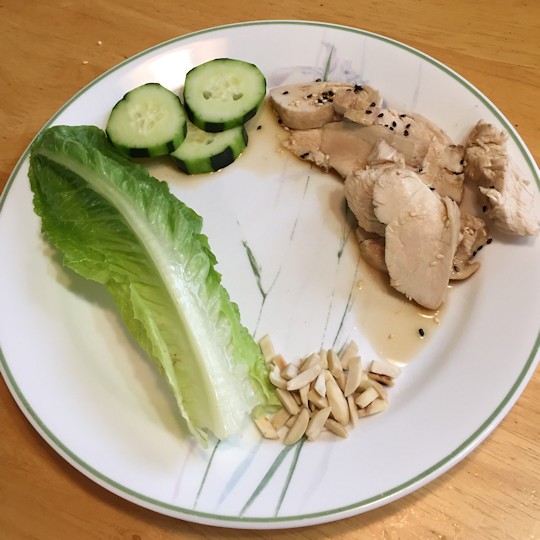 Little Guy wanted some of everything, but not all together. He's our pickiest eater so I was really surprised when he said "This is the best chicken I ever had!" and asked if we have it for his birthday supper.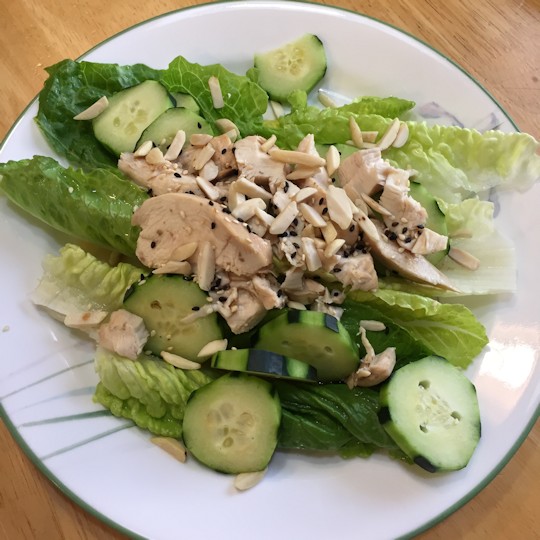 I layered my salad, adding extra almonds. The chicken salad is great without the almonds but the nutty crunch they add makes it even better.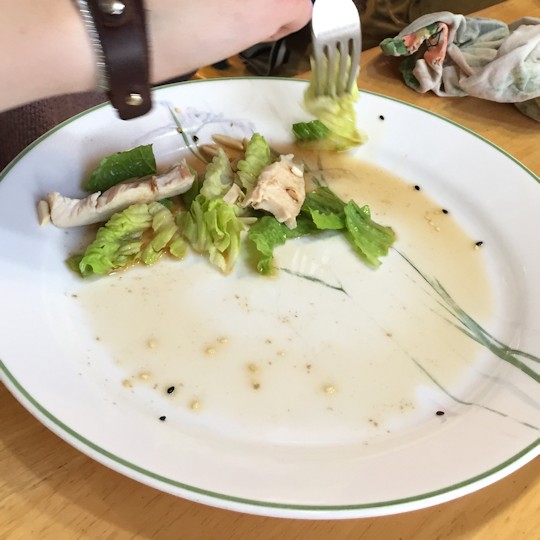 Angel Face liked it so much she had thirds!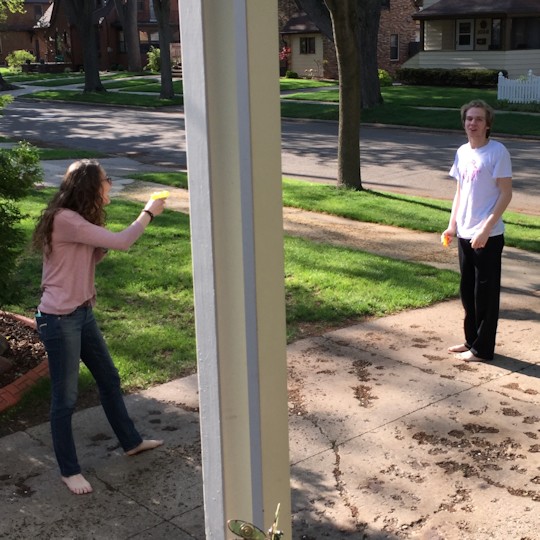 Probably because she was hungry from the water fight she had with her boyfriend Rick.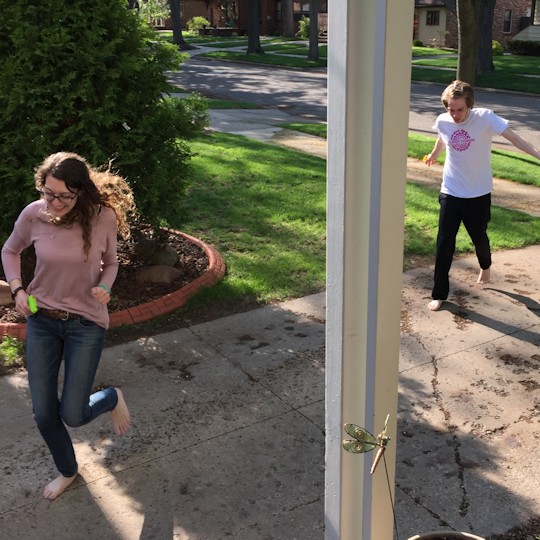 Run Angel Face, run!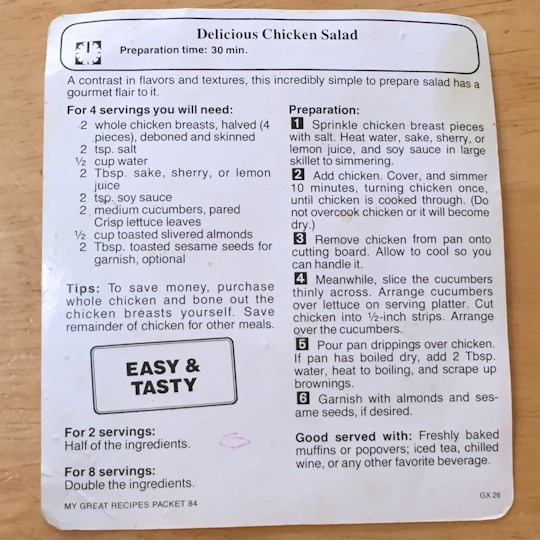 Here's the back of the recipe card, in case you were wondering.
Healthy Chicken Salad Recipe
One reason this chicken salad recipe is so healthy is because there's no mayonnaise in it; the chicken gets its flavor from the soy sauce bath. Like any salad, you can change it up by using your favorite veggies, and the amounts are variable depending on your preference.
Healthy Chicken Salad Ingredients
For 4 servings:
2 whole chicken breasts, skinned and deboned
1/2 cup water
2 Tbsp sake, sherry, or lemon juice we used rice cooking wine
2 tsp soy saucewe used more
2 cucumbers, pared and sliced
Lettuce leaves
1/2 cup toasted slivered almonds
2 Tbsp toasted sesame seeds
Healthy Chicken Salad Directions
Sprinkle chicken breasts with salt. Heat water, sake, sherry, lemon juice or rice cooking wine to simmering.
Add chicken. Cover and simmer 10 minutes, turing once, until chicken is cooked through. When done, remove chicken to cutting board and cool slightly.
Meanwhile, rinse the lettuce and slice the cucumbers. Layer cucumber over lettuce on a serving platter. Thinly slice the chicken and arrange over the cucumbers.
Drizzle cooking sauce over the chicken. If sauce has cooked away, add 2 Tbsp water, heat to boiling, and scrape up brownings to create a sauce.
Sprinkle with toasted almonds and sesame seeds.
Nutrition information according to MyFitnessPal:279 calories, 11g fat, 32g protein per serving.
Like I said, I hope your family likes this healthy chicken salad as much as mine does!
By the way, the carrot cake Princess made several years ago was also from My Great Recipes, and I'll be posting more family favorites from "The Cards" as I have time.