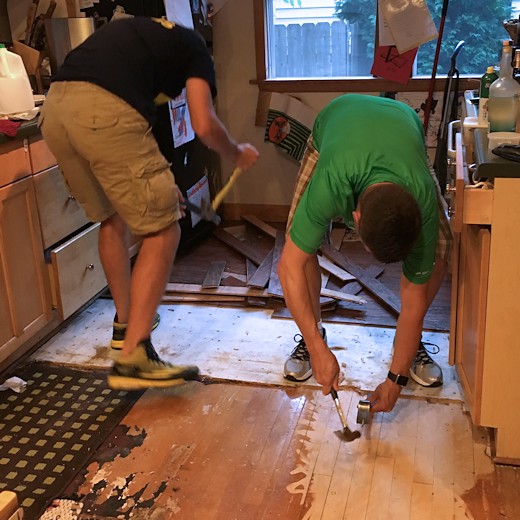 Monday morning Teacher and I took the kids to swimming lessons and Jo-Bear went to work in my Dad's clock shop but by the afternoon we were ready to resume work on the floor. And by "we" I mean mostly Jo-Bear and Teacher, although I pulled nails and cleaned up.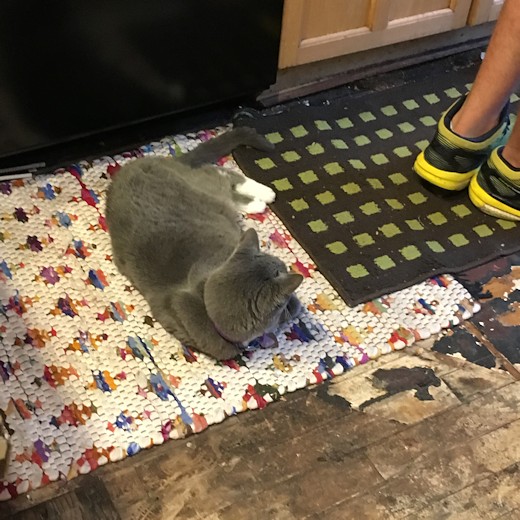 Kippy was in his usual spot, occasionally lifting his head in between naps to supervise the workers.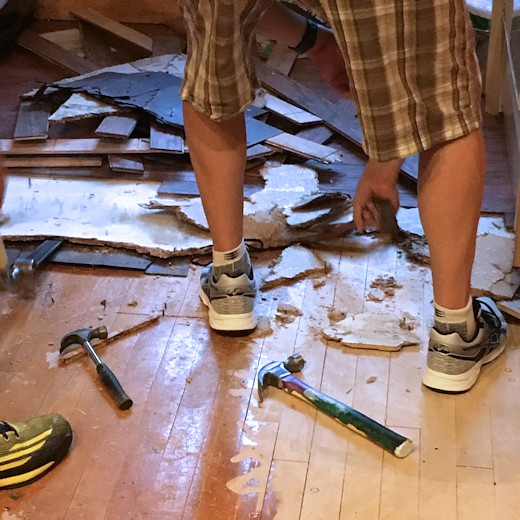 And so it began again – crowbars, hammers and lots of old-fashioned elbow grease.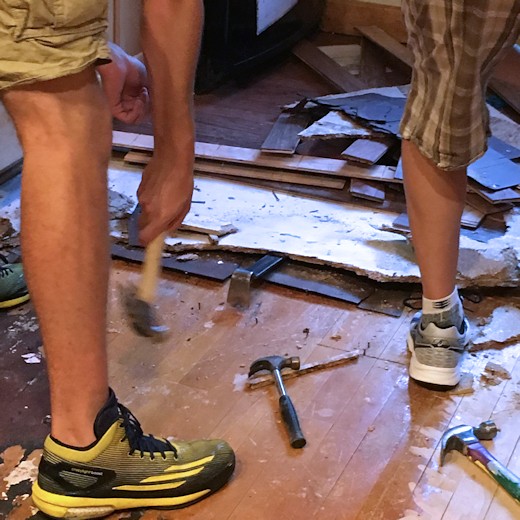 It went much faster with the two of them working on it.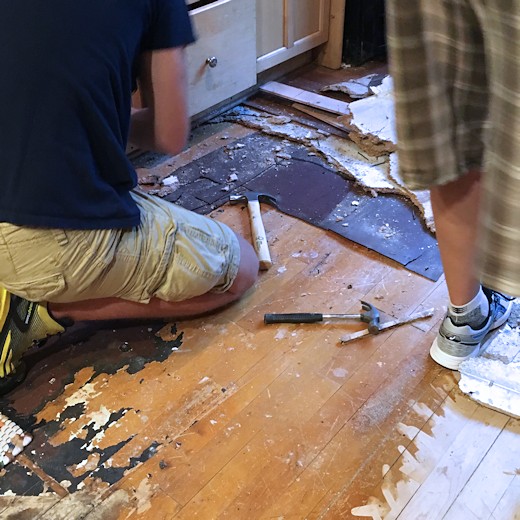 And little by little more beautiful floor was revealed.
Jo-Bear loves this kind of work and had a blast tearing up layers to find the original floor.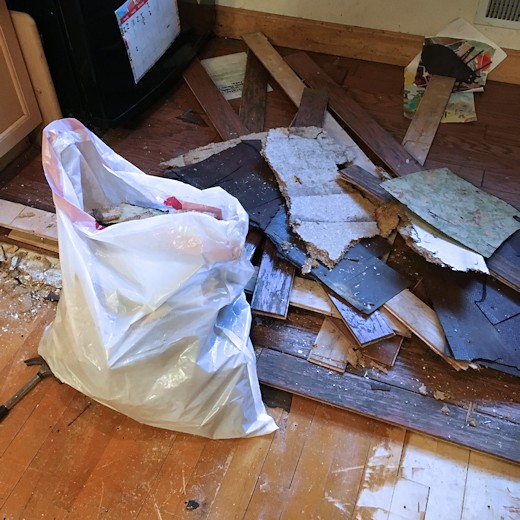 I was in charge of clean-up, with Z-Man and iMatt's help.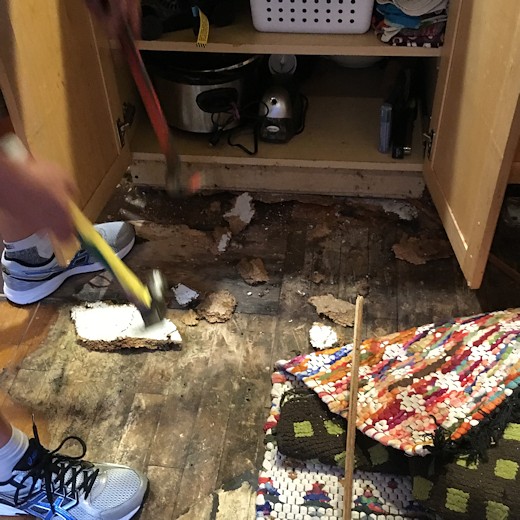 When they reached the point where appliances would have to be moved they decided to tackle that job the next day, so Jo-Bear finished up the area by the dishwasher. Poor Kippy had to find another place to nap.
I'm not quite sure how we're going to patch in the section that's partly covered by the cupboards. I don't want to even THINK about moving those cupboards since we'd have to take off the countertop first, and you know how these things snowball. Bu I'm sure we'll come up with something – probably something that will cause a future homeowner to wonder what WE were thinking!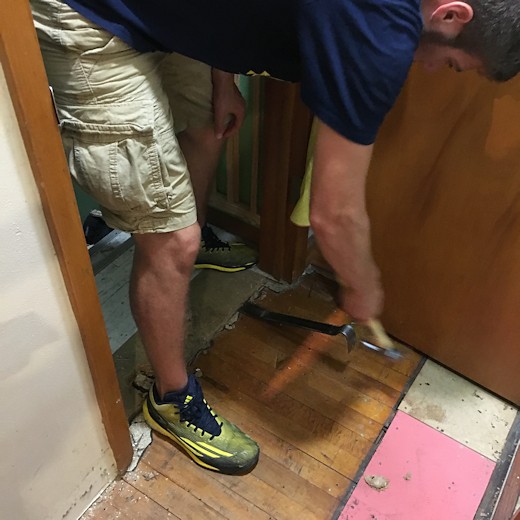 After Jo-Bear finished by the cupboards he started on the stair landing. I'm not sure which one of use was more excited to see if there was hardwood on the stair landing or not.
Cross your fingers…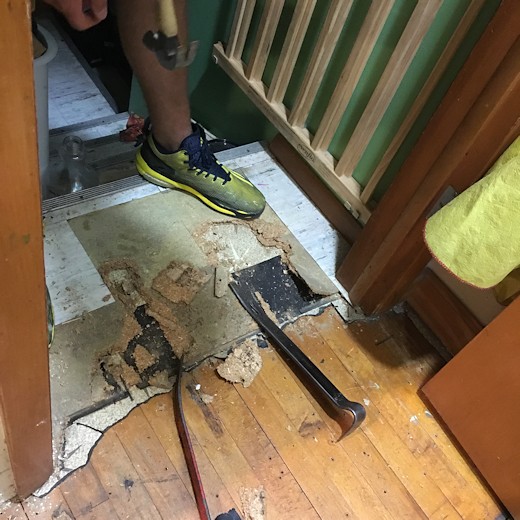 The tile makes me think that there's hardwood under there, but is the edge of the landing intact or did they do something crazy to it?
I couldn't bear to watch, so I walked away…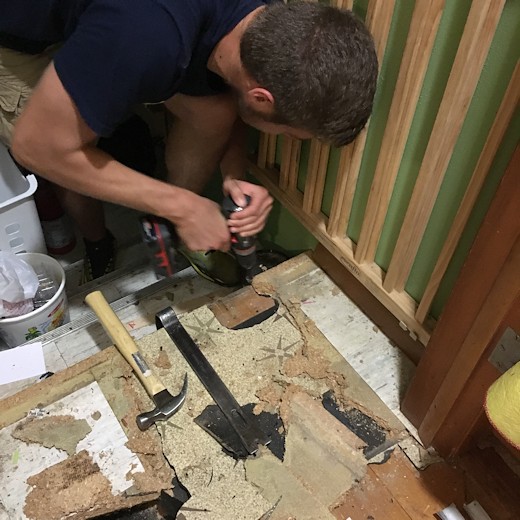 And pretty soon Teacher called me to come look at what Jo-Bear found.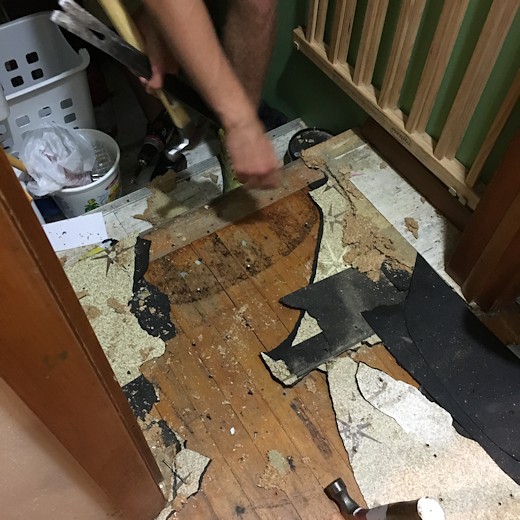 Hooray, there IS hardwood! And the edge looks like it's in really good shape.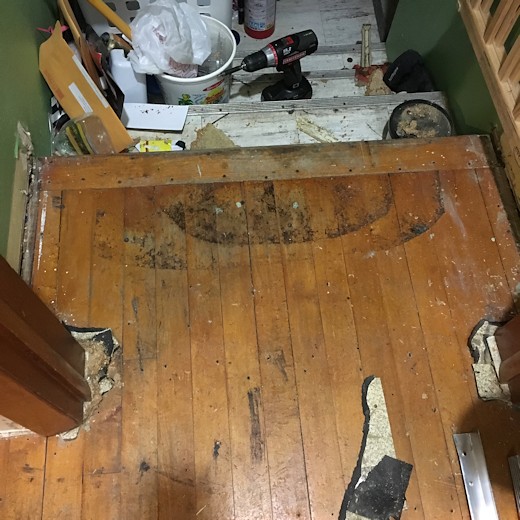 Isn't that absolutely gorgeous? Just imagine what it'll look like when it's refinished!
To be continued…