Our last day in Grand Haven arrived too quickly. We'd had a whirlwind weekend of favorite food, time at the beach, playing backyard games, and too much sugar, but sadly it was time to go home.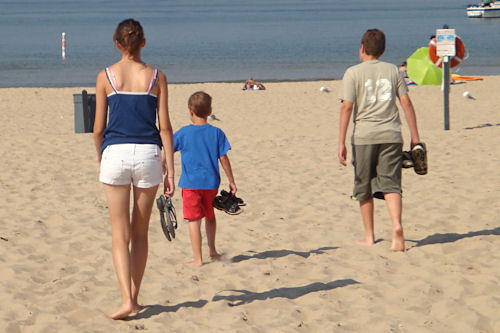 Angel Face had wanted to walk to the famous Grand Haven light house before going home so after church we headed for the beach.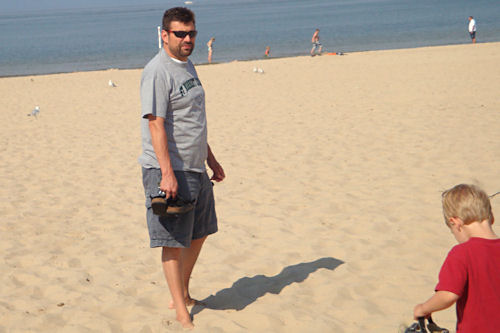 Usually the State Park beach is notoriously crowded, but it's not too bad on a Sunday morning. It was so gorgeous we had to have one last walk in the sand.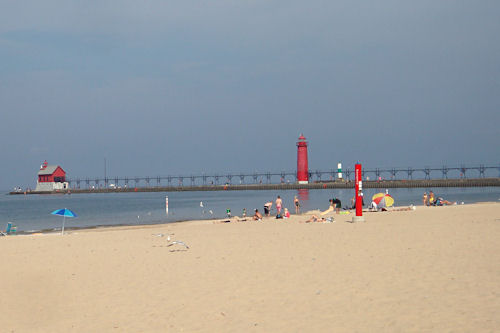 There's the light house: one of my very favorite sights in the whole world.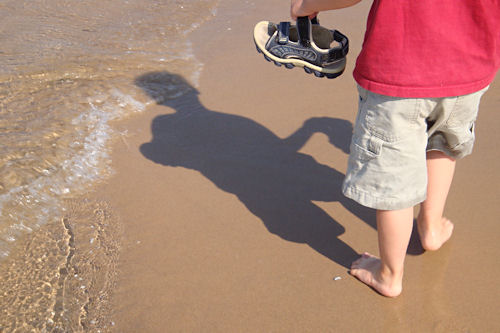 Walking along the wet sand with the waves sliding in and out is so calming. I love living in Wisconsin but really, really miss living by the lake.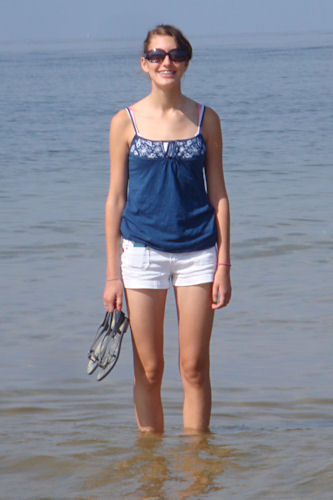 "Smile, Angel Face!" She loves the beach too. Unfortunately her wading started trouble…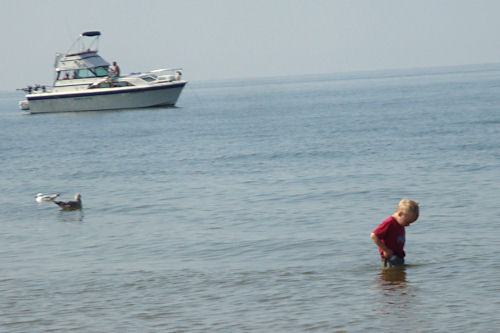 "Hey, Little Guy, do you see the boat? Little Guy?
Awww, honey, you weren't supposed to go so deep; you're not in your swim suit!"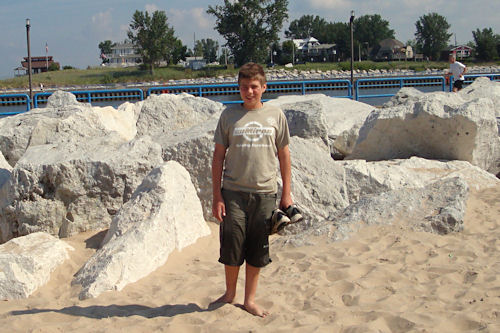 Finally we arrived at the light house – some of us wetter than others. From a distance you can't tell how huge these boulders are, but once Jo-Bear stands by them it's obvious. I wonder how they moved these rocks in the 1830s without the equipment we have today.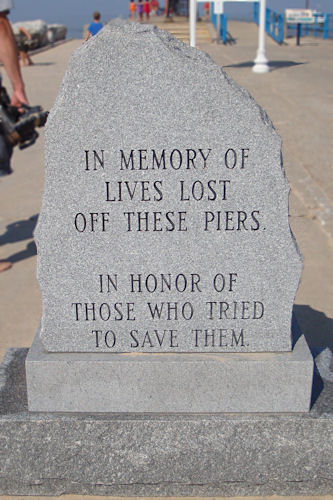 Right after I took this photo Angel Face stole my camera, so I claim no responsibility for the following photos. Of course, I don't take responsibility for anything I don't have to.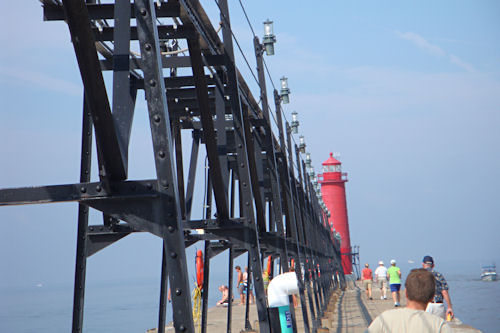 The catwalk fascinates me. I can't imagine how scary it would be to fight your way across it during a storm. I can't imagine waves so high they'd wash you off the catwalk, but I'd love to see it sometime…. from a safe distance, of course.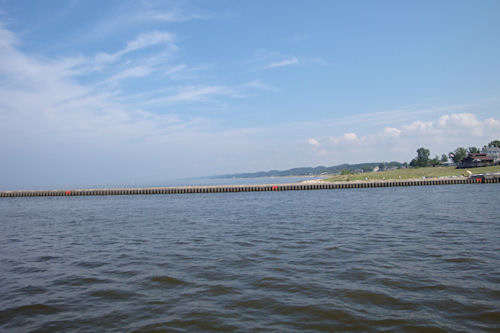 The view across the channel…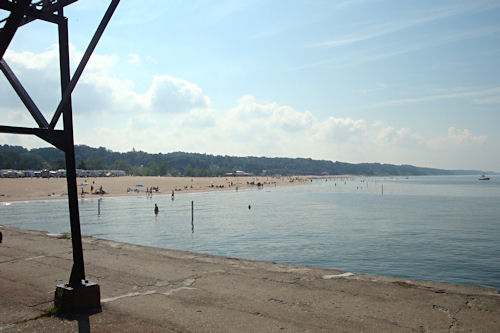 The beach we walked to get here…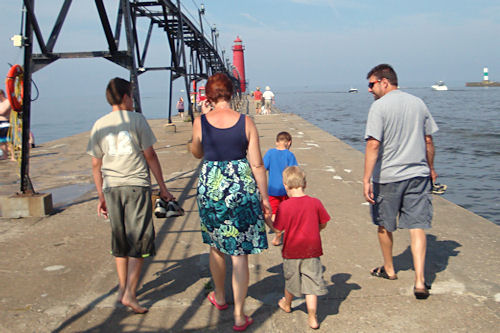 It's a long but beautiful walk to the end of the pier.
There's a good reason I don't look at the back view when I get dressed in the morning. Gah!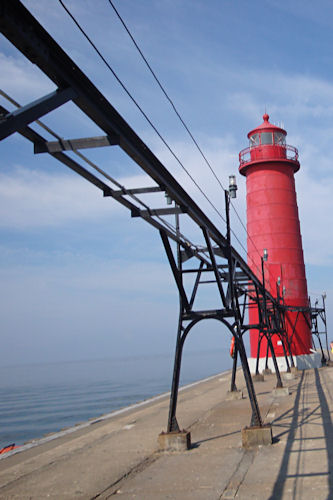 Almost there! Have I said how much I love the light house?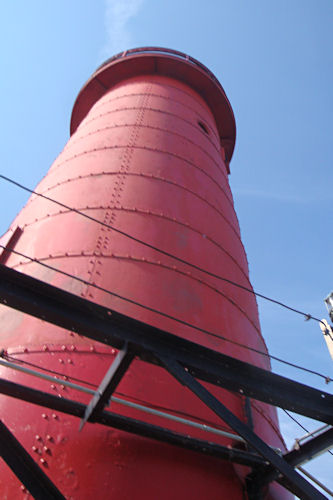 Another light house photo – cool angle, Angel Face!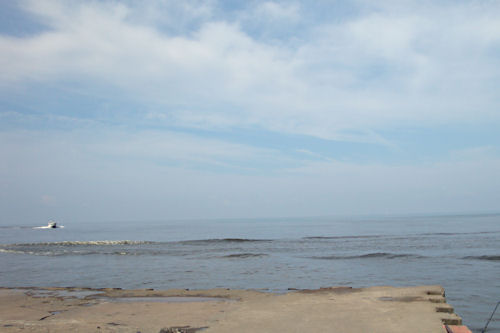 Looking off the end of the pier towards Wisconsin.
"Hello house across the lake, did you miss us? We'll be home later tonight."
First in a series of photos… subject: Angel Face's Feet.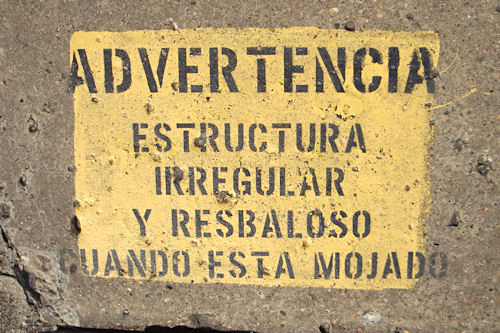 Since the kids have been taking Spanish since grade school they get excited when they find things written in Spanish. Teacher and I always keep our eyes open for things to have them translate.
*Sigh*
Looking into the cool water, hearing the waves and seagulls, smelling the fresh lake air is all so relaxing. I dream of someday having a house on the lake…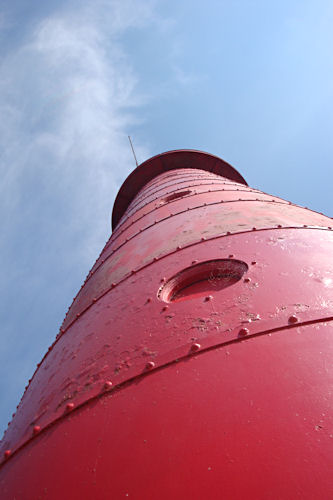 Another very cool photo of the light house. I never get tired of looking at the light house…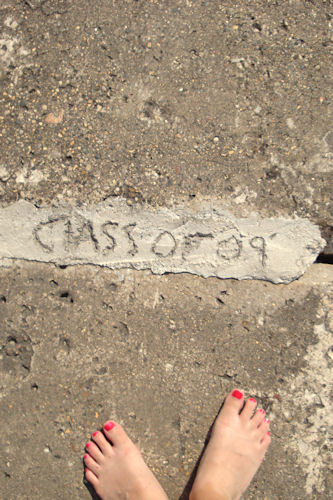 Number Two in the series of Photos of Angel Face's Feet.
Time to head back – we've to a long drive ahead of us yet.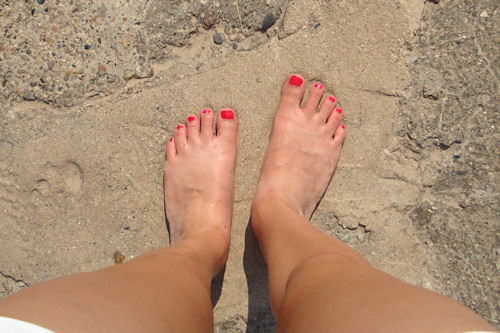 Number Three in the Angel Face's Feet series. I think she's obsessed with her feet.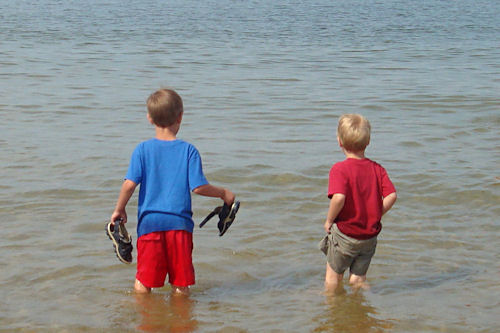 There's a fine line between wading and swimming and I think the boys are getting very close to crossing it.
There they go across the line! I can't get too upset with them; if I was a kid I'd have been soaked head to toe by now. It's just too nice a day not to get wet!
Luckily I have one last clean outfit for each of them.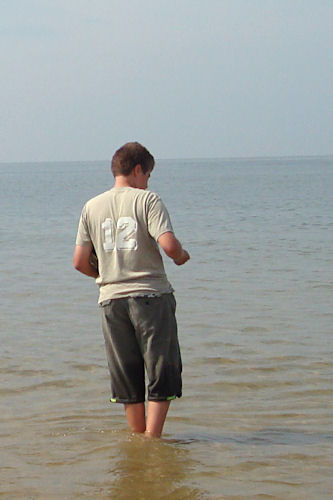 My Jo-Bear. Somehow I didn't notice how grown-up he's getting until now.
"Come on guys, we still need to get downtown for Angel Face's shirt!"
To be continued…