Switching to reusable, "unpaper" towels was an easy way for our family to be more eco-friendly.
When I decided to mane the switch from paper to unpaper towels the first thing I did was research online. I found tons of different types of unpaper towels made of a wide variety of fabrics. One by one I eliminated fabrics: flannel pills and fades too much, terrycloth is too thick, wovens are too thin, knits are too stretchy, velour is too plush… finally I found the perfect fabric: cotton birdseye!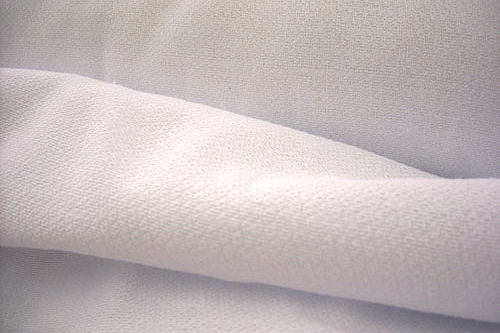 If you picture the old-fashioned, white rectangular cloth diapers your grandma may have used you're probably thinking of birdseye. Birdseye is a thin cotton fabric with a very small diamond pattern woven into it that softer and more absorbent with each wash. Even better, it's cheap and not ugly, but not so pretty that I'd be devastated if a towel was ruined.
I decided to make my unpaper towels two-layered, and guesstimated that two dozen would be a good number to start with. Since most birdseye fabric is about 27″ wide I planned to cut my unpaper towels about 14×14″. Yes, I realize 14 + 14 = 28, not 27. I hate math so I tend to round things up or down. They're just for us anyway so it's not a big deal if they're not perfectly square. I figured I'd get about two and a half unpaper towels out of each yard so I needed a lot of birdseye!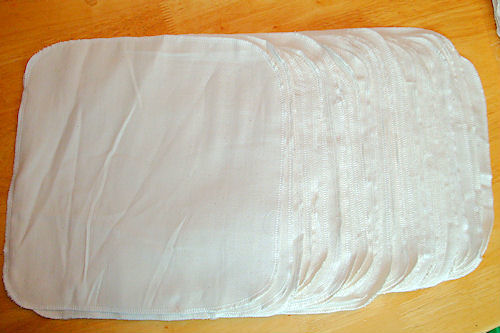 When the birdseye arrived I skipped prewashing because it was so nice and flat I knew it would be easier to work with than if I washed it. I cut the fabric into squares, then serged two layers together, rounding the corners. The ends of the thread were tied together so they wouldn't unravel. Voila, they were done!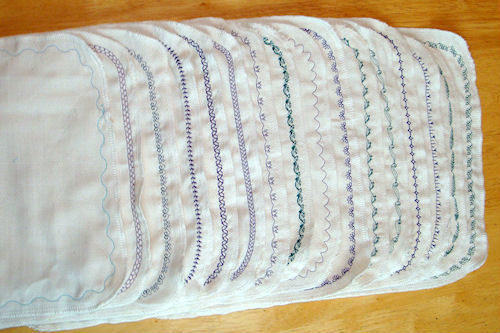 I decide to fancy some of them up with some decorative stitching around the borders. I have a ton of fun stitches on my machine that I never used so I just started picking some at random. The thread was all leftover from previous projects and doesn't necessarily match front and back, but I don't care – they're just towels for heaven's sake!
Once I was done with the decorative stitching because I ran out of leftover thread I threw them all in the washer for a quick hot wash to get the fabric sizing out.
Now they live in one of our kitchen drawers, which I can't show you a photo of because the other half is so messy I'd die of embarrassment if you saw it.
Making unpaper towels was so easy I know you can do it too! Send me a photo when you do – I'll bet you've got some really creative ideas and I can't wait to see them!