When I called to reserve a room at the Kalahari Resort for the WECA Conference I chose a Hut room because we could get a discount for being part of the Conference, and because Teacher and I don't need anything fancy.
Shortly before the Conference I happened to mention to a good friend and honorary family member – if being part of our family can be considered and honor that Teacher and I were going to the Kalahari for a conference. She told me that her sister works at the Kalahari and said she'd call her sister and ask her to "take good care" of us. I thanked her but didn't think anything of it because I don't use friends for my own advantage and I knew Teacher and I would be more than comfortable without any special treatment.
The night before we were supposed to leave my friend called us to let me know her sister had offered us a free upgrade Cool! but we weren't home to take the call. I was excited about the prospect of an upgrade but since we hadn't connected I wasn't counting on anything. My friend had given me her sister's name and said to ask for her if we needed anything but I wasn't going to – if we were offered something I'd certainly accept but I wasn't about to ask for anything special.
Oh me of little faith! My friend's sister really came through for us with an upgrade to a Lodge Room. I was stunned by how gorgeous it was!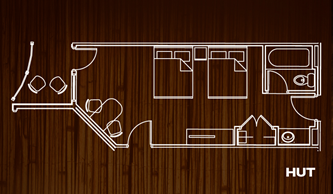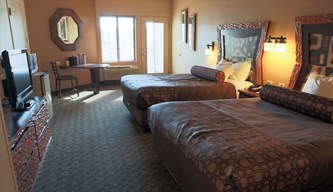 Here's the Hut Room, which would've been more than adequate for us. However, it can't compete with a Lodge Room…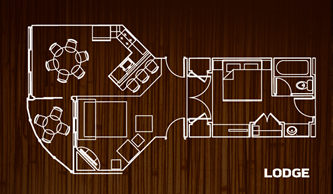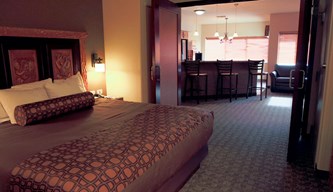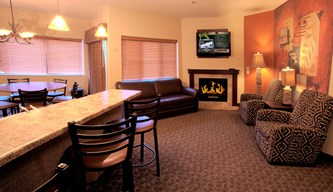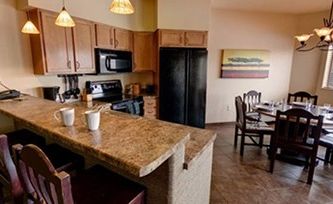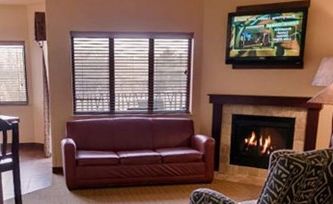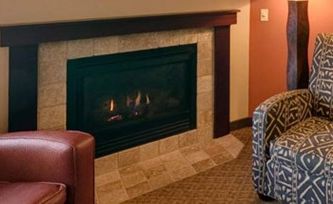 It was AMAZING! So much room, and the kitchen was bigger than the kitchens in some apartments we've lived in. I expected a galley or compact kitchen but this one was full-sized and came complete with dishes, utensils, towels, washcloths, pot holders – pretty much everything you need for cooking.
I'd want more and bigger pots, but I can't complain.
I could totally see a family reserving the Lodge room and adjoining Hut rooms for a weekend; it would be a perfect get-away in the middle of a Wisconsin winter. Of course, if we did that with our family Teacher and I would get the room with the fireplace; the fireplace is the best part of the room.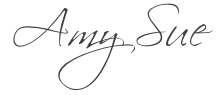 Photo credit: Kalahari Resort, Wisconsin Dells