Warning – the photos you're about to see aren't my best but I'm posting them anyway. If you don't like 'em don't look.
I'm not a photographer and I'm not ashamed to admit it. Back in high school I took Photography and really enjoyed it; I even remember some of what I learned. But now for the most part I just want to snap quick photos to capture a moment in time – I'm not trying to produce a piece of Art. This is why my little point-and-shoot Sony Cybershot has been perfect for me until I took it to Angel Face's basketball game. To be fair, it was user error, not the camera. Life and learn, right?
This year almost all of Angel Face's basketball games were on Friday afternoons and I'm tied up with the daycare until 5:30 so I couldn't go. But they had one Saturday game scheduled, and I was there – with my camera. Of course the girls wouldn't stand still while I took photos so I tried to pan with the action like I was taught in Photography. It probably would have worked better if I'd remembered to change the shutter speed, and if the girls hadn't kept changing direction on me! Since Angel Face improved 100% over the course of the season I'm happy to have some photos of her in action – even if they aren't the best.
Angel Face's coach started using her for defense right away. She's tall and has long arms so she's perfect to guard and get rebounds. She started the year a little timid, but by the end of the season she was holding her ground, pushing back, and even racked up some fouls!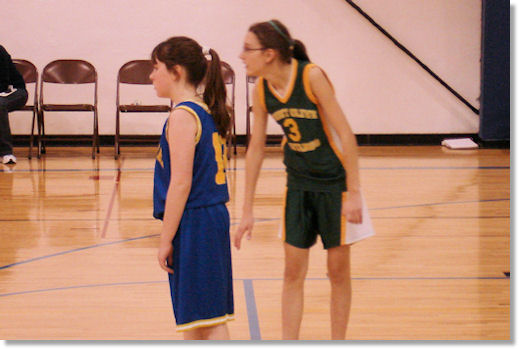 I swear we really do feed her, she's just naturally skinny.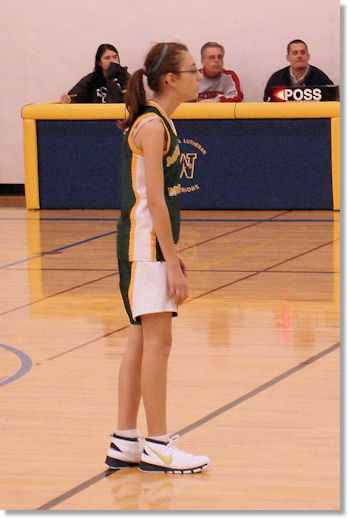 This is my favorite photo. I think it's really cool how Angel Face's head and upper body are relatively clear while the rest is blurry. Run, Angel Face, run!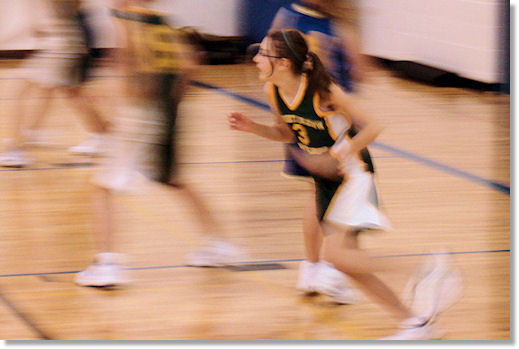 Of course I couldn't resist taking a shot of my two men: Teacher and Little Guy. Little Guy had recently discovered his tongue and spent several days with it hanging out until he uncovered his belly button. Teacher wasn't thrilled with Little Guy licking him, but he endured it stoically. I love it when he's stoic!