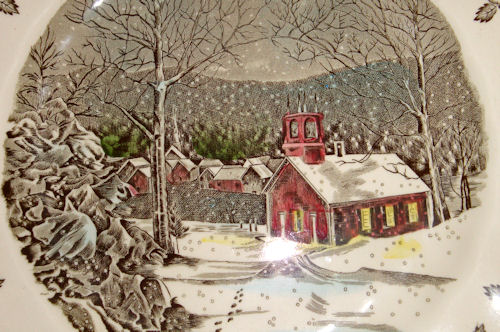 One of my fondest childhood memories is breakfast with Grandma. Whether we ate in the sunny "breakfast nook" off the kitchen or on the screen porch in nice weather, Grandma always made it a special meal.
Most of the time breakfast was cereal, but at Grandma's house it was never "just" cereal. Instead of milk we drowned our Special K or Raisin Bran in sweet, creamyCoffee Rich; probably a dietitian's nightmare, but so wickedly yummy! Grandma usually had fresh fruit to put on top; juicy nectarines, plump blueberries, sweet strawberries, or luscious raspberries. I would always eat the cereal first, leaving the fruit soaked in sugar-sweetened creamer for last. To this day that's my favorite way to eat raspberries, and my mom can't eat fresh fruit without creamer and sugar, or at least milk and sugar.
Sometimes Grandma would fry bacon and use the leftover grease to make eggs "over easy" with crispy-fried edges and semi-solid yolks; they always broke when they hit the pan. We'd sprinkle our eggs generously with salt and pepper then dip toast in whatever part of the yolk was still runny.
Other times Grandma would make her famous cinnamon rolls; yeasty and soft, with sweet cinnamon-sugar butter oozing from the center and butter cream icing dripping over the sides. If I asked for a sweet but Grandma was in a hurry she'd make crunchy cinnamon streusel topped Bisquick coffeecake.
No matter what Grandma made I'd clear my plate or bowl and ask for more.
But it wasn't just the food that made breakfast at Grandma's so special; it was mostly the dishes.
For as long as I can remember the Friendly Village dishes lived in the corner of Grandma's cupboard; waiting for special occasions like Thanksgiving, Christmas, or Breakfast with the Grandchildren.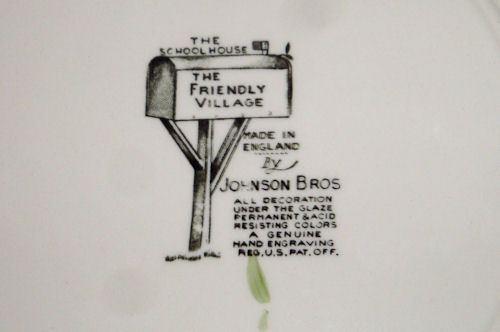 The dishes feature hand painted scenes from a country village in different seasons on the front. On the back the markings include the name of the scene.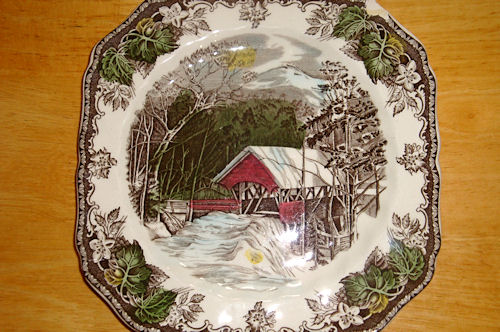 The small plates with their scene of a covered bridge in winter are my favorite because they're the ones we used most often for breakfast. When I look at them I can see toast crumbs and yellow egg yolks smeared across the snow. I can smell the eggs, bacon, and orange juice – which I drank even though I've never really liked it.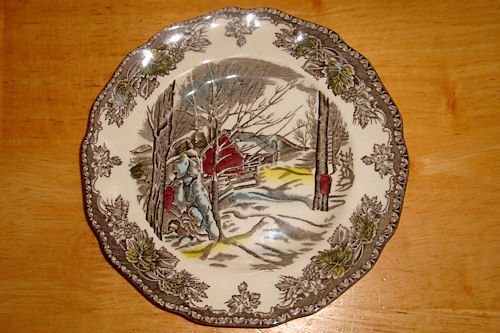 The bread plates have sugar maples and a sugar house in very early spring. I remember Grandma asking me to set them on the Thanksgiving table – with a butter knife balanced along the top edge. I was so proud for knowing the proper way to use a bread plate and butter knife. Just another time it paid off to be a voracious – and nerdy – reader.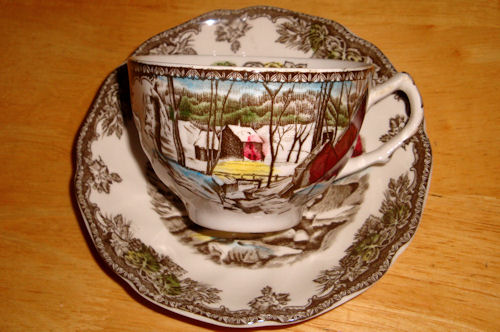 Like the bread plates, the coffee cups and saucers have the sugar maple scene on them. Grandma would let me use one for my orange juice, and I felt so grown-up sipping from a coffee cup just like Grandma.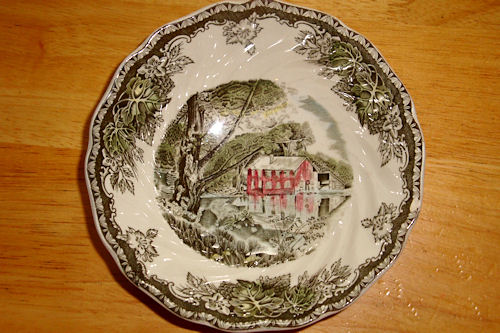 The old mill in the middle of summer is painted on the small bowls. They're the perfect size for a bowl of cereal with Coffee Rich and blueberries. Forget the cereal, I just want sugar, cream and berries!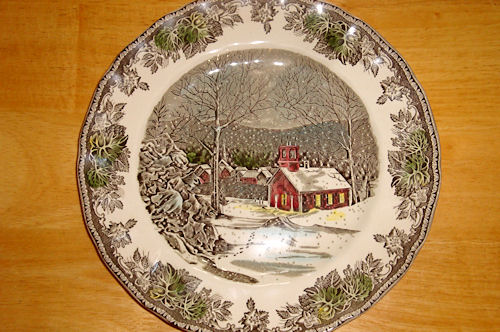 The dinner plates have another of my favorite scenes: the school house in the midst of a snowstorm. The yellow light shining from the school house windows always makes me feel warm and cozy inside, like being curled up on the couch in the middle of a blizzard.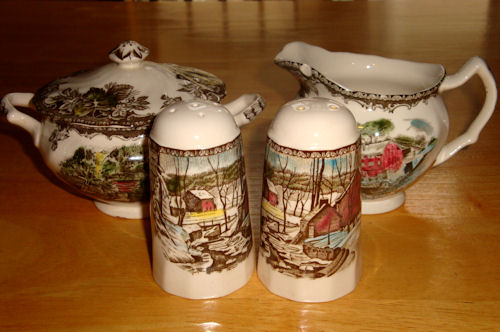 Grandma always set out the salt and pepper shakers, sugar bowl and creamer with milk, or Coffee Rich if were were having cereal, even for breakfast. The old mill and lily pond are on the creamer and sugar dish, but the salt and pepper shaker aren't labeled.
At 91 years old Grandma is no longer able to live alone safely. She's moved into my parent's house, and the Friendly Village dishes have moved into our house.
They're living in a cupboard next to our refrigerator; waiting for a special occasion. Occasionally I'll take out a piece, and as I hold it I'm flooded with memories of the sounds, scents, and sights from Grandma's house.
Someday I'll use my Friendly Village dishes… maybe when Peanut and Love Bug are big enough for their own Breakfast with Grandma. Maybe we'll have cinnamon rolls with sweet cinnamon-sugar butter and butter cream icing, or eggs "over easy" with broken yolks and crispy edges. And I'll remember my grandma.
But for now it's enough to know that her dishes are in my cupboard, waiting.