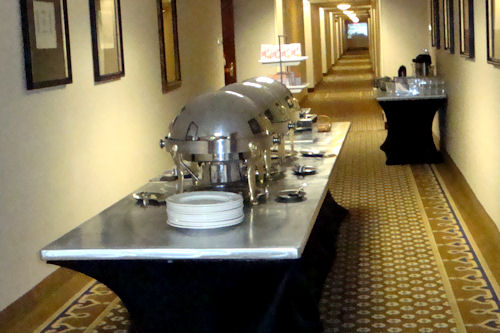 Morning arrived way too early; breakfast was scheduled for 5:45am.
This was the first time we'd taken a strings group to competition in addition to the band so we weren't sure how much time we'd need to get both groups ready. After the kids packed up all their stuff they hit the breakfast buffet, then found ways to occupy themselves until it was time for the morning devotion.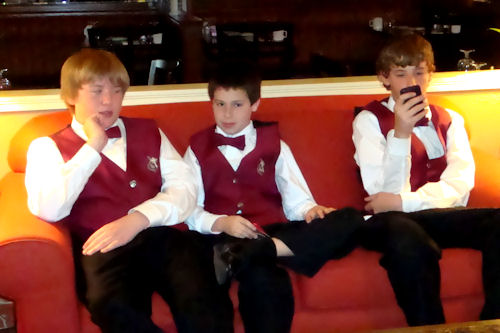 Some played games or sat in a catatonic state.
Others made music with their water glasses.
It reminds me of a group of band students who played Beethoven's Fifth blowing across soda bottles of various sizes in a talent show when I was student teaching. That was incredible – they had the bottles tuned perfectly.
Still others sat around and chatted. It's amazing how much quieter they are when they're tired.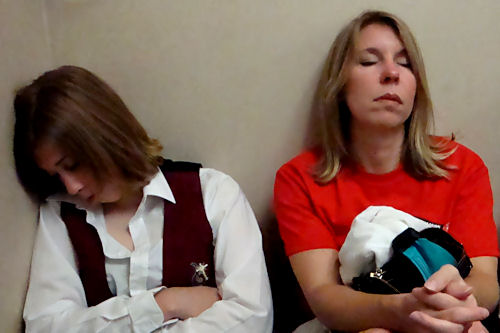 Shhhhh…Don't wake Shannon, we need her later…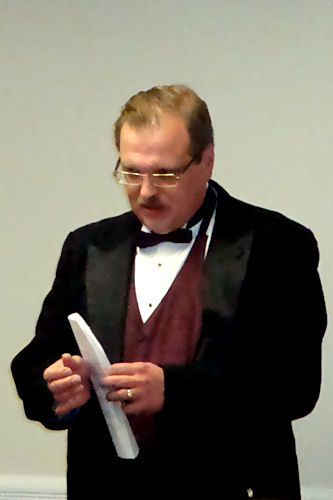 At 7:15 we had a devotion, then last-minute announcements and reminders before boarding the buses.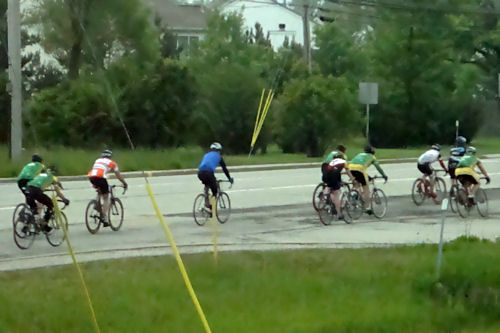 These bicyclists were the most interesting sight on the drive to the high school where we were scheduled to perform.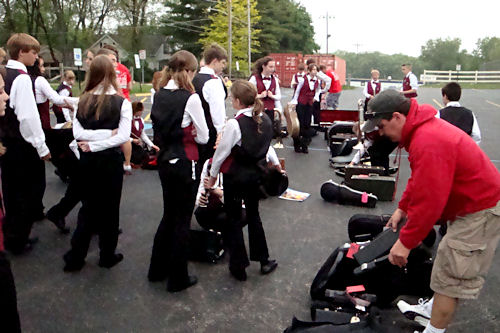 We arrived at the school with plenty of time to spare. The first order of business was unloading the instruments, then we decided there was enough time to take our traditional group photo before our performance instead of after like we usually did.
Getting these guys lined up for a photo isn't going to be easy…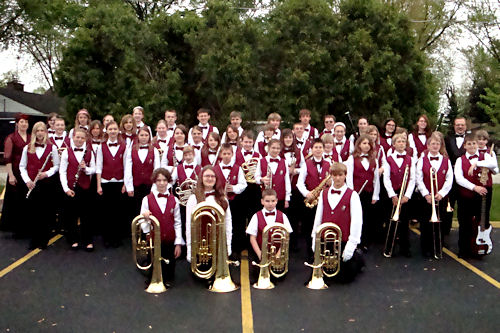 But we did it! Don't we look great?
Do you recognize my dress? I was so happy to have a reason to wear it again! Since it matches the kids' uniforms so well I'll be wearing it in concerts and performances for the next couple of years. Yea!
After the group photo I had to put my camera away and start thinking about our performance. While the strings were performing I took the band into the auditorium to hear another band play. Then it was time to get our instruments and warm up for our performance.
The first time I directed for the Music in the Parks competition I was a bundle of nerves and felt like I was going to throw up the whole time we were on the school grounds. This year I wasn't nearly as nervous, although my palms were rather sweaty. I hate directing with sweaty palms; I always worry that the baton will slip out of my hand and go flying into the band.
The kids played wonderfully – it was one of the best performances of these pieces that I'd ever heard them give! Looking back I wish I'd given my camera to one of the parents, but at the time I was too focused on the music and helping the kids give a great performance that I didn't even think of it.
As we walked to the buses after our performance you could just see the tension leaving the kids. Although they had enough self-discipline to walk calmly through the parking lot it was obvious from the spring in their steps and the smiles on their faces that they were looking forward to the rest of the day.
We quickly packed up the instruments, changed into our band tees and comfy clothes for Great America (boys on one bus, girls on the other) then headed for lunch in the food court of a local mall.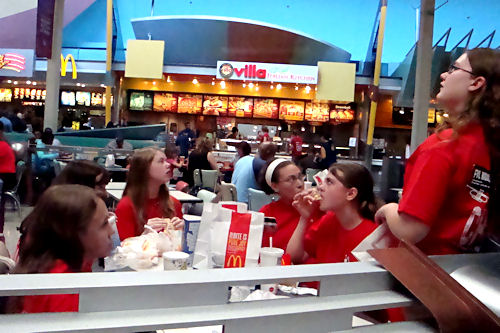 The food court is "George Jetson -1960's futuristic space age" themed and actually rather fun. An added advantage to being in a mall is that if you've forgotten something there's usually time to get a new one.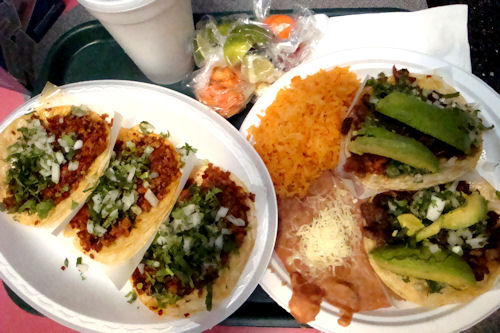 Teacher and I were thrilled to find authentic Mexican food in the food court. I'm not talking Taco Bell, I'm talking chorizo with raw onion and cilantro and shredded beef with onion, cilantro and avocado, and a side of spicy marinated carrots, zucchini and cauliflower. Yum-O!!!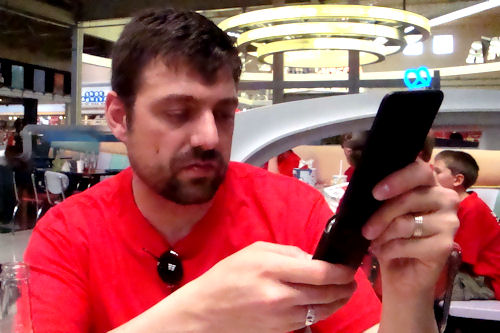 How much time do we have before we need to be at the buses? Oooh – there's time to hit the mall for dessert; after good Mexican I always crave chocolate.
To be continued…