Spoiler alert!
If you're the Dad of a child who attends my child care program you may want to back away from the computer and come back after you've opened your Father's Day gift.
Everyone else please read on for a fantastic and easy Father's Day gift.
As you probably know by now, more often than not when Christmas, Mother's Day and Father's Day roll around I'm scrambling at the last moment to find a gift for the children to make for their parents. But not this year! This year when I was searching for a Mother's Day Craft I found TWO great ideas for Father's Day.
I was so proud of myself for being on top of things!
Then I forgot both of those great ideas.
D'oh!
Pinterest to the rescue again! A quick search turned up several great ideas, but Princess and I liked the personalized hammers the best.
Easy Father's Day Personalized Hammer Supplies
You don't need many supplies to make personalized hammers for Father's Day; that's why it's such an easy Father's Day craft! The only things you'll need are:
Wood handled hammer
Sand paper
Acrylic paints and paint brushes
Clear coat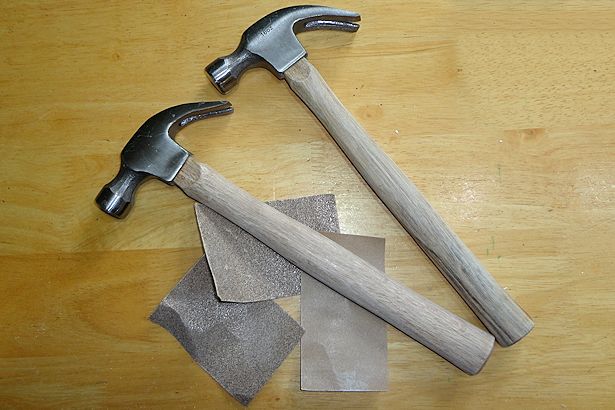 I found wood handled hammers at Menards for under $4 each. While we were there we picked up a variety pack of sandpaper too.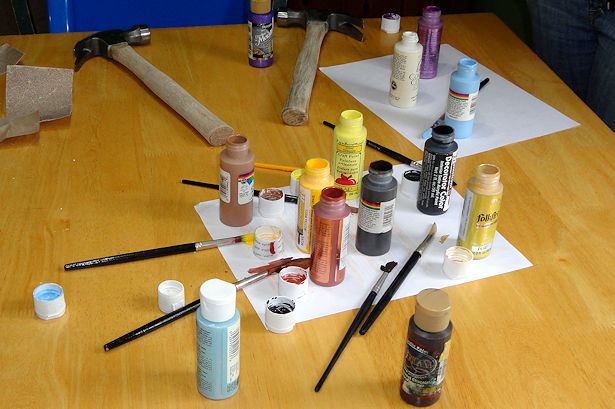 For paint I pulled out the acrylic paints leftover from other projects i.e. pine car derby cars but I think next time I"ll have to buy some; we're getting pretty limited on colors.
Easy Father's Day Personalized Hammer Directions
This project is so quick and easy that you can whip it up in one day – seriously!
1. Sand
Use a coarse grit sandpaper to remove the finish from the wood handle, then follow up with a finer grit sandpaper to smooth the wood.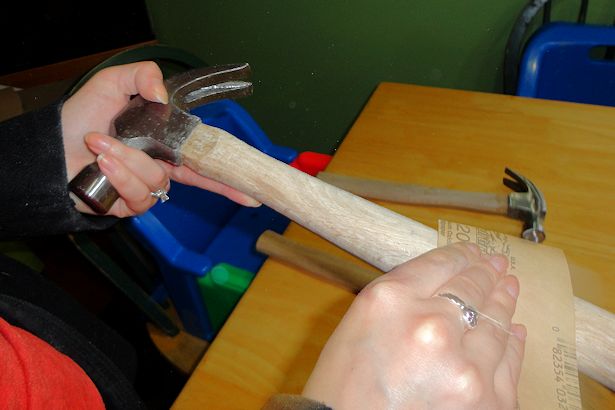 Go, Princess – sand that hammer!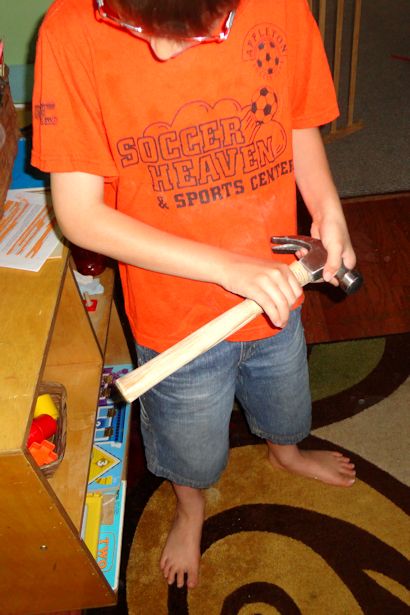 You can have the kiddos do the sanding themselves; just check that they've got all the finish off before painting.
2. Paint.
Paint with acrylic paints. See, super easy!
When the children use acrylics I dip the paintbrush into the paint for them and they let me know if they need more of the same color or a different color. Usually I'm not worried about messes, but acrylics aren't washable enough to risk getting them on the children's clothing, the carpet, etc.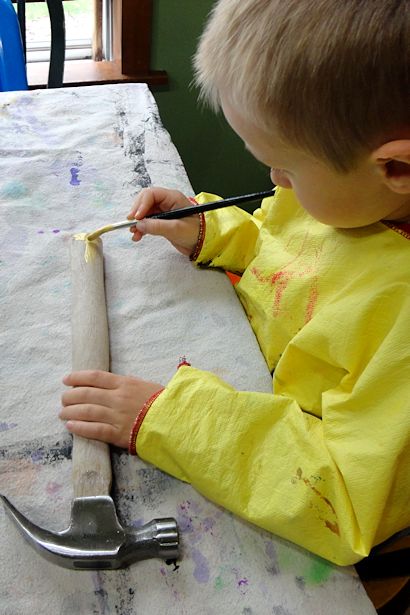 S's favorite colors are blue and black so I was surprised when he started out with metallic gold.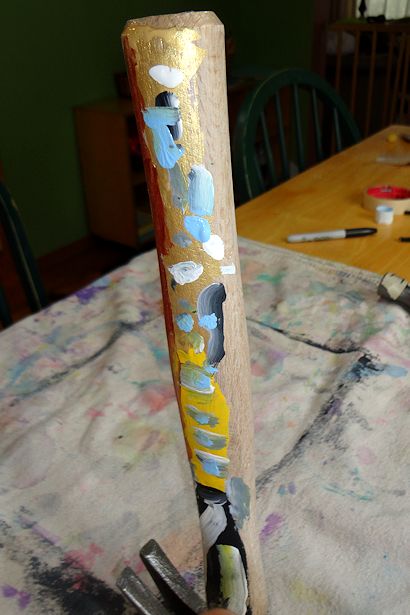 There's the blue and black; I knew they'd turn up somewhere in his design.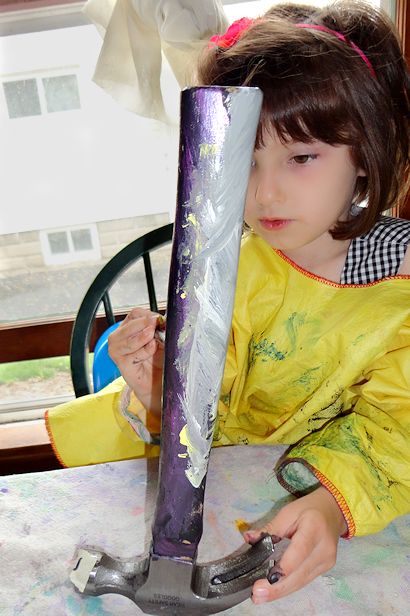 Peanut is all about layering and blending colors. Her hammer started out metallic purple and ended up black with metallic gold marbling.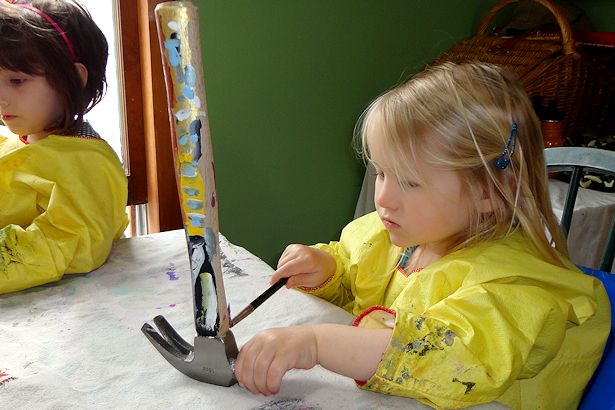 I figured that S and A's dad didn't need two hammers so I had them each paint one side of his hammer. A made blocks of color so it'll be easy to tell who painted which side.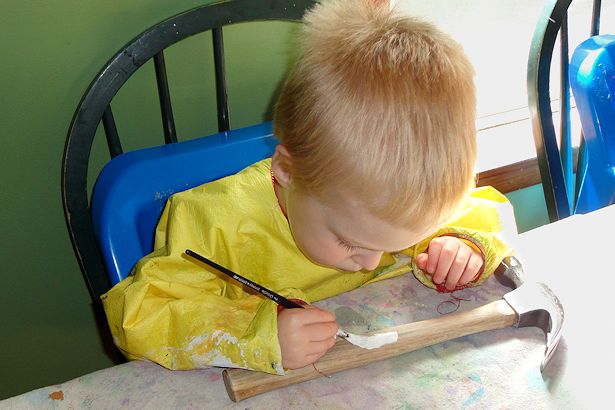 W was very deliberate in his painting; using small controlled strokes and getting his face very close to the hammer.
3. Finish.
When the paint was dry I used a Sharpie to write "#1 Dad" near the bottom of the handle "Best Grandpa" on the one Z-Man made for Grandpa then added "2013" and the child's name.
Then I sprayed them with a glossy clear coat. I've got a low odor Krylon one that only takes 15 minutes to dry, so I could hide the hammers before any dads or Grandpa spied them.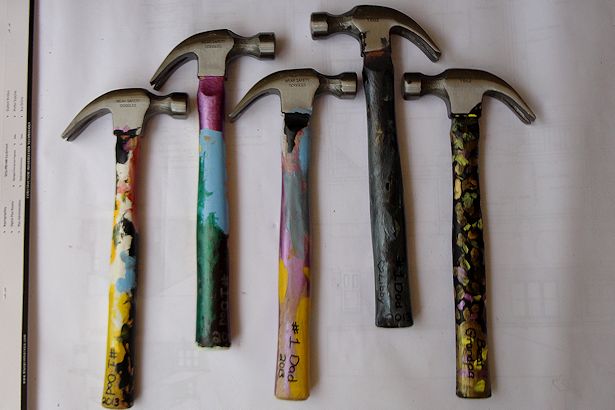 Don't they look great?! I'll bet the Dads and Grandpa are going to love them.