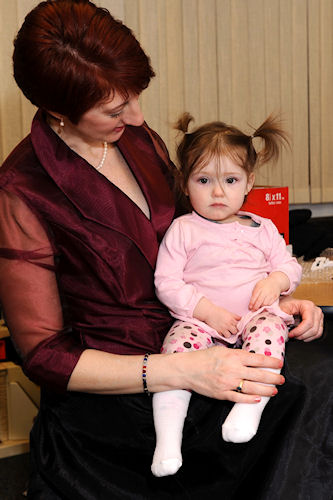 Peanut had spent the morning at Cowboy's mom's house being thoroughly spoiled. She fell asleep on the way to the church and wasn't sure what was going on when she woke up. She was happy to sit on my lap looking around, but we couldn't get her to smile for love or money.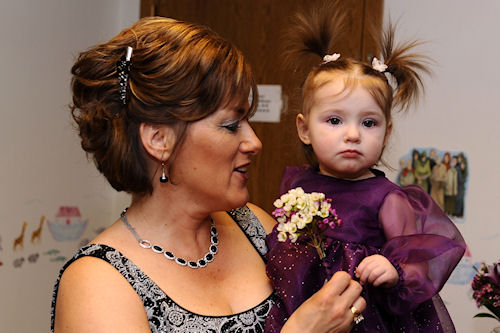 After we changed her into her Flower Girl dress and did her hair Cowboy's mom aka "Gammy" tried to get Peanut to hold her flowers, but she refused to touch the "tussy mussy" I'd made her. We decided it wasn't a battle worth fighting.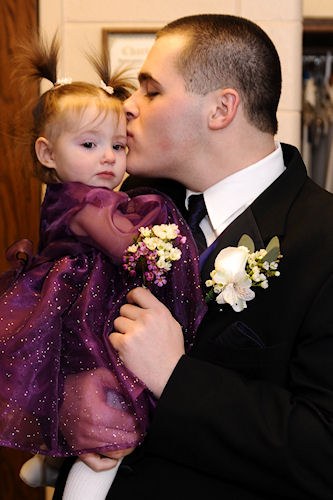 Cowboy's mom took Peanut to the youth room where Cowboy and the groomsmen had been banished. She was happy to see her Daddy but still wouldn't smile.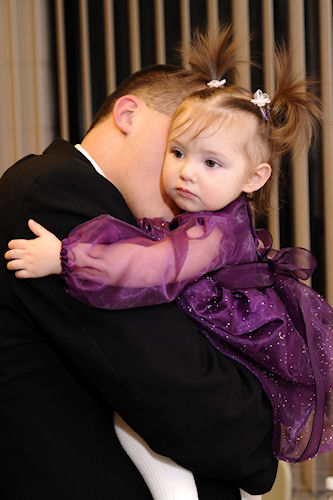 Most of the time Cowboy can get tons of giggles from her when he tickles her neck, but not today.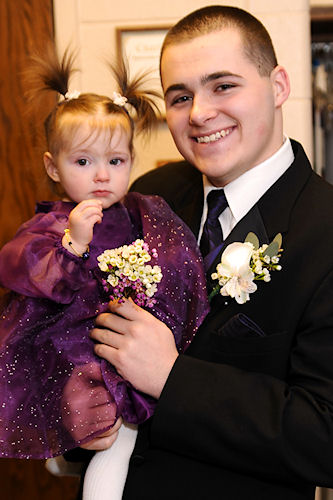 She won't hold the tussy mussy for Daddy either. I wonder if that stubbornness comes from Princess or Cowboy. It certainly isn't from her Gamma… at least not that I'll admit to.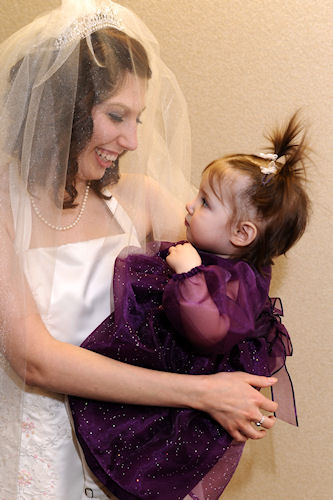 Back in the nursery Princess was all dressed and ready for a short photo shoot before the service started. Peanut was happy to see her mommy but can't figure out what's on her mommy's head.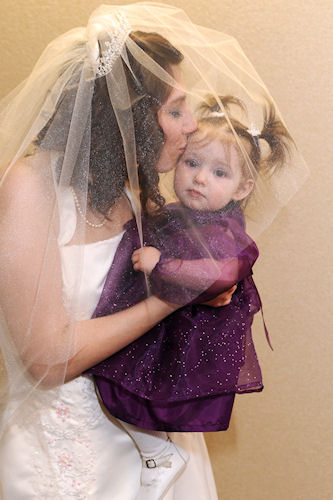 Peanut has that somber look you see in old tintype photos from the 1800s.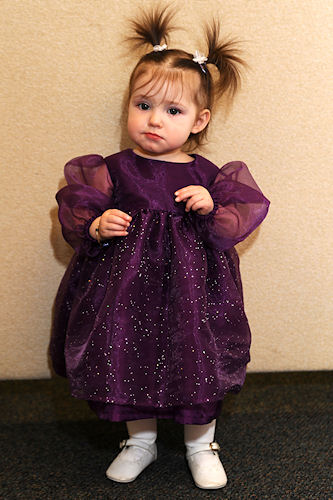 I just love this series of photos! Peanut still wouldn't smile, but she stood very nicely instead of trying to run away.
I think she looks just like a doll. I can just imagine a little Peanut doll sitting on a doll shop shelf, waiting for some little girl to fall in love with her and take her home. The doll I mean; not the real Peanut!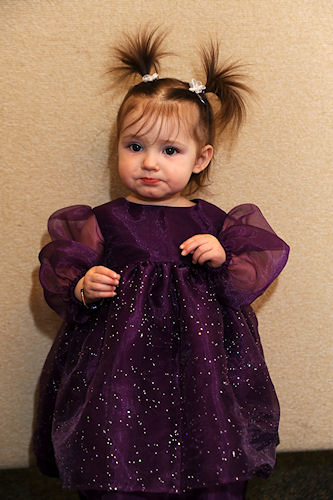 I plan to play with these photos and various photo effects – I can't wait to see them in sepia tones or black/white.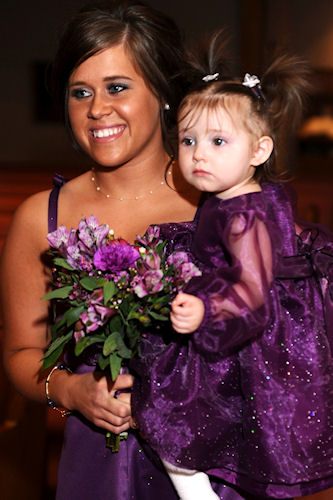 Finally it was time for the service to start. College Boy processed with the cross up the aisle, then Cowboy's sister, Ashley, followed with Peanut. Peanut loves her aunt but wasn't so sure about all the people staring at them as they walked down the aisle.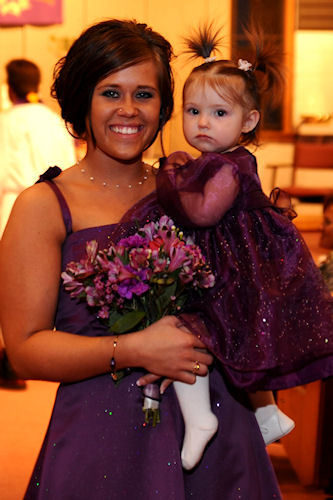 Peanut happily sat on my mom's lap for the service and willingly went to Ashley when it was time for the Recessional, but she still wouldn't smile. Maybe she was just scared of Jen's big camera Can anyone tell what's missing in this picture? Leave a comment if you know!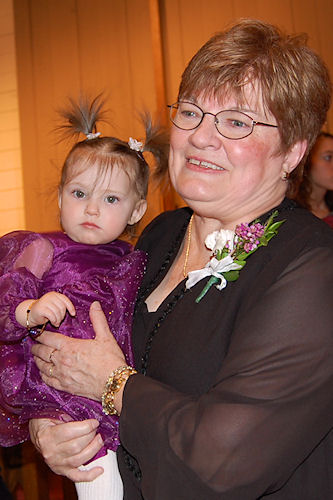 During the picture-taking chaos Peanut lifted her arms to my mom; "Up!" She loves her great-grandma, but still won't take her eyes off the camera.
Will this child ever smile again? Has the wedding craziness and extended exposure to College Boy permanently damaged her psyche? Stay tuned for the next episode…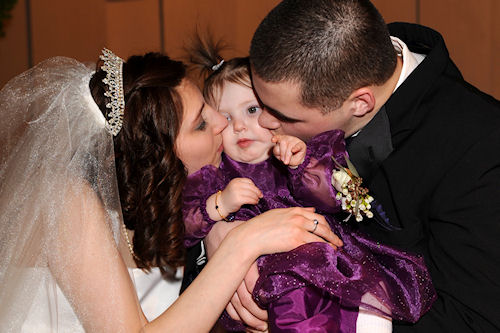 Hey you two! That's no way to make the child smile!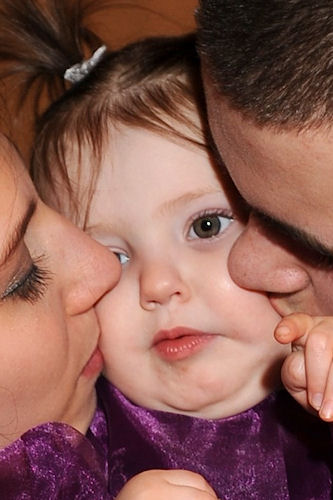 It sure is awfully cute though.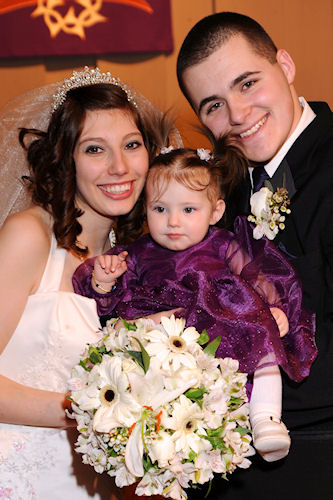 Wait… I think I see the beginnings of something…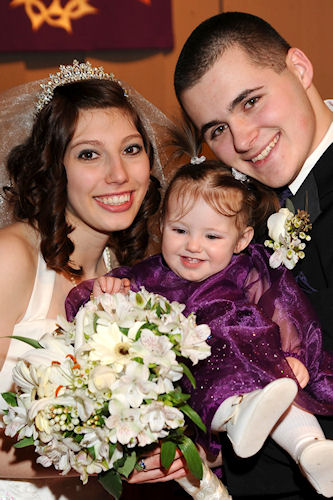 Finally – a smile!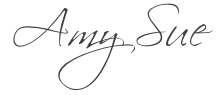 PS – All photo in this post were taken by Jen of Jennifer Tabbert Photography.