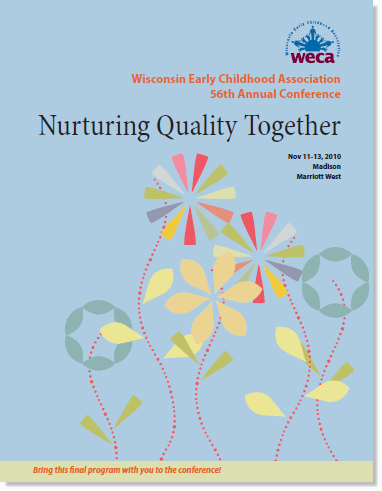 I'm both excited and scared/nervous about the Wisconsin Early Childhood Association's (WECA) 56th Annual Conference in Madison this weekend.
My friend Nicole owner and operator of Impressions Family Child Care and I are presenting a workshop together, titled "The Three R's of Mealtime." It's not the first time we've presented a workshop together, not the first time we've presented this particular workshop, and not the first time I've presented a workshop at WECA, but I'm still nervous.
My biggest fear whenever I present a workshop is timing. I don't know which would be worse: running out of material too early and having a roomful of early childhood educators staring at me as I try to think of something else to say, or running out of time and not being able to finish the presentation.
My second biggest fear is that someone will ask a difficult question or give us a hard time. The keynote presenter at our Valley AEYC Mini-Conference had to field some difficult questions and did it with finesse, but I'm not her.
My third biggest fear is forgetting to pack something. What if I forgot something for the workshop, my make-up, extra pants, or my UNDERWEAR?! I suppose forgetting something wouldn't be the end of the world; one year Nicole left her entire suitcase at home and she managed to survive until the next day when Teacher brought it to her when he picked me up from the conference early. Hope you don't mind me telling the story, Nicole!
On the other hand, I'm jumping-up-and-down excited about going to the conference! I've gone every year for the past 10 years except the years Z-Man and Little Guy were nursing and always have a great time. Not only is it fun to "get away from it all" for a while, it's inspiring to be surrounded by hundreds of other early childhood professionals.
Every year I come home with at least one idea I want to incorporate into my child care program, and usually find some cool toys or supplies too. Last year I won K'nex Grover in the Silent Auction. Isn't he the coolest?!
Now all I need to do is finish packing…