If you give a kid a camera she's going to take pictures. When you see the pictures you might scratch your head at and wonder why she took that photo. Who takes a random photo of the UPS Store anyway?! When you ask about the photos she'll say "I don't know; just because." and you'll be more confused than before.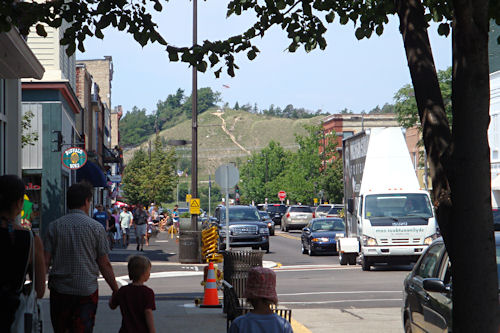 With Pronto Pups in hand we strolled toward downtown and some of our favorite shops. Angel Face offered to hold my camera so I could carry Pups and sodas. Little did I know she planned to keep it the rest of the day!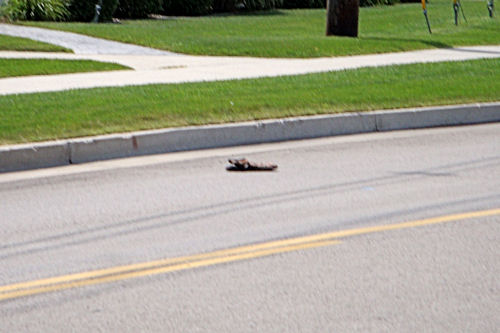 As we crossed the street she noticed a sandal in the middle of the road and thought it was hilarious. Not only did she have to take a picture of it, she kept looking back at it and laughing.
I'm not really sure what to say about that. Maybe the less said the better.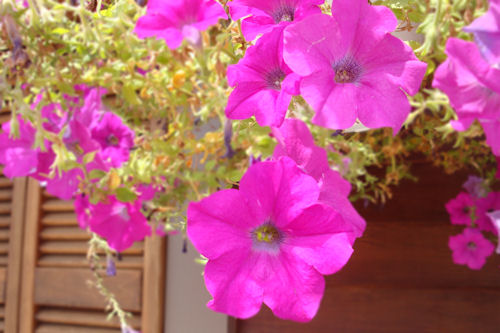 She seems to like hot pink petunias. Can't fault her for that.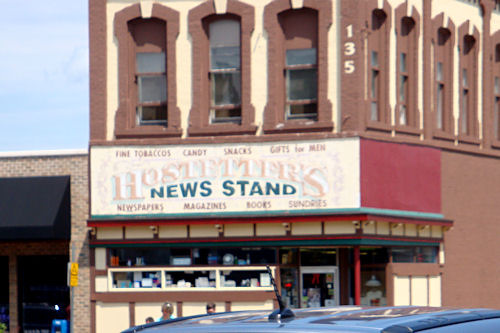 Hostetter's is an old-fashioned magazine shop, the kind that smells like loose tobacco and has penny candy that really costs only a penny. We Santa used to get comic books and penny candy for the kids stockings at Hostetter's.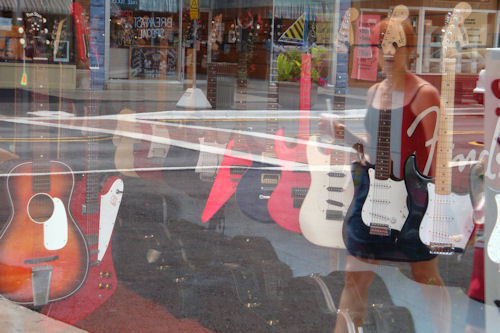 She fell in love with these guitars even though the only time she touches a guitar is when she's playing Guitar Hero at a friend's house. That didn't keep her from yelling "I want one of those!" on the sidewalk. And she thinks we're embarrassing!
If you look closely you can see my reflection in the window. I like this window; it makes me look thin – and like I've got a guitar for a skirt. I wanted to take the thin-making window home with us but it wouldn't fit in the van.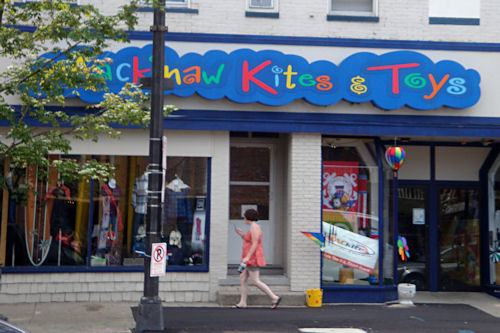 One of our all-time favorite places in Grand Haven has always been Mackinaw Kites and Toys. Teacher used to fly those really big cool kites when he was younger and Mackinaw has the biggest and coolest kites I've ever seen. Plus they have the best toys too – like Brio, Melissa and Doug, and all those other neat European educational brands that I can't remember.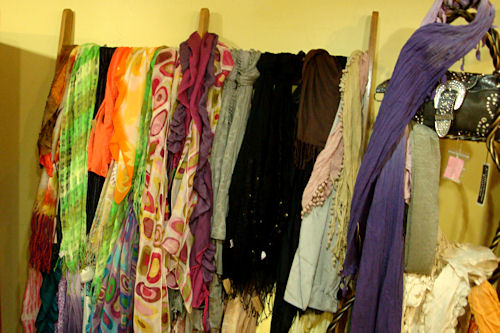 We wandered into a "green" as in eco-friendly clothing store where Angel Face took a photo of all these pretty scarves.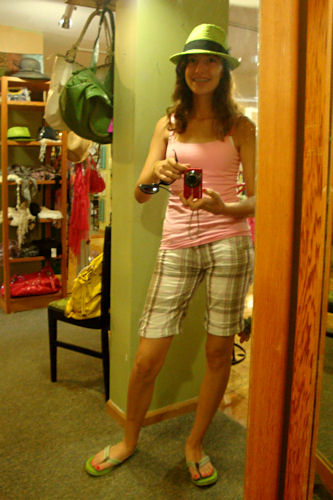 She had fun trying on a bunch of hats, and apparently liked this one a lot. I think it looks great on her.
I love hats too, but unlike Angel Face who looks fantastic in any kind of hat, I always look dorky in a hat.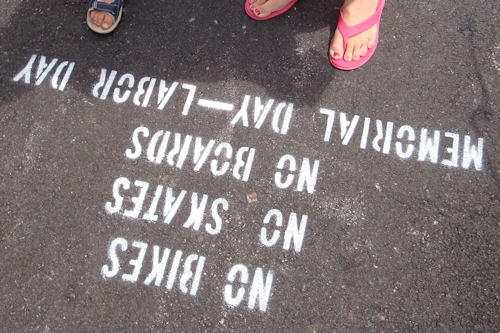 I have no idea why she took this photo and why it had to be upside-down. At least my toes look cute.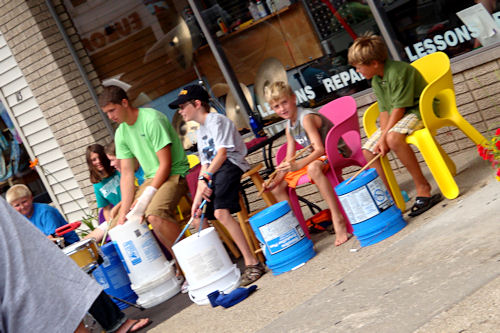 We were in the right place at the right time to see these kids performing on upside-down buckets. They were a little nervous but did great, and were soooo cute!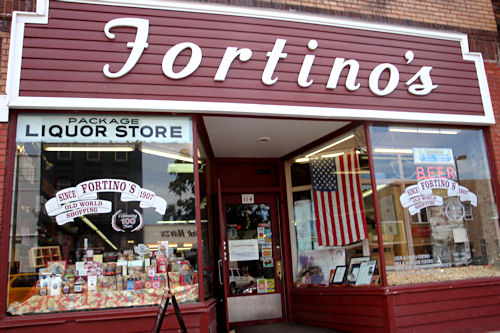 Fortinos is another all-time favorite place to shop. Should I be worried that no matter where we go our favorite places usually involve food?! Fortino's has the BEST fresh-roasted peanuts – perfect for Christmas stockings shhhh, don't tell the kids – plus imported Italian foods, a huge selection of candy you don't normally find, and a loooong counter of chocolates. Is it any wonder we love Fortino's?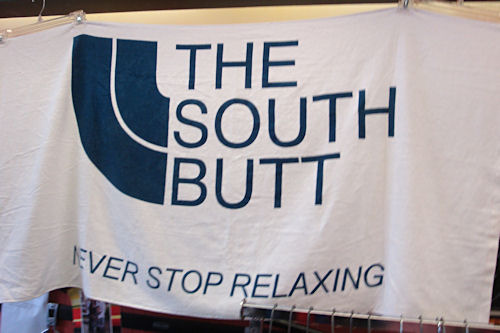 Angel Face was very amused by the South Butt merchandise in Buffalo Bills, but couldn't find anything in her size. It's tops on her Christmas list this year though!
I liked Buffalo Bills better when it had an old-fashioned soda fountain in back – big surprise that I'm all about the food again.
Wow, it's hard to believe that we've had Pronto Pups, walked the whole downtown and back, and it's only 3:00. Teacher and I could've gone on longer but the little boys were fading fast so we decided to head back to Grandma and Grandpa's.
To be continued – we're not done with the day yet!