We painted the girls' room over Labor Day and I've been waiting for it to be clean enough to photograph. I finally decided that I'll be old and grey before that happens so I threw everything into the closet to make it look good then took photos of the cleanest parts. A mom's gotta do what a mom's gotta do.
The room started out yellow and blue with a Tweety Bird/blue gingham theme. The girls were four and eight when we moved into our house and their favorite colors then were yellow and blue. Teacher used to call Princess "Tweety Bird" so the colors and theme fit them perfectly then.
But after eight years in Tweety World Princess and Angel Face decided they'd outgrown Tweety and wanted to redecorate. Teacher and I agreed to help but first they had to unearth their rug. And the tops of their dressers. And the floor under their beds. And the floor around their beds. And in front of their closet. And under the windows. And… Let's just say they had a lot of work to do!
The girls agreed to clean their room and spent several weeks deciding on a color scheme. Eventually they decided on pink and green, but didn't know what shade of pink and green. Teacher came to the rescue, bringing home one of each green and pink paint chip in the store. Princess and Angel Face then spent hours poring over the paint chips trying different combinations and comparing with the quilts their grandma is making them.
Finally they chose the perfect colors and had their room mucked out – Hallelujah! We got to work bright and early Saturday morning. Teacher was fast and had the room most of the way cleared out before my bleary eyes focused well enough to take a photo. I'm not a morning person.
Before: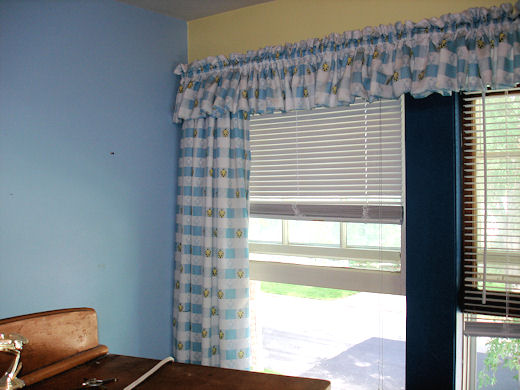 The only unbroken wall was blue, the other three were yellow. The trim was cobalt blue and most of the windows were creme – except for the one we never got around to painting since we moved in.
You probably expect to see a "During" picture after the "Before picture. Sorry, I don't have one. I was too busy painting or too comfy in the rocking chair to take photos. Close your eyes and use your imagination… picture a big plastic drop cloth, open paint cans, sweaty parents and giggly girls in paint-smeared clothes, a boom box blasting Queen… Yup, you've got it!
On Monday we went shopping for new sheets and other accessories. Our timing was perfect – all the college dorm stuff was on clearance so we got some great deals!
Rug: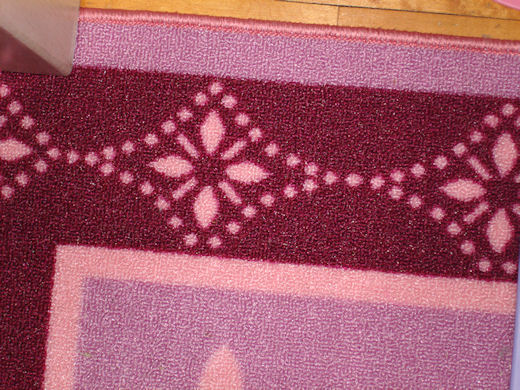 I'd planned to trade the pine green rug from Jo-Bear and Z-Man's room for the blue braided rug the girls used to have. But Teacher scored this one at 70% off. Teacher is a power shopper and can find deals like you wouldn't believe – I love shopping with Teacher.
Bead Strings: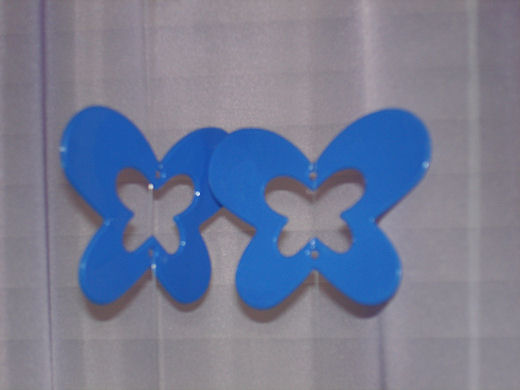 Teacher found these door beads for $5.00 a panel at Kohls. Amazingly, the colors went perfectly with the new paint. I altered the door beads for the windows by sliding them out of the hanging frame then cutting each string off the plastic strip they were wired to. I bought key chain rings large enough to go over our curtain rods to hang the beads from. After slipping the loop at the top of each string of beads onto a key ring I slid the ring over the curtain rod. Voila!
Curtains: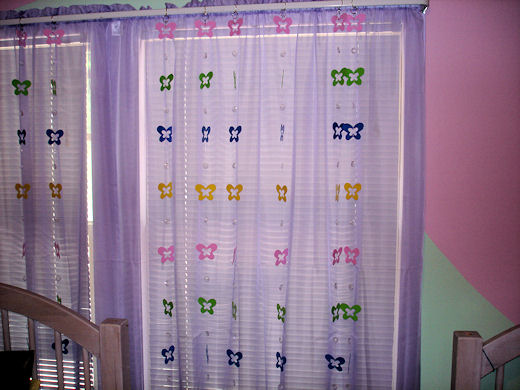 I found these lavender sheer panels online at JC Penney. They were on clearance for $7.00 a panel – Teacher's not the only one who can find good deals!
Angel Face's Side: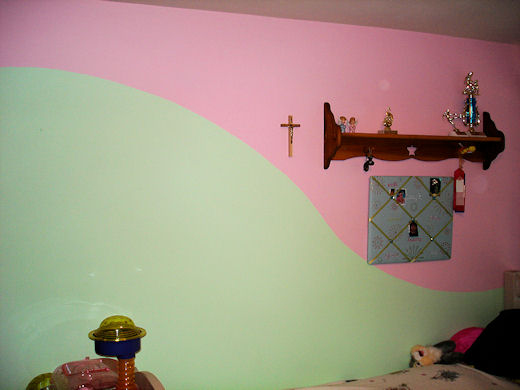 Angel Face loves green so we put lots of it on the wall by her bed. We drew the curves by tying a pencil to a long piece of string and using it like a huge compass to mark lines on the wall. We used different lengths of string to create the size of curves we needed for each space. It sounds like a lot of work but it was fun.
Princess's Side: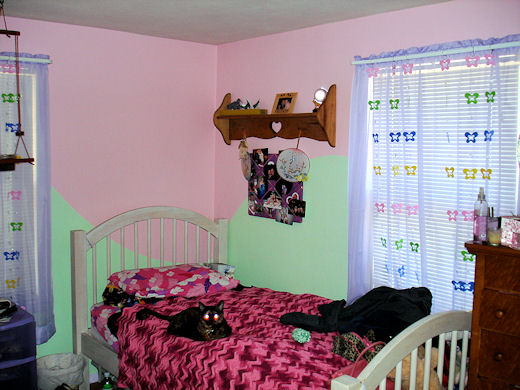 Princess prefers pink so her side has lots of pink. The shelves on each wall were made by Teacher's dad – he's a super woodworker! Don't mind the cat on the bed – she's really not demonic, just skittish.
So that was our Labor Day weekend. It was lots of fun, and the girls' new room is adorable. Now we just need to get the rest of their stuff out of College Boy's room before he comes home from England!