The other day I was editing a bunch of photos as Teacher walked past. He stopped and did a double-take, "Why is that pizza GREEN?!" he asked.
I laughed, "Because it was leftover seaweed cheese from earlier that week."
We'd been doing an undersea theme in the daycare and that Monday I'd made Seaweed Noodles by mixing shredded mozzarella cheese with green food coloring to make "seaweed" for the kids to sprinkle on their noodles. Unfortunately I overestimated how much cheese to make and had a bunch of green cheese leftover.
On pizza day I came across the green cheese and asked the kids if they wanted "Seaweed Pizza" for lunch. "Yeah!" they all shouted. I was a little worried they would take one look at it and change their minds so I had them wash their hands and help sprinkle the cheese on the pizza. Kids are always more eager to eat something that they've helped prepare.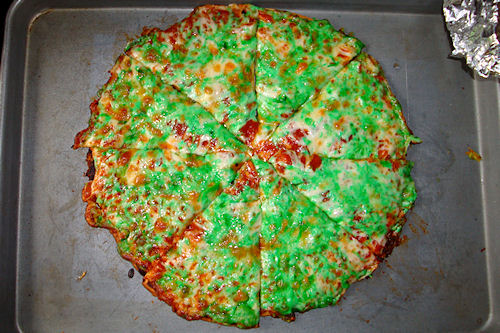 I thought it was a little weird-looking when it was done baking, but the kids LOVED it! I was glad they ate their lunch well, and that I was able to use up the rest of the green cheese.
Score two points for Miss Amy.