One of the things I love most about Facebook is the great ideas I get there. I love Pinterest for the same reason, but this idea came from a Facebook friend.
A family child care provider friend posted a photo of the "Sickness Season Survival Kits" she'd made for her families. She did a Doc McStuffins theme and filled paper bags with hand sanitizer wipes, antibacterial hand sanitizer, hand soap, kleenex, a book, antioxidant-rich raisins, and cookies.
It was such a great idea I decided to make some for my families too – with my own spin on it, of course. I was able to find all of the items in Target or the Dollar Tree, so the Kits weren't too expensive.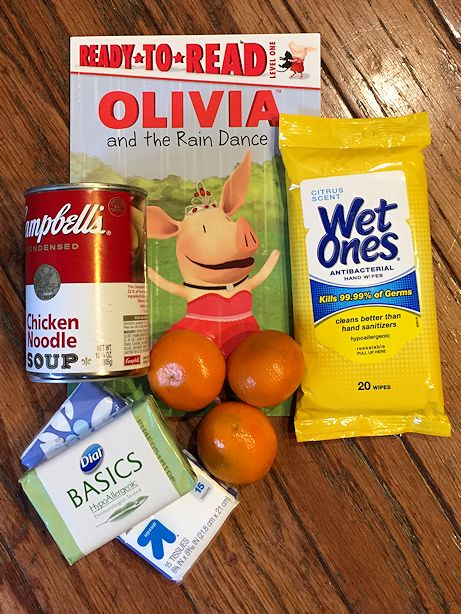 My Sickness Survival Kit included:
An Olivia book
Campbell's Chicken Noodle Soup
A small pack of tissues
"Cuties" – aka tangerines
Dial natural soap instead of antibacterial soap/hand wash
Antibacterial wipes
I'm generally not a fan of antibacterial anything, but I do like the wipes when there's sickness sweeping through. I'd have preferred natural wipes, but those didn't come in travel packs.
Other possible items that were on my list but weren't included because I either couldn't find them at all or couldn't find them at the right price are:
Natural spray disinfectant
Lip balm
Liquid soap
Hand lotion
Vitamin C gummies
Small Vicks Vapor Rub tins
Boo Boo Bunny or similar "lovie"
Cute ice pack
Now that I've got a bunch of ideas for next year I can watch the sales and stock up ahead of time!
What would you include in a Sickness Survival Kit?