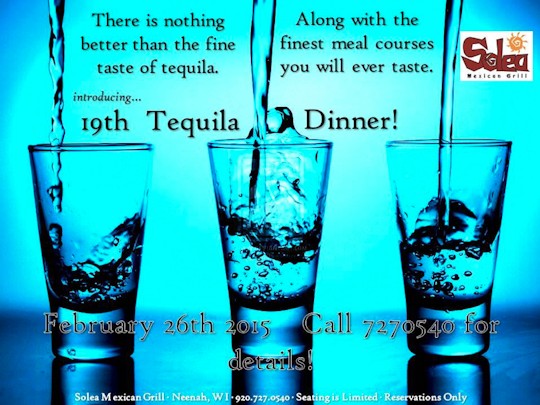 Yes, I realize it's June 2016, but life has been hectic. So hectic that I didn't have time to edit photos earlier. So hectic that we haven't made it to any Tequila dinners since this one. Now THAT's busy!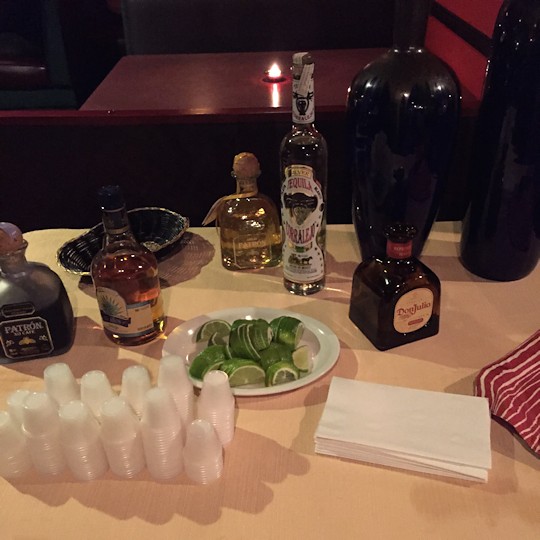 A beautiful table is set up to showcase and offer samples of the featured tequilas, along with the requisite salt and limes. In the interest of full disclosure I have to admit that the table looked better when we arrived but I was too busy chatting to take a photo right away.
Tonight's tequilas, left to right, are Patron Café, 100 Años Sauza, Patron añejo, Correlejo, and Don Julio reposado. All tequilas that we like – I cant't wait to see how they're used in tonight's tequila drinks!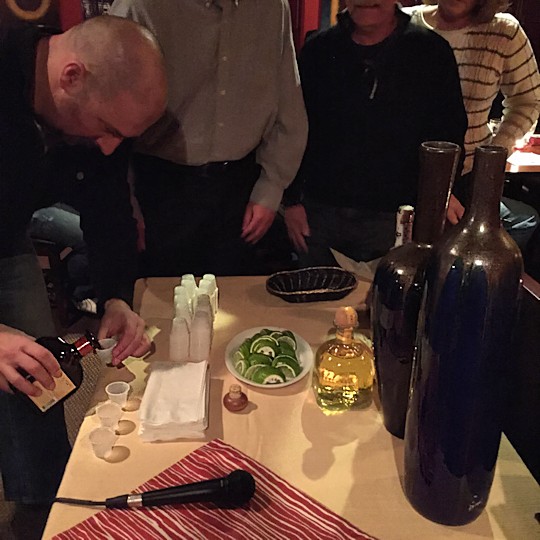 Do you recognize the good looking guy pouring himself a shot? No, it's not Teacher, it's one of the friends we made at the previous tequila dinner. He ended up sitting at the table next to ours again – how great is that! One of the best things about these dinners, besides the amazing food and tequila drinks, is making new friends.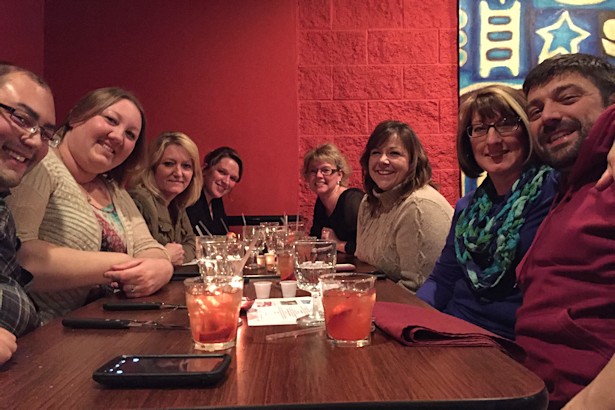 Speaking of which, we were at a table with our friend Jessica, who we met at an earlier tequila dinner. Since her husband couldn't make it this time she invited some of her friends, so Teacher and I ended up making a bunch of new friends again. I'm telling you, if you want to make new friends all you need is a bottle of good tequila. Salt and lime wedges optional.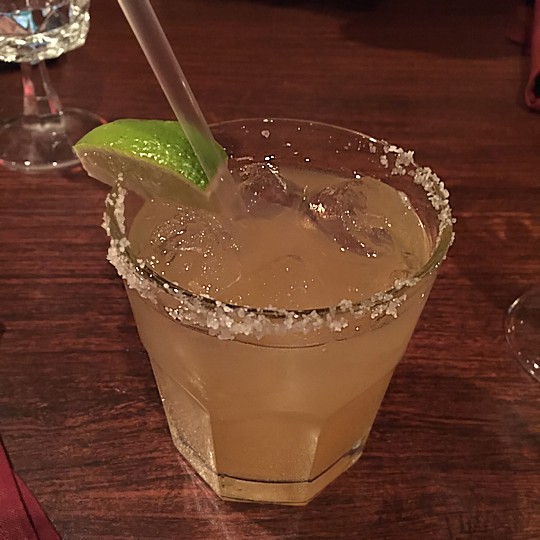 We started out with a "Margarita Perfecta", made with Corralejo blanco tequila, Gran Gala, agave nectar, and sweet & sour. I personally prefer lime juice to sweet & sour and often request the substitution when we go out, but it was still yummy.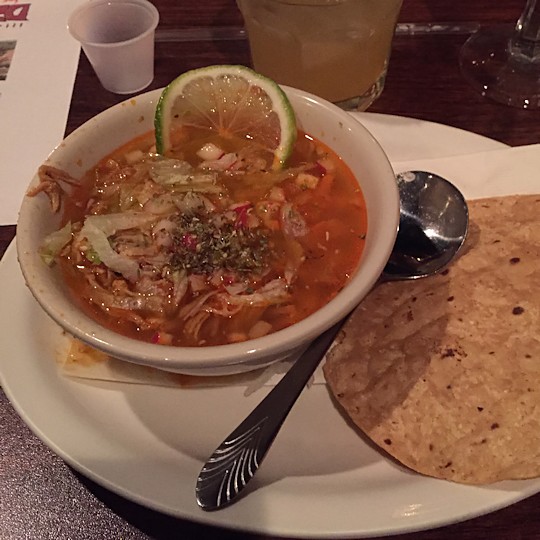 The Margarita Perfecta was quickly followed by the first course, "Pozole" – a traditional Mexican pork stew and hominy corn, served with radishes, lettuce, onions. Warm and hearty with a touch of tartness and crunch, this is Mexican comfort food at it's best.
Teacher has made Rick Bayless's Pozole at home and I think it's just as good as this one!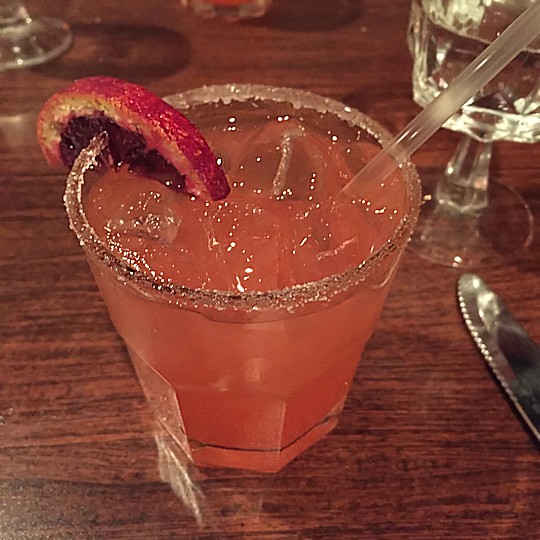 The next drink was a "Don Julio Rubi Red Margarita" consisting of Don Julio reposado, Gran Gala, ruby red grapefruit juice, agave nectar and fresh lime. Don Julio is definitely on my Like list, and even though I'm not a grapefruit fan I liked this drink. It was sweet and refreshing, and balanced out the richness of the scallops and bacon.
Did someone say "scallops and bacon"? Those are two of my favorite foods!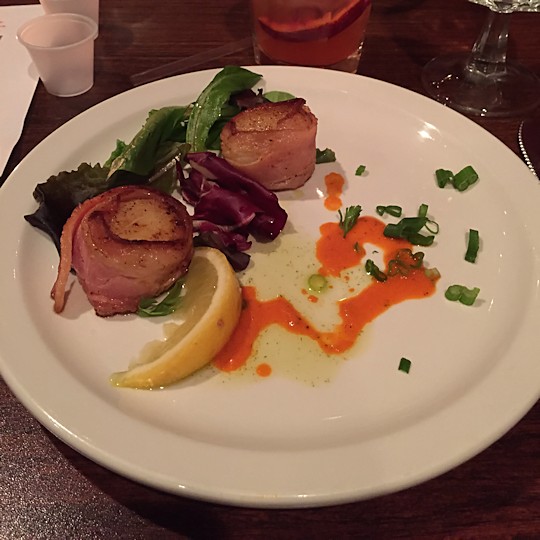 "Callos al Sartén Enrollados en Tocino" – Pan seared sea scallops served with fire roasted red pepper sauce. And don't forget the bacon! Is anything more perfect than whopping big scallops wrapped in bacon? I could eat bacon wrapped scallops all night.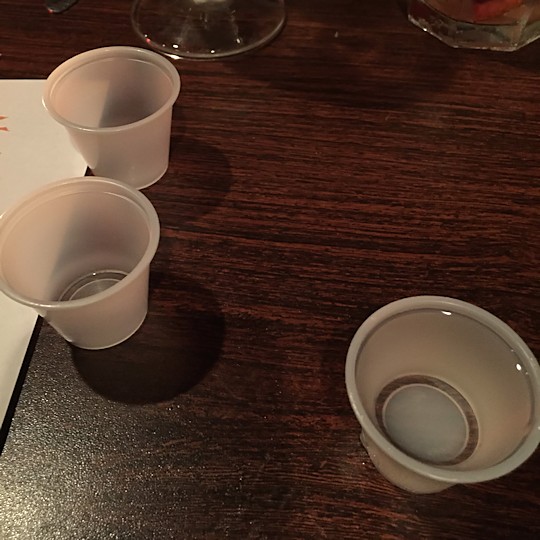 Of course we had to taste the tequilas in between courses… Bottoms up!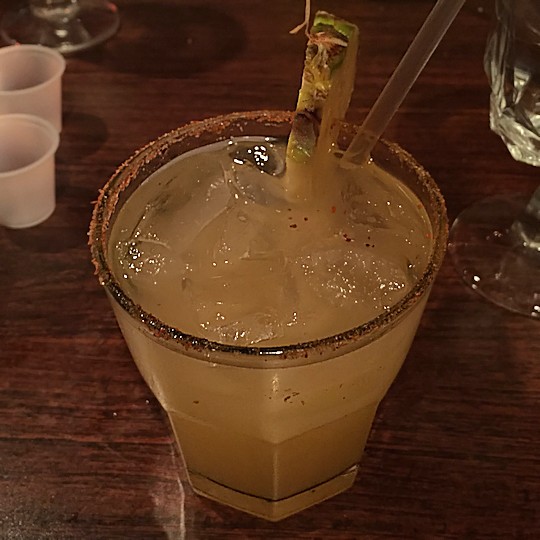 Next up, a "Caribbean Margarita" made with Patron Añejo, Patron Citronage, pineapple juice, sweet & sour, and a splash of grenadine. The rim had a bit of chipotle in the salt, which is the way Teacher and I do our Margaritas at home. Yum-O! This was my favorite Margarita so far.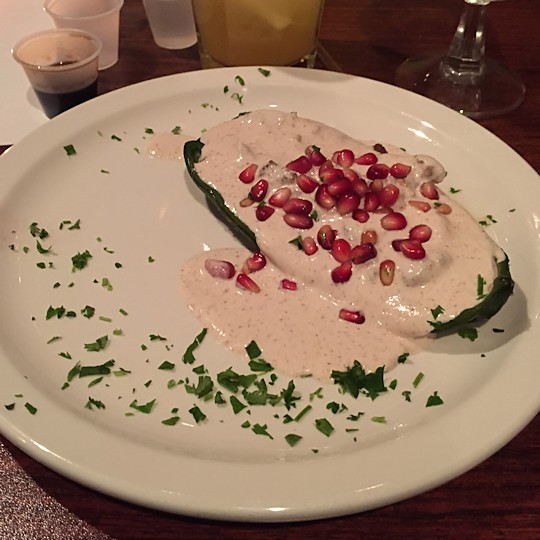 The third course was "Chile en Nogada" – Roasted poblano pepper filled with beef and pork classic piccadillo covered with nogada sauce and sprinkled with fresh pomegranate. Ohmygoodness this was amazing! The poblano had the perfect amount of heat to stand up to the rich filling and sauce, and the pomegranate seeds added a contrasting tartness and crunch. I barely restrained myself from licking the plate – I hope Teacher finds a recipe to make this at home!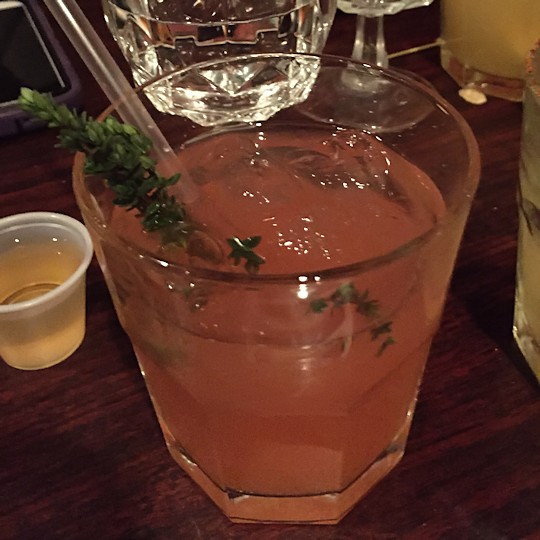 A "Raspberry Thyme Margarita" started out the fourth course. It consisted of 100 Añeos Sauza tequila, Grand Marnier, fresh thyme, lime & lemon juice, and a splash of club soda. I never would have thought to put thyme – or any other herb – in a Margarita, but this was amazing! I wonder who taste-tests their tequila dinner drinks, and how I can get into that action…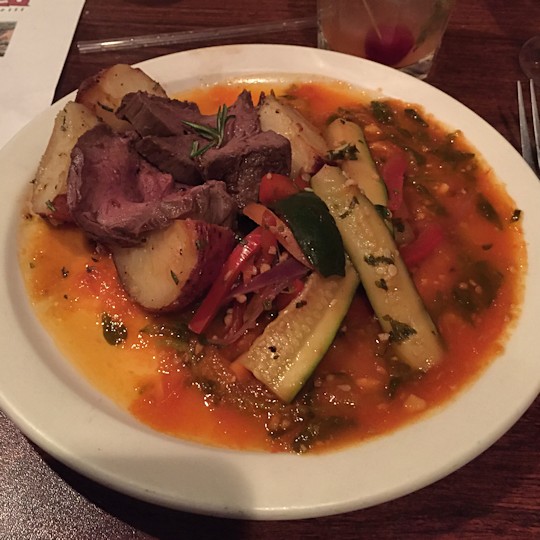 The main course was "Medallions de Filet de Res en Salsa de Verdolagas" – Black Angus tenderloin medallions over purslane and tomato sauce with garlic and rosemary roasted potatoes and vegetables.
Teacher and I have been watching Gordon Ramsey and he's probably say this "Looks a bit of a mess" but it was so delicious I could care less what it looked like! The tenderloin melted in your mouth and the veggies were perfectly cooked. I would definitely order this dish again if it were on their regular menu.
Next, my favorite course – dessert!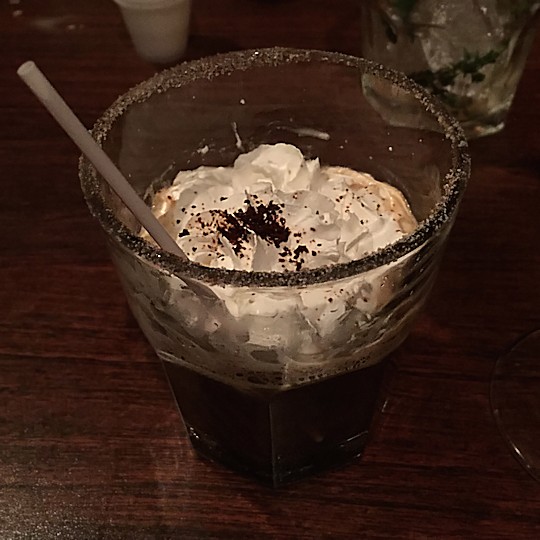 The dessert drink, "Cafe & Café" was coffee based – Patron Café, Amaretto, fresh coffee, and whipped cream. A surprising Yum-O! I don't like "regular" coffee and vastly prefer Patron XO Café with the red ribbon over "regular" Patron Café with the purple ribbon, but this was amazing. Now I know how to drink regular coffee – just add a little tequila, Amaretto, and whipped cream!
Yes, you caught me – I drank half my Cafe & Café before snapping a photo. Oops!
With the Cafe & Café was…
Wait, what's that commotion?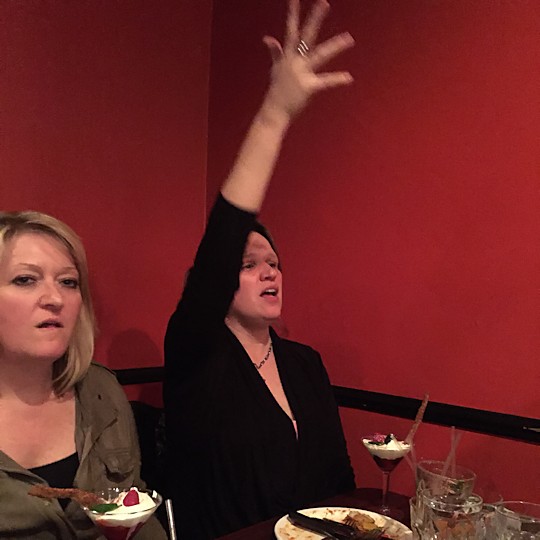 Apparently Jessica's end of the table doesn't have any spoons. That's too bad for them.
Wait, we don't have any spoons either!
"Excuse me? Sir? A little help here?"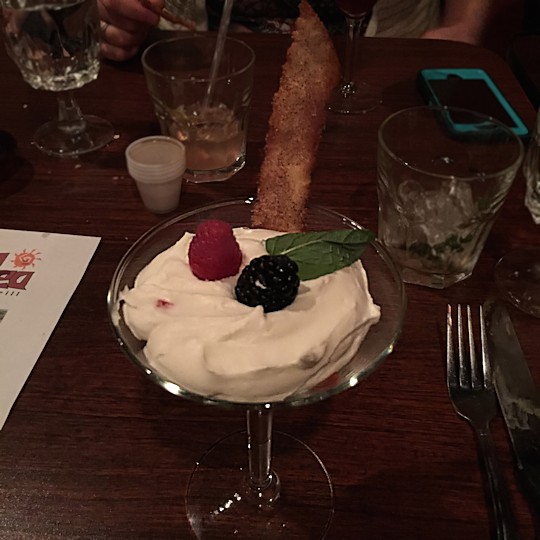 Now that we have spoons we can enjoy "Wild Berries Compote over Whipped Cream". It was garnished with extra berries, a mint leaf, and a cinnamon tortilla crisp. As a card-carrying chocoholic I was disappointed that dessert wasn't chocolate, but fresh berries and cream are a match made in heaven, so how can I complain?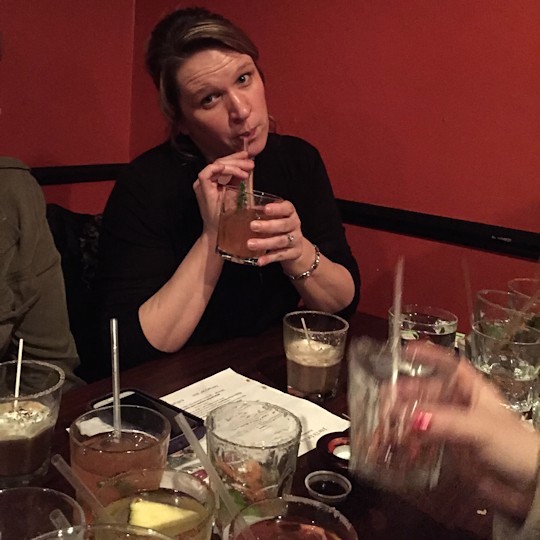 Oh look, Jessica's happy again, and all it took was a couple of Margaritas and a spoon. Hmmm, sounds like someone else I know – no wonder we're friends!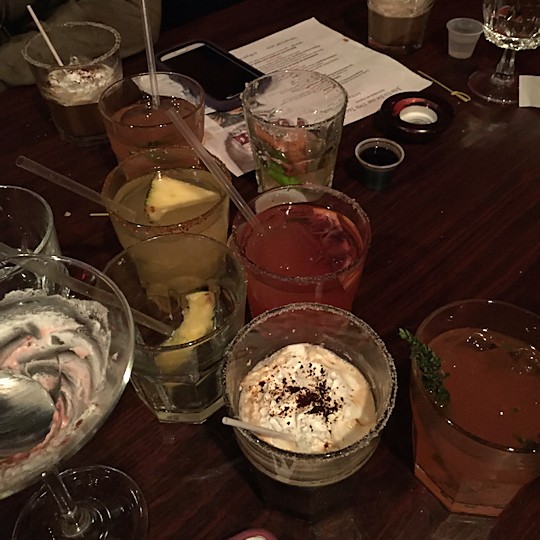 Wow, what a mess! I'm glad I don't have to clean this all up. How sad that all those Margaritas are sitting there unloved and undrunk not drank undrinked not consumed. I'd do my part but I'm so stuffed I might pop.
What? Our ride is here? Time to go!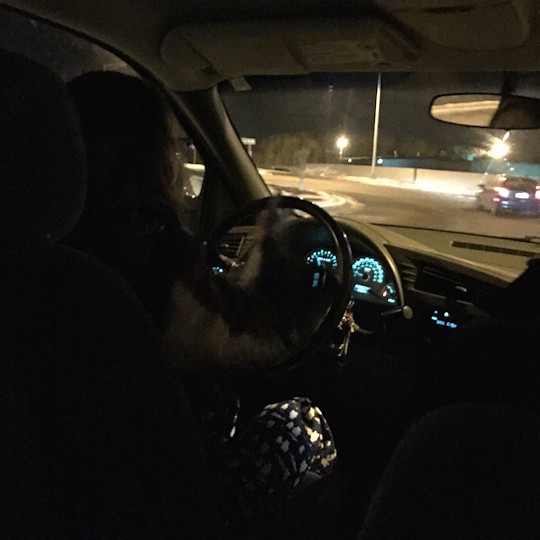 This time our Designated Driver is Angel Face. We didn't know what we were in for at first Tequila Dinner we attended so we didn't plan for a DD, but we learned our lesson. I think it sets a good example for our kids, especially the older ones who may end up in a situation where a driver has been drinking.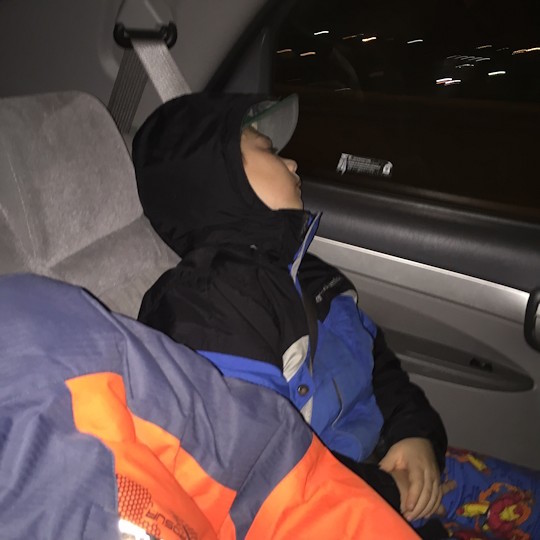 She was babysitting too, so iMatt and Z-Man had to come along for the ride. Poor iMatt, he's sound asleep.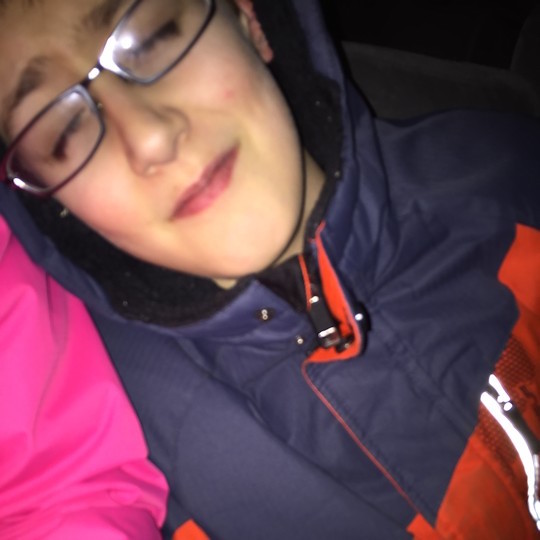 Z-Man pretended to be asleep too, hoping he'd get carried in when we got home. How do I know? Because I used to do the same thing to my parents. It never worked with them either.
Now that Angel Face is 21 she'll probably attend the next Tequila Tasting Dinner with us so we'll need a new Designated Driver. Luckily Jo-Bear has his license and can be bribed with food. 😉
I'm stalking Jessica's Facebook to see when the next Dinner will be – she always seems to know the date before anyone else.