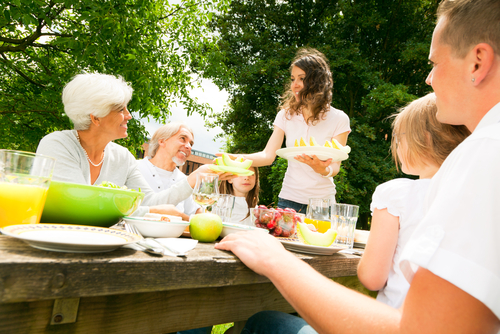 The first time Teacher met my parents it didn't go as planned. We were in my dorm room waiting for my parents to call so I could down and escort them up. I was doing homework at my desk and chatting with Teacher, who was laying on my bed. When there was a knock on the door I called "Come in," not expecting to see my parents standing there. I wasn't as surprised as Teacher was – I think he jumped straight up in the air in his hurry to get off my bed!
As they say, "all's well that ends well" and even though we're nowhere near the "end" yet, after 30 happy years of marriage I think it's safe to say that "all's well."
We're not the only ones whose "meet the parents" moment didn't go as planned; any married couple can tell you that one of the most stressful hurdles when they were dating was (cue serious music) meeting their potential in-laws.
It's hard to say exactly why the first meeting can be so stomach-churning; after all, these are the people who raised the guy or gal you love best in the whole world, so they must share at least some wonderful traits in common, right? Rather than the standard "dinner and interrogation" try one of these activities to break the ice and help all of you to get to know each other better:
Solve Something Together
Escape rooms have been getting a lot of positive comments for their ability to bring people together. What can foster cooperation better than having to escape a locked room within a certain amount of time? Tick Tock Escape Games near Kansas City is an example. There's nothing quite like being shut in a room and having to use your collective brains to solve word and number puzzles and figure out clues to bring a family together. Even if you don't escape the room before the buzzer goes off, you're sure to laughs a lot and start bonding with your potential in-laws. Finish up the evening with a relaxing dinner or ice cream.
Play Guessing Games
To get to know your honey's parents better and vice versa, consider playing silly guessing games that will reveal some interesting tidbits about each other. A game called "Two Truths and One Lie" lets you write down two amusing and/or interesting facts about yourself and one false tidbit. Take turns reading them and see if others can guess which item you made up! One word of advice: even if your sweetheart is a great kisser, the smarter choice is to stick to G-rated, family-friendly and goofy facts. Another game to try is called "Whodunit;" everyone writes down something interesting, silly and or funny that they've done on a piece of paper, then drop the paper into a hat. Take turns drawing a paper and reading what it says, then everyone tries to guess who "done" it. The more surprising the activity the harder it will be to guess, so don't be shy if you've ever been skydiving, roller skated to work, climbed to the top of the Empire State Building or won a cookie eating contest.
Go Bowling
There's nothing like a good old-fashioned game of bowling to help break the ice and enjoy a fun evening with your future in-laws. Of course, double check to be sure everyone is up for a night of tossing a heavy ball down a wooden lane beforehand. If so, head to a local bowling alley and set up friendly competitions like "guys vs dolls," couples versus couples, etc. If things start to get too competitive try some silly challenges, like rolling the ball with both hands, bowling backwards between your legs, or bowling with your eyes closed. End the afternoon at a pizza parlor and plot a future rematch. Even if you stink at bowling it can't be as embarrassing as being caught laying on your girlfriend's dorm bed when her parents walk in, right?
What's your "Meet the In-Laws" story?