When College Boy was young he attended in-home childcare during the school year when I was teaching. One December he made a popsicle-stick ornament with his photo on it as a Christmas gift for us. I've treasured that ornament, and love putting it on the tree every year.
Because I love that ornament so much I have my child care kiddos make photo ornament gifts for their parents every Christmas. Usually the children have free rein when it comes to art meaning I don't tell them what to do, not that they're allowed to splash paint all over my house but for the photo ornaments I try to find a balance that lets them do what they want but still ends up being a keepsake. Usually that means that the children decorate the main part of the ornament, then I add the photo, assemble the pieces, and put on the finishing touches.
One year I found blank wood ornaments at a craft store and thought they'd make perfect photo ornament gifts. I invited the children paint them, using our usual tempera paint. When the paint was dry they glued their photos on, then decorated with sequins and gems. For children who are too young to paint and glue I have one of my boys make the ornament, or have an older sibling make it for the younger one. When the "gooey glue" was dry I hot-glued the gold cord around the photos and wrote the child's name and year on the back with a Sharpie. Voilá – an easy photo ornament gift that's super cute! Best of all, the children did most of the work.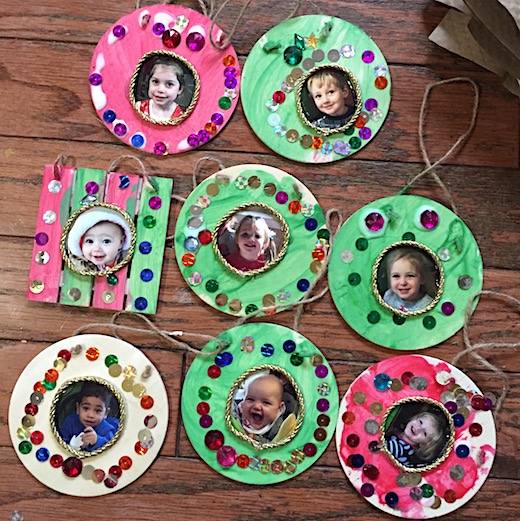 What do you think – aren't "my" kiddos adorable? And the photo ornament gifts aren't bad either.