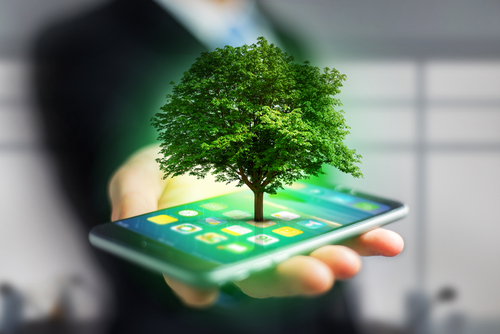 Teacher and I try to make "green" choices for our family but sometimes it's hard to know whether we can trust a products claims. Here are some ways to find products that are as green as they say they are…
Is green the new black? Data from the 2017 Green Industry Analysis found that 71 percent of Americans consider the environment while shopping. And demand for organic food has grown rapidly, from just $3.4 billion in 1997 to over $35 billion in 2014, Franchise Help says. It's not uncommon to see buzzwords plastered across products making claims like "natural," "non-toxic" and "green," but how can you tell if it's really "green"? Here are a few things consumers can do in order to make more informed, earth-conscious decisions.
Look for the Forest Stewardship Council Logo
In 1992, the first Earth Summit in Rio failed to come to an agreement to stop deforestation. Following Earth Summit, a group of community leaders, environmentalists and a group of businesses came together to create The Forest Stewardship Council (FSC), and in 1993 they gathered in their first FSC General Assembly with aim to improve forest practices across the globe. Today the FSC operates in 80 countries, and since its inception, the FSC has earned a gold-star reputation as the most credible and rigorous forest certification system. The FSC standards protect water quality, prevent loss of forest cover and prohibits dangerous chemicals as well as the harvest of rare old-growth forests. FSC-certified products can be found in retail stores across the country, just look for their green logo or search their product database online.
Make Purchases from Transparent, Eco-Friendly Brands
Many companies that have made promises to enlist eco-friendly business practices or sell eco-friendly products are transparent about their commitment to the Earth and green living. Subaru, for example, details its responsibility to the environment on its website, providing information on its zero-landfill initiative and other undertakings. Other online retailers provide detailed information about green certifications and standards of the products they sell, mattresses for example, with comprehensive information about materials, CPSIA compliance and more. Most importantly, trust your gut. If you think a product's claims are too good to be true, they probably are. Do a little research of your own and look beyond the pretty packaging to determine whether or not the products in your shopping cart are truly green.
Find the Green Seal
Developed in order to help consumers and manufacturers make informed decisions, the Green Seal can be found on thousands of products in hundreds of categories, from hand soaps and cleaners to personal care products and even construction materials. The Green Seal's mission is to transform the economy for a healthier greener world, and the nonprofit has been doing just that since its founding in 1989. Consumers can look for the Green Seal certification mark in a variety of places, from product labels to restaurant brochures and even custodian uniforms. The presence of the certification mark means that a business has undergone an extensive process to reduce their impact on the environment, thus keeping consumers and their families safer and healthy. Additionally, the certification mark signifies that a service or product has undergone on-site audits and performance testing to ensure total compliance.
Follow the ENERGY STAR
You've likely seen the blue-and-white sticker adhered to kitchen appliances and other home products, but you might be wondering what exactly ENERGY STAR stands for. Developed in 1992 by the Environmental Protection Agency (EPA), ENERGY STAR aids consumers to make informed and eco-conscious purchases. And when it comes to ENERGY STAR and the economy, the government-backed initiative has saved U.S. businesses and families 503 billion kWh of energy. And that's just in 2015. Also in 2015, ENERGY STAR was responsible for a collective energy bill savings of $34 billion. In addition to saving money and energy, ENERGY STAR supports United States energy security and continually works to better the reliability of the electricity grid.
Give Products a Reality Check
We've all been duped once or twice by a product and its grandiose claims. And by now we have learned that if its claims sound too good to be true, it probably is. The same applies to products and goods touted as organic, natural or eco-friendly. Take a cleaning product for example. You might notice that it has the word "natural" plastered across its label, but flip it over and you find a handful of chemicals listed in its ingredients section. Now, there's nothing natural about it. It's easy to be pulled into claims like these. Next time you're faced with a decision like this, remember, if the claim seems far-reaching or too good to be true, approach with caution. Look for labels that are very specific. The more specific a label is, the more likely it is to be true. And, avoid purchasing products with terms like "green," "natural" and "non toxic" as these terms are not regulated by the FDA and has empty meaning and can be highly misleading to consumers.
Today's brands are using "green" and "eco-friendly" as buzzwords to capture consumer attention. With a little research and an idea of what to look for, you can ensure that the eco-friendly products you purchase live up to their promises on their packaging.