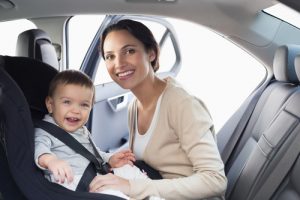 It's probably hard to believe, but your 40 weeks of pregnancy — which, let's be honest, at times probably felt like 400 — are almost over. And before you know it, you'll be welcoming your new bundle of joy into the world.
The last few weeks of pregnancy tend to be super busy, with getting the nursery ready, washing those adorable and oh-so-tiny outfits and baby proofing the home. While the focus on the house is understandable — after all, you will be spending the majority of your time with your infant in your home — it's also important to make sure your vehicle is as safe and baby-ready as possible.
To ensure your vehicle can get you and your precious cargo to the pediatrician's office and back, along with those endless trips to buy more diapers, check out the following tips:
1. Upgrade Your Tires
Before the baby arrives, check your tires carefully and be sure the tread is in great shape and that your tires are properly inflated. Since winter is right around the corner, you might also want to invest in some extra tires for harsh, icy conditions. Even if your all-season tires are relatively new, they may not be the best choice for slick and snowy roads.
To save money on top-quality tires, check out the selection at TireBuyer.com. The retailer is offering some great Black Friday/Cyber Monday deals that will allow you to keep extra sets of tires for different weather conditions on hand — and still have money left in the budget for essential baby items.
2. Schedule a Tune-up
Another important car-related task to complete prior to the baby's arrival is a complete car tune-up. As What's Up Fagans notes, in addition to knowing your car is as mechanically safe as possible, scheduling the tune-up now instead of later means you won't have to bring your newborn with you to the mechanic. Better yet, rest assured knowing your vehicle is in your hands — and not the mechanic's — during the first few weeks you're together with your newborn.
3. Install the Car Seats
Yes, it probably feels a little strange to install a car seat for a baby who hasn't yet arrived in this world. But doing it before your baby arrives is really the way to go. Instead of fumbling with all of the straps and pieces in the parking lot of the hospital, you can take your time in the safety of your own driveway and be sure everything is installed correctly.
As Answer Financial notes, use the "one-inch" rule when installing the carseat. This system ensures the carseat means won't move more than an inch from side to side. If your baby will ride in both your and your spouse's car, invest in a second carseat base and install it in the other vehicle.
And if you're unsure about anything related to the car seat installation — and please don't worry if you are, as it can be a daunting task — head to a local fire department or your pediatrician's office and ask the firefighters or nurses to inspect everything.
4. Clean it Out, Load it Up
While this is not an upgrade, per se, it's still a great idea to give your car a really thorough cleaning, both inside and out. If you're getting those nesting urges, put them to use and vacuum out the interior, tossing straw wrappers, empty water bottles and any other trash you find. Vacuum the seats and wash the windows, and then run the car through a car wash to make the outside sparkle.
Then, fill a box or spare diaper bag with baby essentials and place it in the trunk. The bag can include essentials like:
Diapers
Wipes
Pacifiers
Baby books
Blankets
Diaper-changing pad
There will be times when the diaper bag you normally carry is suddenly missing a key item — and having some extra essential tot items in the car will be a lifesaver.