As I've said before, one of the benefits of having College Boy, Irish Girl and Love Bug live with us besides getting to know Irish Girl and Love Bug better is trying out some of their favorite recipes. Recently College Boy made Bourbon Chicken and it was a definite home run; even Z-Man and Little Guy liked it!
Bourbon Chicken Recipe – a la College Boy
Irish Girl likes to try recipes she finds online. This Bourbon Chicken recipe came from Heather Drive; one of her favorite blogs. Not only is it quick and easy you know that's how I like to cook but it's fairly healthy too – bonus!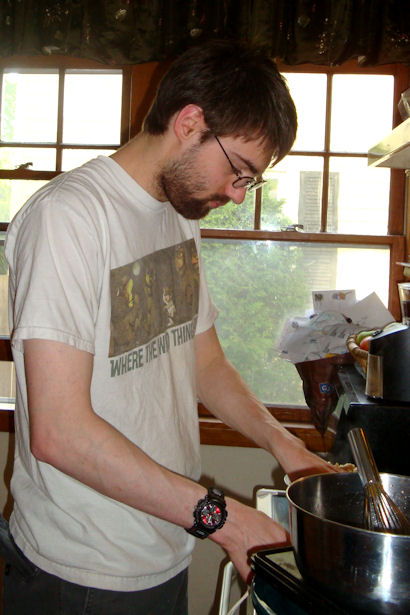 This week it was College Boy's turn to cook. Since I grew up with a dad whose mode of cooking was a run to "Whopper Burger" aka Burger King I love the fact that College Boy cooks for his family.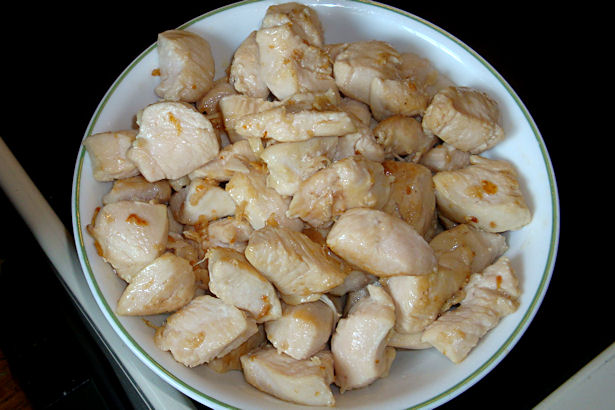 College Boy cut boneless skinless chicken breast into bite-sized pieces and browned them, then took the chicken out of the pan and set it aside.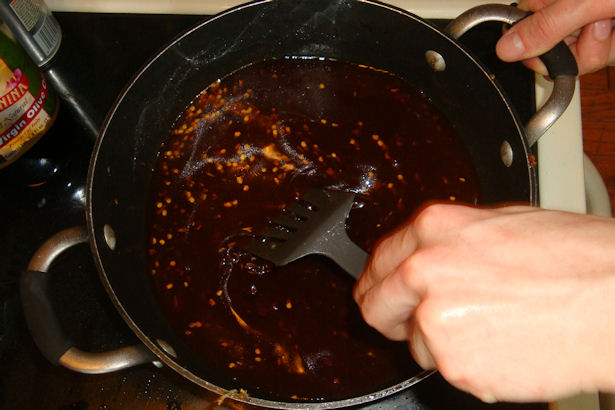 Next he made the sauce by whisking together crushed garlic, powdered ginger, crushed red pepper flakes, apple juice, brown sugar, ketchup, cider vinegar, soy sauce, and water in the same pan he used for the chicken.
Once the ingredients were thoroughly mixed he put the chicken back in and let it all simmer for about 15 minutes. Then he added frozen broccoli, let that cook about 5 minutes, then it was done.
See – quick and easy!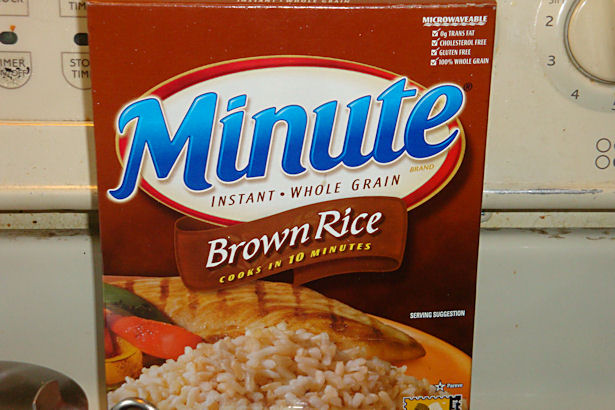 While the sauce was simmering College Boy made Minute Rice. If you're using regular rice you'll want to start it much earlier – like when you start the chicken.
Serve the Bourbon Chicken over a bed of rice, and don't forget to spoon extra sauce over the top. Yum!
It was a little bit sweeter than I'd like, so next time I'd use less brown sugar, but all of the kids loved it just the way it was. In fact, they ate so much that there were hardly any leftovers; can't complain about that now, can I?
Bourbon Chicken Recipe
Ingredients:
1 lb. boneless chicken breasts, cut into bite size pieces
1 Tbsp olive oil
1 garlic clove, crushed
1/4 tsp grated fresh ginger (powdered if you don't have fresh)
1/4 tsp – 3/4 tsp crushed red pepper flakes (we used 1/4 tsp so the kids would eat it)
1/4 C apple cider
1/3 C brown sugar
2 Tbsp ketchup
1 Tbsp apple cider vinegar
1/2 C water
1/3 C low-sodium soy sauce
1 head broccoli, cut into florets and steamed (or 1 pkg frozen broccoli florets)
Directions:
Heat olive oil in large pan over medium-high heat. Add chicken and brown lightly, then remove to a clean bowl.
Reduce heat to medium, then using the same pan combine remaining ingredients except broccoli and whisk until well combined.
When mixture comes to a boil add the chicken and reduce heat. Simmer 15 minutes, then stir in cooked broccoli to cover with sauce, and simmer another 5 minutes to warm broccoli.
Serve over a bed of rice. Enjoy!
Bourbon Chicken Recipe Variations
You can easily personalize this recipe to fit you family's preferences. Here are a couple of our favorite variations:
College Boy's Version: Use twice as much chicken and omit all vegetables.
Irish Girl's Version: Substitute peas for broccoli, or use both to get twice as many veggies in your vegephobic husband. I made the vegephobic part up, but like it enough to use it again.
My Version: Cut the amount of brown sugar in half and add a splash of sherry or bourbon to the sauce.
Let me know what your family thinks of Bourbon Chicken when you make it, and if you have your own variation.
Happy cooking!