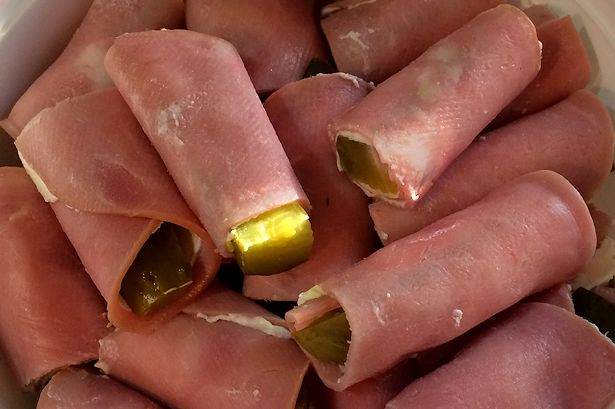 The first time I ever had Ham and Pickle Wraps was when Teacher and I were visiting his parents for Christmas the first year we were married. I watched Mom N. make Ham and Pickle Wraps to take to the church choir Christmas party and wasn't sure what to think – they were so different from anything my mom had ever made and didn't look all that special.
Then I tried one… and I was hooked!
I don't know what it is about Ham and Pickle Wraps, but they're totally addictive. Something about the combination of salty ham, the crunchy sour pickle, and soft creamy cheese that makes you keep coming back for more. At least it keeps ME coming back for more!
I wouldn't say that Ham and Pickle Wraps have become a family must-have appetizer, but they make an appearance at least once a year, and this year Jo-Bear specifically requested them for our Super Bowl family get-together.
Ham and Pickle Wrap Ingredients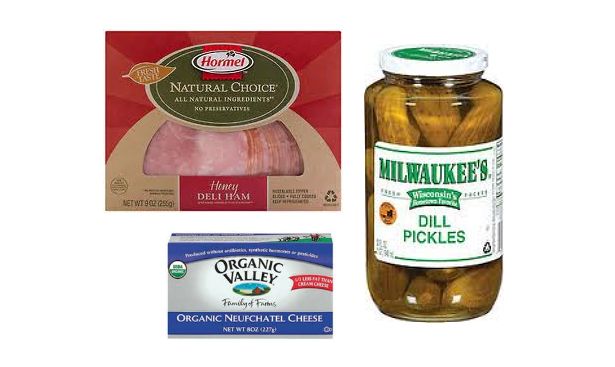 Mom N. made her Ham and Pickle Wraps with Carl Budding ham, regular cream cheese and store-brand pickles. I wanted to try to make them a little healthier not that it's easy to make those ingredients healthier so we used Hormel nitrate-free ham, Organic Valley Neufchatel cheese and Milwaukee pickles aka the only brand of pickles I like.
How much of each? Well, this is what my Great-great-grandma used to call a "Whatcha' got" recipe – you use what'cha got. It all depends on how thickly you spread the cream cheese, how many slices of ham are in the package, and how many pickles are in jar. We bought one package of ham and I ended up running out, but there were a couple of pickles which Z-Man and Little Guy quickly snarfed up and about half a package of cream cheese left over.
Ham and Pickle Wrap Directions
Ham and Pickle Wraps are ridiculously easy to make, but a little time-consuming so don't try to throw them together at the last minute.
Soften the cream cheese and cut the pickles into fourths the long way. We call that the "hot dog" way, as opposed to the "hamburger" way.
Lay a slice of ham on a cutting board
Spread a thin layer of soft cream cheese on the ham.
Lay a pickle spear on one end of the ham, and roll the ham around the pickle.
Cut the wrap in half and set aside.
Repeat until you run out of an ingredient.
Refrigerate until needed.
Don't forget to sample at least one to make sure they're good before serving them to your family or guests!
Ham and Pickle Wrap Variations
I've seen several variations of this Ham and Pickle Wrap recipe, and while I prefer this version best you may have a different opinion. If you do, please post a comment below!
Try sweet pickles instead of dill pickles.
Use whole pickles instead of pickle spears.
Add ranch dressing or onion soup mix to the softened cream cheese
Use beef lunch meat, thinly sliced dried beef, or salami instead of ham.
Spread the cream cheese on a tortilla, cover with ham and pickles, the roll up.
Cut the wraps into slices instead of halves.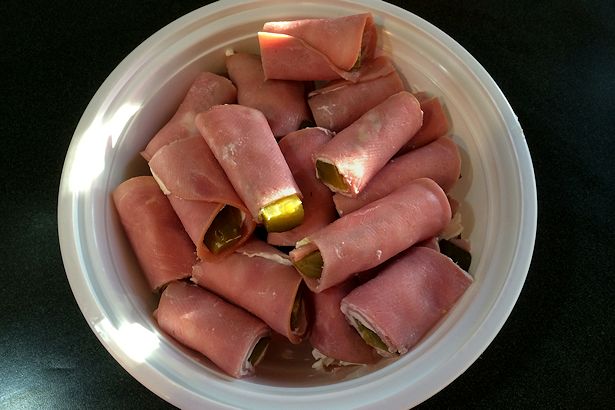 Have you ever tried Ham and Pickle Wraps? If so, what's in your Ham and Pickle Wrap recipe?