This is a sponsored post from BlogHer and Welch's.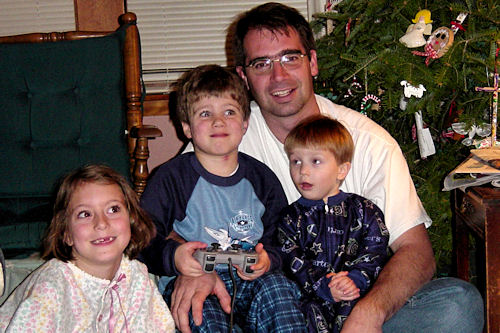 Ten years ago Teacher and I inadvertently started a family tradition – on New Year's Eve we invited my parents over for pizza and cards. The next year we invited Uncle Jay, Uncle Ike, Aunt Elle, and their boys for pizza and wings. Each year the party grew, and grew, and grew – last year we had thirty people over and tons of goodies in addition to the traditional pizza and wings. More details and recipes to come in future posts!
Along the way we've learned some tips and tricks for hosting a great party without losing your mind or emptying your wallet.
Ask for help. Don't try to do everything yourself; ask family and friends to help out! For our New Year's Eve party we ask everyone to bring something to share. You'll avoid the stress and expense of providing everything, and give your guests the satisfaction of making a valuable contribution to the party.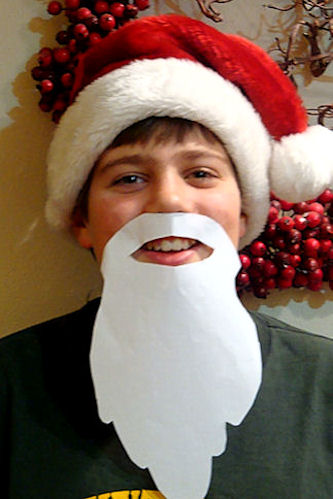 Don't stress the decorations. Your guests are coming to see you, not decorations! If you feel the need for something special on the table, fill a bowl or basket with something seasonal: pumpkins and gourds for Thanksgiving, shiny ornaments at Christmas, etc. Candles are another easy and elegant decoration, but be sure they're placed where little fingers can't reach them and there's no danger they'll tip over or start someone's clothing on fire. That's not the party memory you want to be making!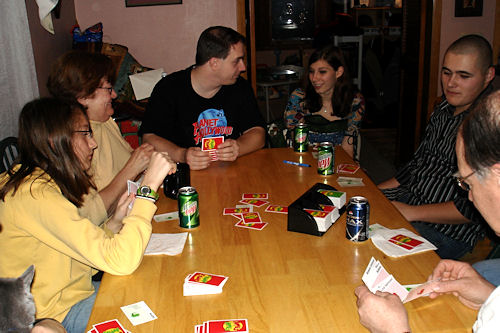 Have something for everyone to do. Plan activities based on the interests of your party guests. At our New Year's Eve party we have video games, cards and board games, and movies, but if you may want to have dancing or charades, depending on what your guests like to do.
Use space wisely. Do you have a place for coats? Where will the food go and where will guests eat? If you have video games, movies and board games, will they interfere with each other? We've solved these problems by having the kids put guests' coats upstairs in a clean bedroom, set up the buffet on the kitchen counter so the table is free for eating and games, and moved the video games/movies to the basement family room. There's only one TV, but last year one of College Boy's friends brought his TV so they could play video games AND watch a movie at the same time.
Offer a simple buffet. Buffets are much less work than sit-down dinners; you just put out the food and let everyone help themselves. Be sure hot foods are kept hot and cold foods are on ice so no-one gets sick. Hors d' oeuvres and finger foods are easier to eat and more fun than foods that require utensils. Just be sure to provide lots of napkins!
Clean out the cupboards. Put out the last of your Christmas cookies, combine various half-boxes of crackers in a pretty basket, spoon leftover cheese spread into small bowls, or place snack-sized containers around and fill them with the nuts, pretzels and other snacks leftover from previous parties. I realize the photo has nothing to do with this tip, but it reminds me how much we laughed that year, so I had to include it.
Don't forget the bubbly. No matter what the occasion, a party is always more special when there's a bubbly drink. Obviously for New Year's Eve we have champagne for the adults, but we also have Welch's sparkling juice for the kiddos.
If champagne is out of your budget consider a sparkling punch instead – Welch's website a bunch of quick and easy my favorite way to go recipes for Sparkling Holiday Punch, Spiced Grape Punch, Sparkling Cranberry Spritzer, Sparkling Cranberry Punch, and a Holiday Toasting Cup. This year I plan to try the Holiday Toasting Cup recipe!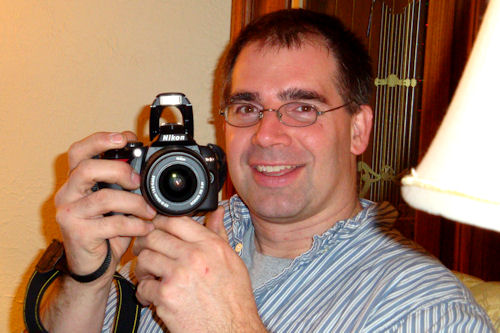 Take lots of photos. Be sure to take lots of photos so you can look back throughout the year and remember what a great time everyone had!
Splurge on something special. Find something to make the evening special; buy prettier but more expensive disposable plates, get a box of gourmet chocolates, purchase a new CD of party music, or whatever will make the evening more special for you. We bought New Year's Eve hats, crowns, horns and noisemakers, and enough wine glasses so everyone – even the kids – could "ring in the New Year" together.
Let BlogHer fund your party. BlogHer is providing a $100 Visa gift card for me to give away to one lucky reader! Just think about what you could do with an extra $100 this holiday season…
*To enter the sweepstakes*
Just leave a comment listing which Welch's sparkling juice or Welch's sparkling juice recipe you want to try, and share YOUR stress-free party tip. Be sure to include your email address so I can contact you when you win!
*For a second entry*
Tweet about this post with a link to it and put your tweet URL in a separate comment below. -OR-
Blog about this post with a link to it and put your blog post URL in a separate comment below. -OR-
Follow this link to enter without tweeting or blogging.
*For MORE chances to win*
Visit BlogHer.com's exclusive offers page to find the eleven other bloggers who are also giving away $100 Visa check cards.
Sweepstakes ends at 5 pm PST on December 31, 2010. For official rules, visit the BlogHer.com official rules page.
Happy holiday party planning, and good luck!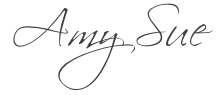 Don't forget: Welch's Sparkling Juice cocktails are the perfect choice for happy family celebrations
* Non-alcoholic, so they're perfect for the entire family.
* Deliciously refreshing with a light, bubbly sensation.
* Upscale package perfect for special celebrations.