Hot wings caused me to go into labor with College Boy.
Don't believe me?
Here's the story…
Teacher's college fraternity brothers traditionally held a "Wings and Kings" party with hot wings and Little Kings beer at least once a semester.
Two nights before second semester started Teacher and I hosted a small Wings and Kings party for some of our friends. At the time I wasn't a big fan of hot wings, but I ate a couple in addition to the plain ones Teacher made for me.
Instead of beer Ewww! I indulged in the one and only alcoholic drink I had during my pregnancy with College Boy – a single wine cooler.
The next morning I woke up with a stomachache.
"Serves you right, you idiot!" I told myself; "Who has hot wings and wine coolers at eight months pregnant?!"
A couple of hours later I realized that the stomachache was actually early labor, and to make a long story short, College Boy was born almost exactly 24 hours after the start of our Wings and Kings party.
Obviously hot wings caused me to go into labor with College Boy.
I can't say for sure that hot wings will bring on labor for anyone else, but I can say without a doubt that our hot wings recipe is really quick, really easy my two favorite cooking words, and really delicious!
Hot Wings Recipe – in Pictures
We've traditionally used chicken wings for our hot wings, but this year I asked Teacher if he could make "boneless wings" with breast meat instead. I was hoping that would make them a little bit healthier. Emphasis on "a little bit"!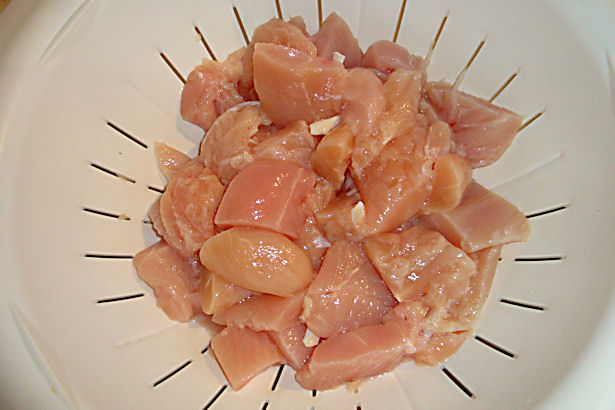 Cut several boneless skinless chicken breasts into three somewhat-equal pieces.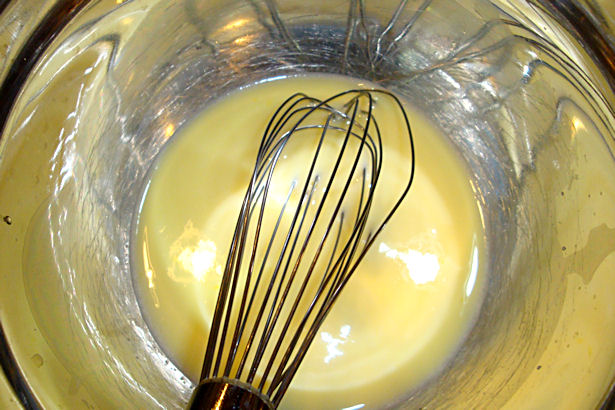 In a bowl mix an egg with milk until smooth.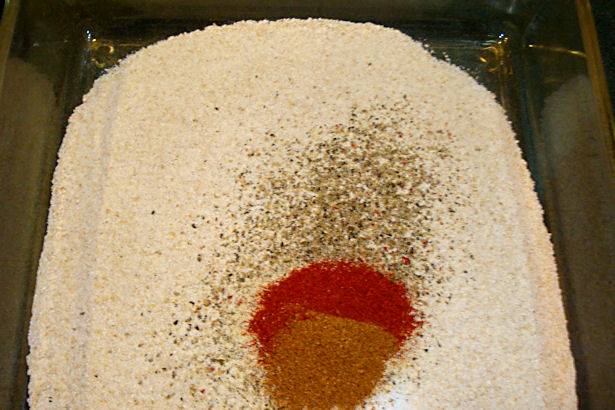 In a shallow pan combine flour we used white whole wheat flour, salt, pepper, garlic powder, paprika and cayenne pepper.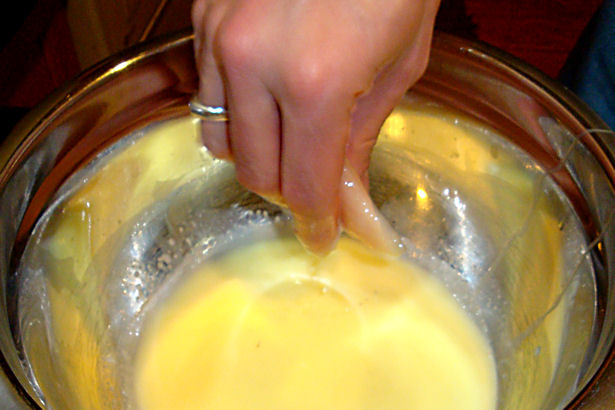 Using only one hand, dunk several pieces of chicken into the milk bath.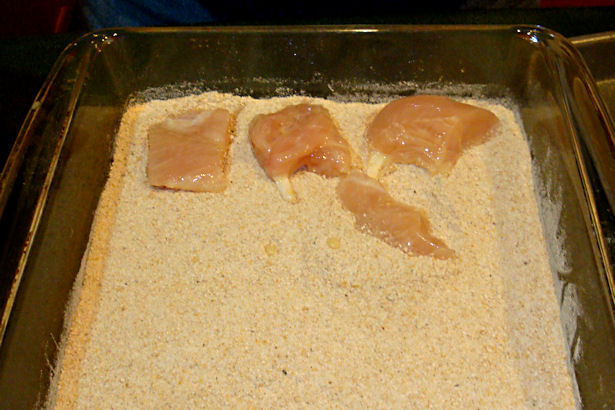 Pull the chicken pieces out and drop them carefully into the flour mixture. Depending on the size of your container you can probably do 3-4 pieces at once.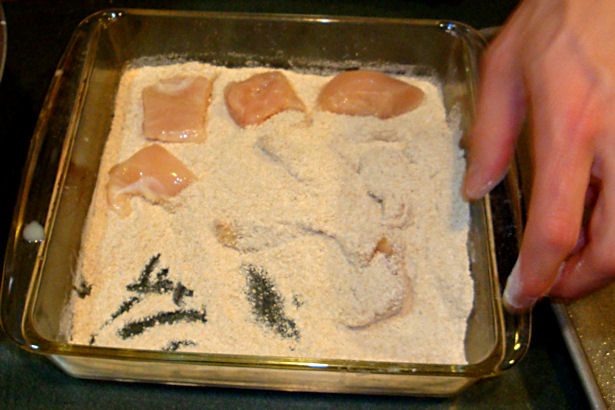 Using only your other hand, gently turn and toss each piece until it's coated with flour.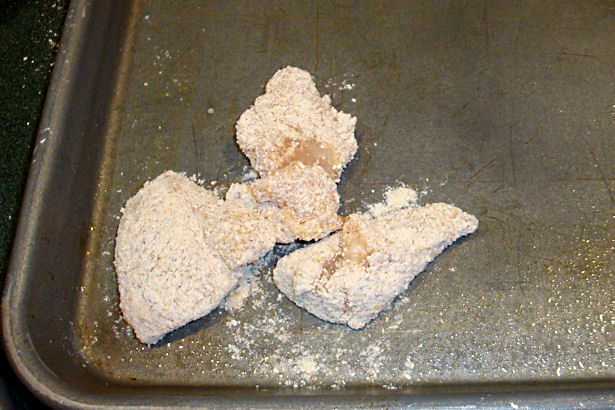 Place the breaded chicken onto a greased pan we used olive oil spray but you can use whatever you want.
Be sure to keep your milk hand out of the flour and vice versa or you'll end up breading your fingers into an ooey gooey mess!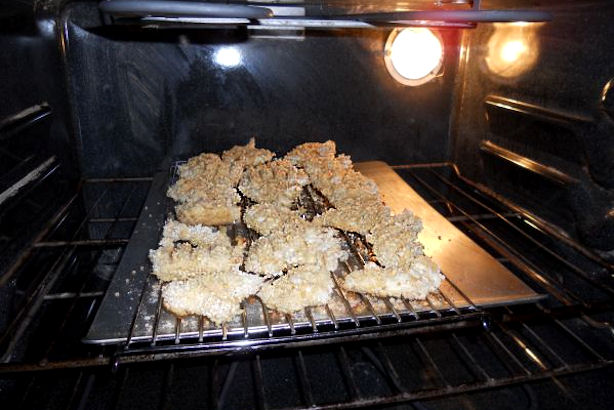 Bake, turning over halfway through so both sides can get crispy.
You caught me – that's not our chicken and that's not our oven. Our oven desperately needs to be cleaned, so I've shamelessly substituted a photo from Two Chatty Sisters who have an amazingly clean oven.
I have clean-oven envy.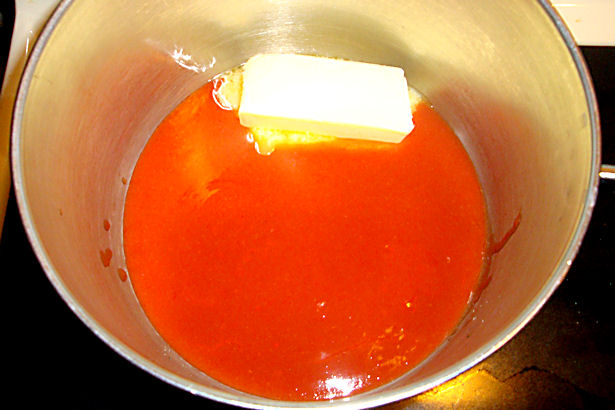 While the chicken is baking, melt some butter in a small saucepan and add enough hot sauce to coat your chicken. We use Frank's Red Hot sauce, but you can use your favorite hot sauce.
When the chicken is done, toss several pieces into the saucepan and stir until they're with hot sauce. Turn out into a shallow pan or baking sheet, if you're doing a lot of chicken and repeat until all pieces have turned into hot wings goodness.
Return the hot wings to the oven for a couple of minutes to bake the sauce in.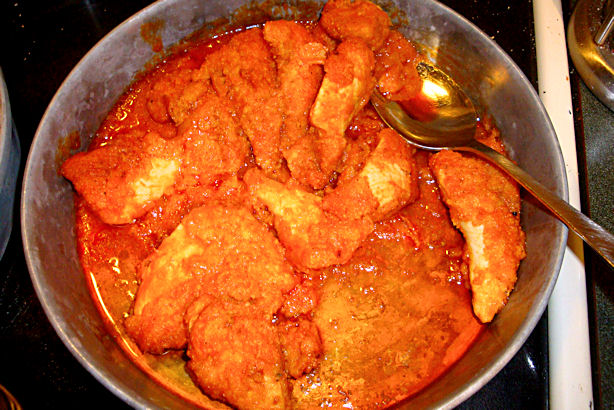 Serve immediately with traditional Bleu Cheese Teacher's choice or Ranch my fave dressing on the side. Celery sticks are optional in my book.
Hot Wings – the Official Recipe
One of the great things about this hot wings recipe is that you don't need to follow measurements exactly. Figure out how much chicken you need for the number of people you want to feed and make more or less sauce accordingly.
Ingredients:
Boneless skinless chicken breast or chicken wings
1 egg
3/4 cup milk
2 cups flour
1 teaspoon salt
1 1/2 teaspoons pepper
1 teaspoon garlic powder
1/2 teaspoon paprika
1/2 teaspoon cayenne pepper
1/3 cup butter
1/2 cup hot sauce
Nonstick spray
Directions:
1. If you're using chicken breast, cut each into three pieces. If you're using chicken wings, remove the outer pointy joint. Rinse the chicken under cold water.
2. Whisk the egg and milk together in a bowl. In a shallow container combine the flour, salt, pepper, garlic powder, paprika and cayenne pepper.
4. Using one hand, dunk the chicken into the egg and milk mixture then place in the flour container. Using the other hand, toss the chicken in the flour mixture until it's coated, then place on a greased pan.
5. Bake at 425 until done, turning over about haflway through. Chicken breast will take about 15-20 minutes, wings will take about 25 minutes.
6. While chicken is baking, place the Durkee's Red Hot sauce and butter in a saucepan. Heat until butter is melted, stirring to combine, until mixture is heated through. If you want to serve celery sticks with your hot wings, now is the time to prepare them.
7. When the chicken is done place several pieces at a time into the saucepan and stir gently to cover them with sauce. Remove to a shallow baking dish and repeat until all chicken has been sauced. Bake an additional 5 minutes.
8. Enjoy!