Well, it's been over a week and things aren't nearly as stressful as I thought they would be to have a foreign guest. Jim is the teacher from Thailand that we're hosting until the end of April. My two biggest fears were that he'd be hungry all the time because he wouldn't like our food, and that we wouldn't be able to understand each other. I was also worried that our modest home wouldn't be nice enough for a non-family guest. And that he wouldn't be able to handle the everyday craziness our zoo family usually is. OK, so I had more than two fears – do you blame me?
Saturday was kind of weird getting to know each other and getting used to having a stranger in the house. The kids gave Jim the "grand tour" around the house and yard while I cringed wondering what he thought of it. Tom made grilled chicken, steamed asparagus, and cilantro rice for dinner – hoping the simple flavors would be OK. Even though Jim said he ate "every kind of food" we didn't want to freak him out the first night. As he was helping to set the table he told me that in Thailand they used forks and spoons but not knives. I asked if they used chopsticks also and felt stupid when he said "No, that is Chinese." I'd always mistakenly thought that Thai culture was very similar to Japanese and Chinese but have been learning that it's closer to Indian. Meaning India Indian, not Native American Indian.
Sunday we took him to church then got bagels and coffee from my favorite coffee place, Jo to Go afterward. Jim hadn't had a bagel or cream cheese before, but was familiar with bread and buns. He chose a cinnamon raisin bagel and spread it half and half with strawberry and chocolate chip cream cheese. After taking a bite he said "It's yahmmy," a phrase we're happy to hear quite often from him. After we changed clothes and cleaned up the house a little Jim brought out two DVRs that he'd brought from Thailand for us to watch. They wouldn't play on the DVD player, but did work in my computer. The first, "Elephants and Tourists," was interesting for the first half, but was all in Thai so once the images started repeating it got a little long. It didn't help our patience that we had some errands to run, but we didn't want to be rude so we watched the whole thing. The second movie was about the International Flower Expo held in Jim's hometown of Chiang Mai. Chiang Mai is the second-largest city in Thailand, next to Bangkok, so it seems weird to me to call it a "hometown." All of the countries' displays were interesting, but I really enjoyed the glimpses of Chiang Mai itself.
Jim also brought gifts for us, which I hadn't expected at all. He had elephant key chains for Little Guy, Z-Man and Jo-Bear; and woven cotton shawls and silk scarves for the girls and I to choose from. I chose a dusky blue silk scarf while Princess chose an off-white shawl, "This will go perfectly with my Prom dress!" and Angel Face chose a rusty red shawl. For the whole family he brought a wall hanging of an Indian god, and a gorgeous painting of a traditional Thai dancer that he'd asked an artist friend to paint for his host family. I was touched by his thoughtfulness – especially since the last he'd heard before leaving Thailand was that they didn't have a family for him!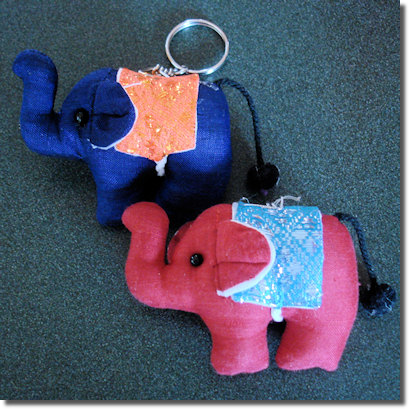 Little Guy's is purple, Z-Man's is reddish, and Jo-Bear's is turquoise blue; which Z-Man is terribly jealous about. Jo-Bear took his to school for "Show and Tell" so it's not in the photo.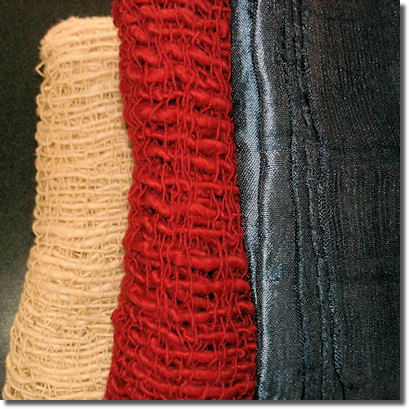 These are the shawls and scarf Jim gave the girls and me. The scarf is so incredibly soft and delicate I'm almost afraid to wear it.

The figure in this wall hanging is Ganesh, a Hindu god. Although it's pretty, I don't know if we'll leave it up after Jim leaves. Since we're Christian our friends and family might wonder why there's a Hindu god on our wall.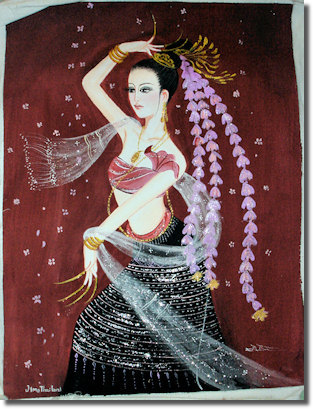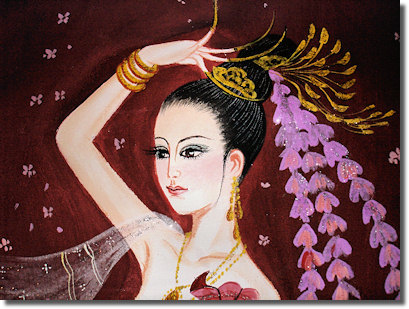 I'm not sure where the painting will hang, but it's so gorgeous it has to be hung somewhere. It's hard to tell in the photo, but the painting shimmers with gold and silver glitter.
I've got some ideas of things we can give Jim to take back to Thailand with him too…