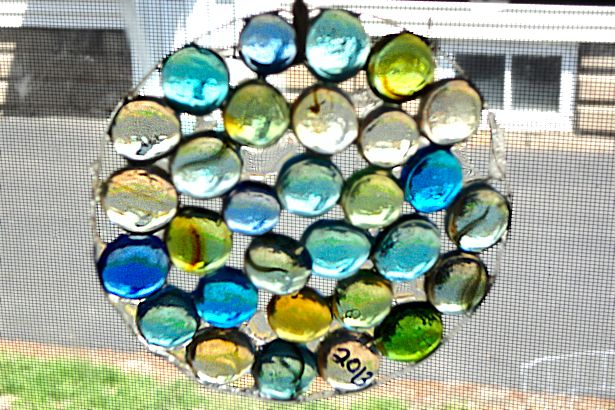 If you've been a frequent visitor here you'll know that it's not uncommon for me to be scrambling at the last moment for a quick and easy Mother's Day or Father's Day, or Christmas craft to do with the children.
In fact, it's not uncommon for the children's gifts to their parents to be a day or two late.
But this year it was going to be different.
This year I searched for Mother's Day craft on Pinterest waaaaay ahead of time, and decided we'd make Glass Gem Sun Catchers.
Like always, when I'm looking at Mother's Day craft ideas I only consider things that I would enjoy getting. Breathe easy, Amy & Kids Co. moms – you'll never receive a doily corsage to wear on Mother's Day… Not on my watch anyway.
The mother's day Gem Sun Catcher craft initially caught my eye because the sun catchers are so pretty. And since most of the children are currently obsessed with creating huge lakes of glue whenever they get a chance, I knew the craft would appeal to them too. Finding glass gems at the dollar store was the icing on the cake!
Since I'd decided on a Mother's Day craft ahead of time and actually gathered all the supplies we'd need thanks to Irish Girl for picking up the glue for us, I was sure that this year our Mother's Day gifts would be done on time.
Silly me – I should know better! What's that saying about the best laid plans of mice and men?
Mother's Day Glass Gem Sun Catcher Supplies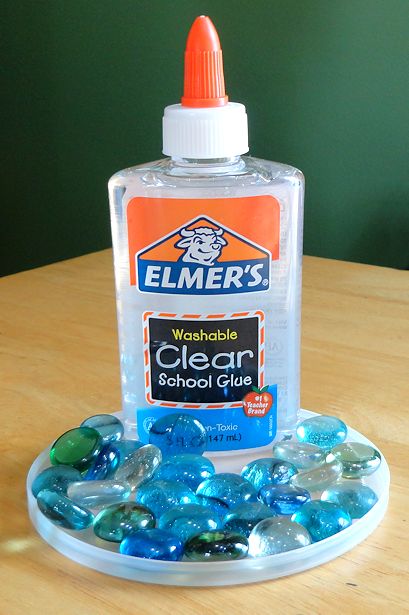 Things started out looking good. The Tuesday before Mother's Day I got out all the supplies:
Clear Elmer's glue. Plain Elmer's doesn't work as well – it dries cloudy and yellows in the sun.
Glass gems
A plastic container lid
Ribbon, yarn, or fishing line Not pictured.
Then I called the children over to make their Mother's Day craft.
Mother's Day Glass Gem Sun Catcher Directions
The glass gem sun catchers were incredibly easy to make; the hardest part was giving the glue plenty of time to dry. The website where I found the directions said to let the glue dry 2-3 days, and we had 4 days. That should be plenty of time, right?
You'd think.
1. Glue
Lay the container lid on the table upside down, so it makes a little tray. Have your child fill the bottom of the lid with glue.
The children LOVED this part until about half-way through when their little hands got tired. I ended up filling in the empty spots for them while they chose their gems.
2. Gems
Have the child place glass gems in the glue, flat-side-down, until the lid is full.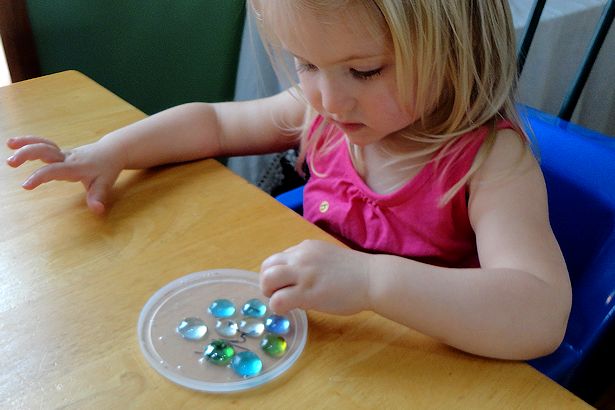 I was curious to see if any of the older ones would create a pattern, but they didn't. They did pick through the multicolored gems to choose their favorite colors though.
3. More Glue
Squeeze more glue on top of the gems so they'll be nice and secure.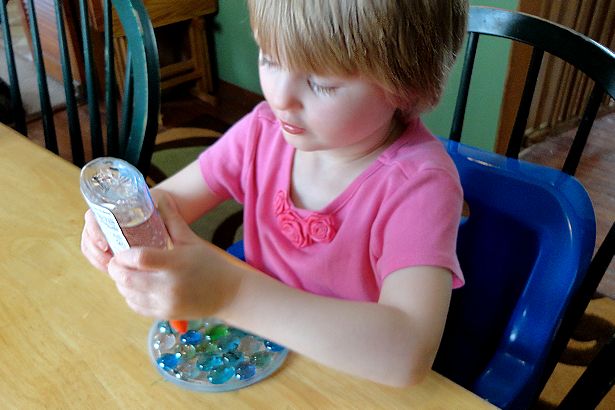 I helped a little with this step too, since their hands were still tired from the first step.
3. Dry
Set the sun catchers aside somewhere to dry, and wait. If you're making more than one sun catcher remember to label the sun catchers so you know whose is whose!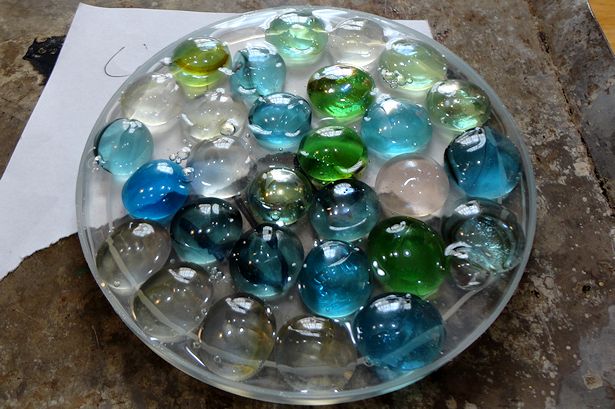 This is where we ran into problems. Like I said before, the website where I found the directions for this Mother's Day craft said to let the sun catchers dry 2-3 days, but ours took more than 4 days to dry. Maybe we used too much glue?
4. Peel
Peel the lid off your sun catcher.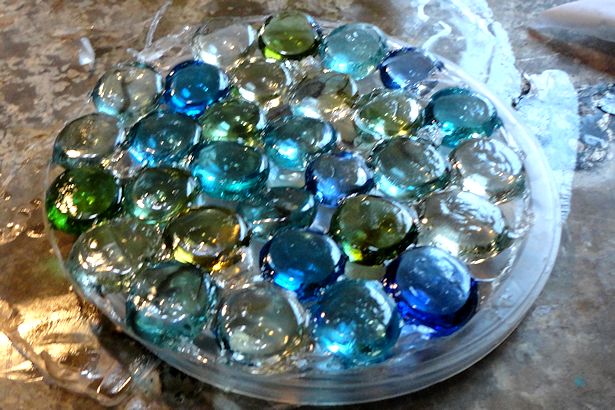 By Sunday – aka Mother's Day – evening the sun catchers were dry enough that I could peel them out of the lids, but the bottoms were still gooshy. I laid them bottom-side-up and they finished drying overnight.
5. Hang and Enjoy
Thread the ribbon, yarn or fishing line through a hole between the gems and the glue to hang. You can use suction cups to attach the sun catcher to a window or hang it from the window lock like I did.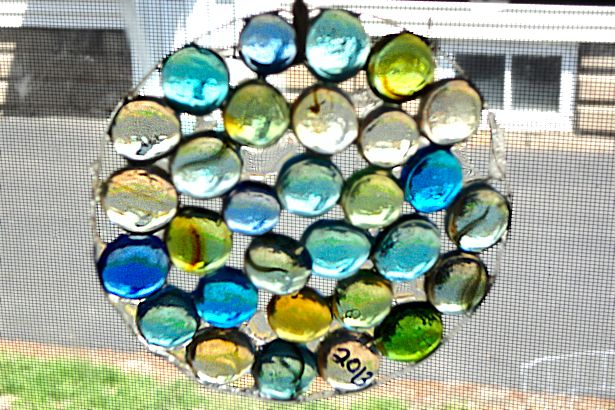 All of our sun catchers had holes between the gems except Peanut's, so I used a scissors to poke a hole in the glue between two gems. Finally I used a Sharpie to write "2013" on one of the gems.
I think this year's Mother's Day craft turned out beautifully! I'm just sad that they took so much longer to dry than I expected so they ended up being a day late.
Better late than never though – right?