Guess where Teacher and I are…
Come on, guess!
Yup, we're on our way to Chicago again!
Once again I'm planning to take lots of photos and chronicle the entire experience or at least a good deal of it but in the meantime I thought I'd share some photos of past trips with you.
So sit back, put your feet up, grab a lovely beverage, and enjoy!
Try not to think about the fact that I got up at 3:00 am this morning – before Starbucks is open – and by the time this is published will have been on a bus with 25-30 middle school students for about 2 hours already. With 2 more hours to go. And no Starbucks in sight… Unless I can convince Chuck to stop at the Oasis again this year…
Stop snickering – it's not funny.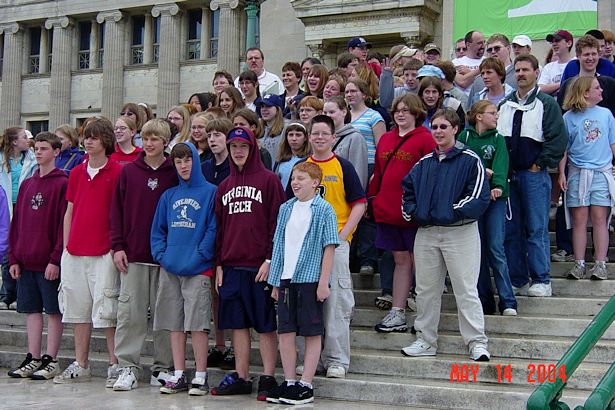 2004: This was the first year I went on the Chicago trip. It was also Princess's first year – she's just to the left of the boy in the yellow shirt.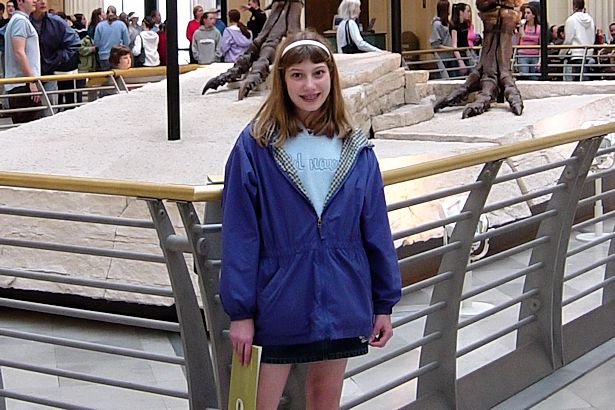 2004: Princess in front of Sue the Tyrannosaurus Rex. Isn't she sweet? I mean Princess, not the dinosaur.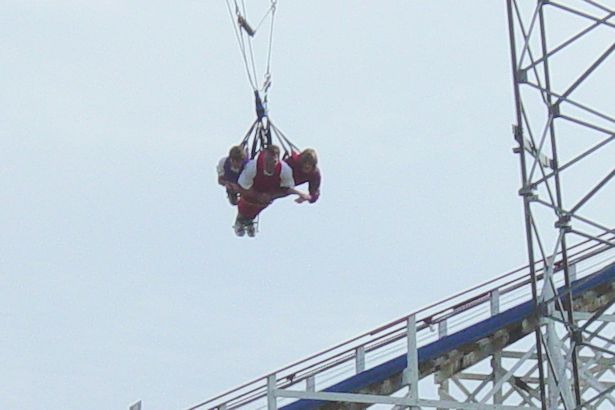 2005: Mr. Kramer, another director, had a tradition of taking two students on the Devil's Drop every year. I don't like heights and think they're crazy, but most of the kids tossed their names in the proverbial hat and hoped they'd be picked.
2005: Princess again, in front of something cool that I don't remember what it was.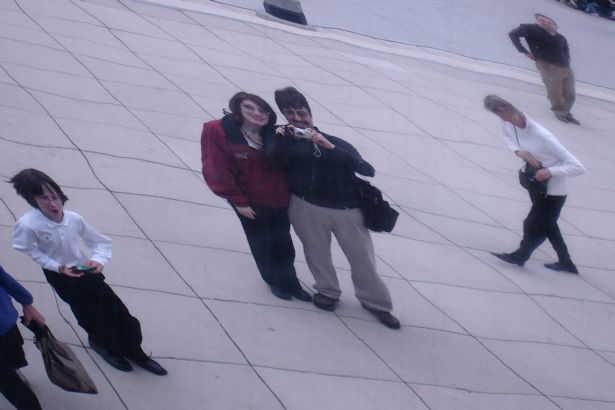 2006: Teacher and I reflected in the "Bean" aka Cloud Gate sculpture.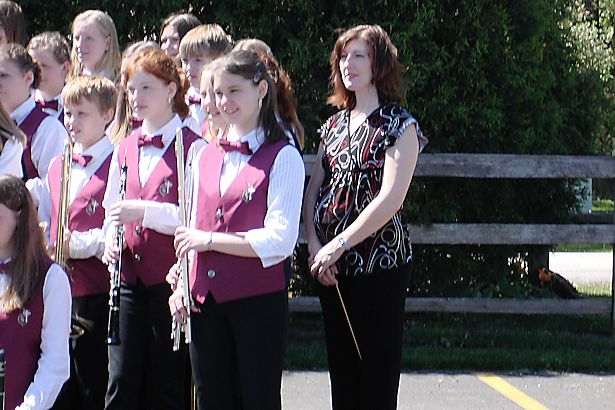 2006: Little Guy and me. See him? He's the cute little baby bump.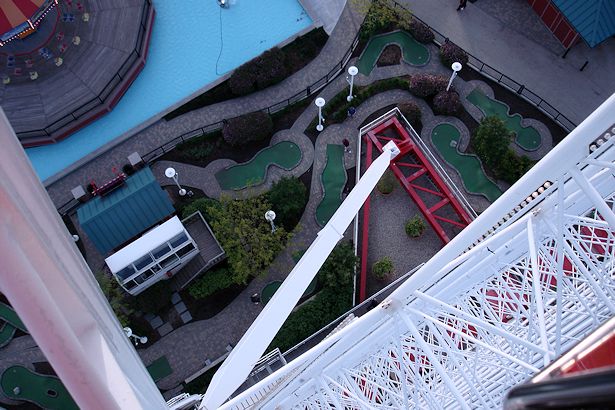 2006: View from the Ferris Wheel on Navy Pier. Have I mentioned that I hate heights?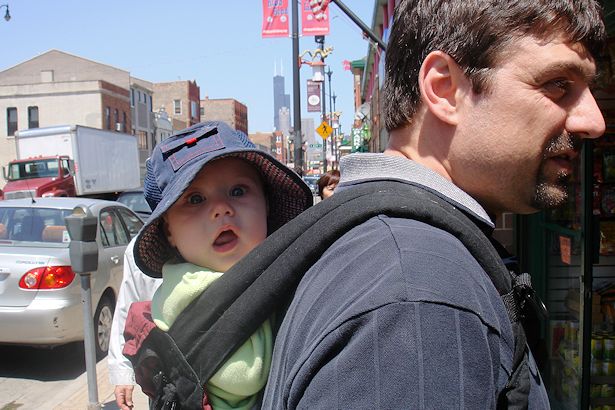 2007: Little Guy and Teacher.
I can't even begin to guess how many miles we logged with Little Guy in the Ergo; he LOVED it!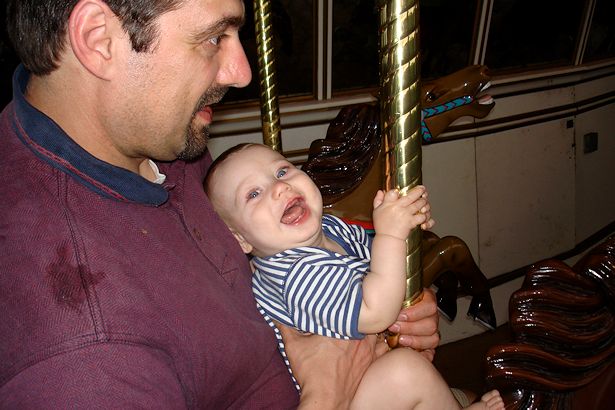 2007: Teacher and Little Guy again. You can't tell from the photo but they were riding a zebra, of course. 😉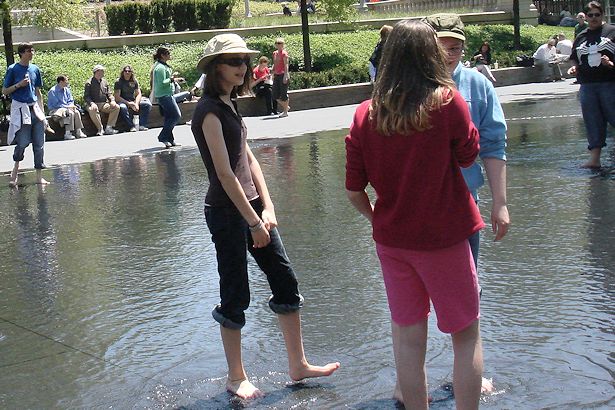 2008: Angel Face's first year on the Chicago Trip. She's the skinny one in the hat and sunglasses. I have no idea who or what she was hiding from. Maybe me?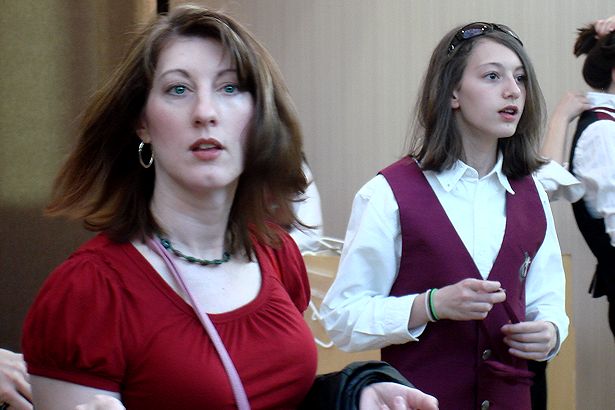 2008: I know I look kind of weird in this photo but I don't have many pictures of me and Angel Face, and it's kind of cool how much alike we look in this one.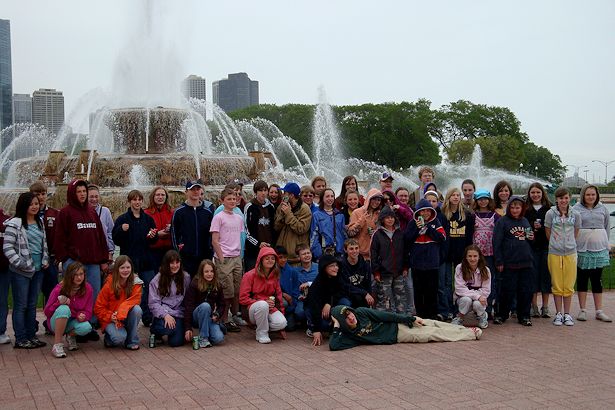 2009: The whole group in front of Buckingham Fountain. As I recall, it either sprinkled, rained, or poured that whole day.
See the kid in the blue hat? He's turned around to look at Angel Face who has a HUGE grin on her face.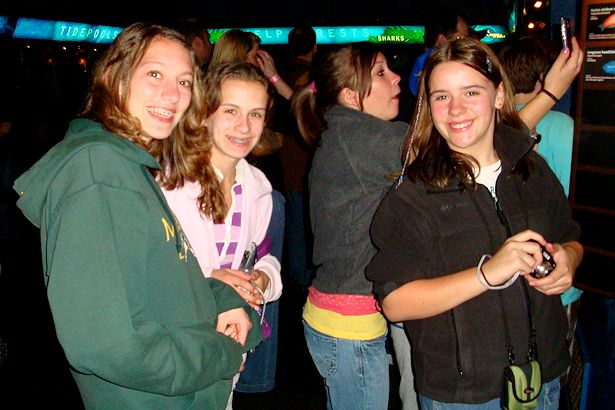 2009: Angel Face again, at Shedd's Aquarium, and not incognito. What's the opposite of "incognito" – "cognito"??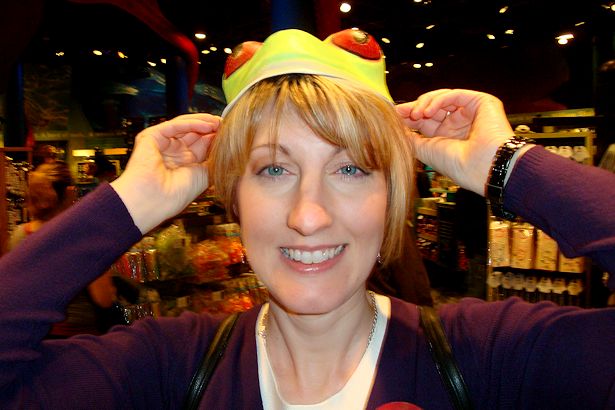 2009: Me being a frog.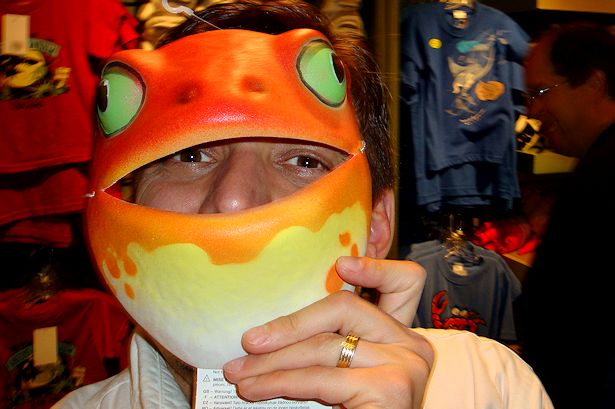 2009: Teacher being a frog. An orange one of course; his favorite color is orange.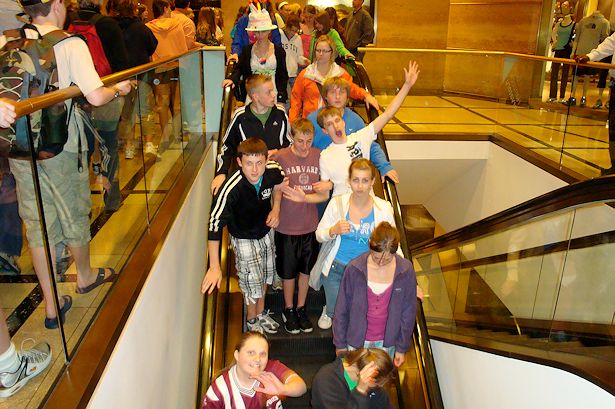 2010: I've always thought this was a cool photo, even though I forgot where it was taken.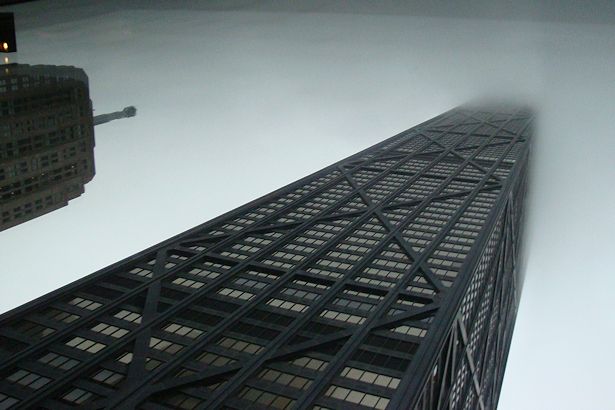 2010: Another of my all-time favorite photos. That year we went up the Sears Tower and were above the clouds – it was the coolest thing I've ever seen!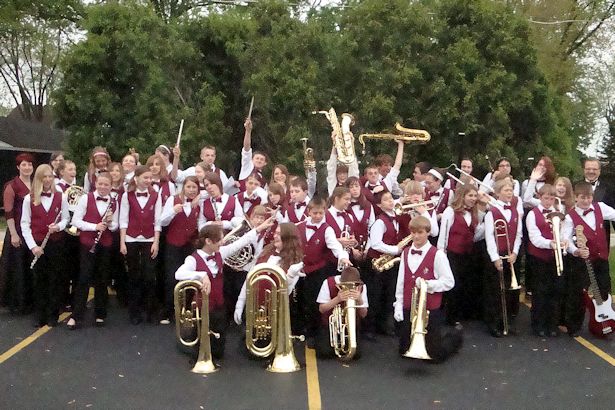 2010: The whole bunch of wonderful goof-offs.
Teacher and I didn't have any of our kids on the trip this year – Angel Face was in high school and it was Jo-Bear's first year so he couldn't go.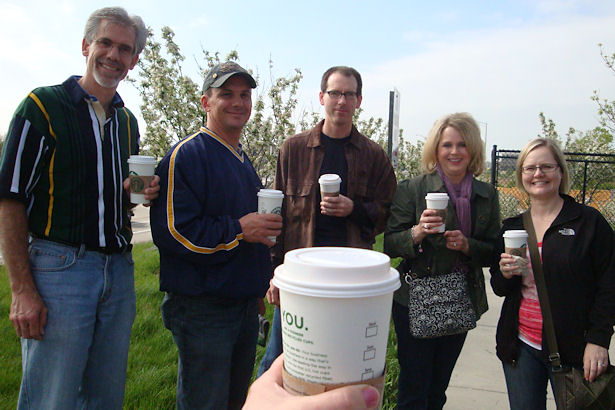 2011: Starbucks. Nuff said.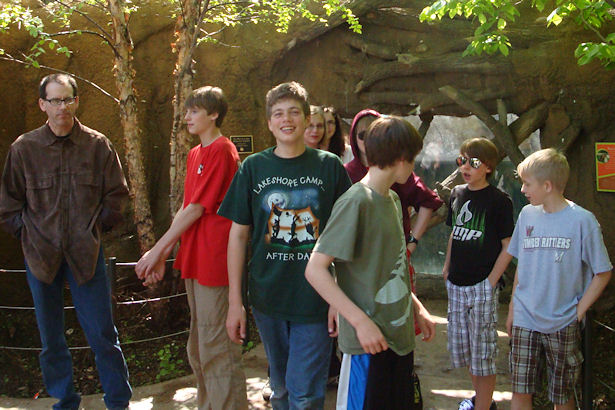 2011: Jo-Bear's first year! Here he is in his natural habitat – the Zoo. 😉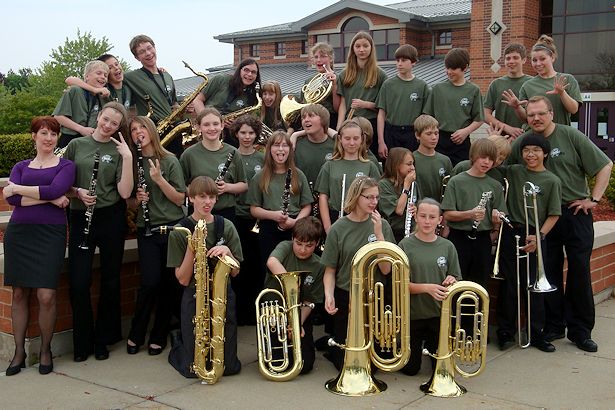 2011: This year's crazy crew. Our kids are the best!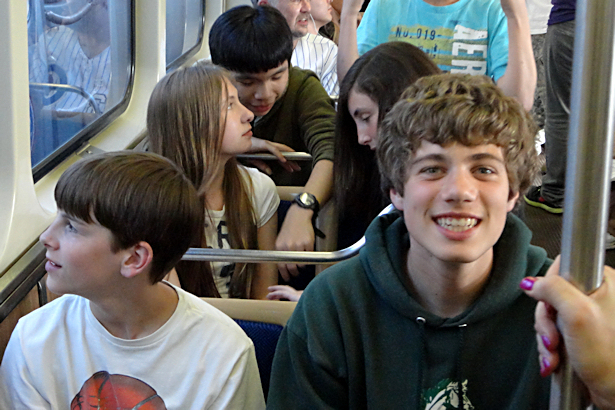 2012: Jo-Bear on the El.
Every year the early childhood teacher and the mom in me conspire to make me worry about everything that could go wrong: What if someone trips and falls on the tracks? What if someone doesn't get off at the right stop? What if someone doesn't make it on and is left behind? What if some crazy person kidnaps one of the kids? What if… Yes, I'm probably the crazy one…
2012: This year's group. I'm in the back; all you can see are my eyes and top of my head. This year I'm wearing taller heels or finding something to stand on. Who grew these kids so tall?!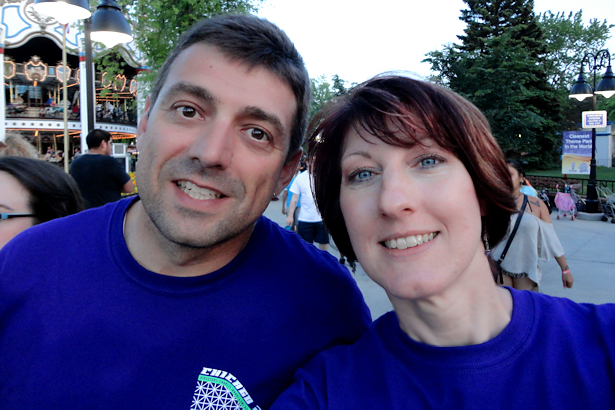 2012: Another of my favorite photos.
Teacher = Wub.
Me = Dork
What a lot of great memories from past trips! I wonder what the 2013 Chicago trip has in store for us…
I can't wait to find out!
More to come…