This is the story of the Walk that Would Not End. aka "Amy Sue needs New Boots"
On this Chicago Trip I'd worn my high-heel boots; which I often wear all day, and had worn on previous Chicago Trips without problems. I always pack tennies in my carry-on in case I need to change, but after looking at the itinerary I figured I wouldn't need them; the bus was supposed to take us from the Berghoff directly to the hotel.
Unfortunately for my feet we took a brief detour…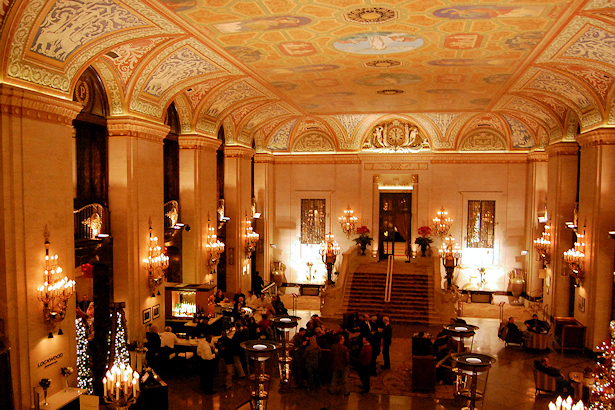 It started innocently enough with a two-block walk to the Palmer House Hilton hotel. Teacher and I have stayed at the Palmer House several times and I absolutely love its history, architecture, and ambiance. But I was more than a little uncomfortable standing with a group of kids in tee shirts and shorts in the middle of the gorgeous lobby surrounded by well-dressed patrons enjoying their Happy Hour libations.
Overall our students are well-behaved, but they do sometimes get goofy and squirrely – which is so typical at middle school age. We only stayed a few minutes, and I breathed a sigh of relief when we left before anyone got silly.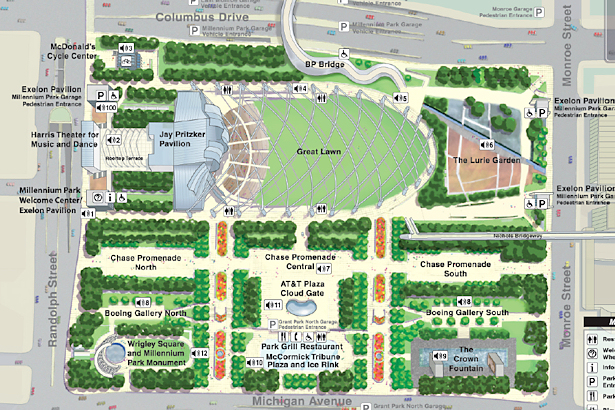 Then it was just another block and half to Millennium Park.
We entered the Park from Monroe St. bottom right on the map and stopped at the Crown Fountain.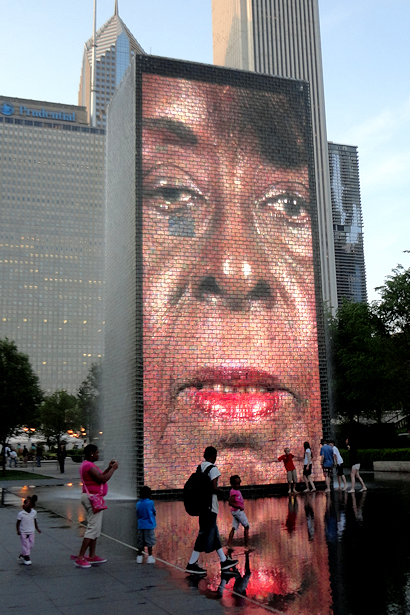 The Crown Fountain is a really cool piece of art that features a glass tower with water running down it. On each tower is a face that looks serious for a while, then puckers its lips, a jet of water shoots from the tower, then the face smiles.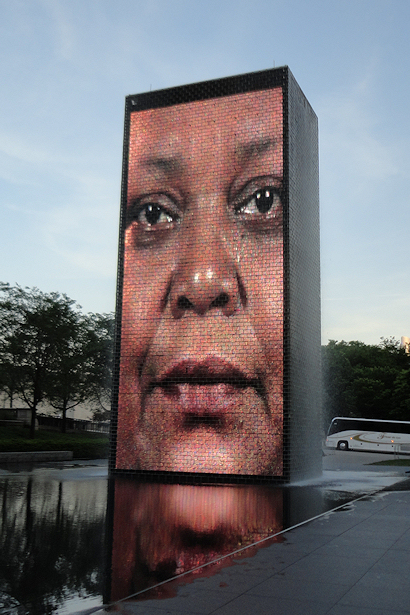 Apparently there were over 900 different people videotaped for the Fountain. I think they're very brave – I wouldn't want to see my face with all of its flaws projected larger-than-life!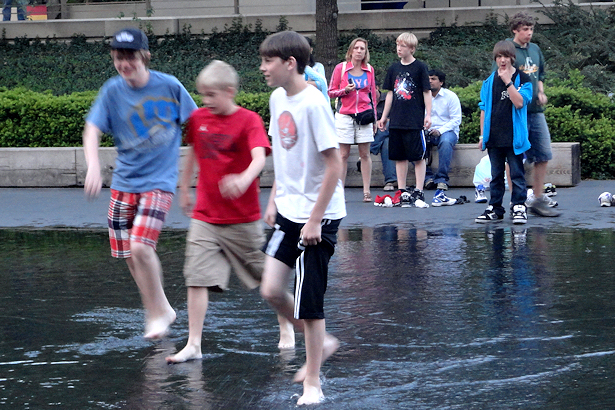 The kids enjoyed playing in the water while we waited for the ladies to spit.
Look out… Thar she blows!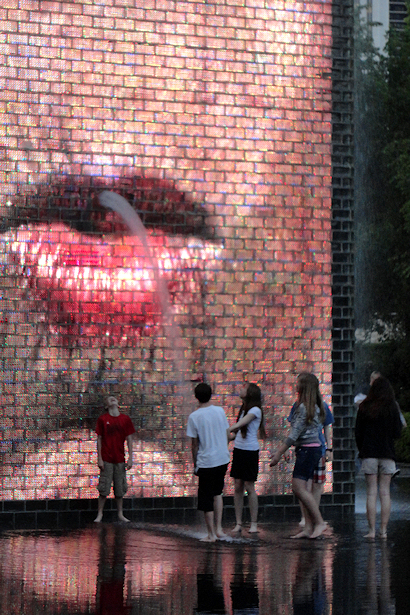 The faces aren't lined up as well as the last time I was as the Fountain, but it's fun nonetheless.
Next we walked toward the middle of the park and another piece of art: the Cloud Gate aka "The Bean".
The Cloud Gate is an extraordinary sculpture made of stainless steel which reflects its surroundings in amazing ways.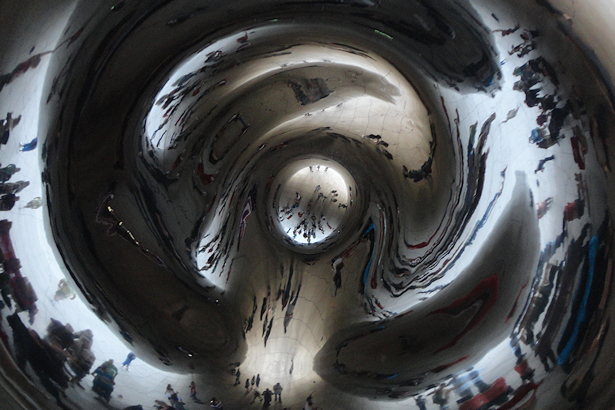 You can see one of the most popular views by standing in the center underneath the Bean. As you move the reflections shifts and changes like a kaleidoscope.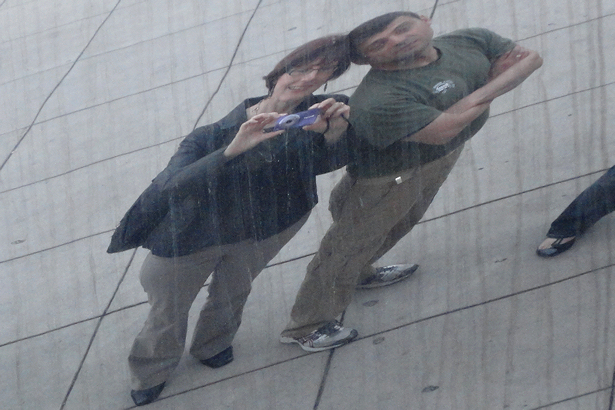 Here's me and my guy reflected in the Bean.
Twenty five years together and he still makes my heart go pitty-pat. I am the luckiest girl in the world.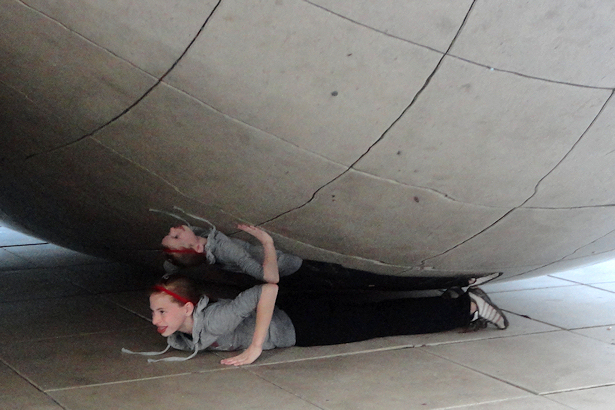 Oh no, E is being squished under the Bean! Quick, save her before she ends up flat as a pancake!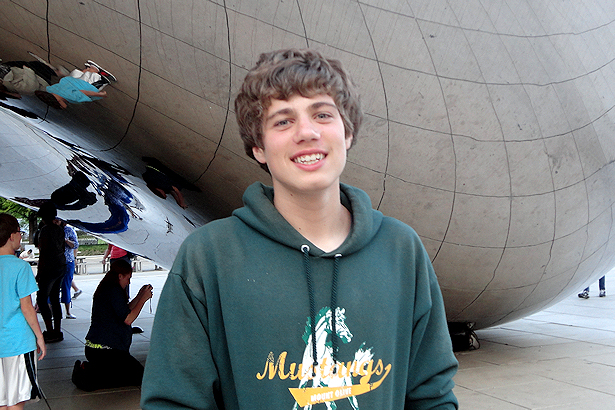 Hold on folks, this guy looks like a hero. Hurry Jo-Bear, save E from the Giant Bean!
OK, enough silliness; back to our regularly scheduled program…

Just as we were leaving the Bean a group of guys who looked like they belonged in a 1980's hair band came strolling into view, complete with acid-washed ripped jeans, sunglasses, and of course – BIG hair. They looked like Van Halen wannabes; I couldn't resist snapping a quick photo. Yes, there was a time when I thought that look was cool. A very short time.
We left the Bean and headed toward the Great Lawn, which we circled around on the right, then we crossed the BP Bridge. You can't miss the Great Lawn on the map; it's very big and very obvious.
The bridge has sleek stainless steel sides which shine in the sun. It curves gracefully back and forth through the park and over Columbus Drive, to end at the Daley Bicentennial Plaza. It's a pleasant walk, unless your feet are weeping in agony…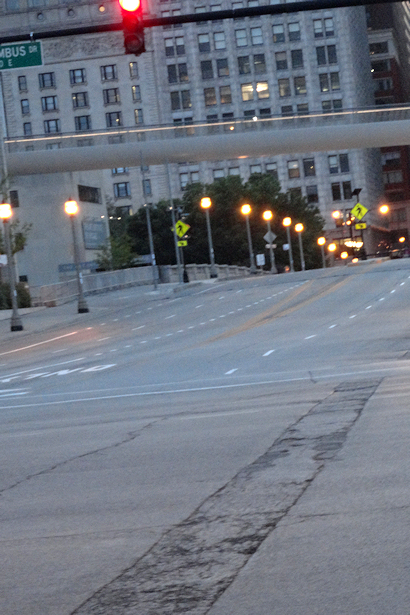 After leaving the Daley Bicentennial Plaza Bridge we crossed Monroe and followed an eerily empty Columbus Ave towards Buckingham Fountain.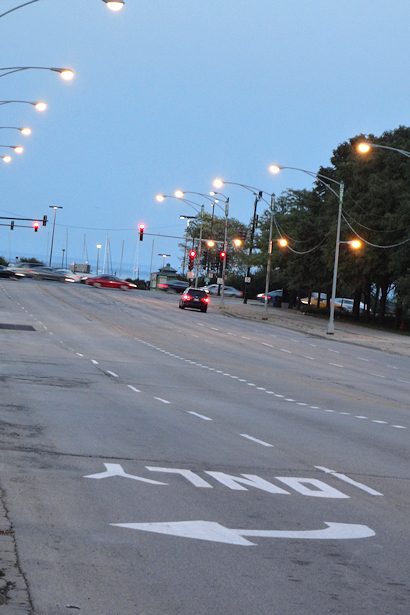 About half a dozen police officers were grouped on the other side of Jackson Drive, along with two white vans with darkened windows, open passenger doors and idling engines. Security was definitely heightened!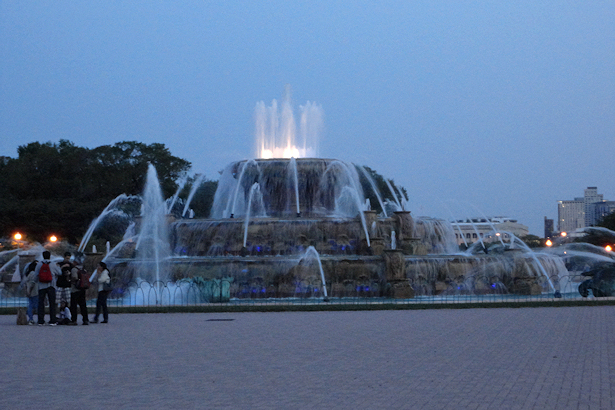 And there it is: Buckingham Fountain! On previous Chicago Trips we've had lunch in the park and taken group photos in front of the Fountain, but this year it was getting too dark for photos.
There were more police in the park, with accompanying white vans. What is it about police that makes you feel nervous, even when you're not doing anything wrong?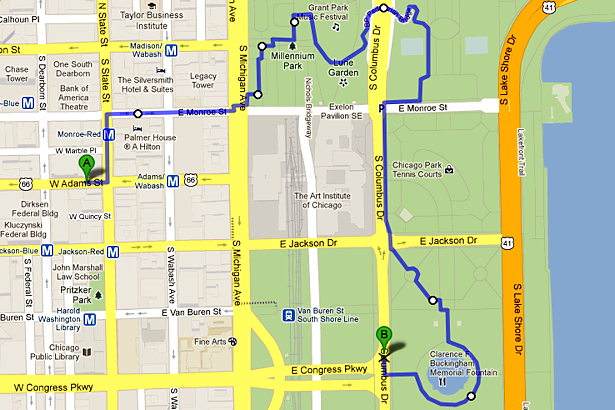 All in all our walk was less than 2 miles, but to my feet it felt like 20. By the time we got on the bus I was more than ready to relax at the hotel!
Still More to Come…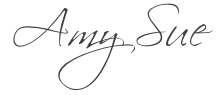 Photo Credits: Millennium Map by Explore Chicago
Palmer House Lobby by Travelpology