Most of the years I've gone on the Chicago trip we've taken a ride on the El. It's a really cool experience for the kids, but nerve wracking for me. Maybe it's because I'm used to caring for little ones, but I'm always paranoid that some of the kids will miss their chance to get on the train and be left behind. There's NOTHING that scares me more than losing one of the kids in Chicago.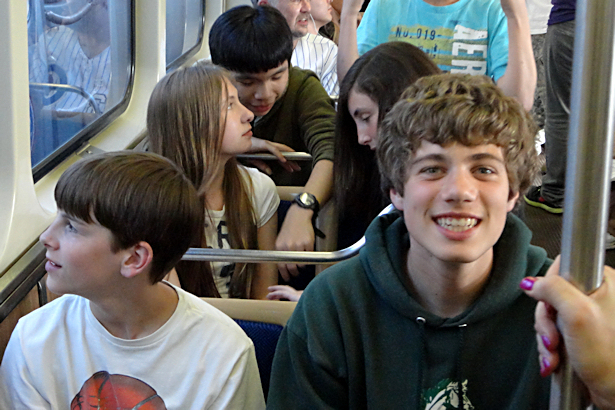 Look – he's smiling! Guess he learned his lesson at Buddy Guys; check out the third-to-last picture.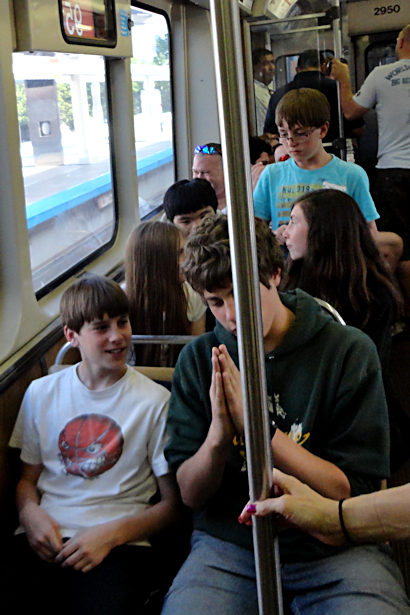 No, they're not praying that they'll survive the El trip, I think they're less than impressed. Oh well, a little "down time" isn't a bad idea either.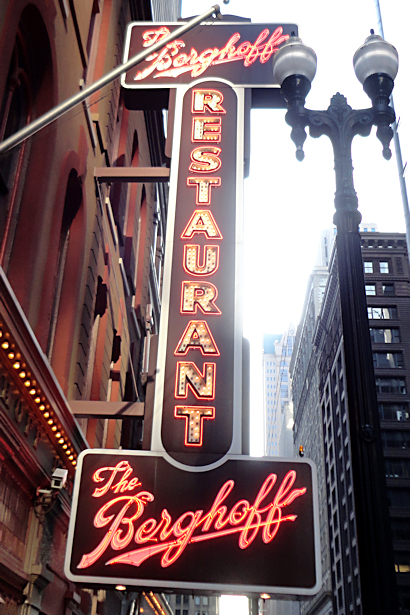 Every year we try to expose the kids to a different cuisine. Two years ago it was Chinese, and last year was Greek. This year it's German at the Berghoff!
Even though my ancestry is 100% German, my family made more "American" than "German" food when I was growing up. We always had Stollen at Christmas, and German potato salad and Brats say "Brahts" year-round, but that was about it. I couldn't wait to have some authentic German food.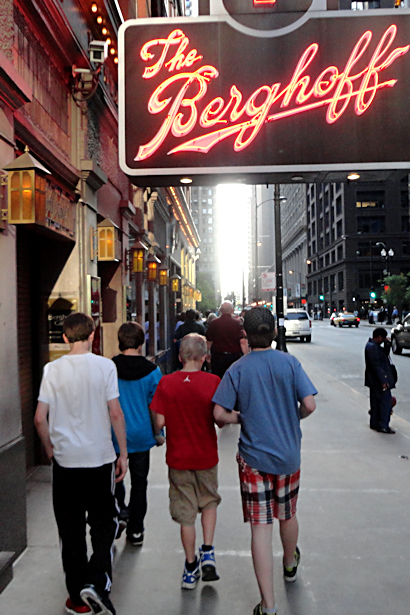 Walk faster, guys – I'm hungry!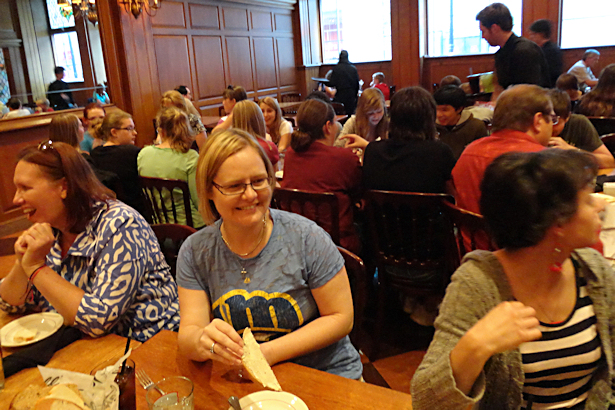 Here are some of the chaperones at our table, with a table of our kids behind them. You notice that we were smart and grabbed a seat at the "adults' table" before we got stuck with the kids. You may also notice that Chuck wasn't as fast; he ended up supervising the "kids' table." Hee-hee!
Berghoff's has fantastic Root Beer; I don't drink soda anymore, but couldn't resist a couple sips of Teacher's while he was in the bathroom. I don't remember if that's water or my iced tea next to Teacher's Root Beer. It looks like water, so let's go with that.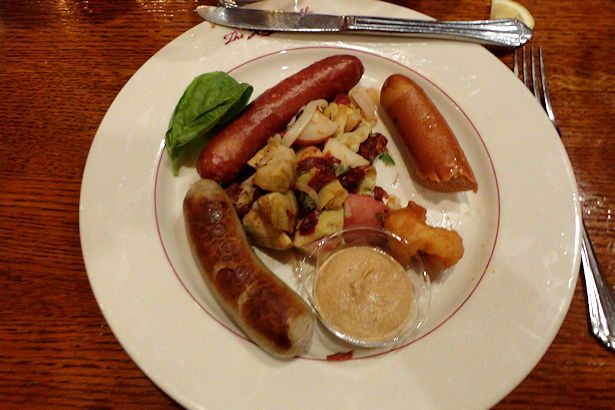 We could order a fish plate, a chicken dish, or a sausage platter. Of course I went with the most German choice: the sausage platter. Yes, I took a bite of the sausage before taking the photo – I said I was hungry!
The sausage with the bite out is a Knockwurst, at the top is a Thuringer, and on the left is a Bratwurst. aka Brat – say "Braht" In the center is a side dish of artichoke hearts, potatoes and red onions – it was delish!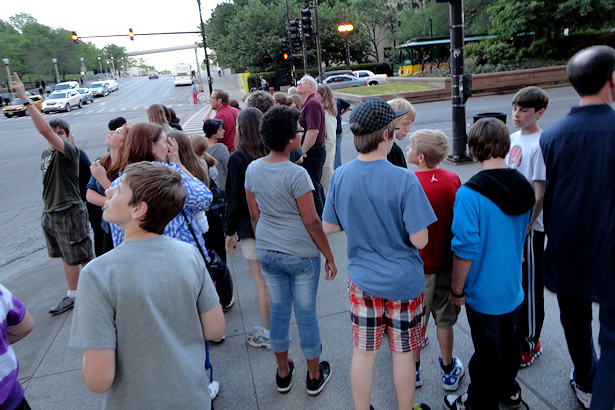 After eating we embarked on an impromptu adventure – the Walk that Would Not End. Chuck in the middle of the street wearing a red shirt decided we should take a walk after dinner so he took off, leaving us no choice but to follow.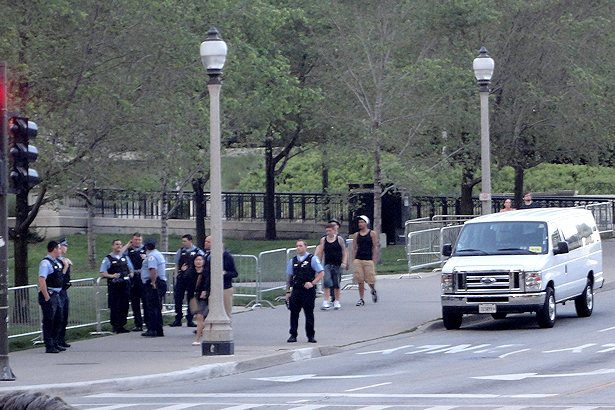 We passed by a lot of police officers.
I mean a LOT of police officers, complete with unmarked white vans with darkened windows and engines idling.
I was amazed to see two guys with bandanas covering their faces walk right through the police. What were these guys thinking?! The police didn't give them a second glance though. I guess I've seen too many action movies, imagining there were "bad guys" where there weren't any.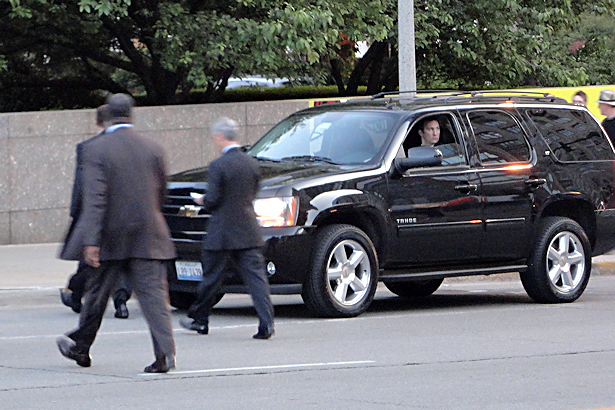 All of a sudden there was a commotion around the group of policemen; a group of people approached the police and a well-dressed older man went along the line, shaking each officer's hand. Obviously I barely got my camera up in time to snap his photo, but I got it. I also got my wish; I saw a dignitary: Chicago Mayor Rahm Emanuel.
After that we embarked on the Walk that Would Not End, which is the topic of my next post.
Still More to Come…