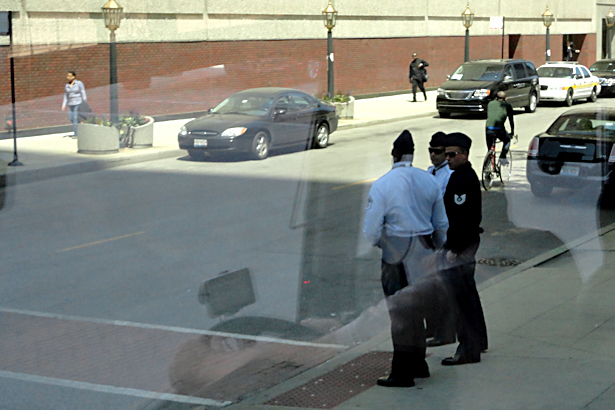 On the way to the Field Museum I spied some service members on a corner. Chicago is really hopping with security!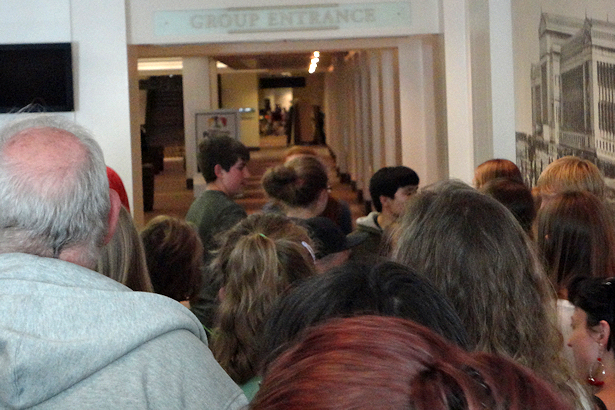 It wasn't long before we arrived at the Field Museum. I don't know about the kids, but I'm such a history geek I couldn't wait to get into the Museum.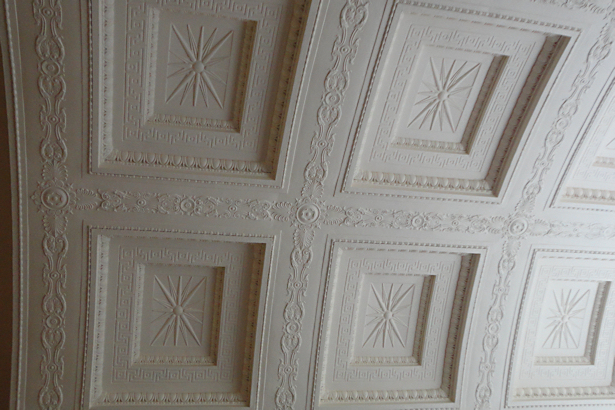 The architecture of the Field Museum takes my breath away too. In my opinion, modern buildings just can't compare to older ones; they just don't have the level of thoughtfulness and detail.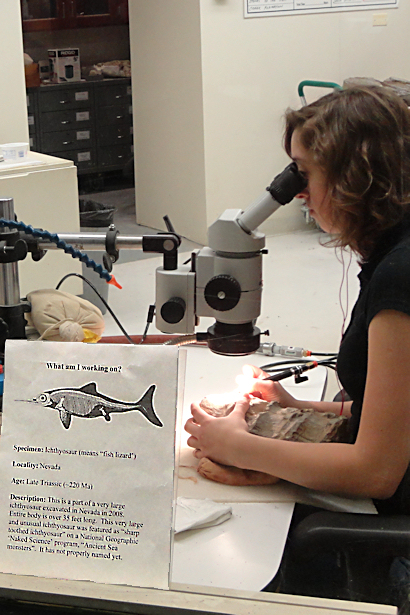 First on the itinerary was a 3D movie: Waking the T Rex; the Story of Sue. It was neat, but there's so much we don't know about dinosaurs that it annoys me when they make movies based on what scientists think it was like.
On our way to the movie we passed this intern who was painstakingly removing rock from around a fossil. I was totally engrossed, seeing bits of the fossil slowly emerge from the rock, but the kids didn't have enough patience to watch for long.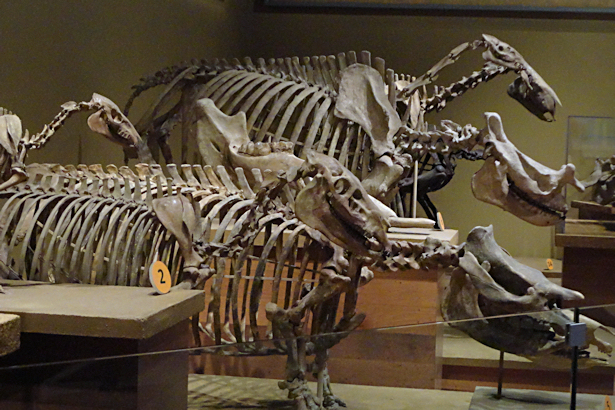 Since Z-Man is such a big dinosaur fan I had to take a couple of photos of dinosaur fossils.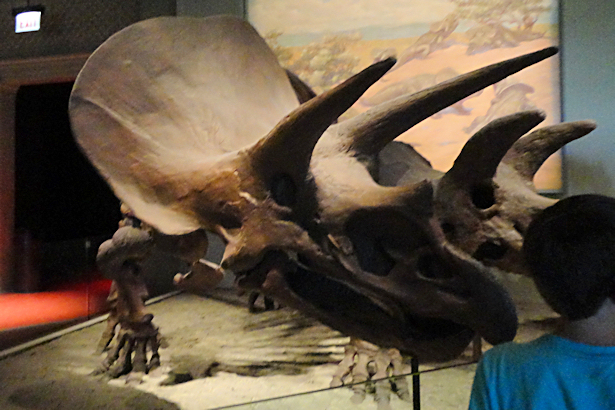 Someday I'd love to take the kids to Chicago to visit the Field Museum, She'd Aquarium, get Giordano's pizza, etc. It think they'd love it!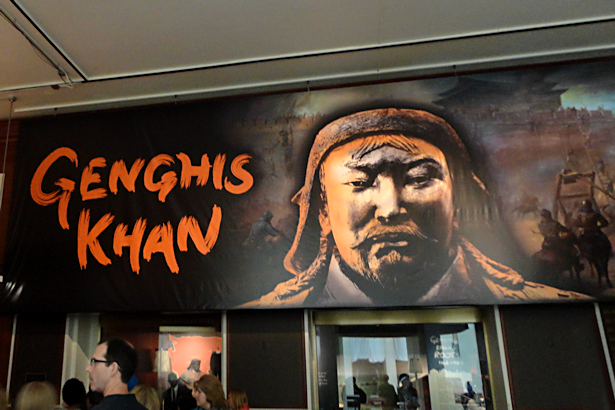 Our next destination was the Genghis Kahn exhibit. I was absolutely fascinated! And equally disappointed that they didn't allow photographs. Boo. I could've spent the entire afternoon there, watching the videos and examining all the artifacts. Several times I had to put my hands in my pockets because the urge to touch was so strong.
Two of my favorite items were silk robes found on a mummy of a woman who had apparently been buried in the winter, because she wore several robes under a leather full-length coat. The leather protected the robes, so most of them survived. When I looked closely I could see the fine, even stitches – done by hand – in the seams. Absolutely amazing to think that I was looking at clothing that was almost 1000 years old.
The history geek in me couldn't have been happier! Unless there was a latte in my hand, that would up the happiness factor.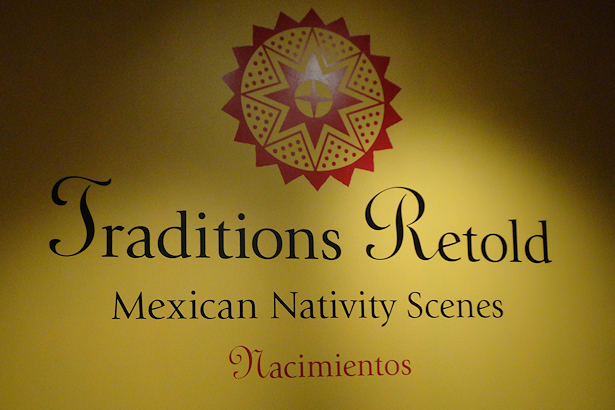 After leaving the Genghis Kahn exhibition the group split into smaller groups to explore the Museum on our own. The kids Teacher was chaperoning decided to join other groups so we ended up on our own for a while. We certainly weren't going to complain!
We stumbled upon the Mexican Nativity Scenes exhibit by happy accident. An exhibit that combines two of my favorite things, Mexico and Christmas… Could there be anything more perfect? Only if there'd been a Starbucks booth right next door.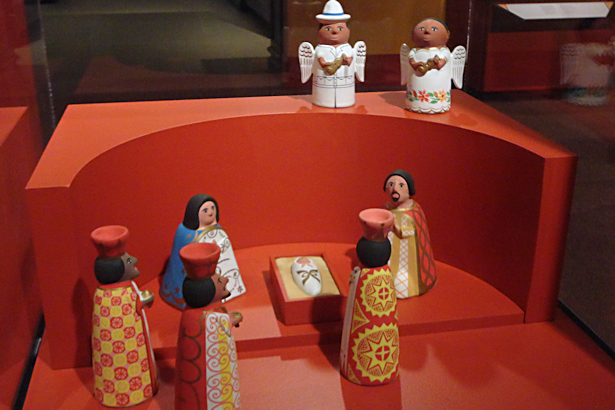 I love the chunkiness and details in this clay Nativity scene. The angels are my favorites – that hat is wonderful, and their faces make me smile. I'd love a Nativity like this, except that one of the cats or kids would probably break a piece, and then I'd cry.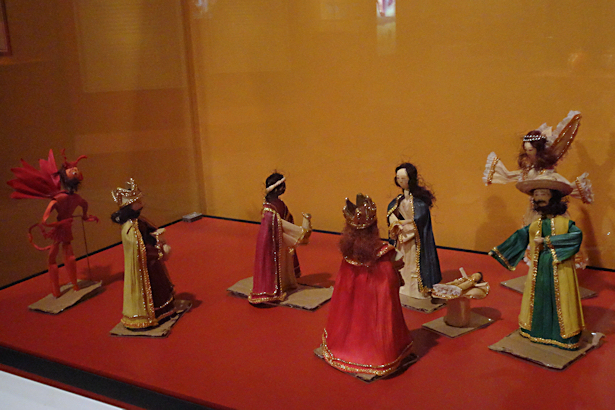 This was my favorite Nativity scene. I love that it's made of corn husks and corn silk, and that it has sparklies – lots of sparklies! And I'm intrigued by the Devil hanging around the outskirts of the scene – that's something I'd never seen before but is apparently traditional in Mexico.
After the Mexican Nativity Scene exhibit Teacher and I wandered around a bit more, but soon it was time to hit the road again.
But not before getting some of the kids to pose for a photo with Sue the T-Rex.
Smile guys!
Hey, smile!
Smile?
Never mind – just stand relatively still for a moment.
More to come… Will this day never end?