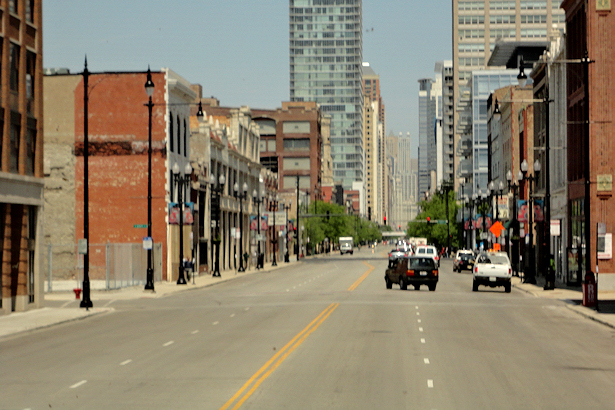 As we made our way to our next destination we noticed how deserted the streets of Chicago were. It was surreal – I felt like I was in a sci fi movie and half expected to see zombies or aliens pop out of nowhere.
The bus dropped us off about a block away from Buddy Guy's, and as we walked Teacher noticed a sign in the entry to the Hilton parking lot across the street. It said something about everyone entering the area was subject to being searched. And there were several official-looking guys in dark suits and earpieces milling around.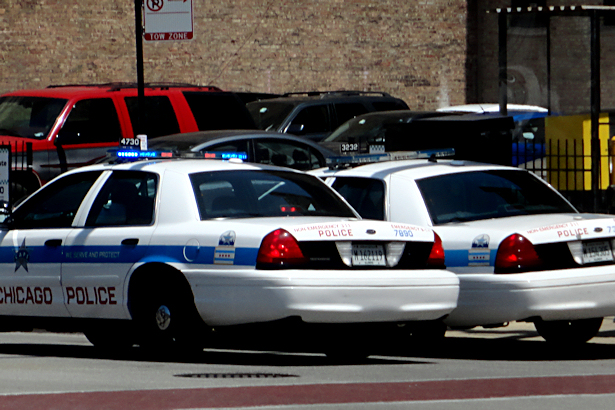 There were more police cars too.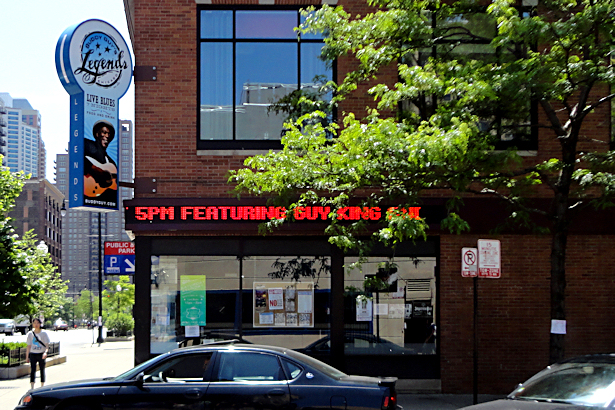 There it is! Last year we'd had lunch at Buddy Guy's too, and it was such a great experience that we i.e. me, and some of the parents lobbied to go back again this year.
By the way, the musician listed on the scrolling marquee – Guy King – is the one who performed during our lunch last year. How's that for a coincidence?
This year's musician was listed as Anthony Moser. A Google search told me that that Anthony Moser is the guy on the left. I have no idea who the guy on the right was; he wasn't listed.
Update: I received an email from Mr Anthony Moser himself! He told me that "Mr Unnamed" on the right is Anthony Ablan, a "good friend of mine and a fine musician in his own right." I also learned that the "door guy who hopped up to play upright bass is Nik Skilnik" who "does the lunch set with me every Wednesday at Legends." He also offered me a free download of his album, Transhuman Blues; I can't wait to listen to it!
They were good – I really enjoyed listening to them for the hour or so that we were there. I was also glad that they kept the lyrics pretty much clean; I don't know if that's the way they always are or if they tailored their set for the kids, but in any case I appreciated it.
I couldn't stop staring at Mr. Unnamed on the right Anthony Ablan because he looks just like one of Teacher's cousins.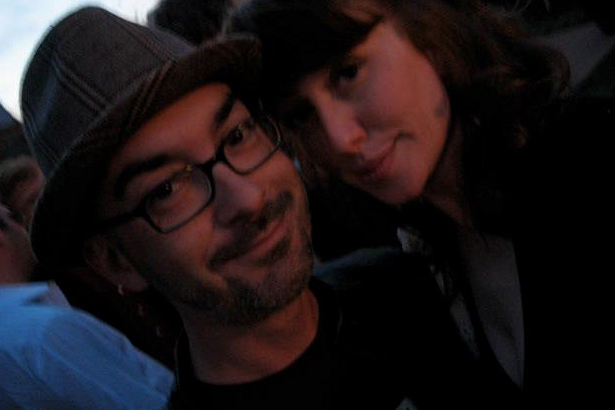 This is Teacher's cousin. Don't they look alike?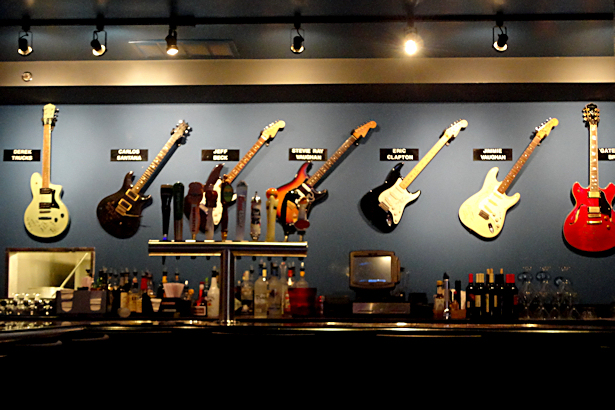 I was too lazy to walk around and take photos this year, but I snapped a couple from our table. This is just a small sampling of the guitars that line the walls of Buddy Guy's.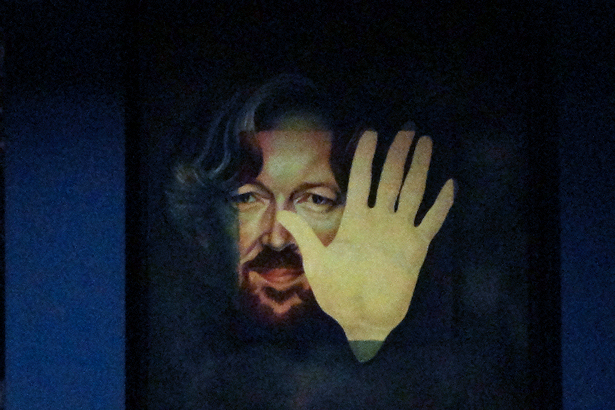 I love this painting of Eric Clapton. I wasn't an Eric Clapton fan until Teacher bought me Clapton's Unplugged CD. I can listen to that CD for hours.
The painting was created by the talented artist Madeline Carol Matz. See her comment below for links to her blog and website.
Hey Jo-Bear, give us a smile!
He's adopted College Boy and Angel Face's bad habit of trying to hide from the camera. You'd think they know me well enough to know that won't work – I'm too stubborn to give up until I get what I want…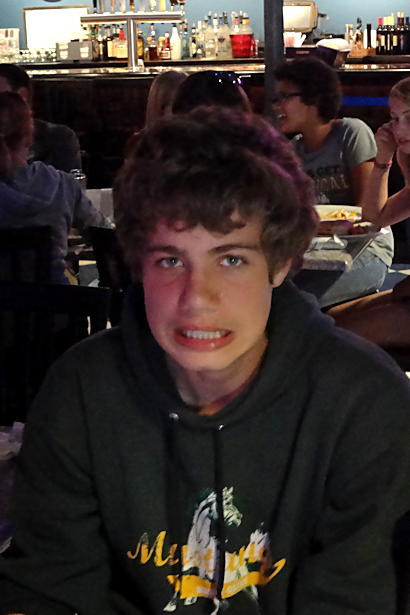 And ornery enough to post a photo of them looking weird if that's all they'll give me.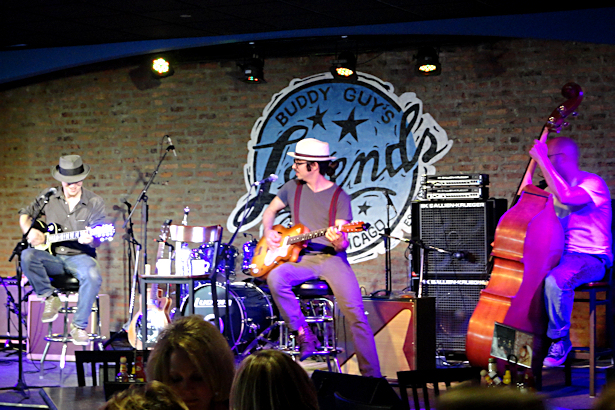 One of the guys Nik Skilnik got off work early, grabbed his string bass, and hopped on the stage to join the party look on the far right to see him. The music was great before, but adding the low notes made it incredible. Kind of like when you've got a really good caramel latte; it's great on its own, but when you add whipped cream and a caramel drizzle it's out of this world.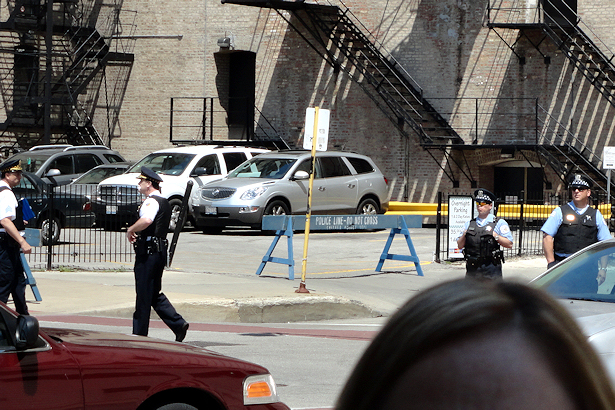 All too soon it was time to head for the Field Museum. There were even more police officers hanging around when we left than there were when we arrived. All these police but no dignitaries… Not that I expected to see anyone important, but it would've been cool.
More to Come…