As I've said before, one of the things I loved the most about living in Grand Haven was the beach. I would spend all day every day at the beach if I could, so one of the things on my Must Do on Vacation list was go to the beach.
The sun was shining, the temperatures were a balmy mid-70s, and the water was a refreshing 55 degrees. Brrrrrr!! It didn't stop us from getting wet though.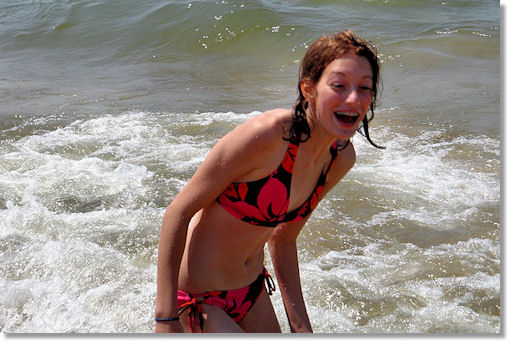 Angel Face was surprised by how cold the water was! I swear she was born part fish – she loves the water and swimming comes naturally to her. She spent most of the afternoon in the water – brrrrr! I know she's skinny, but I swear we do feed her – three meals a day plus snacks even.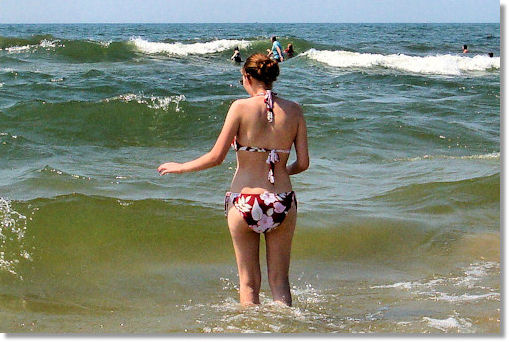 Princess was a little more cautious of the cold water but wanted to at least get wet. She's never been a big swimmer, even when she was a kid. I guess she takes after both of her Grandmas.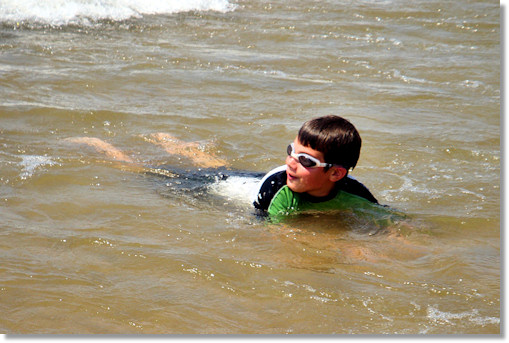 Jo-Bear takes after Angel Face; he loves swimming! He spent most of afternoon in the lake too, swimming out to the buoys and riding the waves back to shore. The cold didn't seem to bother him a bit.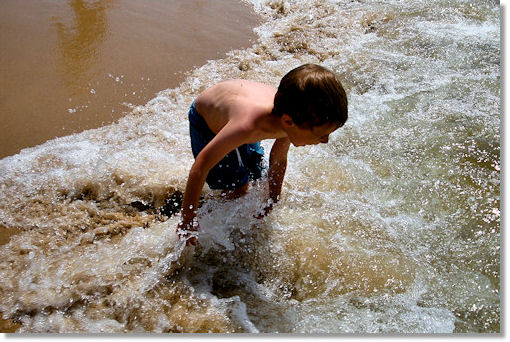 Z-Man looked a little worried when he first saw the lake, but it wasn't long before he was playing in the shallower waves. He loved feeling them crash against his legs, but wouldn't go further out. It was so fun to watch him playing in the water!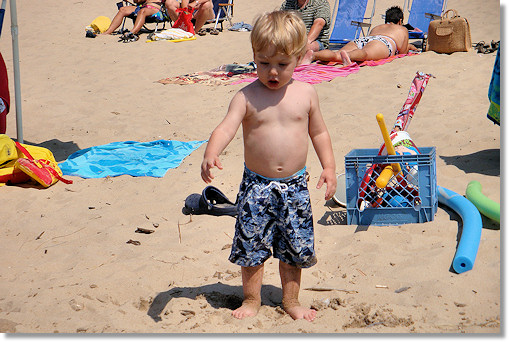 Little Guy took one look at that big lake with the waves crashing into shore, shook his head and said "No!" He tends to be more uneasy with new experiences than most of his older siblings were at that age, but I hoped he'd watch Z-Man and play in the water a little.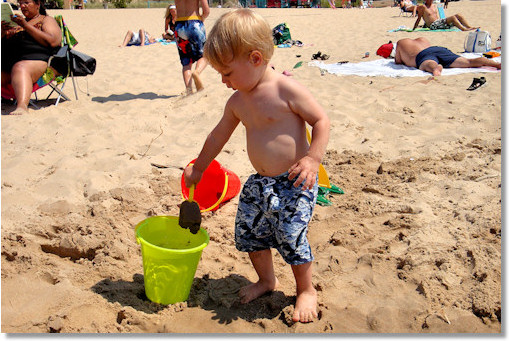 Little Guy loved digging in the sand, filling and dumping his bucket over and over and over and over and over and… you get the idea.
Eventually I used boats to lure Little Guy to the water's edge. He didn't seem to mind the waves tickling his toes, but when they came over his ankles he scrambled back to higher ground.
After a couple of hours the older kids and adults were ready to go, but Z-Man and Little Guy were no where near ready to leave. We lured them toward the car by promising them time to play at the playground at the top of the sand dune – also conveniently near the parking lot. Obviously the person who decided where to put the playground was a parent who knew how impossible it is to get kids to leave the beach. Smart move!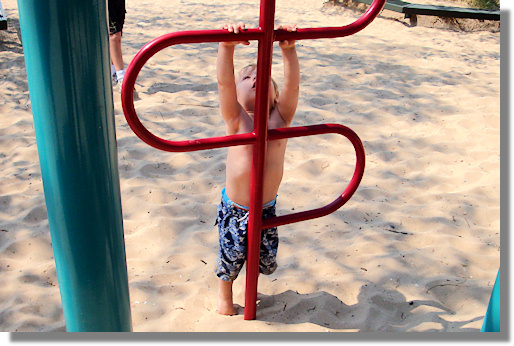 As usual, Little Guy tries to do everything his older siblings do – no matter how hard. He wanted to follow Z-Man to the top sooo badly that I had to give in and help him.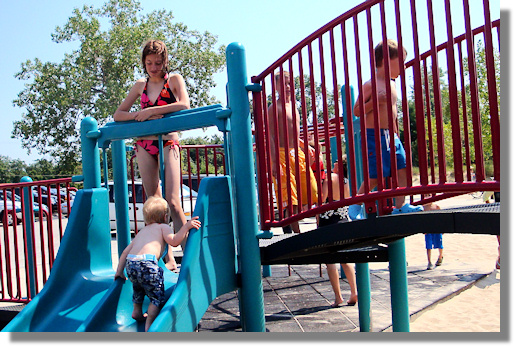 Angel Face helped out by following Z-Man and Little Guy around to make sure they didn't fall. She's such a good big sister!
Getting them to leave the playground was easy – we bribed them with ice cream from Miss Lisa's!
Miss Lisa's was one of our favorite ice cream places when we lived in Grand Haven, and since Grand Haven is a "tourist town" with a gazillion places to get ice cream, that's saying something!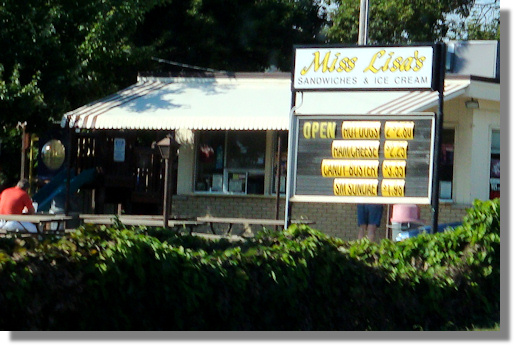 Miss Lisa's is a cute little stand with reasonable prices, benches and picnic tables where you can enjoy your treats, and a swing set to occupy the kiddos if they finish before you do. (Pardon the poor photo – I took it from the car as we drove up)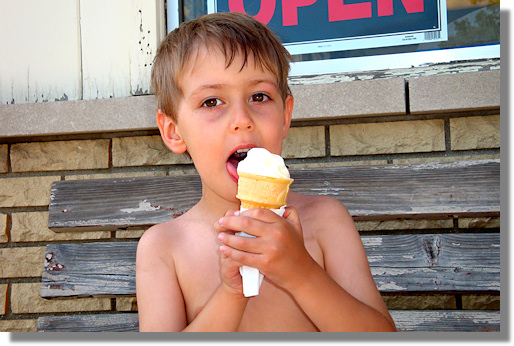 Z-Man loves ice cream! He ate the whole thing too, with hardly any drips. There's nothing like a little fun in the sun to make a kid hungry.
Little Guy loves ice cream too, but is so tired he's about to crash. He made it through his whole cone but I don't think we were in the car five minutes before he was snoring.
Where are the photos of the other kids eating ice cream? They wouldn't let me take any and I was too busy eating mine to fight them.