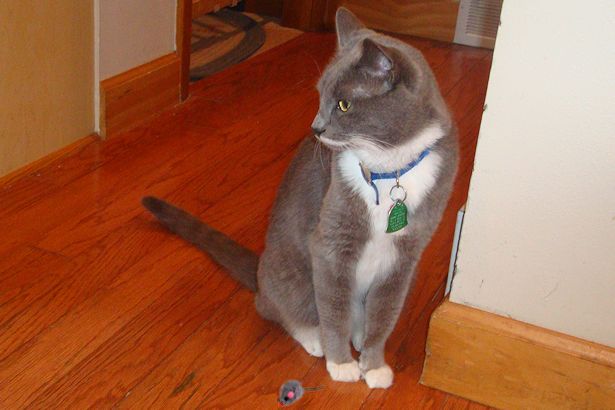 The night started off like any other – I was settled down in my rocking chair watching TV and nursing Z-Man to sleep. He was such a good baby at bedtime, all I had to do was nurse and cuddle him for about half an hour and by 10:00 he was just as ready for bed as Teacher and I were.
Kippy strolled into the living room with a toy mouse in his mouth.
Kippy is the second-oldest of our cats, and officially Teacher's cat although he's shown a distinct preference for Angel Face from the day he entered the house. His full name is Kipling – Teacher was reading "The Jungle Book" by Rudyard Kipling when we got the cat and decided to name him after the author.
"Hmm, that's strange; that mouse still has a tail." I thought idly as Kippy trotted past.
Unlike Murphy, who lives and breathes for sparkle balls, Kippy's favorite toy is a grey mouse and he always – ALWAYS – chews the tails off first thing.
"Why is he growling?" I thought next, "That's not like him at all." I craned my head to take a closer look.
The mouse twitched.
O.M.G. It's a REAL mouse! And it's still ALIVE!
"Honey?? Honey!!!"
Alarmed by my cries Teacher hurried into the living room.
"Kippy has a mouse and it's ALIVE!"
Teacher took one look at the cat, then chased him out of the living room and into the kitchen. I stayed right where I was, with my feet up on the footstool. No way was I putting my feet on the floor with a mouse in the house! Besides, Z-Man was almost asleep anyway.
After a few moments I heard Teacher's voice, "Good boy! Good boy Kippy!" Then I heard the sound of kitty treats hitting the floor.
Teacher appeared in the doorway, "Kippy took care of it."
"Did he kill it? Where is it now?" I hadn't heard the toilet flushing or the outside door opening.
"Yup! He killed it, then he ate it." Teacher replied.
"The whole thing??" I asked. "Nothing left anywhere?"
My Aunt Betty used to tell stories of how their cat would leave dead critters in their shoes as love offerings. I did NOT want to find a dead mouse – or parts of a dead mouse – in one of my shoes, and I did NOT want to clean mouse guts – or pieces and parts – off the floor.
"The whole thing, tail and all." He replied, "It's like kitty potato chips; crunchy." He grinned.
"Oh, gross!!"
As much as I didn't want to think about Kippy killing and eating the mouse I was glad he did.
I didn't want any mice – dead or alive – in my house, and definitely didn't want to find mouse parts anywhere. I was confident that if any other mice snuck into the house Kippy would hunt them down, kill them, and dispose of the bodies for me
"Good kitty!"